Each November marks the start of the British Virgin Island crewed charter yacht season.  This year the 35th Annual BVI crewed yacht was held November 7-11th, 2016.  Over 80 yachts & their crews flock to Nanny Cay Marina in Tortola. For days before the show begins, there is a flurry of activity.  Crews cleaning, polishing and the smells of chefs preparing their world class cuisine to be sampled by the charter brokers.  At 9am on the first morning of the 4 day show, a horn sounds & brokers from around the world start walking the docks and visiting with the crews on the yachts.
Epic Yacht Charters BVI was among the excitement and activity for the days of showings and the evening activities.  The goal for us is to meet the crews and visit the yachts to ensure the yachts and the crews that we choose to show our clients are the best of the best.  I just thought I would try out the Captain's seat on Yacht Lady Katlo.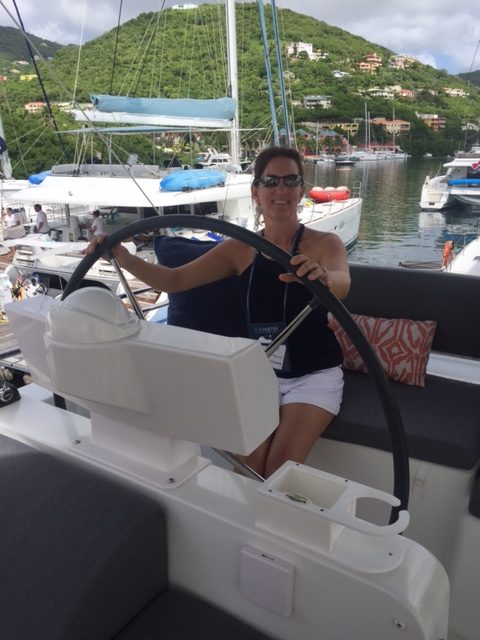 This brings us to the biggest question.  What's more important, your yacht or your crew?  The answer is both.  Epic Yacht Charters BVI has over 10 years experience as yacht crew, which gives us an advantage being on both sides.  Yes, the yacht you choose needs to fit your needs.  Do you need a yacht that accommodates 6 guests or 8 guests?  Maybe SCUBA diving is your passion?  Maybe you are a "foodie"?  But, the crew is what makes all of this happen.
When you step on the yacht your crew will make you feel like you are their only guest and the most special guests ever.  Perhaps a cold cucumber infused towel to cool you off after your long flight?  The special way of making your morning cup of coffee already done for you when you come up from your night of blissful rest?  Epic Yacht & Epic crew=EPIC vacation!
To find your perfect yacht and crew search our fleet of BVI Yachts.