Your Power Catamaran Vacation in the Caribbean Islands or Bahamas
With twin hulls and large lounging areas and cabins as well as a motor, a power catamaran charter is ideal for those love the stability, fuel efficiency and expansive spaces of a catamaran but want the speed and comfort of a motor yacht. The dual hulls of a power catamaran displace far less water than a regular monohull yacht, gaining huge efficiencies in fuel consumption. They also balance the boat a lot more on the water, so there is far less rocking action, reducing seasickness. Power catamarans also provide easy access to the water, which is ideal for watersports and getting on and off your tender.
Power catamarans are becoming very popular due to the extra speed and comfort when you charter in one of our destinations. Enjoy a great video of one of our best power catamarans ready for charter in the Virgin Islands and Bahamas.
The Bahamas have very shallow waters and most power catamarans are built with keels which rarely exceed 5 foot below the surface. This allows the boats to anchor very near the beach and with that convenience, you can swim in and not rely on a tender ride. Explore the long empty beaches and find trails in the Exuma Land and Sea marine park.
Distances between St. Martin, St. Vincent and other Caribbean islands are further and take longer under sail and that reduces the travel time by half as the power catamarans have larger engines which gets you to your next anchorage quicker. This gives you more time visiting the exotic islands.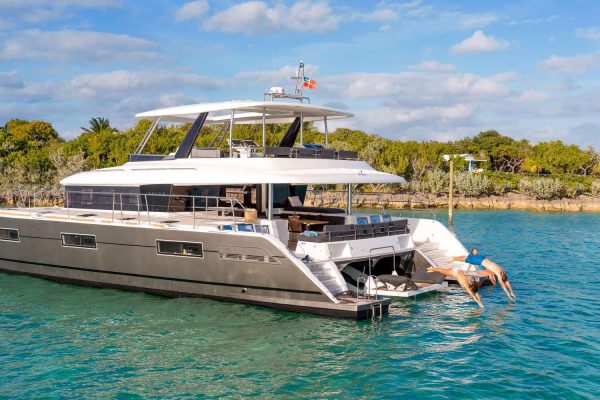 All power catamarans whom we recommend are crewed with a professional Captain and Chef. Some of the larger yachts have deckhands and stewardesses to assist them in offering this luxury charter experience. The Captain will ensure your safety when you cruise around the islands and also help you enjoy all the watersports. Exquisite meals are prepared by your professional chef aboard your power catamaran and special needs are carefully addressed especially with food allergies. Special drinks are made to order and everybody will enjoy their favorite cocktails. All beverages are included in your all-inclusive package.
All watersports are free (except SCUBA diving could be offered at a fee) and most days are filled by lots of exciting skiing, kneeboarding, stand-up paddleboarding, wakeboarding, snorkeling, kayaking, floating island fun, and beach games. Some yachts offer hammocks and sun shades for the upper deck.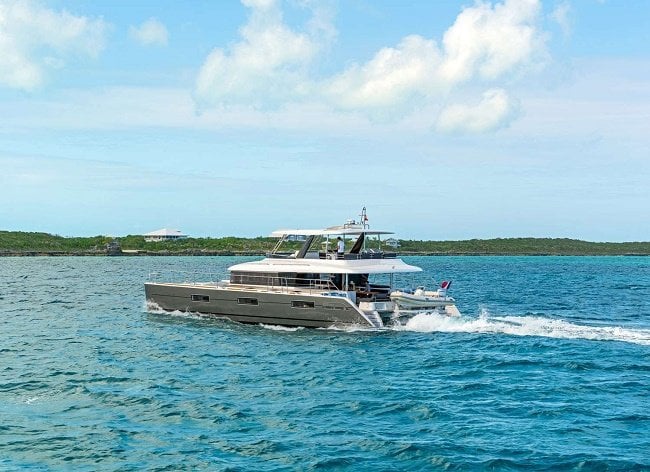 For those who wish to spend more time relaxing on the foredeck, upper deck or lazing on the hydraulic swim platform, there are lots of space on a luxury power catamaran. WiFi is available in most anchorages and when underway, so you can stay connected if you wish to.
The most fun can be had as a group when you plan a shore excursion like an island tour, hiking trails, beach bars and restaurants and sightseeing when the captain drops your group at a nearby dock.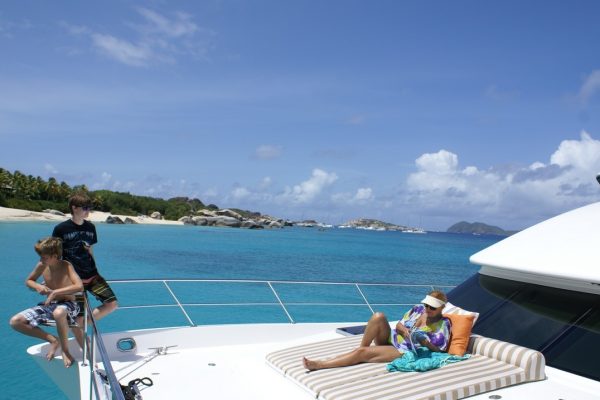 So now is the time to book your next vacation with Epic!! Contact us for a great Power Catamaran charter. Your booking is at no additional cost to you!
Call (954) 543 1270 or Chat LIVE with us on our website and ask as many questions as you want. Thank you!