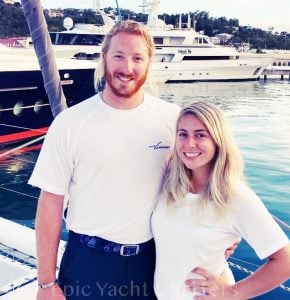 Charter Catamaran Viramar is the Luxury Dive Experience You've Been Looking For
56' Lagoon Catamaran, Viramar, is THE charter yacht for a luxury dive experience in the BVI!  Catamaran Viramar accommodates up to 8 guests.  This award winning catamaran has a spacious and well flowing layout for guests to enjoy.  The cabins are comfortable and upscale, with luxury amenities.  The exterior is extremely spacious, with multiple areas to relax between scuba dives, including a large flydeck.
Both crew members, Captain Tyler and Chef Erika are Scuba Instructors. They can certify guests, as well as train guests in advanced certification specialties.  They can also take non-certified divers on Scuba Dives with a short, intensive training session in a calm cove in the Caribbean Sea.
Already a favorite among Epic Yacht Charter clients, Viramar offers the unique experience of a private luxury scuba dive charter.  Dive at your pace, in privacy with your own group and private dive instructors.  This is a truly Epic dive charter experience in the BVI!
Team Epic recently had the opportunity to dine and sleep aboard Viramar in St. Thomas.  Liza got to know this accomplished crew and experienced the cuisine and amenities of Viramar firsthand.
She had nothing but glowing accounts of her experience, and feels excited and proud to book Epic Yacht Charter clients on this stellar luxury catamaran.
"The Yacht was extremely well maintained and felt very welcoming with its decor and availability of amenities.  Lagoon 56 catamarans are a personal favorite of mine, and Viramar had special features such as an oversized exterior dining table, and custom interior salon table that provide ample room to linger at the table after a lovely meal."
Liza also shares, "I was super impressed at the level of cuisine, and to combine this high culinary experience on a dive charter is a very unique opportunity.  Erika utilized freshly caught seafood (from Captain Tyler, of course!) as well as local produce and lovely imported items for a Charcuterie board.  The variety and presentation was excellent, and everything was delicious!  I definitely felt spoiled!"
When asked about the accommodations, Liza said, "My aft queen cabin was set at a perfectly cool temperature with an individual air conditioning control, and the bed linens and mattress were extremely comfortable.  The cabin is very spacious and the lighting is really attractive and functional.  Details such as USB ports to charge items, and included personal amenities such as bamboo toothbrushes and environmentally friendly toothpaste were appreciated."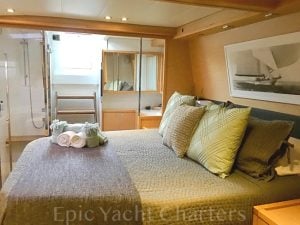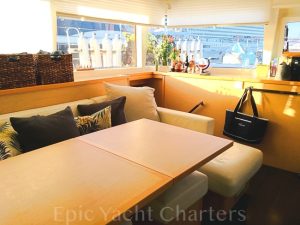 Charter Yacht Viramar seems to have found the sweet combination of incredible scuba diving with a luxury sailing charter.  This unique combination creates a fantastic opportunity for groups with divers as well as non-divers.  For example, Viramar still explores the highlights and off the beaten track secrets of the BVI.  The crew does an excellent job of combining world class scuba diving and dive training with all the other incredible elements of a luxury crewed yacht charter!
5 scuba dives are included for Certified Divers each week.  For certifications, the crew recommends getting a head start at home with coursework, often online.  Then, students can do the check out dives in the beautiful BVI onboard Viramar in privacy and at their own pace.  Additional dives and certifications are indeed available, please CONTACT US for more information and rates.
Tyler, the Captain onboard Viramar, is an accomplished Captain and Scuba Dive Instructor.  Tyler is also an avid fisherman and enjoys free diving and hunting for lobsters.  Originally from North Carolina, Tyler has a relaxed, genteel personality and mixes a great cocktail!
Erika, the Chef onboard Viramar, has professional culinary training, and is also an accomplished Scuba Dive Instructor.  Her attention to detail and warm, bubbly personality are winning attributes.  Erika's cuisine is fresh and flavorful, with great care taken to adhere to any dietary restrictions or special requests.  Team Epic was extremely impressed with Erika's variety and presentation of the food on her recent stay onboard Viramar.
Tyler & Erika sailed Viramar across the Atlantic to The Caribbean.  They work seamlessly as team to create an incredible vacation for their guests, who often end up feeling like family with these two!   It is no surprise that Tyler & Erika won the Best Crew Award in their size at the Virgin Islands Professional Charter Yacht Show in 2017!
Team Epic member Liza notes, "This is a crew who genuinely loves what they do.  They are grateful for the opportunity to work together in paradise, and to connect with clients from around the world, showing them a world class dive experience in the BVI.  This shines through in everything that they do."
Contact the friendly & knowledgeable team at Epic Yacht Charters to Get Onboard luxury dive charter catamaran, Viramar.  We are happy to discuss your dive and charter needs to create a customized itinerary for you and your group! Contact Us NOW for availability and a personalized quote.  While our service is priceless, it is always complimentary.
Email us: [email protected] Call us: (954) 543 1270 or Chat LIVE with us on our website and ask as many questions as you want. Thank you and wishing you Epic Adventures from Team Epic!