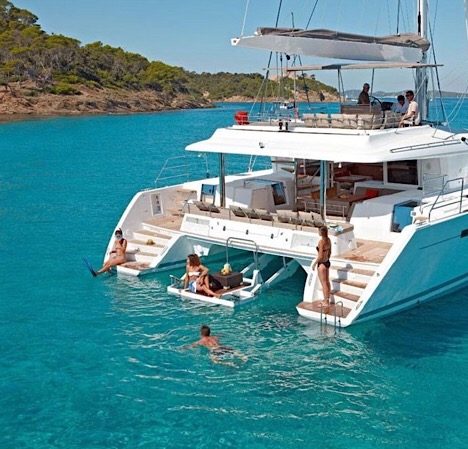 Charter Catamaran Playtime is an Epic Adventure in the BVI
Team Epic recently sailed onboard Charter Catamaran, Playtime, in the BVI and it was totally Epic!  From Scuba Diving the wreck of the Rhone, to eating lobster on Anegada as well as taste testing Painkillers at all the famous beach bars along the way, this birthday bash charter was a blast. Already an Epic client favorite, Charter Catamaran Playtime is truly an Epic Adventure!
Catamaran Playtime is a 56′ Lagoon, and accommodates up to 8 guests.  The yacht has a spacious and well flowing layout for guests to enjoy.  The cabins are comfortable and upscale, with luxury amenities.  The exterior is extremely spacious, with multiple areas to relax, including a large flydeck with plush seating.
Playtime is a perfect platform for a celebration, a family vacation or a romantic getaway! Read on to learn more about this Epic charter, and the fabulous highlights of the BVI itinerary.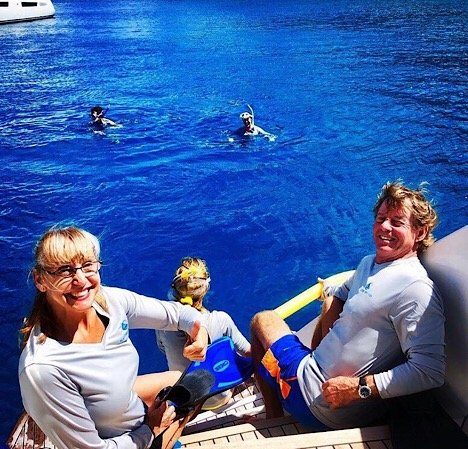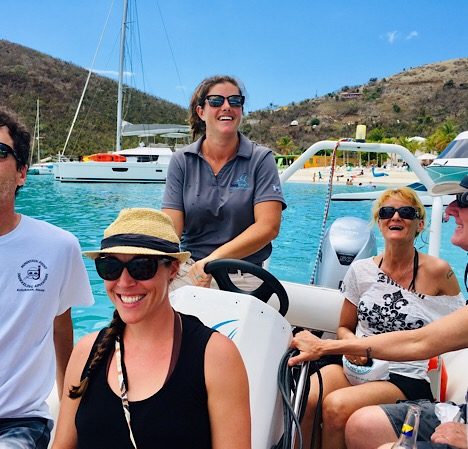 This birthday charter started in St. Thomas, making it easy for guests to join the yacht with direct flights and a short pre-arranged taxi ride to American Yacht Harbor.  The crew had catamaran Playtime looking beautiful with snacks and beverages ready.  They also provided a guitar onboard upon request, as well as Playtime logo water bottles for everyone.
A short sail to The BVI the next day was perfect for everyone to get their sea legs and discover all the best spots of the yacht to relax and enjoy the ride.  Multiple coolers and fridges full of personally requested beverages kept everyone happy, and the breeze and sunshine created the perfect ambiance.
That feeling of knowing you have the whole week of adventures ahead of you filled with adventures on a luxury catamaran is truly wonderful!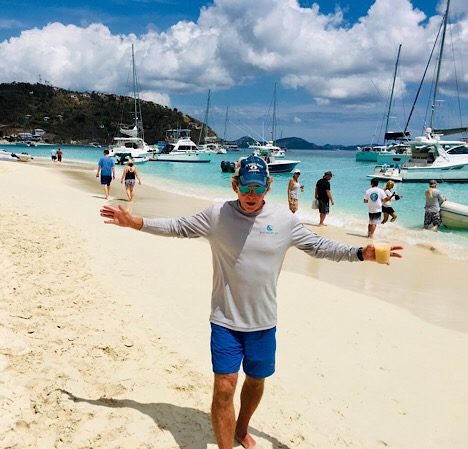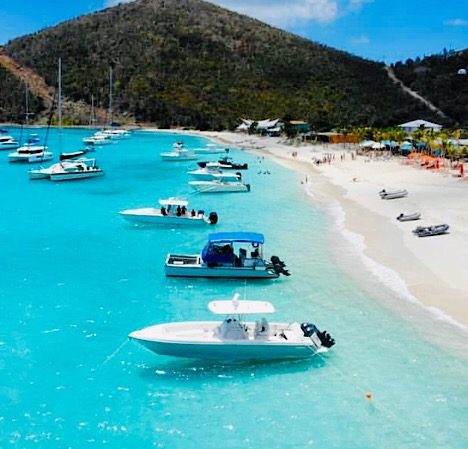 Charter Yacht Playtime seems to have found the sweet combination of scuba diving and awesome food and service, onboard a luxury sailing catamaran.
This birthday charter had certified divers who enjoyed a world-class dive on the famous RMS Rhone shipwreck along with some beautiful reefs. Playtime includes three dives, which was the perfect amount and variety, with additional dives available.
There were also several first time divers who took a Resort Course right off the yacht to learn to Scuba Dive.  Both crew members, Tyler and Kelsey, are Scuba Instructors, and happy to teach or lead dives throughout the beautiful British Virgin Islands.  Diving is a definite highlight onboard Catamaran Playtime.
Another highlight on Playtime is most definitely the food!  With several dietary restrictions and unique requests, Kelsey and Tyler (both chefs as well!) were excellent at providing delicious, healthy and beautifully presented cuisine that fulfilled everyone's needs.
From fresh fish to delectable steaks and everything in between, mealtime was very special!  And, for the big birthday evening, Kelsey whipped up the most delicious dark chocolate and coconut cake to go along with the Vueve Cliquot champagne.  It was definitely a birthday meal to remember!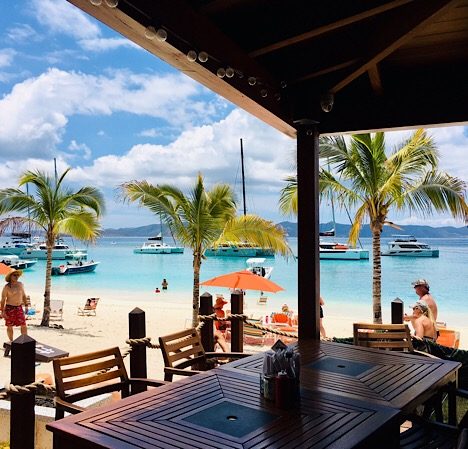 The professional and fun loving crew, Tyler and Kelsey, worked with the whole group to create a customized BVI itinerary.  Their experience and intimate knowledge of the islands is invaluable.
A sunset visit to the Cooper Island Beach Club and Rum Bar was a true highlight.  The casual elegance provided the perfect cocktail spot to relax and reminisce about the day while the crew prepared a delicious dinner onboard.
Snorkeling the Caves at Norman Island was another blast, along with a guided tour of the famous Baths of Virgin Gorda.  And of course, no BVI charter itinerary is complete without a visit to White Bay, Jost Van Dyke for a beach bar paradise including Soggy Dollar Bar and Hendo's Hideout, with Foxy's nearby, too!
Along with the stellar scuba diving, a swift and lively sail to Anegada rounded out a beautifully planned and executed itinerary.  A day spent at Anegada Beach Club followed by a decadent lobster dinner at The Wonky Dog, complete with beach dancing to the local DJ was pretty special!
Team Epic member Liza notes, "This is a yacht and crew who truly provide an Epic experience for their guests!  From the pre-charter communication to fulfilling special requests and sharing great energy (and musical talents, too, with Tyler on the harmonica!), Playtime is a fantastic charter experience that I highly recommend!"
Contact the friendly & knowledgeable team at Epic Yacht Charters to Get Onboard luxury charter catamaran, Playtime.  We are happy to discuss your charter needs to create a customized itinerary for you and your group! Contact Us NOW for availability and a personalized quote.  While our service is priceless, it is always complimentary.
Email us: [email protected] Call us: (954) 543 1270 or Chat LIVE with us on our website and ask as many questions as you want. Thank you and wishing you Epic Adventures from Team Epic!