BELIZE – With a population of just 390,000 people, the second largest reef in the world and over 200 islands to explore, we believe that Belize is a perfect place to be socially distant. Sail to remote islands with only your captain and chef on board with all of your needs taken care of, from delicious fresh cuisine, exotic libations, multiple snorkeling experiences and opportunities to paddle board, fish, beach comb and of course, to relax on deck as you sail with the trade winds.
Belize marries spectacular waters, hundreds of idyllic islands with a fascinating, culturally rich heritage. Still relatively undiscovered as a sailing destination, anchorages are so quiet you may only see a handful of boats in a more popular location and there are myriad islands to explore. The trade-winds typically blow in from the east, ensuring the ultimate sailing conditions for sailing North and South. We have chosen the Southern route as our sample itinerary, please enquire about the Northern itinerary.
Having a hard time visualizing your crewed yacht vacation in the Belize? Take a look at a 7-day sample itinerary to get ideas flowing and plan your trip.
Belize Central/Southern Sample Itinerary
Day 1
Bluefield Range
After a welcome orientation and safety briefing, you will sail to Bluefield Range. Bluefield Range is a mangrove cluster teeming with wildlife which makes for a fantastic kayaking and snorkeling destination. Kayak through the tiny channels, look out for manatees and even take some bait and a fishing line and see if you can catch dinner. If you prefer to just chill out on the boat and enjoy the fresh air after your flight and transport, relax on the flybridge with a Captain's cocktail. Depending on the weather and sea conditions, all your dreams will come true on an Epic Charter Vacation.
Day 2
Tobacco Caye
After the sun rises over the barrier reef, you will be sailing South to Tobacco Caye. This 5 acre palm-fringed coral island is perched on the barrier reef, which makes this gem a great place to snorkel or dive from the shore and its central location means it is within 10 minutes by boat to some of the best snorkel sites in all of Belize. There are a couple of small laid-back resorts and a tiny beach bar serving fresh coconut water and icy cold rum cocktails with hammocks to lounge in. 40 local islanders call this rock their home and it is a great place to learn about their remote island life and island time lifestyle.
Day 3
Southwest Caye, Glovers
The Southernmost atoll, Glovers Reef is a minefield of patch corals and Epic marine life with a scattering of tiny islands that sit on the outer reef. Southwest Caye makes for a great anchorage as there a huge uninhabited perfect white beach with a backdrop of coconut trees (it was once a plantation) and since it lays on the leeward side of the island, there is not a spec of ocean debris, just a few fallen coconuts and unspoiled white sand. The island is split in two, the Northern part is home to Isla Mirasol Dive Resort where you are welcome to explore and enjoy a refreshing cocktail in the over-the-water wooden bar. This islands offer incredible views.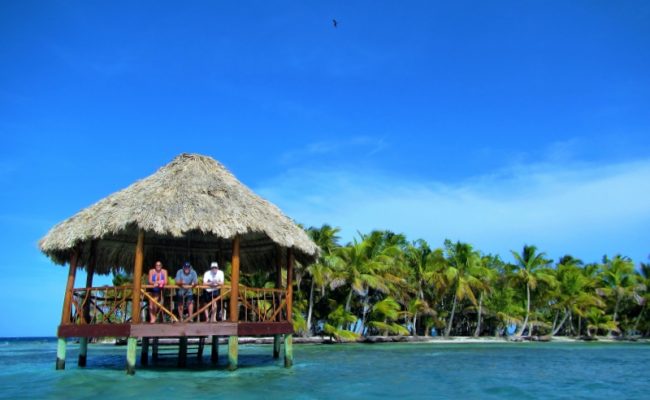 Day 4
Middle Caye, Glovers
After breakfast you are welcome to spend most of the morning snorkeling (Scuba diving can be arranged with Mirasol Dive Shop). Being a designated National Marine Reserve and World Heritage Site, there are approximately 700 pristine patch reefs brimming with the richest variety of marine life in the Caribbean – Snorkelers and Divers alike are enchanted by the vast and endless spectrum of sea-life here. Cruise up to Middle Cay, a wilderness zone with a marine research station run by the Wildlife Conservation Society open for visitors to explore.
There are some interesting displays explaining the ecology of the atoll and T-shirts for sale to support the conservation efforts. Take a walk down "Hermit crab alley" and look out for the resident Ospreys!
Day 5
Long Caye & Sittee River
After an early morning of snorkeling we visit Long Caye, the home of Off the Wall dive resort. This is a remote, secluded, environmentally friendly private owned island paradise. Visitors are welcome to explore and learn about their eco-practices and call in at the gift shop which has some of the most authentic and boutiquey treasures in Belize. The island is also home to Slickrock Belize Adventures, a water-sport haven. If you would like to try Kite-boarding or Scuba diving, the crew will arrange lessons, subject to their capacity.
Spend the early afternoon motoring or sailing to Sittee River. Meander up the river where the contrast from ocean to jungle is breathtaking. It is possible to explore the sleepy seaside village of Hopkins in the afternoon which has rich cultural routes with the "Garifuna" population. After dark, venture into Bioluminescent lagoon which lights up like a cosmic bath of stars as you glide through the waters. A once in a lifetime experience!
Day 6
Southwater Caye
In the morning after a scrumptious breakfast, sail to Southwater Caye, a pristine 12 acre private island that is one of the most beautiful and exclusive island in Belize. Southwater Caye sits on the reef on the North side of South Water Cut, which is a quarter mile wide gap in the reef. Grunts, black groupers, snappers and moray eels all hide out in the overhangs and make for a spectacular snorkeling experience. Head to the Blue Marlin Lodge, one of our favorite little bars in all of Belize for an icy cold Belikin Beer and game of pool or watch the pelicans gather as the fishermen return and clean their catch for dinner.
Day 7
Rendezvous Caye
This tiny private island located right on the Barrier Reef has a collection of palapa shades, beach loungers and hammocks. This is the perfect place to just relax or enjoy a beach picnic. You can snorkel along the deep water right from the shore and experience the contrast of deep sea and shallows of the corals. Look out for the graceful spotted eagle rays, there are resident rays always looking for scraps from the catch of the day.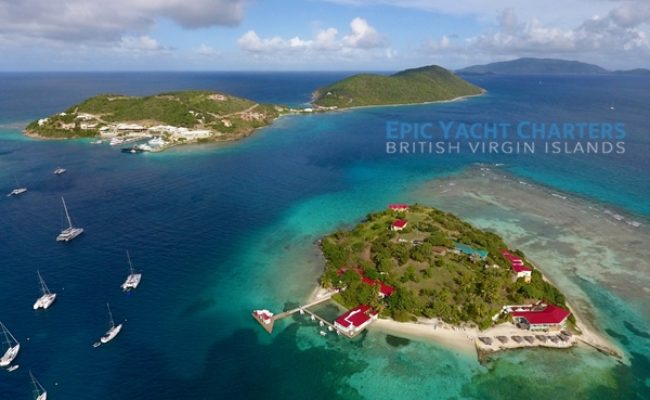 Day 8
Return to the marina
Enjoy a leisurely sail back to the marina at Old Belize. From here you will be able to take transport arranged by your crew to the airport or another exciting resort if you prefer to stay in Belize just a little longer. Excursions include tours to the Mayan ruins and lazy river floats in groups along the caves. Say goodbye to your crew and plan you next Epic charter vacation!
While everything in the Belize is stunning, a few things should not be missed. Take a look at our favorite anchorages, restaurants, beach bars and day excursions.
Highlights of the Belize Cayes
Ashore there are so many highlights and attractions, such as the Mayan Ruins, Crystal Cave tubing, rainforest tours and local cuisine to sample. Sip on a cold coconut drink from the shell as you explore this beautiful Central American destination. We are going to focus on what you will enjoy along your charter yacht sailing vacation in the Belize Cayes.
NORTHERN ITINERARY HIGHLIGHTS
Goff's Caye – A palm studded 'Corona Commercial' 2 acre island that sits right on the barrier reef so you can snorkel straight from the shore, or simply relax in the water on the sandbar with an icy cold Belikin beer.
Steeped in history, St George's Caye was the first capital of the British settlement in Belize. The island is principally home to private families and 1 dive resort, however it is possible to use this as a base for some great snorkeling, scuba diving and fishing at Gallow's Reef.
'No shirt, no shoes, no problem' is the motto of the laid back island of Caye Caulker and it typifies the vibe. The white sandy beaches, ocean breezes, fresh seafood, azure waters and a fantastic barrier reef on its doorstep make it a perfect place to relax and unwind. The 'Lazy Lizard' at the cut gives the Soggy Dollar bar a big run for its money!
Hol Chan Marine Reserve is a marine reserve at a cut in the reef, where guests swim amongst beautiful shoals of tropical fish, turtles, eagle rays, stingrays, moray eels and grouper. We then snorkel at Shark Ray Alley, a site where local fishermen used to clean their catch, which attracts more carnivorous species such as big southern stingrays and nurse sharks.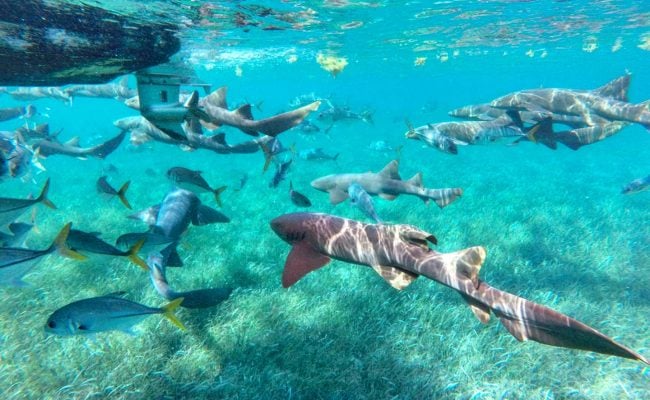 Ambergris Caye is the most northerly Caye in Belize and touches the Yucatan peninsular of Mexico. The main town San Pedro has the broadest range of tourist amenities in Belize, including art and craft shops, boutique hotels, fine dining establishments and plenty of fun local eateries and establishments.
SOUTHERN ITINERARY HIGHLIGHTS
South Water Caye is a pristine 12 acre private island that is one of the most beautiful and exclusive islands in Belize. The ¼ mile wide cut in the reef makes for a spectacular snorkeling experience with vibrant corals and abundant tropical marine life. Sundowners are a must at the Blue Marlin Lodge, one of favorite little bars in all of Belize.
Tobacco Caye – a 5 acre palm-fringed coral island perched on the barrier reef with colorful cabanas and a handful of locals who make this paradise their home. The warm and welcoming islanders love to welcome visitors and show them around.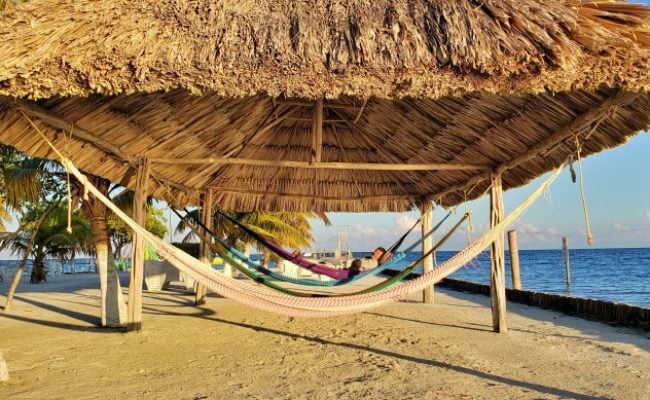 Pelican Cayes are a hidden away collection of mangrove islands surrounded by some of the most impressive coral heads and marine life in the country.
Furthermore, there is a tiny bar hidden away that runs on solar panels and a generator, which makes for a fun pit stop after a day on the water and is not surprisingly called 'Hideaway Caye', as if you'd blink you'd miss it.
Ranguana Caye is a remote island on the barrier reef home to a tiny resort with colorful wooden structures, plus a fun beach bar that is welcoming of sail boats and day visitors. The resident parrot 'Charlie' is a star attraction, along with the tall swaying palms and pristine white sands of the island. Whale sharks have been spotted near the cut, plus turtle hatchings on the beach, a very special place!
Placencia was once a sleepy seaside village that is slowly growing up into a small popular beach town, with a collection of local hangouts and some more international and upscale spots, making it a great stop off point for those wanting to indulge in a spa treatment, have dinner on shore, check out the local arts and crafts shops and lots more.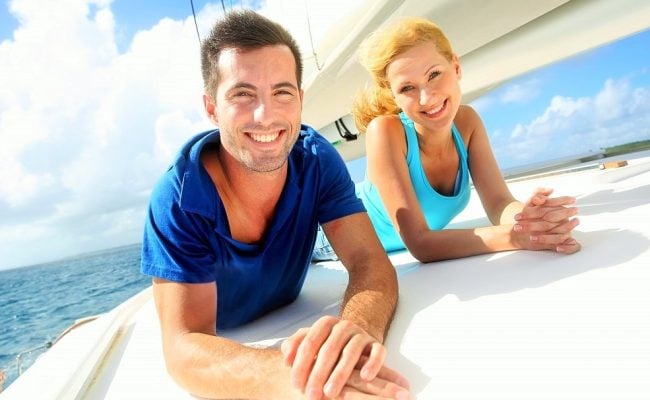 YOUR CREW
All crews are experienced and follow the same itineraries and local menus.
Please note that the crew schedules may change and we can confirm your crew within 30 days prior to boarding your catamaran charter yacht in Belize.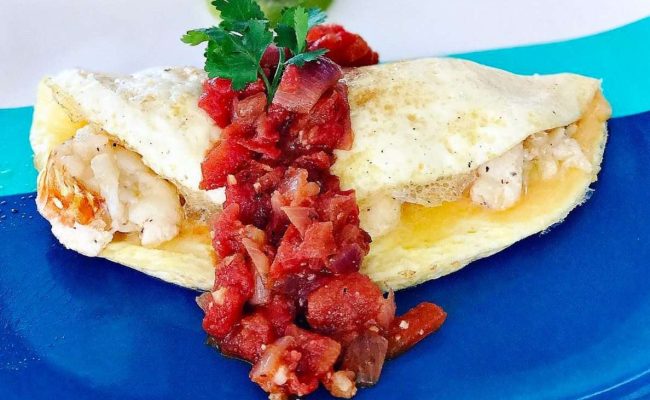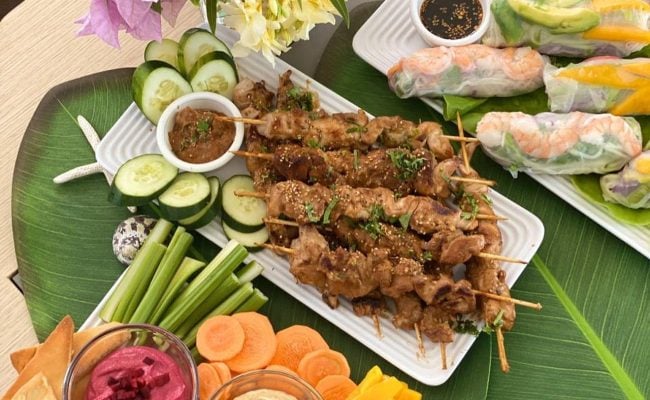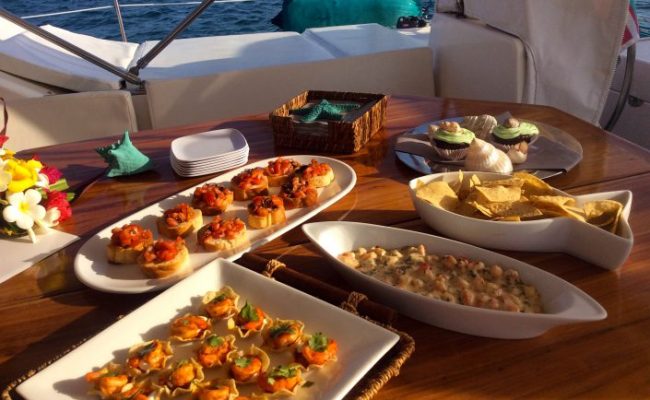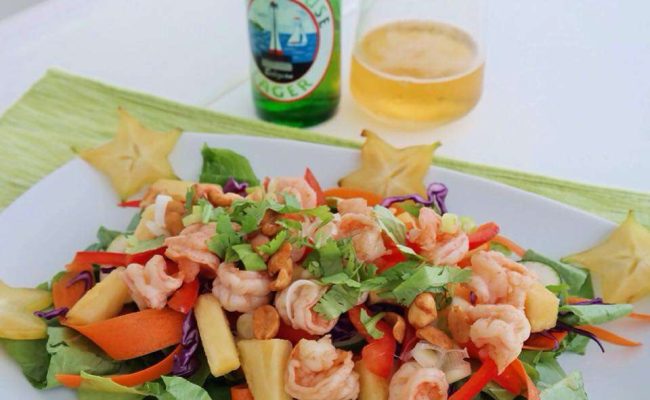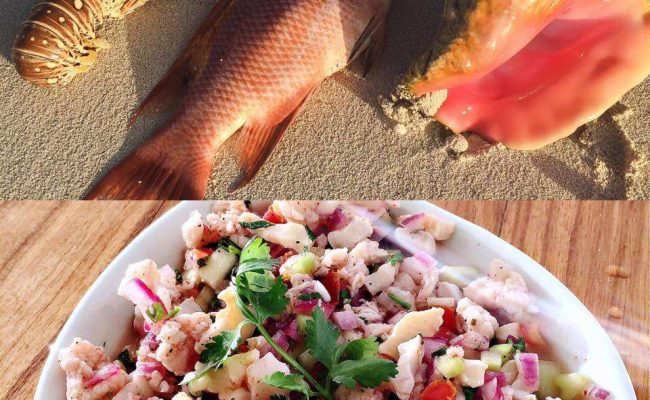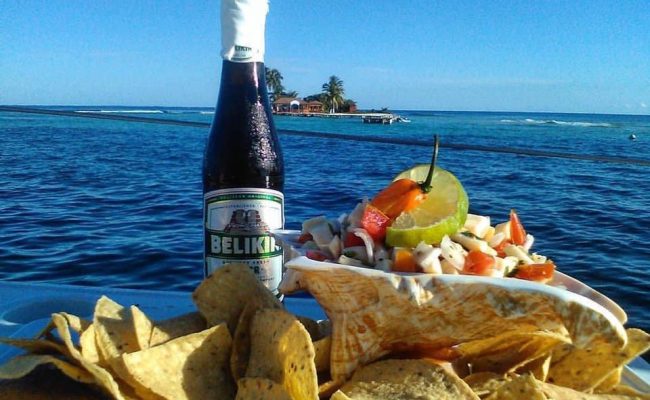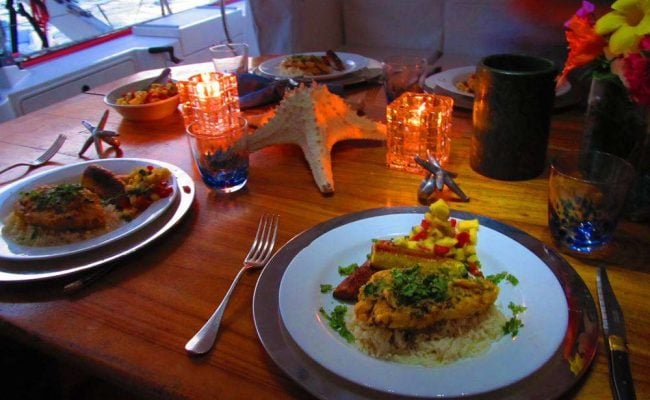 YOUR SAMPLE MENU
The crew and operation have a fantastic reputation for their creative culinary fare, quality of ingredients and flexibility in accommodating dietary requirements and special guest requests. Using locally sourced produce –fresh fish, locally reared meats and fruits and veggies from the farms inland – highlights of their menu include:
– Tropical shrimp & pineapple salad, ginger coconut dressing
– Rum chorizo black bean soup
– Jerk snapper tacos, purple slaw, pina colada crema
– Brie, mango chutney and fresh pear croustades
– Herby shrimp scampi dip
– Fresh caught cracked conch ceviche
– Grilled lobster, garlic habanero butter, fried plantains
– Sticky rum tamarind pork tenderloin, sweet potato mash
– Island shrimp linguini, tomato balsamic salad
– Caribbean coconut seafood stew, saffron rice
– Dark chocolate rum 'salami'
– Dragonfruit cheesecake
– Coconut chocolate brownies, hot berry compote
Unlimited exotic rum libations, local beers & Chilean wines
(wine upgrades available)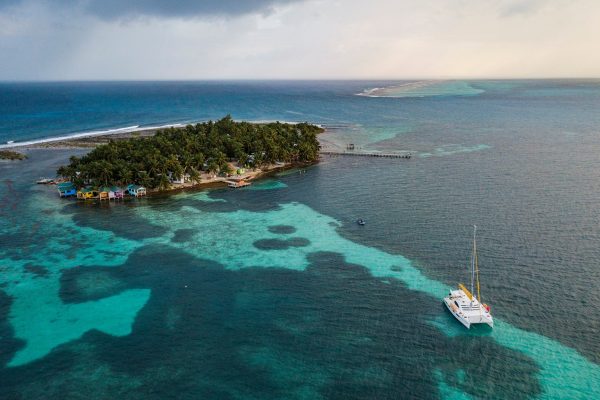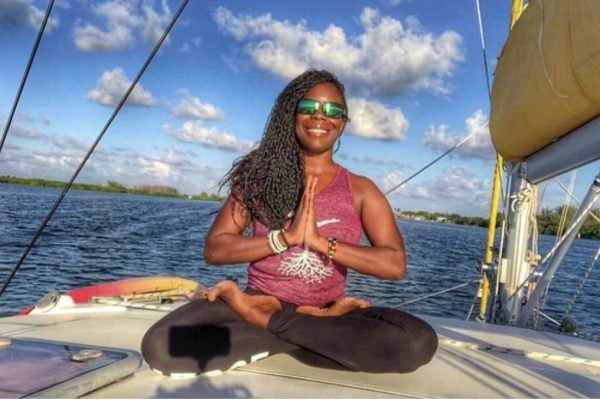 SPECIAL OFFER:
During  these  times  of  unimaginable  uncertainty,  we  are  all  sailing  in  uncharted waters  together.  Hope  is  stronger  than  fear,  which  is  why  we  believe  that  having something  to  look forward  to  that  brings  friends  or  families  back  together  again  is  a powerful  remedy,  when  it  is  of  course  safe  and  viable  to  do  so. We therefore  wanted  to  celebrate  this  eventual coming  together  by  offering 2  FRIENDS  OR  FAMILY  FREE  for  all  of  2021!
*Book  for  2  or  more  guests  and  bring 2  guests  free  of  charge  on  an  all  inclusive  luxury  sailing  charter  in  Belize! What  are  your  aspirations  for  in  2021?  Sailing  in  Belize  can  provide many  avenues  of discovery!  We  can  take  you  completely  off  the  grid  island  hopping  the  remote  Atolls and  pristine  reefs,  or  trying  new  skills  like  scuba  diving,  or  learning  to  sail  on an instructional  charter.  Looking  to  celebrate  being  together  and  indulge?  We  can  take you  bar  hopping  to  the  most  fun  little  beach  bars  and  delectable  restaurants around  the  islands country  wide.  And  for  those  who  want  to  achieve  new  health  goals, we've  got  you  covered  on  a  tailored  wellness  charter.  You  pick  the  pace  and  we  will deliver  the  rest!  Furthermore, if anything  looks  uncertain  for  your  charter,  there  is  no  rebooking penalty  for  making  any  changes  for  12  months  from  your  charter  start  date.  We remain  flexible  for  you.
*Offer  not  valid  on  existing  reservations,  offer  valid  up  to  December  15th  2021 (Rates  exclude  crew  gratuity,  scuba  diving,  specialist  fishing  excursions  and  any  off  boat drinks  or dinners)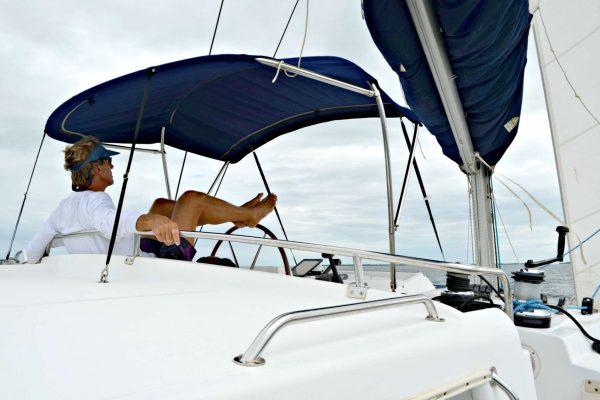 To learn more please contact the friendly & knowledgeable team at Epic Yacht Charters to get onboard a luxury Sailing or Power charter catamaran. Your Private Water Taxi or Tours can be arranged.
Contact Us NOW for availability and a personalized quote!  While our service is priceless, it is always complimentary.
Email us: [email protected] Call us: (954) 543 1270 or LiveChat with us on our website and ask as many questions as you want. Thank you and wishing you Epic Adventures from Team Epic!