SEAHOME is a 2016 Lagoon 620 catamaran, featuring Lagoon's stylish upgraded Essence decor. She is spacious and elegantly appointed with a sprawling interior that features luxurious leather accents throughout. Seahome hosts up to 10 guests in five queen-sized, airconditioned cabins. The headroom is 6'9ʺ and all the beds are fitted with custom made memory foam mattress for the ultimate restful experience at sea. Each cabin has its own, private ensuite bathroom with a separate shower and soft, fresh towels.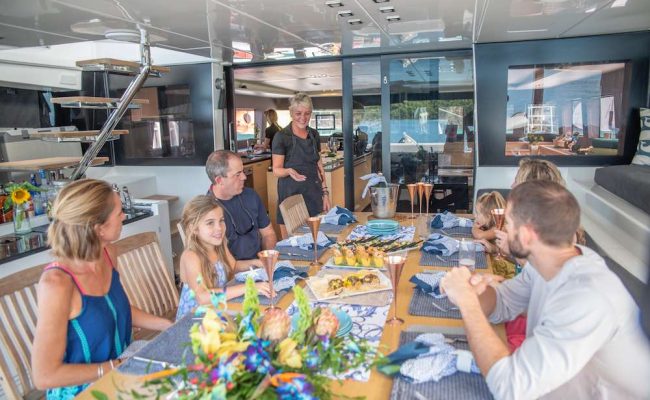 Outside, the sweeping deck, shaded flybridge, and cushioned sunbeds allow guests ample choice and space to relax and absorb the breathtaking 360° views while at anchor or sailing. When the winds are favorable, Seahome can be seen flying her striking spinnaker sail, with gennaker and jib sails providing picturesque sailing in alternate wind conditions. The cockpit at the aft of the boat features an expansive dining table that provides a center stage for an array of delicious dining experiences on week-long, all-inclusive charters. Every trip is specifically tailored to the guests' requirements and a unique menu is designed to accommodate the dietary needs of all individuals on board. The newly upgraded bar area is generously stocked, serving handcrafted cocktails daily and providing a space for creative guests to try their hand at mixology, whenever the inspiration strikes.
The yacht is fully equipped with snorkeling and scuba diving gear, an abundance of water toys, a brand new 70hp Yamaha powered AB tender, stand-up paddles boards, hammocks, and more. A swim ladder with a hot and cold water shower on the aft transom makes getting in and out of the ocean a seamless pleasure. The boat comes fully crewed with an experienced captain who doubles as a divemaster, accompanied by long time fellow crew members who provide services as a first mate/stewardess and as a chef. Having all grown up along the coastlines of Cape Town in South Africa, the ocean has been a long time playground to all the crew members aboard Seahome. Whether you are after an exuberant experience of fun outdoor activities, relaxing with your family and friends over some board games under the radiant Caribbean sun, or some quiet time in lesser populated locations – the Seahomies have over 19 years of combined experience and local knowledge in these areas to cater to your ultimate luxury yacht charter experience.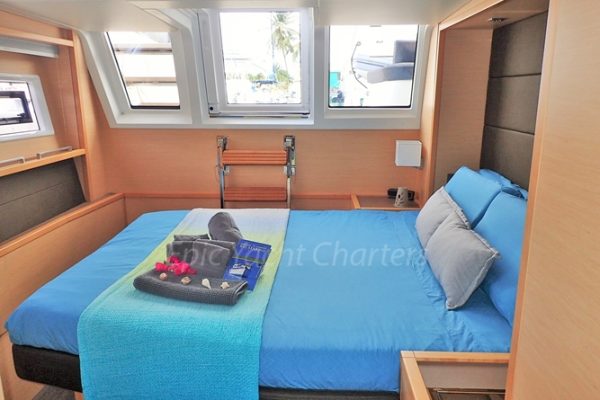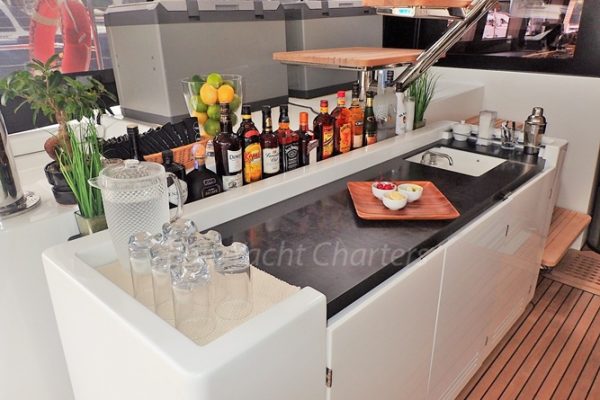 ABOUT YOUR CREW:
Captain Shane spent his childhood in Hout Bay and started sailing when he was 12 years old, building experience in the waters across Cape Peninsula. Before getting his captain's license, Shane studied advertising, photography, and cocktail mixology. He worked for many years as a water sports instructor by day and a DJ by night. In 2012, he completed his RYA Yachtmaster's, allowing him to enter into the charter industry in 2013 with the ideal combination of skills, and he has been working as a charter yacht captain for the past 7 years. Diving has found a huge place in Shane's heart thanks to the vastly populated Caribbean waters that exhibit some of "Nature's Little Secrets". His zealous enthusiasm for experiencing sea life from a diver's perspective would have him living there, if not for the small problem of there being a limited oxygen supply underwater. Shane is always keen to show his guests the best of everything, above and below the waterline. He has the sort of easy-going personality that makes everyone feel comfortable and his boundless animation is endlessly entertaining.
First Mate/Stewardess Anne is originally from the Netherlands and she spent a few years in the English countryside as a child. At the age of 5, she moved to Cape Town, South Africa, but the wider world kept calling to her, so, when she was 18, she packed her bags and moved to the busy metropolis of London for a year and worked in one of the most popular hostels in the city. After studying marketing back in South Africa, she worked at the Hilton Hotel in Cape Town. When presented with an opportunity to work on the water, her passion for being close to the ocean naturally directed her to develop a love for sailing and she used her administrative and hospitality skills to become the Sole Chef/Stew aboard one of Cape Town's luxury motor yachts. Since then, she has dabbled in every role aboard a luxury yacht and is proficient in all tasks that come her way. Anne's sparkling personality, kind and gentle manners, and witty banter make her a delight to engage with. She is devoted to animals of all shapes and sizes, especially turtles, and she always knows where to look when they peek their little heads above the water.
Shane and Anne are a fun and a seasoned married couple who have a knack for making guests feel relaxed and at ease on board. They share a love and passion for sailing on the water and they also share the exact same birthday! Born hemispheres apart, they met in South Africa in 2010, and in 2013, they sailed together over 6000 miles from Cape Town to begin a new chapter in the Caribbean. There, they began a successful 5-year partnership as one of the BVI's most loved charter crew. Their love for travel has opened doors for them to charter in some of the most sought-after locations across the globe, including the Mediterranean, the Bahamas, and many of the Leeward and Windward Caribbean islands. In 2017, the dynamic duo was joined by Shane's step-sister, Erin, who worked with them as the chef, thus forming the formidable team that operates onboard Seahome today.
Chef Erin has a passion for flavorsome food and excellent customer service. Cooking phenomenal food is in her blood, as she comes from a line of fanatical foodies and engaging entertainers. After completing a Bachelor of Science degree, she pursued her true passion for food in 2017, where she completed her City and Guild's qualification in Food Preparation and Cooking at The Sense of Taste Chef School. Thereafter, she joined Shane and Anne for a successful charter season in the BVI, followed by 2 years of developing her culinary skills at one of the BVI's most popular resorts, Cooper Island Beach Club. Working with skilled chefs from around the globe, Erin used this chance to hone her skills in all aspects of cookery and food preparation. Her cooking style is broad, but she enjoys preparing Caribbean, Mediterranean, and vegetarian cuisine in particular. With over twelve years' experience in the hospitality industry, Erin is professional, highly motivated, and loves to entertain. Her continuously evolving menu never fails to amaze guests as she serves up delicious and unique dishes inspired by fresh produce and local flavors. She cares deeply about promoting nature, supporting local producers, and using food to improve peoples' lives beyond the experience that they receive from the plate.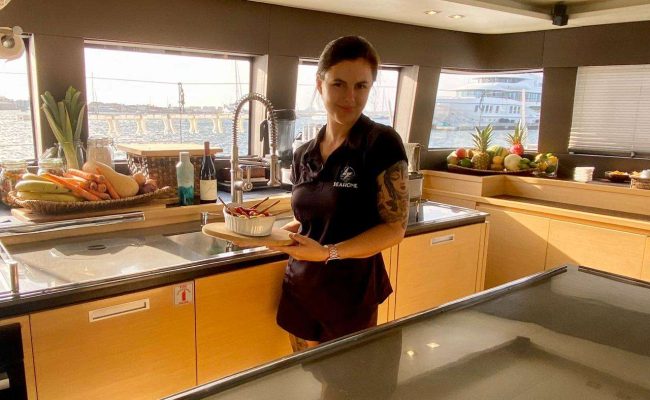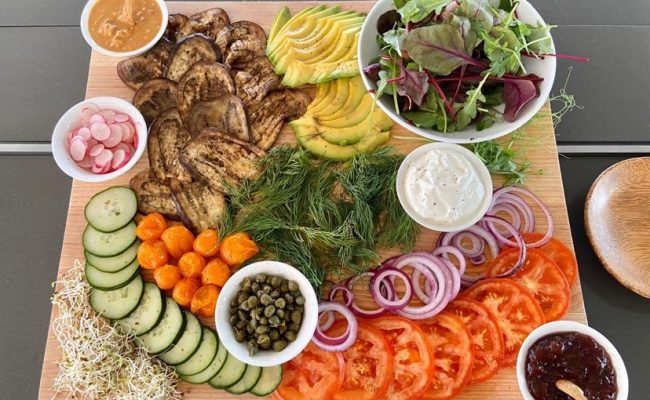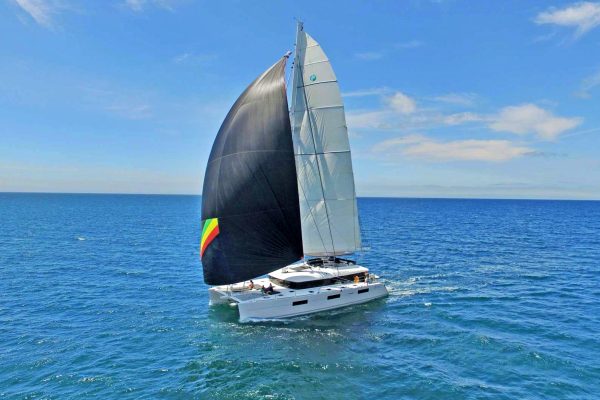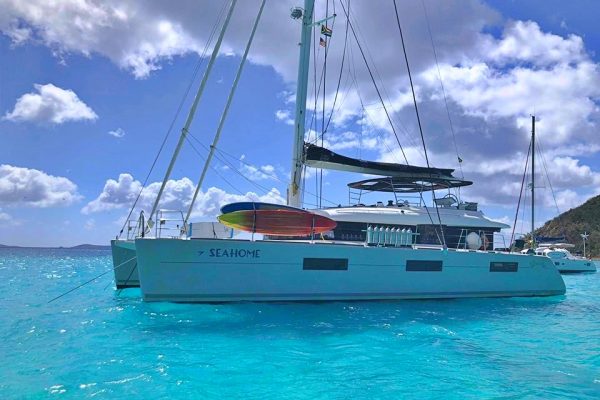 Together, these three Seahomies use their love for wining and dining, entertainment, and sailing to provide an unforgettable experience aboard, where an atmosphere of safety and professionalism allows their guests to immerse themselves in the carefree and fun-loving Caribbean vibe.
Impeccable reviews testify to their popularity and professionalism, and they are eager to make the coming season the best one yet!
To learn more please contact the friendly & knowledgeable team at Epic Yacht Charters to get onboard a luxury Sailing or Power charter catamaran. Your Private Water Taxi or Tours can be arranged.
Contact Us NOW for availability and a personalized quote!  While our service is priceless, it is always complimentary.
Email us: [email protected] Call us: (954) 543 1270 or LiveChat with us on our website and ask as many questions as you want. Thank you and wishing you Epic Adventures from Team Epic!