starting at
$59,000/week
British Virgin Islands
65 ft sailing catamaran
Accommodates up to 8
3 Queen ensuite cabins & 1 twin bunks*fee to use bunks
SCUBA diving/instruction onboard
AEOLUS is a luxurious Lagoon Sixty 5 sailing catamaran.
This crewed charter yacht is available for all-inclusive week-long sailing and diving trips in the Caribbean.
The spacious master cabin has an office area and large ensuite. The 2 queen cabins, both ensuite, offer beautiful soft furnishings along with plenty of natural light. The twin bunks with a bathroom are ideal for 2 children ($3,000 fee for use with 8 guests).
The main salon has large sofas, coffee table and dining table to comfortably seat all guests. The color palette includes grey oak with beige upholstery, that added to the lovely plush carpet, makes the space feel very luxurious. The large aft deck provides ample space for dining and relaxing along with your fully stocked bar. A large upstairs shaded fly-bridge provides added space and a great breeze with 360° views while sailing or relaxing at anchor. The foredeck has more relaxing space to enjoy while underway or relaxing with a book in a quiet bay.
Your crew is licensed, and an experienced team and a 3rd member joins as the chef. Scuba diving with courses is available onboard AEOLUS. Exciting new water toys are available on your week-long all-inclusive sailing vacation. The yacht had a dive compressor on board and the captain is happy to instruct guests in any water sport activities, including kiteboarding (gear to be rented).
*For Rates, see PRICING Tab below – Holiday weeks may differ, please enquire!
Your Crew
CAPTAIN MAYON & MATE ELIZABETH
Mayon was born in Maryland on the east coast of the USA with sailing blood passed down from his grandfather and mother. With access to a small sailboat as a kid, he has many memorable "learning" experiences as a young adventurous waterman in the making. He then went on to finish his childhood on the Big Island of Hawaii where he truly fell in love with the ocean. After completing a bachelor's degree in mechanical engineering he switched gears back to the ocean and sailed from Maryland down to the Caribbean where he started his career as a boat captain. With the sails up and underway, Mayon exudes the kind of contagious enthusiasm that will have everyone aboard excited. He's calm, collected nature and willing to share his thoughts, techniques, and plans, bringing an inclusive and confident feel to the boat. You are sure to feel empowered to learn, explore, and relax while in the comfort of this kind, relaxed, true sailor.
For as long as she can remember, Elizabeth has always felt a connection to the ocean & island living. Perhaps it's her Hawaiian middle name of "Leilani", or her disdain for growing up in cold, snowy Michigan. As soon as she graduated from high school, Elizabeth escaped the snow, moving to sunny Los Angeles to pursue her passion for dancing. She spent the next 10 years splitting her time between NYC & LA, performing with icons such as The Radio City Rockettes, Beyoncé, Pitbull & more. In addition to her performing career, Elizabeth made a name for herself in the event & meeting planning industry. As a self-proclaimed "master organizer", and an artist by nature, this career path was a natural fit. Despite having her dream jobs, bicoastal living, and working in two fast-paced industries made for a quick burnout rate, and in 2017 she decided it was time to slow down – and what better place to slow down than the Hawaiian Islands! Maui, Hawaii is where Elizabeth's passion for sailing & ocean adventure was born. Within weeks of landing on the island, Elizabeth had a job crewing on several sailboats, had become dive certified & was well on her way to becoming a professional mermaid. Flash forward to the present where Elizabeth feels as though she has manifested not only her dream job, but her dream life – entertaining- ing, adventuring, preparing culinary creations, and curating once-in-a-lifetime sailing experiences, all while island hopping around the world!
Mayon and Elizabeth fell in love on the beaches of Maui, Hawaii as two young, adventurous, ocean lovers. Lucky enough for them both, their first encounter was as unknown roommates who happened to move in under the same roof as a mutual friend. At first sight, they knew that keeping the social norm of "don't date your roommate" was out of the question!
Their kindred spirits attracted them together from the very first night they met, where an impromptu sunset sailing trip on Mayon's Hobie 18' took them well into the night. After their "love at first sight", the duo went on countless more Maui adventures before moving aboard a Cosmos 49' catamaran in Thailand. After sailing that boat to Sri Lanka they solidified their joint dream of running their own charter boat and started their career together as captain and hostess. Mayon and Elizabeth's togetherness is the solid core on which their charters are built, putting their guests at ease no matter the challenge. They are passionate about the trip they deliver, cultivating a feeling of adventure and well-being, that is sure to last far beyond your time in their care.
CHEF SAM
Sam Middeke comes from a tight family of 4 brothers, born and raised just outside of St.Louis MO. Sam started his culinary path at a young age, always interested in learning how things are made and what it takes to get to the end goal of a completed dish. Throughout his formative years, he picked up cooking and started to pursue a restaurant job just as soon as he was able to. Working several years in private clubs and golf courses, Sam learned the work it took to be able to make this passion a career. Meanwhile obtaining an applied science degree in culinary arts from Forrest Park in St.Louis. From there his desire to grow in this industry led him to the ever-growing city of Nashville TN. There he worked and learned under admirable, acclaimed chefs leading him to eventually make a name for himself as the Executive Chef of a prominent restaurant fixture in the booming Nashville culinary scene. After 5+ years in music city, he found himself exploring a new dynamic of the hospitality industry aboard Aeolus. Sam brings years of fine dining experience and a thoughtful approach to food. Sourcing locally as often as possible allows guests to experience a fresh and authentic dining experience. His goal is to show guests a creative application to ingredients while still being approachable for guests to enjoy every bite in an elegant and balanced application. All the while serving guests in whatever way necessary to ensure their time aboard is the best experience possible.
In his free time, Sam loves to stay active. Whether it's a bike ride, hiking, kickboxing, volleyball, soccer, or anything in the water. He also loves exploring new foods and restaurants to learn and grow his craft to contribute to whatever community he finds himself a part of. If staying inside, Sam loves to roll fresh pasta and test new ingredients and recipes, as well as read cookbooks of various cuisines and restaurants.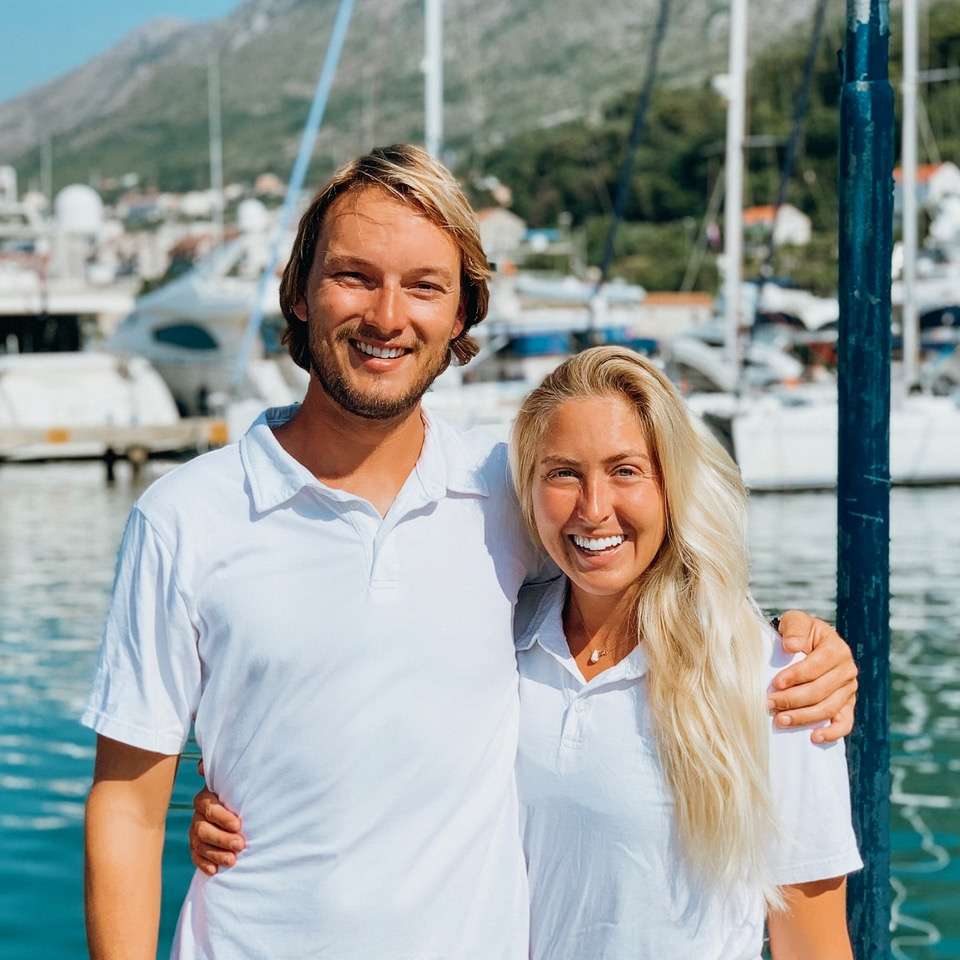 Cuisine
BREAKFAST

Daily Morning Spread: Cardamom Almond Granola, Yogurt, Fresh Fruit Platter, Steel-cut Oatmeal Freshly baked breakfast Pastry, homemade jam & lemon curd
Sourdough English Muffins – Poached Eggs, Smoked Salmon, Sautéed Swiss chard, Lemon Hollandaise Strawberry Rhubarb Scones
Rolled French Omelettes with Cheese & Herbs Piperade, Roasted Potatoes, Orange Vanilla Brioche Rolls
Huevos Rancheros; Eggs poached in Roasted Tomato Salsa Corn Tortilla, Chorizo, Avocado, Sour Cream, Banana Lime Bread
Cheddar & Thyme Soufflés – Grilled Mushrooms & Tomatoes, Smoked Sausage Lemon Poppyseed Scones
Multigrain bread, Avocado – Fried Eggs, Bacon, Hazelnut Dukkah Blueberry Muffins
Bagels, Cream Cheese, Lox, Preserved Lemon – Scrambled Eggs with Chives & Dill – Raspberry & Blackberry Friands (brown butter & almond cakes)

LUNCH

Lemongrass Black Cod Skewers – Butter Lettuce, Shaved Cucumber, Rice Noodles, Toasted Crushed Peanuts, Cilantro, Vietnamese Nouc Cham Sauce
Dungeness Crab Cakes – Salt-Crusted Potatoes, Green Beans, Apple Fennel Slaw Dill Remoulade Sauce
Salmon Burgers – Sesame Focaccia Buns, Balsamic Tomatoes, Caramelized Onions Baked Sweet Potato Fries, Ginger Tomato Ketchup
Grilled Halibut Tacos – Corn Tortilla, Shaved Cabbage, Avocado Pico de Gallo, Tomatillo Salsa, Cojita
Porcini Crusted Tri-Tip Steaks – Parsley Chimichurri Sauce, Roasted Potatoes Grilled Zucchini & Peppers, Fennel & Orange Salad
Sautéed Shrimp with Harissa & Feta – Lemon Basil Orecchiette, Saffron Chickpeas Tomato, Cucumber, Olive, Raddichio Salasa

APPETIZERS

Parmesan Crisps, Caramelized Peppers, Roasted Artichokes – Oven-Baked Tortilla Chips, Guacamole, Ceviche with Radish & Citrus Sourdough, Brushetta, Ricotta, Grilled Peaches, Prosciutto, Basil Honey
Saffron Rissoto Arancini with Mozzarella and Cherry Tomatoes
Caramelized Onion Spread, Smoked Tuna with Lemon Oil & Pepper, Toasted Baguette, Sumac Pickled Radish & Carrots
Baked Brie, Blueberry Rhubarb Chutney, Rosemary Olive Oil Crackers

DINNER

Crisp Skin Sockeye Salmon – Saffron Risotto, Roasted Asparagus & Radish Citrus Basil Sauce
Panchetta wrapped Halibut – Sweet Corn & Wild Mushrooms, Corn Broth, Chervil, Balsamic Buerre Blanc
Seared Ahi Tuna – Herb Roasted Fingerling Potatoes, Haricot Vert Warm Tomato Olive Vinaigrette
Miso Marinated Black Cod Soba Noodles, Baby Bok Choi, Tomato Ginger Dashi Broth
Spot Prawns with Garlic & Smoked Paprika Roasted Cauliflower Steak, White Bean Ragout Salsa Verde
Pan-Roasted Duck Breast, –

Parsnip Purée, Honey Wine Braised Carrot & Turnips Blueberry Demi-Glacé

DESSERT

Molten Chocolate Cake – Brûléed Pineapple, Lemongrass Ice Cream
Yogurt Panna Cotta – Strawberry Sorbet, Candied Pistachio
Plum & Ginger Galette – Creme Fraiche Ice Cream, Sesame Brittle
Chocolate Truffle Tart – Caramel Citrus, Hazelnut Praline, Vanilla Cream
Roasted Pear, Salted Caramel Semifreddo Pine Nut Macaroon
Meyer Lemon Mousse – Warm Maple Blueberries, Cardamom Shortbread