starting at
€30,500/week
Greece
67 ft Sailing catamaran
Accommodates up to 8
1 King & 3 Queen ensuite cabins
Great for a large group
ALOIA is a 67 ft Fountaine Pajot sailing catamaran with luxury accommodations for 8 guests.
ALOIA is pure luxury in a catamaran her expansive flybridge with an authentic ocean terrace and a forward cockpit with a jacuzzi; are just some of her hallmark features. Experience the exhilaration of sailing or simply relaxing on the decadent lounges or sunbathing beds. Her stunning interior is boldly modern and incredibly spacious to deliver the ultimate in comfort and luxury.
She accommodates 8 guests in four cabins – one owner's suite and 3 queen bed cabins all with private bathrooms. The flybridge together with the forward deck offers plenty of space for sunbathing and relaxing and the aft cockpit is a great area for socializing and alfresco dining. Our crew consists of a captain, chef, and deckhand and will look forward to pampering guests on board without leaving any wish unfulfilled.
*For Rates, see the PRICING Tab below – Holiday weeks may differ, please inquire!
Your Crew
CAPTAIN VLADIMIR
Vladimir is a highly experienced captain with thousand of sailing miles in his career around Europe and most specifically major sailing destinations like Croatia, Greece, Montenegro, and Turkey. Vladimir at the age of 47, speaks fluent English and has extensive sailing experience gained from various races in sailing class F18 and regattas all over Europe and more specifically in Bulgaria, Romania, France, and Turkey. His profile includes skippering experience in various boat types both (monohulls and multihulls). Furthermore, his lovely personality and great interpersonal skills have enabled him to captain a commercial motor yacht for the last three years based in the South of France. In the meanwhile, for the last five years has been working as a technical advisor for several dealers of Lagoon and Jeanneau, providing him with all the extra technical marine expertise needed to make your voyage the least stressful possible. On top of everything, his parental experience being the dad of two lovely children make him the right captain for a family-type sailing vacation.
CHEF PANOS
Panos was born in 1988 in our beautiful Thessaloniki. His love for cooking made him want to travel the world. Hence, he had a job opportunity to work as a chef in a luxury resort in Bansko of Bulgaria, he then traveled to Germany, first from the south (Stuttgart) up to the north (Hamburg), to the city of lights, Paris, and ended down to the exotic St. Barth in the Caribbean! Finally, he accomplished combining his love for the sea with his love for cooking like a chef on yachts.
He holds his Culinary diploma from IEK DELTA in Athens, he speaks fluent English, and some German and he also holds a powerboat certificate.
In his free time, he enjoys traveling, of course, reading, and relaxing with some good vibe music with a glass of good French wine!
STEWARD/DECKHAND DIMITRIS
In the year 1972, Dimitris was born in the city of Athens. He received his Higher National Diploma in Food Science in 1994 after completing his studies in Food Science at Leeds University. His interests include horseback riding, sailing, and cooking, and he holds a diploma in both sailing and motor boating. He is someone who gets along well with guests and has excellent organizing skills. Since 2016, Dimitris has been employed by the yachting company, where he thrives in providing excellent service across the board in order to provide clients with the best possible charter vacation.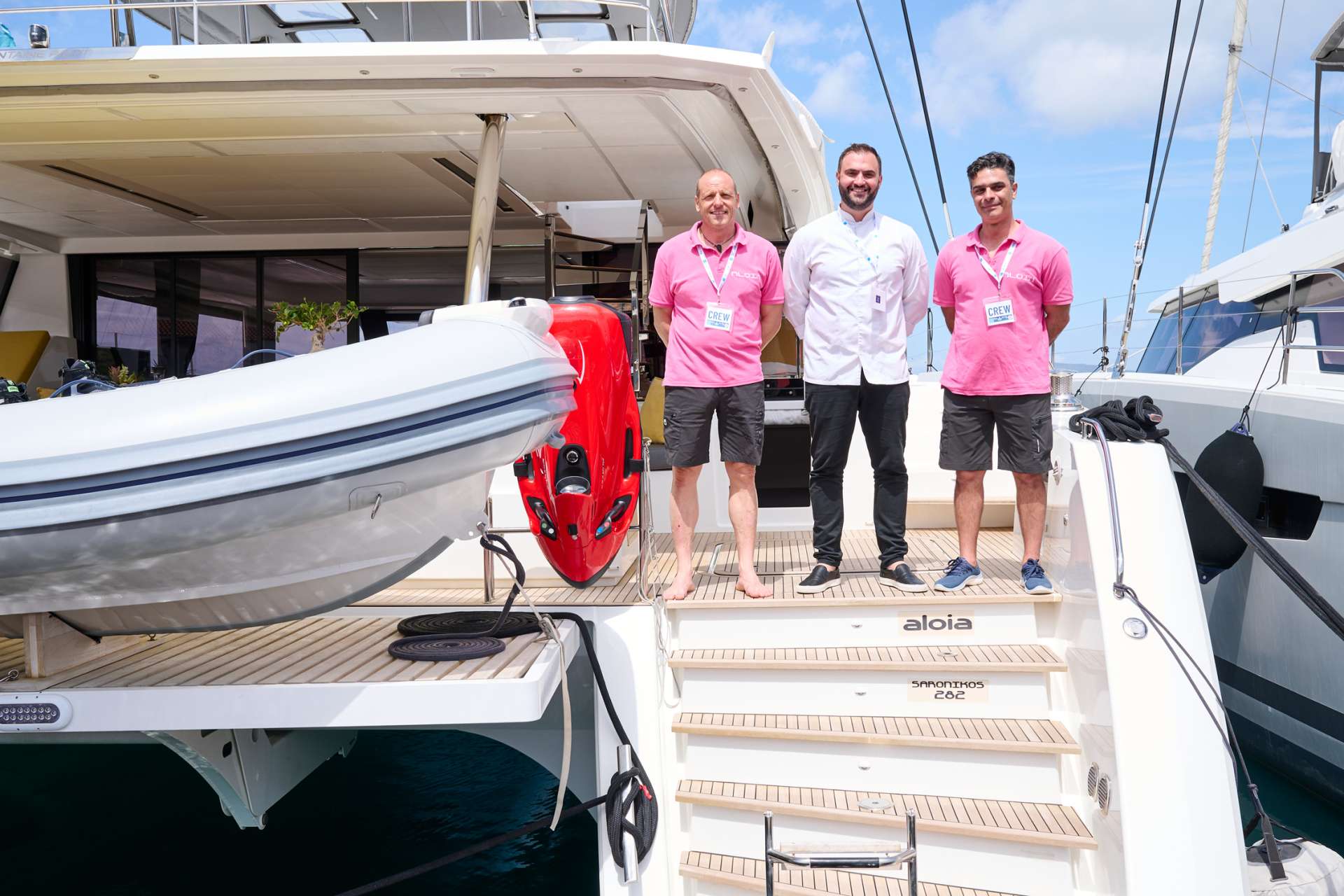 Cuisine
BREAKFAST

tea infusions
coffee
fresh juices
smoothies
milk (different types)
bread and toasts
croquet madame
Greek yogurt
cereals
fresh fruits
honey
local jams
tahini and other spreads
cheese and cold cuts (different types)
eggs of all types,
avocados
pancakes
crepes, croissants of different types
cakes

LUNCH

DAY1:

Stuffed cabbage with seafood mix and fresh herbs, sauce from almond milk, and caviar from passion fruit
Salad rocket with artichokes
Calamari sauté with fava from Santorini and vegetable spaghetti

DAY2:

Mozzarella Burrata with tomato cherry and aromatic olive from fresh basil
Bruschetta with roasted peppers, rocket leaves, and parmesan flakes
Risotto a la vongole

DAY3:

Traditional Spanish Salad melon with prosciutto
Gazpachos soup
Fresh Tuna fillet Vierge

DAY4:

Spring rolls with vegetables and chicken
Salat green beans
Ramen Bowl with noodles and shrimp

DAY5:

Athinaiki salad (baby potato, fresh vegetables, and fresh fish)
Tzatziki avocado
Fish fillet with green Horta and sauce egg-lemon

DAY6:

Tricolor beetroot with mousse from Greek yogurt and walnuts
Smoked eel with homemade hummus, caper leaves, and kritamo
Fresh fish fillet with pure celery or eggplant

DAY7:

Lentils salat me tomato cherry and fresh herbs
Asparagus with Romesco sauce and crispy prosciutto
Stuffed Chicken ballotine with cream cheese, dried tomato, and fresh onion with polenta

DINNER

DAY1:

Greek salad (cucumber, tomato cherry, onion, Greek olives, green peppers, kritamo, mousse, and soap from feta cheese)
Fish Carpaccio with Leche de Tigre
Seabass with spanakorizo sauce and Cuttlefish ink

DAY2:

Salad Niçoise
Beef Tartar OR Foie gras with marmalade from fruit
Chicken fricassee

DAY3:

Beef Carpaccio with rocket and parmesan flakes
Salad Sikora with sever cheese, apple red, pecan, tomato, and aioli sauce.
Iberic di bellota with pure and chips from sweet potato

DAY4:

DAY5:

Green Mix salat with fried cheese and walnut
Taramas with cuttlefish ink
Lobster Pasta with fresh tomato sauce

DAY6:

Greek cheese Talagani in a crust sheet with honey and sesame
Traditional Crete Salad Dakos
Greek Moussaka (New style)

DAY7:

Crab salad with green apple, ginger and lemon juice, and avocado cream.
Grilled zucchini with mozzarella and basil pesto
Fillet Rossini with foie gras

DESSERT

Chocolate tart
Millefeuilles
Cheesecake
Brownies
Tiramisu
Banoffee tart
Fruit salad
Pavlova
Crème Brule
Greek traditional desserts
Panna cotta
Loukoumades (Greek doughnuts)
Churros
Lemon tart
Torrijos