starting at
$43,200/week
British Virgin Islands
60 ft sailing catamaran
Accommodates up to 8
4 Queen ensuite cabins
Luxurious accommodations
AMAYA is a 60 ft Sunreef sailing catamaran with luxury accommodations for 8 guests.
AMAYA is a beautiful Sunreef 60, accommodating up to 8 guests in 4 queen cabins. All cabins have ensuite bathrooms and stall showers. Cabins are carpeted for extra luxury and have plenty of natural lighting from the large vertical windows that run down the side of each hull.
The main salon is spacious with large sofa and dining area. The light wood flooring and ceiling create a modern feel inside this large, bright space. The galley occupies the port side of the salon where you can see your chef create wonderful plates of food. The salon also has a pop up TV and surround sound speakers.
The large aft deck area features a bar and ample seating. The dining table comfortably seats 8 guests for you to enjoy meals with a view.
The foredeck benefits from 2 large sun pads for relaxing in the sun, while experiencing the Caribbean breeze. A sunken seating area and table allows space to have cocktails and appetizers while at anchor.
The covered flybridge with a table provides another generous vista point and is an ideal place for lounging and dining.
Our crew can't wait to take our guests to explore, the many bays, reefs, and secluded beaches of the Caribbean.
Watch the VIDEO!
*For Rates, see PRICING Tab below – Holiday weeks may differ, please enquire!
Your Crew
CAPTAIN BIFF & CHEF/MATE AMY
Amy & Biff have been sailing together since 2003 when they first met on a beach in Greece. They were supposed to meet at the ferry port of sleepy Porto Heli but Biff forgot to pick Amy up and she found him instead at the bar on the beach, entertaining his guests! That was the start of something special and they have worked, lived & sailed together ever since. Having always worked in the marine tourist industry they love meeting strangers who at the end of their vacation leave as friends!
Biff learned to sail at the Cub Scouts at a tender age and was hooked! As soon as he was old enough to teach sailing he packed his bags & found his way to the Mediterranean coast of France to start his first overseas instructor job. Working his way around France and Spain he finally settled down in Greece running his own sailing school on the chic Greek Riviera. Cold winters of Europe called him to work in Kenya briefly before settling in the BVI's running luxury charters in warm waters!
Having learned to cook at the age of 9 so she could watch 'neighbours' (Aussie Soap) on TV, Amy added windsurfing & then sailing to her interests after finishing university in order to travel. First working in Turkey, Italy & France Amy finally moved to Greece & met Biff. She picks up local recipes and cooking techniques wherever she travels, which she refined at the renowned Ashburton & River Cottage cookery schools in Devon, UK. Fresh, seasonal & local produce are her favorite ingredients in a fusion of worldwide flavors for all to enjoy!
Between them, Amy & Biff have the experience & knowledge to steer you on a course to a truly memorable vacation. With their water sports background, they are able to teach even the most reluctant swimmers, sailors, and paddle boarders to confidently make the most of their time on the water regardless of age. Their years working in family-orientated resorts in Europe also lend them to dab hands at arranging fun and relaxing family charters. Known for their flexibility & competence, your wish is their command.
DECKHAND PIERS
A third crew member, Piers Reid, rounds out the team. Piers holds an RYA/MCA Yachtmaster Offshore Sail endorsement. He has been sailing professionally around the world since 2014. Piers is happy to lend a hand wherever needed; guiding you on a hike or making your favorite cocktail to name a few.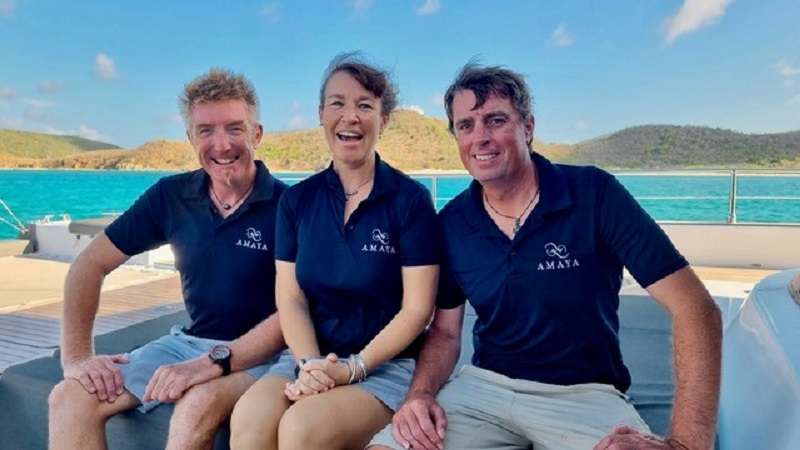 Cuisine
BREAKFAST

Crusty sourdough slices with smashed local avocado, feta & pumpkin seeds
Baked muffins with wilted nutmeg spinach & soft poached egg
Scrambled organic eggs with smoked salmon on sliced granary toast
Blueberry pancakes with crispy bacon & fruit
Freshly baked croissants with a selection of cheese, ham, compote & fresh fruit
Caribbean French toast with crispy bacon & fruit platter
Stacked sausage sandwich with sweet & spicy fresh tomato relish

LUNCH

Roasted vegetable open sandwich topped with melted cheddar, local leaf salad & kettle chips
Spinach & feta quiche with broccoli, cranberry & walnut salad
Spicy jerk chicken wrap with sweet mango salsa, avocado, green leaves & sour cream
Local Kale & shrimp Caesar Salad with parmesan croutons
Zesty Tuna ceviche with picked radish & cucumber salad, mango & avocado cubes
Creamy crab & avocado salad with organic leaves & quinoa
Burrata Caprese salad with local arugula & basil, olives, cured prosciutto twists & fresh bread rolls

APPETIZERS

Devils on horseback (baked prunes wrapped in bacon)
Teriyaki chicken wings
Hellenic Eggplant dip with crispy vegetable crisps
Baked whole brie with apricot & ginger glaze, baguette for dipping
Baked mushrooms stuffed with goat's cheese & fresh herbs
Zingy shrimp lettuce wraps with tart apple slaw
Bourbon-infused duck liver pate on melba toast

DINNER

Cajun spiced mahi-mahi fillet with coconut rice & local vegetables doused in mango & ginger puree
Slow-cooked lamb shank on a bed of creamed cauliflower with minted peas and red wine gravy
Sun-dried tomato, basil & Mozzarella stuffed chicken breast, wrapped in prosciutto ham, served with a creamy garlic mushroom risotto and buttered asparagus
Home-made Caribbean bean & quinoa burgers, grilled with fresh pineapple and mature cheddar, served with crunchy slaw and garlic plantain
Tender peppered salmon nicoise salad with local leaves & baked mini potatoes
Lemon marinated chicken skewers, grilled Greek style, served with tzatziki, crunchy greek salad, grilled zucchini & hot fresh bread
Grilled beef fillet mignon and buttered shrimp served with buttery sweet potato mash, sautéed sprouts & bacon, and a creamy roasted red pepper sauce

DESSERT

Rich chocolate & avocado mousse with crispy coconut flakes
Sweet pears poached in red wine served with roasted walnuts & mascarpone cheese
Profiteroles filled with coconut ice cream & drizzled with bitter chocolate ganache
Baked peach melba with raspberry coulis & vanilla ice cream
Zesty lemon posset with a dark chocolate ball filled with cherry liquor
Warm mango & coconut cake with creamy vanilla rum custard
Local passionfruit cheesecake