starting at
$39,000/week
British Virgin Islands
62 ft sailing catamaran
Accommodates up to 8
4 Queen ensuite cabins
Ideal for 4 couples
BAGHEERA is a 62 ft Lagoon sailing catamaran that accommodates 8 guests in 4 queen cabins.
This "Essence" line yacht BAGHEERA, which is a luxury upgrade has vertical saloon windows which offer not only a spectacular view from inside the yacht but give the yacht a feeling of being outside. There is seating for 8 people inside for dining and outside for dining with fully opening sliding doors making the inside and the outside of the yacht flow together.
With the addition of the upstairs flybridge, Bagheera is the perfect yacht for any larger group.  Bagheera's welcoming crew is excited to show you the secret spots of the Virgin Islands. A 3rd crew member for charters of over 7 guests. BAGHEERA and her crew are sure to make your vacation one remember.
*For Rates, see PRICING Tab below – Holiday weeks may differ, please enquire!
Your Crew
CAPTAIN ALEX & CHEF/MATE CARLA
Alex loves to be on the ocean and he shares his passion with anyone who sets foot on Bagheera. His expertise in sailing is coupled with a detailed understanding of the Caribbean Islands and knowledge of little-known beautiful spots. Sailing is second nature to Alex. He learned to sail at the age of 6 and as a teenager, he raced across the Atlantic on, a 74-foot ketch. This set the course of his career (as a captain). He has sailed over 260 000 miles including 15 ocean crossings on a variety of vessels. For 12 years, Alex ran a 140 Topsail Schooner on a first-class private charter.
Alex holds an MCA/RYA Master Ocean Certification (commercially endorsed) PADI Advanced Open Water Dive Certification and has extensive knowledge of not only what makes yachts run well but also what makes vacations fun with lasting lifetime memories. He is experienced, friendly, fun, and committed to first-class service, and always at your service. Together Alex and Carla represent over 20 years in the charter business and over 10 years in high-end culinary service.
Carla's culinary creations reflect her dynamic personality and joy in connecting with people.
Her menu offers mouth-watering delights from around the world, prepared from fresh local products and presented with a unique flair. She skillfully pairs each plate with wine to ensure a well-rounded dining experience. Carla has always loved to cook, helping out in restaurants in her youth back in Italy. Her creations are part Italian home cooking and fine French dining contrasted with exotic Thai cuisine. Her passion for food led her to obtain her formal training at Ashburton Culinary College, London England.
Before meeting Alex, Carla worked on a number of Super Yachts in Europe where she hosted the famous, wealthy, and business elite.
Carla is a lifelong learner, continuously challenging herself to broaden her spectrum of food. To this end, she has expanded her scrumptious repertoire with specialist courses in Vegan food, Indian cuisine, and Kosher considerations. She thrills her guest's pallets with sophisticated nutritious foods with a unique twist creating a fusion of geography or a juxtaposition of traditional and modern. Carla has been certified with Food Safety and Hygiene (level 3 ) in the UK and Service and Etiquette at the Flight Attendant School for Aerosul- Brazil.
Alex and Carla are joined by a stewardess for charters of 7 or more guests.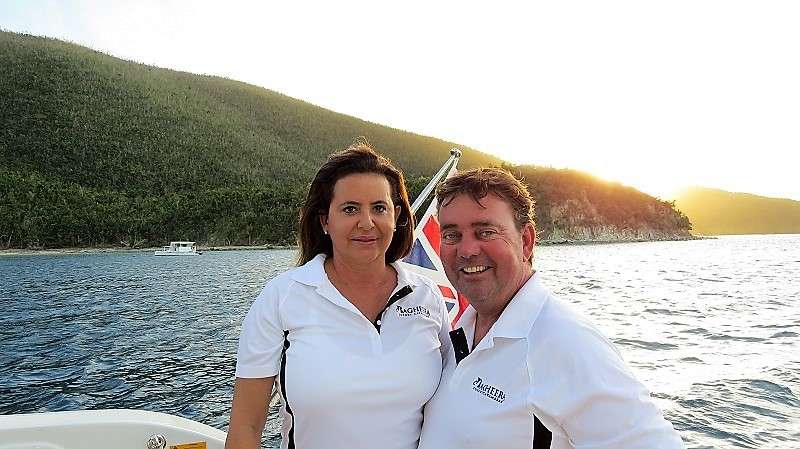 Cuisine
BREAKFAST

Breakfast is served with a selection of teas, jams, juice, coffee, and homemade bread, a variety of cakes or classic homemade English Scones, Yogurt, and fresh fruit (Vegetarian, Vegan please ask for the option)
Italian Poached Eggs with cherry tomato sauce, fresh scallions, and basil leaves, Italian parmesan cheese cooked and served in an iron pan
Fluffy Omelet with tomatoes, cheese, and green onions served with Italian fillet sausage
Truffle Scrambled Eggs served with buttery mushrooms, crispy bacon, and pan-seared tomatoes
Poach Eggs Royal is served on crispy English muffins with a combination of fresh herbs, cream cheese, garlic, and butter. Served with smoked salmon or Canadian bacon
Bonjour Mademoiselle French Toast (Brioche bread, cheese, ham, and white sauce)

LUNCH

Thai wraps, rice rolls with peanut butter sauce, served with grilled chicken or shrimp on the side
Authentic homemade Chicken Ceasar salad served with homemade focaccia bread
Cheese Burger in Paradise with crispy fried potatoes, coleslaw salad, and all the trimmings
Classic Morrocan middle eastern chicken served with mint couscous and tabbouleh salad
Amigos traditional Mexican Tacos served with Fresh Guacamole, sour Cream, Cob grilled, and Carla's special Black Beans, or classic fish tacos!
Hawaii Chicken wrap served with roasted sweet potatoes on a bed of fresh garden salad

APPETIZERS

Elite Grilled Zucchini wrap (goat cheese, dried tomatoes, homemade Italian pesto, and fresh salad)
Caribbean carrot and turmeric soup served with crispy dipping pieces of bread
 Jumbo Shrimp Cocktail served on a bed of fresh chopped leafy greens, tomato, and red shallots
Mediterranean Prosciutto di Parma e Meloni
Oriental Corn Sour Soup
Cozze e Vongole (Mussels and/or clams) Alla Napoletana served with garlic crispy bread

DINNERS

Namaste Indian Butter chicken with basmati rice in the aroma of anis and cinnamon stick served on the side with veggies and house-made naan bread
Classic Italian Lasagna Bolognese. Chef Carla's family recipe
Grilled to your perfection Filet Mignon is accompanied by creamy mustard gravy, roasted potatoes, and fresh veggies
Jamaican Pork Tenderloin served with Caribbean rice and tossed fresh veggies
Mahi-Mahi Grilled served with light white sauce, puréed potatoes, and fresh veggies
Seared Ahi Tuna with egg noodles tossed in a vibrant soya sauce, garnished with seaweed salad

DESSERTS

Fresh garden carrot cake
French chocolate mouse
Caribbean Rum cake
Local passionfruit mousse
Italian classic delicious Tiramisu