starting at
$23,000/week
British Virgin Islands
48 ft sailing catamaran
Accommodates up to 8
4 Queen ensuite cabins
Ideal for families
BELLE VIE is a 49ft 2020 Bali spectacular model of luxury and stylish design inside.
Aboard BELLE VIE, there are 4 queen staterooms for guests that all include ensuite bathrooms with walk-in showers. All cabins have individually contract air-conditioning for the comfort of each cabin. Beautiful natural lighting and great use of space make these suites extremely comfortable and elegant. This cruising catamaran is great for small groups or large families.
The upper deck fly-bridge has lounging and seating with 360° views. There is also a forward cockpit and lounge and dining area. The main deck has a bright and airy main salon (fully air-conditioned) as the galley has direct access to the forward cockpit lounge area.
Your crew will take of your every need and you will enjoy a beautiful life with friends in the Caribbean.
*For Rates, see PRICING Tab below – Holiday weeks may differ, please enquire!
Your Crew
CAPTAIN ROB & CHEF/MATE BELINDA
Born in South Africa and growing up on the East coast of Kwa Zulu Natal, Rob has been a "water boy" his whole life. He is an accomplished sailor with over 30,000 sea miles under his belt on a range of vessels. This was achieved through skippering yachts and cruising along the African coast. Together with his family, he also spent four years cruising the East Coast of Africa, Indian Ocean, SE Asia, Indonesia, and Australia.
Rob has a passion for the ocean and loves water sports. He is a qualified lifesaver, advanced diver, and fisherman with a particular passion for saltwater fly fishing. He loves to go out and hopefully return with something delicious to toss on the BBQ. Mountaineering is Rob's other passion and he has hours of adventures on mountains spanning the globe.
When Rob is not out skippering and entertaining, you will see him working in the galley with Belinda. Cocktails and the BBQ are part of Rob's regime, and he knows the perfect story to tell while you enjoy them!
Born and raised outside of Durban, South Africa Belinda has spent her life close to the sea, camping, swimming, scuba diving, and fishing as well as hiking and climbing the inland Drakensberg mountains. She is a 'people's person' and in addition to her culinary training, is also trained as a professional nurse, specializing in maternity.
Belinda is a passionate cook who has been influenced by travel and time spent in many different countries. She is particularly fond of Asian cuisine, Thailand, Malaysia, and Vietnam, but also enjoy the Indian and Mediterranean influences. She loves to cook the 'catch of the day' as provided by Rob and pair it with local, fresh, seasonal ingredients. She enjoys bright and bold flavors, especially citrus notes which do well to compliment the Caribbean climate.
Waking up to fresh morning coffee and watching the sunset with drinks and appetizers are the absolute essence of life aboard and she can't wait to welcome you!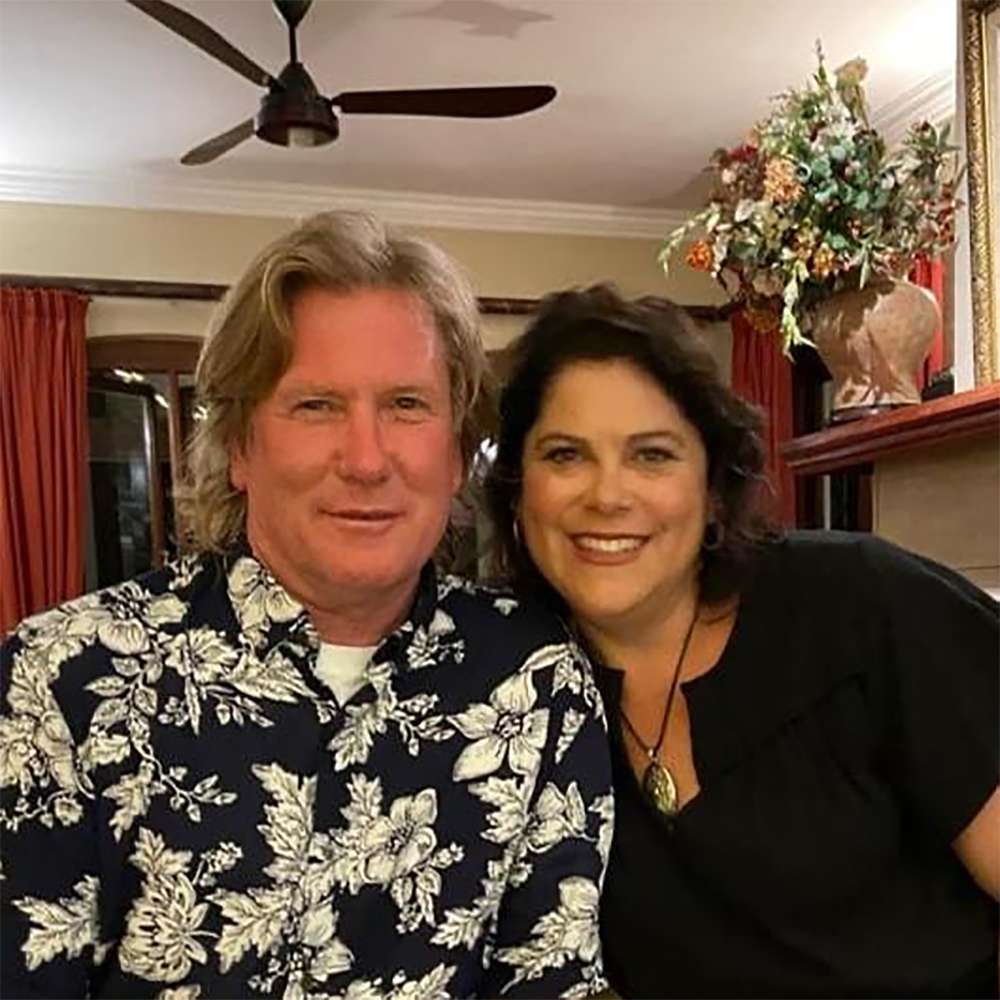 Cuisine
BREAKFAST

Eggs Benedict with Black Forest ham or crispy bacon or wilted spinach on an English muffin or black mushroom (V/GF)
Crispy sauteed potatoes with anyway eggs, grated cheddar cheese, and herby tomato
Individual phyllo breakfast cups with three kinds of cheese, baby tomato, and spring onion
Pillowy buttermilk blueberry pancake stack with sticky, syrupy blueberry sauce
Honey and mustard glazed pork sausages with scrambled eggs, caramelized onions, and rocket
Shaved smoked salmon with lemony cream cheese and dill on a bagel
Halloumi cheese fingers with roasted baby tomatoes and basil pesto (V)
Soft scrambled eggs with zingy green cilantro chutney on a crunchy Indian crisp (V)
Avocado on toast with crispy bacon or crunchy seed topping (V)
Caramelized French toast with banana, honey, and cinnamon
Bake of the morning eg date & banana / bran & raisin / carrot & pineapple muffins / croissants / pastry

LUNCH

Black and white sesame-crusted seared tuna with hot and spicy Asian vermicelli salad
Pan-fried 'fish of the day' with spiced turmeric Zanzibar potatoes and crispy garden salad
Juicy chicken skewers with herby tabbouleh and yogurt cucumber tzatziki ( substitute halloumi for Vegetarian)
Sizzling garlic prawns with avocado salsa and fresh bread to mop up the garlic butter
Juicy Cheeseburger with BBQ sauce and salty oven-baked potato wedges
Fresh fish fillet on smashed potatoes with herby green salsa verde sauce
Whole Spiced BBQ Fish with savory nutty rice and green beans
Crunchy Salt and Pepper Squid with garlicky lime aioli and mixed salad
Grilled steak taco with red onion, avocado salsa, lime, and crumbly white cheese
Steamy White Wine Mussel Pot with and hot garlic bread
Asparagus crepes with a creamy cheese sauce (V)

APPETIZERS

Yacht cured fish gravlax with toasted rye bread, Dijon crème fraiche and pickles
Charcuterie platter of cured meats, lavash cracker bread, assorted cheese, salty nuts,
seasonal fruits and pickles
Sweet and spicy fried chicken wings
Catch of the day Ceviche with tortilla chips
Vietnamese colorful crystal spring rolls with dipping sauce
Tomato, basil, and halloumi skewers
Sticky pork riblets
Mediterranean Mezze of flatbread, vegetables, and dips
Devils on horseback (bacon-wrapped prunes) and cream cheese stuffed jalapeños
Hummus loaded with pine nuts, olives, parsley, and olive oil with focaccia
Baked brie topped with mixed nuts and honey

DINNER

Crispy topped fish with olives, tomato, and crunchy capers on zucchini noodles
Beefsteak with cauliflower puree, sauteed mushrooms, and spinach
Chicken roulade stuffed with mozzarella, basil, and sundried tomatoes on roasted pumpkin squash and parmesan green beans.
Creamy chicken korma curry with basmati rice, sambals, and crunchy pappadums
Blackened Cajun Mahi-Mahi on smashed garlic potatoes with roasted corn salsa
Seafood spaghetti Marinara or spicy Tomato Arrabbiata(V)
Herbed pork fillet with cheesy potatoes dauphinoise and charred lemon broccoli
Peppercorn crusted beef tenderloin mustard mashed potato and seasonal greens
Mongolian beef stir fry with fragrant steamed white rice and fresh cucumber salad
Persian spiced lamb chops with chili and herb drizzle and Turkish white bean salad
Stuffed butternut squash with feta and pesto (V)
Spaghetti Limone with grilled asparagus (V)

DESSERT

Zesty lemon meringue roulade with whipped cream
Spiced poached pears with amaretti biscuits and vanilla bean ice cream
Espresso tiramisu with a touch of Kahlua
Coconut panna cotta with toasted coconut and mango mint salsa
Chilled stem ginger Cheesecake with ginger syrup drizzle
Pavlova pillows with whipped cream and seasonal fruits
Grilled pineapple with buttery rum sauce and ice cream
Double chocolate tart with fresh orange segments
Cream puffs with hot chocolate sauce
South African Tipsy Tart with vanilla ice cream
The fine points
Pricing
Availability
Amenities
Reviews
| Season | 2 Pax | 3 Pax | 4 Pax | 5 Pax | 6 Pax | 7 Pax | 8 Pax |
| --- | --- | --- | --- | --- | --- | --- | --- |
| Summer 2022 | $23,000 | $23,500 | $24,000 | $24,500 | $25,000 | $25,500 | $26,000 |
| Winter 2022 to 2023 | $23,000 | $23,500 | $24,000 | $24,500 | $25,000 | $25,500 | $26,000 |
| Summer 2023 | $23,000 | $23,500 | $24,000 | $24,500 | $25,000 | $25,500 | $26,000 |
Holiday offers
Please note that Holiday rates are subject to change.
Christmas week: $31,200
New Year week: $33,800
PRICE INCLUDES:
Use of the yacht with our Professional Captain and Chef and additional crew
All Onboard Meals – Breakfast, Lunch, Appetizer, Dinner, and Dessert
Snacks – Fresh Fruit, Popcorn, Granola Bars, Chips, Chocolates, and more
Beverages – Water, Juices, Sodas, Coffee, Beer, Wine, and a Fully Stocked Bar
Water Sport activities
WiFi Internet Access
Air Conditioning
Cruising permits, national parks fees, fishing permits, taxes, and port fees

Fuel for the yacht and dinghy
PRICE DOES NOT INCLUDE:
Shore activities such as dining, shopping, or special off-yacht excursions
Premium Beverages/Wines not normally stocked and excessive alcohol consumption
Airport Transfers
BVI individual fishing permits
Crew gratuity; 15-20% of the charter cost
Availability
Highlighted dates are booked, on hold, or unavailable. We may be able to challenge the dates on hold. Please contact us for details. All other dates not highlighted are available. You can use the arrow icons to navigate through the months.
Dates Color Key
If no color is noted on calendar or in the detailed list below, the dates are available for your charter
Booked (Booked by another client group already)
Hold (Held by another client group, not yet booked, and can be challenged)
Unavailable (Blocked out by the Owner and unavailable to challenge)
Transit
AMENITIES
Air conditioning and fans
Heated deck showers
Watermaker and generator
Salon TV
WiFi internet access
Salon stereo
i/Device hookup & USB Sockets
Cockpit and flybridge speakers
Barbecue
Underwater lights
WATER FUN
12′ rigid inflatable boat w/40 hp engine
Wakeboard, sub wing & tube
10 ft Floating dock
2 Standup paddleboards
Floats/noodles
Hookah diving system
Snorkel gear
Sea Scooters
Underwater camera/video
SPECIFICATIONS
Model:  Bali Catamaran
Year:  2020
LOA:  49′
Beam:  26′
Draft:  4.5′
Engines:  2 x 57 hp Diesel
Flag:  BVI
Epic Yacht Charters
Average rating:
4 reviews
Jan 12, 2022
Trip Will Be In Our Minds For Many Years
THANK YOU for an amazing trip and the wonderful experiences. We all had a blast and felt very blessed to have you be our hosts for the week. The food was amazing and the many stops between each meal were welcomed adventures. From jumping off Will T's, to meandering through the Baths, to New Years on Anegada...we all had a ball!! I can assure you this trip will be talked about for many, many years!  Thank you again for your hospitality and always offering to help make our trip 5 star! Enjoy the next charter and may your 2022 be blessed and prosperous!
November 2021 Charter Guests
Dec 12, 2021
Wonderful Experience
We cannot thank you enough for such a wonderful experience! I honestly do not have the words to say what you two did for me personally. You were so kind to show me the ropes, let me get in the way and share some of your knowledge about sailing and the lifestyle that I couldn't get anywhere else. My desire to sail has gotten a million times stronger thanks to the both of you. On top of that, you made sure we still had a vacation of a lifetime! The food was absolutely amazing (even with all of our crazy dietary restrictions) and you two were always so willing to make sure we were at all the spots we wanted to be at. All this while sharing bits of your South African culture with us. After a day or two I just felt like I was hanging out with two old friends. Please keep us in mind once you visit the states. We would love to buy to two a drink and see how the charter life is treating you.
We wish you all the best. Maybe we will see you out on the sea sometime!
November 2021 Charter Guests
Dec 3, 2021
Glorious Time
What a glorious time my family had sailing with you in the BVI's! As we anticipate winter temps and probable frozen precip this evening, we are longing for Belle Vie, your hospitality and those warm, sunny islands!! I don't think we can ever top the fun times and adventures we had with you. Thank you so much for giving all of us the trip of a lifetime. We had such fun!!!
Both of you were always right on hand to offer hospitality and adventures. Eliza, Brier and Lydia thought everything was amazing! What a fabulous array of delicious meals the "master chef" prepared. And the Captain was always spot on with a water toy or adventure. Indeed we were blessed to be on the Belle Vie with the two of you, who made our trip so memorable.
Thank you again so much. I hope 2022 finds you happily at sea enjoying your "empty nest" stage of life. Hope you get to see those Australian children of yours, too! Right now I wish you were close at hand to me with a rum punch!!! Do get in touch if you get to the States and near the Atlanta area. We'd love to connect again. God bless you in your travels.
Sep 5, 2021
Hands Down Best Trip
I highly recommend choosing Belle Vie Catamaran with this crew. Hands down one of the best trips we have taken and that says a lot considering we have been all over the world and have already done a previous catamaran trip. Great boat, great destinations in the islands with fantastic Marine and island life, fantastic crew that connected so well to my entire family and made the trip so fantastic. Sharks, huge spotted eagle rays, hammerhead, Manta rays, octopus, lobsters caught and eaten for dinner, numerous turtles, fish of incredible variety etc, etc!!!! Don't hesitate!!! Book with them!
Ready to Dive In?
Epic Yacht Charters provides the most updated information on yachts available but cannot guarantee any details are 100% correct until we verify with the specific yacht.