starting at
$20,000/week
British Virgin Islands
45 ft sailing catamaran
Accommodates up to 6
3 queen ensuite cabins
SCUBA diving onboard
SPECIAL OFFER
10% OFF charter rates for the months of NOV & DEC 2023. Excluding Christmas and New Year weeks.
FLOATATION THERAPY is a spectacular model of luxury and stylish design inside.
FLOATATION THERAPY can accommodate 6 guests in 3 queen staterooms that all include en-suite bathrooms. Beautiful natural lighting and great use of space make  these suites extremely comfortable and elegant.
The salon offers a dining table and corner sofa with plenty of seating. The area feels bright and modern with the sun coming through the vast windows that wrap around the space.
The cockpit has seating for dining outdoors and a couch to relax. The fore deck offers perfect sunken seating for enjoying the warm Caribbean breeze, while under sail, or at anchor with a cocktail in hand. A large, cushioned area for sunbathing sits in front of the helm, which also has seating to enjoying the 360 degree views.
Scuba diving is offered onboard with all gear provided. Your crew will take of your every need and Floatation Therapy is what you need in the Caribbean while you enjoy an unforgettable Epic charter yacht vacation.
*For Rates, see PRICING Tab below – Holiday weeks may differ, please enquire!
Your Crew
CAPTAIN BILL AND CHEF/MATE ASHLEY
Bill was born and raised in Belgium. After high school, Bill started a degree in sports management until he took a summer off to do a divemaster internship in Thailand. Soon after arriving Bill fell in love with the diving culture and being around the ocean and since then has never looked back! He went far beyond his divemaster internship and eventually became an instructor. He spent the next four years traveling and teaching diving around the beautiful islands of Asia. After a successful four years instructing countless students, Bill discovered a new passion for Sailing.
He jumped right in and followed his passion to Spain where he spent 6 months training for his Yacht Master certificate. From there, Bill moved to Australia to further his sailing career. He spent the next two years captaining a 50-foot catamaran for the number one tourist company in Australia. Here he fell in love with taking out charter guests and being around people who are taking a break from their normal lives to have some fun! Ever since Bill has been hooked on the yachting industry.
Ashley was born and raised in Tampa, Florida where she discovered her love for the ocean and watersports at a young age through snorkeling, fishing, and boating. She attended college at Florida State University where she acquired a degree in Family and Child Sciences. After a year of working at a preschool, Ashley moved to Australia to further explore her love for the ocean. There she did her dive master internship and like Bill was hooked. She went on to get her instructors as well to continue her passion for teaching. To supplement her diving income, she also worked in a high-end resort as a server and bartender where she gained valuable hospitality skills and a love for the service industry.
Ashley has always had a passion for putting on events and entertaining guests, at this resort she was able to help put on wedding receptions and make sure the guests had a special experience. Ashley loves going above and beyond to ensure guests always have an unforgettable time and especially combining her hospitality skills with her love of the ocean, which has led her to the chartering industry.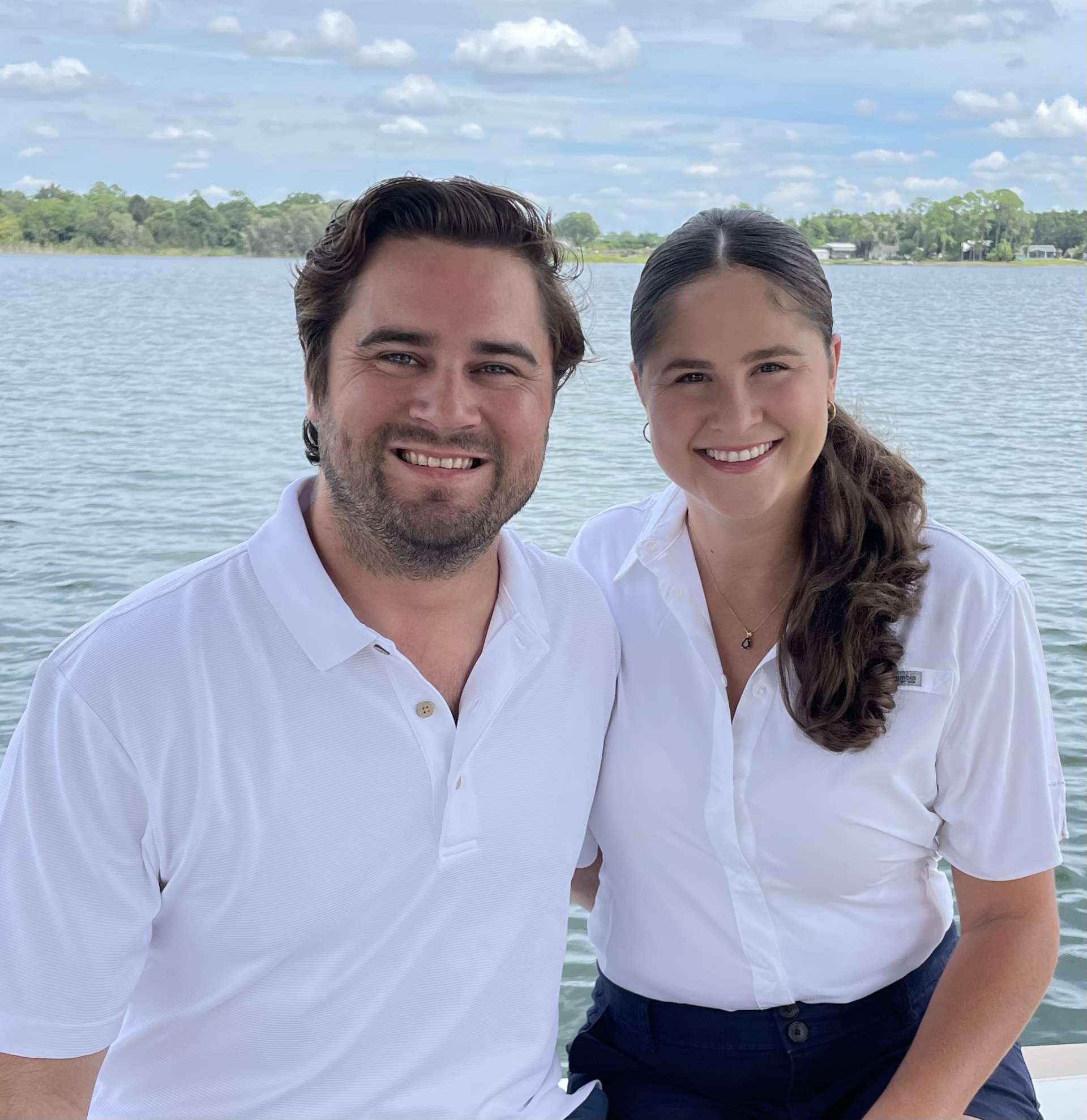 Cuisine
BREAKFAST

Acai smoothie bowl topped with fresh tropical fruit, toasted coconut, and granola with a honey drizzle
Classic Eggs Benedict with Canadian bacon, poached eggs and hollandaise sauce 

 

Avocado toast served with beetroot hummus, fried eggs topped with assorted seeds and a balsamic reduction with a side of bacon

 

Bagels topped with cream cheese, capers and smoked salmon with fresh dill and an olive oil lemon dressing 

 

Traditional American breakfast including eggs your way, bacon and blueberry pancakes

 

Italian style omelette stuffed with pancetta, roasted tomatoes, spinach and mushrooms topped with feta cheese and served with a side of home fries

 

LUNCH

Greek bowls served on a bed of lemon dill orzo pasta topped with turkey feta meatballs, kalamata olives, cherry tomatoes, cucumber, and a homemade tzatziki sauce
Hawaiian pulled pork sliders served with a pineapple-lime slaw, topped with a sriracha mayo sauce
Grilled chicken pear and goat cheese salad served with a homemade raspberry vinaigrette dressing

 

Grilled shrimp on a bed of angel hair pasta with a garlic tomato cream sauce served with a side of classic Caesar salad
Blackened grouper sandwich served with fresh lettuce and tomato topped with garlic aioli on a brioche bun 

 

Pokè bowls with white rice, Ahi Tuna, avocado, pineapple, and cucumber topped with a sesame soy dressing, crispy onions, and pickled ginger

 

APPETIZERS

Fresh homemade guacamole served with tortilla chips

 

Brie and fig jam crostini topped with prosciutto, arugula and balsamic reduction

 

Bacon and cream cheese stuffed mushrooms with crispy parmesan crust topped with parsley

 

Blueberry and goat cheese flatbread topped with caramelized red onion, mint, and walnuts with a honey drizzle
Homemade spinach and artichoke dip served with freshly toasted baguette

 

Charcuterie board served with assorted cheeses, crackers, and meats

 

DINNER

Pistachio-crusted salmon served with wild rice and broccolini

 

Caprese grilled chicken topped with fresh tomato balsamic and basil salad and melted mozzarella cheese served with a side of fettuccine

 

Island glazed grilled chicken thighs served on a bed of cilantro lime coconut rice with a side of homemade strawberry vinaigrette berry salad

 

Mahi Mahi tacos served with mango salsa and avocado topped with cotija cheese and a zesty chipotle lime sauce

 

Garlic and herb-crusted pork tenderloin with a dijon cream sauce served with roasted rosemary potato wedges and crispy Brussels sprouts

 

Filet mignon topped with a red wine reduction, mashed potatoes and grilled asparagus

 

DESSERT

Char grilled sweet pineapple topped with vanilla ice cream, toasted coconut, and mint

 

Margarita-inspired vanilla and lime cupcakes
Brownie sundae with a melted Reese's cup center and a peanut butter drizzle

 

Sweet strawberry pie served with whipped cream

 

Traditional apple crumble served à la mode
Classic Crème brûlée topped with fresh berries and mint