Floatation Therapy - Catamaran
Fun cruise with Scuba Diving
45 ft sailing catamaran
Accommodates up to 6
3 queen ensuite cabins
Scuba diving onboard
From $15,000/week
Make an Inquiry
Are You Ready to Start Your Journey?
I am happy to assist you in your search. Please call or email me.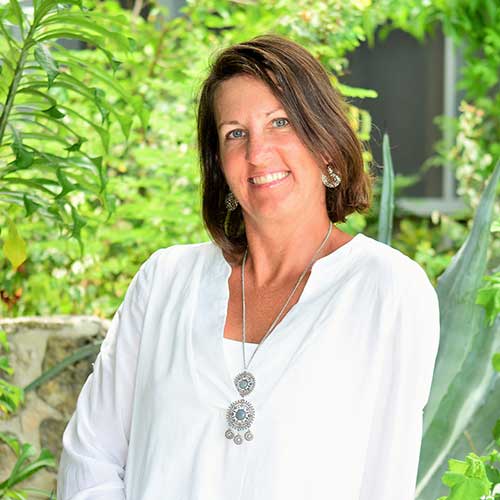 Michelle Heyns
+1 (954) 543-1270
[email protected]
Download PDF
Please click to

. This might take up to 20 seconds.
FLOATATION THERAPY is a spectacular model of luxury and stylish design inside.
Aboard FLOATATION THERAPY, there are 3 queen staterooms for guests that all include en-suite bathrooms with walk-in showers. Beautiful natural lighting and great use of space make these suites extremely comfortable and elegant. Scuba diving is offered aboard as the Captain is a divemaster.
All gear is on board and limited dives are included in the charter rate. Your crew will take of your every need and Floatation Therapy is what you need in the Caribbean while you enjoy an unforgettable Epic charter yacht vacation.
*For Rates, see PRICING Tab below – Holiday weeks may differ, please enquire!
The specifics
Pricing
Availability
Crew
Cuisine
Amenities
Reviews
Videos
Scuba
| Season | 2 Pax | 3 Pax | 4 Pax | 5 Pax | 6 Pax |
| --- | --- | --- | --- | --- | --- |
| Summer 2020 | $15,000 | $15,750 | $16,500 | $17,250 | $18,000 |
| Winter 2020 to 2021 | $15,000 | $15,750 | $16,500 | $17,250 | $18,000 |
| Summer 2021 | $15,000 | $15,750 | $16,500 | $17,250 | $18,000 |
| Winter 2021 to 2022 | $15,000 | $15,750 | $16,500 | $17,250 | $18,000 |
Holiday offers
Please note that Holiday rates are subject to change.
Christmas week: $20,000
New Year week: $21,000
PRICE INCLUDES:
Use of the yacht with our Professional Captain and Chef and additional crew
All Onboard Meals – Breakfast, Lunch, Appetizer, Dinner, and Dessert
Snacks – Fresh Fruit, Popcorn, Granola Bars, Chips, Chocolates and more
Beverages – Water, Juices, Sodas, Coffee, Beer, Wine, and a Fully Stocked Bar
Water Sport activities
Broadband Wireless Internet Access
Air Conditioning
Fuel for the yacht and dinghy
PRICE DOES NOT INCLUDE:
If the charter area includes the BVI; cruising permits, national parks fees, fishing permits, taxes, and port fees are not included.
Shore activities such as dining, shopping, or special off yacht excursions
Premium Beverages/Wines not normally stocked and excessive alcohol consumption
Airport Transfers
Crew gratuity; 15-20% of the charter cost
Availability
Highlighted dates are booked, on hold, or unavailable. We may be able to challenge the dates on hold. Please contact us for details. All other dates not highlighted are available. You can use the arrow icons to navigate through the months.
Dates Color Key
If no color is noted on calendar or in the detailed list below, the dates are available for your charter
Booked (Booked by another client group already)
Hold (Held by another client group, not yet booked, and can be challenged)
Unavailable (Blocked out by the Owner and unavailable to challenge)
Transit
CAPTAIN MICHAEL AND CHEF/MATE SARA
Michael was born in Northwestern Pennsylvania by Lake Erie. Being around lakes and freshwater rivers fishing and boating was a big part of growing up. After attending university at Edinboro, PA, and getting an accounting degree his career plans took a turn when he took an interest in Maritime in San Francisco in 2015. The rest is history and his love of the ocean, care, and safety of vessels, and providing the best experience to guests and friends around him to the top standards has become his main goal. Working as chief engineer on a 160' schooner his management and engineering skills have developed to a high standard for preventative maintenance and top care of a vessel's mechanical, electrical, and AV related systems. His competence on a vessel and sense of adventure will ensure you have a great experience when embarking on a new adventure.
Sara was born in Texas and lived her younger years in San Antonio. At 13 years old her parents decided to move onto their 41' morgan out island sailboat. She lived onboard invincible until she was 18. During those 5 years onboard, she traveled through the eastern and western Caribbean learning Spanish, surfing, sailing, and living a life on the ocean. Growing up on the ocean inspired her to pursue a career in maritime. She loves entertaining and sharing her knowledge of the water to ensure the most spectacular time for her guests and friends alike. Being the chef on board it will be her pleasure for her to provide you the absolute best entrees and hors d'oeuvres. Sara with her sense of adventure, love for the water, and culinary skills she will ensure you have the best experience on any vessel.
Michael and Sara first met on a 160' sailing yacht in New York City working as crew. Michael was the engineer and Sara was hired as a deckhand. They hit it off instantly developing a relationship both professionally and romantically. The couple worked for 2 years together sailing and exploring New York and Newport in the summer, the Caribbean, and Bermuda in the winter. After being together for 3 years now they want to share their passion for the ocean and work on sailboats to provide guests with the best experience.
BREAKFAST
Eggs Benedict with poached egg, Canadian bacon, hollandaise sauce over English muffins.
Yogurt, Granola, Fruit, Cereal, Milk, Hash Browns, choice of Eggs, toast
Avocado toast with shaved egg
Pancakes with fruit, sausage, with over-easy eggs
Everything bagels with cream cheese smoked salmon capers and Arugula
French toast with sausage, bacon, and eggs
Eggs to order bacon or sausage Toast with fruit salad
LUNCH
Chicken curry salad
Salmon salad with romaine lettuce, carrots, sautéed mushroom, bell peppers & vinaigrette dressing
Corn and avocado salad with Roma tomatoes fresh Basil vinaigrette with seared Ahi Tuna
Chicken salad sandwich with a side salad homemade vinaigrette
Pad Thai with Asian salad
Fish tacos on corn tortillas with coleslaw & fried plantains
Falafels in pita bread with hummus & Mediterranean salad
DINNER
Honey garlic shrimp with brown rice and steamed broccoli
Grilled portobello mushrooms with blue cheese crumble sautéed spinach with a garlic veggie medley
Honey Garlic Roasted pork with green beans & jasmine rice
Surf & Turf seared scallops, filet Medallions with roasted vegetables
Chicken parmigiana with garden salad
Baked chicken with mushroom cream sauce served over basmati rice
Lamb shank Parsley garlic sauce, Sauté asparagus, with garlic mashed potatoes
DESSERT
Vegan triple chocolate cake with the option of ice cream
Blueberry tartlets with whipped cream
Cinnamon apple crisps topped with vanilla ice cream
Coconut macaroons with chocolate drizzle
Chocolate lava cake with berries
Crème brûlée
Churros dusted with cinnamon sugar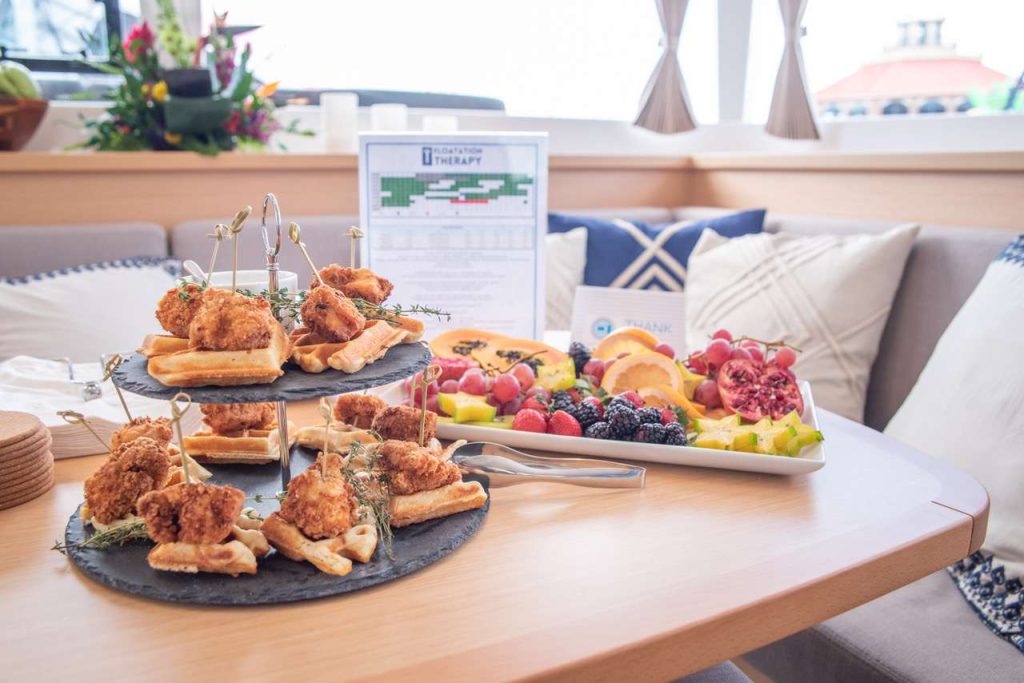 AMENITIES
Air conditioning and fans
Swim platforms and showers
Heated deck showers
Watermaker and generator
Basic WiFi
Salon TV
iDevice hookup
Cockpit and flydeck speakers
CDs, videos, DVDs
Books and games
Cockpit ice maker
Barbecue
WATER FUN
12′ rigid inflatable boat w/20 hp engine
Towable inflatable toys
1 Sub-wing
2 Stand up paddle boards
Floating mats
Light fishing gear
Snorkel gear
SCUBA diving onboard
Underwater Camera
SPECIFICATIONS
Model:  Lagoon Catamaran
Year:  2018
LOA: 45′
Beam: 27′
Draft: 5′
Engines: 2 x 54 hp Diesel
Flag: USA
Epic Yacht Charters
Average rating:
12 reviews
Apr 25, 2021
The Name Says It All
#FLOATATIONTHERAPY The name says it all. If you are looking for a charter that creates a place of peace whether exhilarating adventures w hikes, dives/snorkeling, or serene bays and beaches basking in the sun Floatation Therapy along with its great crew is the place to be. They had fresh unique dishes and some fabulous favorites. Cappacinios with breakfast, simple snacks after snorkeling, appetizing lunches, more snacks if you like, and of course, opulent dinner followed by decadent desserts. And always on hand a cocktail or two or three! The crew, helped us plan and create the experience we wanted. A getaway with no shopping, no work, low carb menu, and no stress. Beginning in Caneel Bay, snorkeling at Henley Bay (awesome), Trunk Bay - beautiful beach to bask in the sun (underwater snorkel trail interesting), Cruz Bay - off to our one dine out, Leinster Bay - hike up to Annaberg Sugar Mill (light hike, history, and butterflies among the Nokia trees), another beautiful restful visit to Caneel Bay among the sea turtles, then off to Salt Pond Bay - light hike through Salt Pond (a lesson in salt and ecology in itself) to Drunk Bay (a transition from simple beauty to splendid rock/ reef/fossil exploration) - with luscious mangroves, rolling green hills - a dramatic sea crashing among the rocks. On my next trip, I plan to hike Ram Heads Trail, which I hear is spectacular. Thank you, for an awesome adventure and all the therapy I could ask for. You'll see me again!!
Apr 25, 2021
Awesome Week
What an awesome week, we had such a wonderful time on Floatation Therapy. The crew were amazing - all planning and anticipating our needs before we did. They really went beyond we couldn't of asked for anything more. We loved the diving especially Tektite and catching a lobster on the last day. We are ready to come back next year and do it all over again!! You also made us forget about covid and all the problems of the world. Couldn't ask for more! The meals were delicious and plated beautifully! Thanks for everything!
Dec 2, 2020
Unbelievable Experience
The crew were fabulous and could not have asked for a better experience. It was an unbelievable experience and we will be back!
Feb 8, 2021
Like Family
This is our second time with this yacht and crew- they are now like family! Words cannot express our appreciation for all that they do. We had such an amazing experience and made memories we will never forget. Thank you got this wonderful adventure and cannot wait to return for more. We love you guys. God bless and keep safe.
Nov 21, 2019
LOVED The Diving
The hardest thing to do in a confined space for a week is to keep the kids (ages 7-14) entertained and interested. Captain did that wonderfully. At every stop all of the toys were instantly in the water and he was ready to go with whatever they wanted to do. And he never got tired, if they wanted to be on the dingy for 4 hours, he was there with energy and a smile. The new things he introduced us to were great, the secret cliff jumping pool, all highlights. And I haven't even talked about SCUBA yet, he was awesome with the SCUBA, encouraging dives every day. From beach dives to more advanced, everyone LOVED the diving. I can not say enough about his great spirit, temperament, and energy. He was accompanied by the chef, who is simply wonderful. I will start with the diving, she loves to dive too and she was involved with all the dives. It was helpful to have both crew on dives as we could break up the group based on skill level. From the boat standpoint they were always on the spot. There was never a towel out of place, a glass half empty, or what you needed not instantly available. The fact is, she is just a VERY nice person, and pleasant to be around at all times. She was warm and made the entire group welcome and comfortable. And, she was pretty funny!
Sep 22, 2020
Thanks so much for such a fabulous week on the boat! This trip has been amazing. We cannot thank you enough for your kindness, dedication and determination in making our vacation such a success. Your attention to detail in everything will never be forgotten. We wish you both safe travels on your future voyages & hope to see you again soon.
Apr 27, 2020
Fantastic Time!
We had a fantastic time! The crew accommodated all of our needs and desires in order to make this trip unforgettable, especially for the kids. We threw a big birthday bash for our VIP family member (stuffed animal Beaver), that included a customized homemade beaver cake, from the chef, streamers and even fun hats. For Easter, we had an Easter egg hunt that everyone laughing, even the adults. Each place the Captain took us to was even more beautiful than the last. The only issue we had is that we didn't have enough time-so the crew let us extend our trip by 24 hours just to squeeze in even more fun and relaxation. Thank you!
Dec 8, 2020
Wonderful Vacation
We had an amazing week!!. We are very grateful for the hospitality, the sailing, the amazing meals, the dolphins, the wake-boarding, paddle boarding, kayaking, hiking and overall wonderful vacation.
May 15, 2020
Crew Of The Year
All of the amazing meals will be greatly missed next week when we are home, as well as the captain's ability to always find the best anchorages. You were both so willing to accommodate our every whim. We will miss the most amazing turquoise water, white sand and spacious boat we could imagine. You are both, without question, deserving of the "crew of the year" award and we are so glad it was you who were at the helm.
Nov 5, 2020
Absolutely Fabulous Time!
This crew is incredibly professional, knowledgeable, hardworking, tireless and had super personalities to boot. They really went the extra mile to accommodate everything we wanted to do, including taking the kids sailing, seeking out great dive spots, cooking different meals for the kids and being super flexible with picky eaters. We had an absolutely fabulous time and would sail again in the islands. The boat was nice, very functional, and we enjoyed all the water toys. Overall an amazing trip, thank you!
Walkthrough with crew
   360° VR Tour
SCUBA DIVING ONBOARD
Scuba gear included
3 dives incl. for certified divers
$25 per dive
Epic Yacht Charters provides the most updated information on yachts available but cannot guarantee any details are 100% correct until we verify with the specific yacht.
Similar Yachts