Ocelot - Catamaran
Luxury Sailing
52 ft sailing catamaran
Accommodates up to 8
4 Queen ensuite cabins
Caribbean sailing delight
From $20,500/week
Make an Inquiry
Are You Ready to Start Your Journey?
I am happy to assist you in your search. Please call or email me.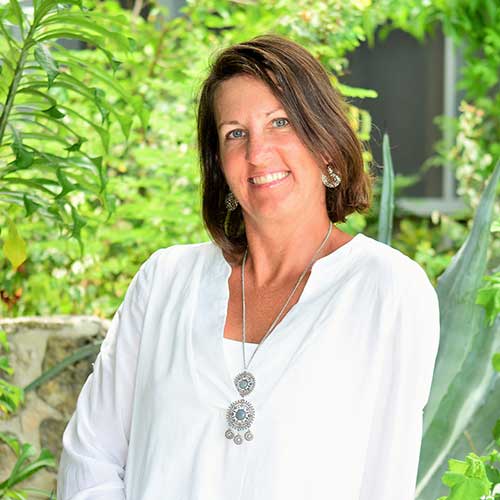 Michelle Heyns
+1 (954) 543-1270
[email protected]
Download PDF
Please click to

. This might take up to 20 seconds.
OCELOT is a Lagoon 520 owner's version offering a spacious master cabin and 3 other queen guest cabins.
All guest cabins aboard OCELOT have ensuite bathrooms with vanity and separate shower stalls. There is also a 5th bunk cabin that offers two single berths and the crew will swap out for a queen upon request. OCELOT has nice natural lighting and ventilation throughout the yacht plus full air conditioning.
The yacht offers alfresco dining in the cockpit and will comfortably accommodate 8 guests at the table. The salon will also seat up to 8 guests for dining or just relaxing in the air conditioning. There is plenty of options for sunbathing and lots of places to kick back in the shade as well. Whether you are looking for a fun family adventure or a Caribbean getaway with friends, OCELOT is ready to welcome you on an EPIC sailing trip of a lifetime!
*For Rates, see PRICING Tab below – Holiday weeks may differ, please enquire!
The specifics
Pricing
Availability
Crew
Cuisine
Amenities
Reviews
Videos
Scuba
| Season | 2 Pax | 3 Pax | 4 Pax | 5 Pax | 6 Pax | 7 Pax | 8 Pax |
| --- | --- | --- | --- | --- | --- | --- | --- |
| Winter 2020 to 2021 | $20,500 | $21,250 | $22,000 | $22,750 | $23,500 | $24,250 | $25,000 |
| Summer 2021 | $20,500 | $21,250 | $22,000 | $22,750 | $23,500 | $24,250 | $25,000 |
| Winter 2021 to 2022 | $20,500 | $21,250 | $22,000 | $22,750 | $23,500 | $24,250 | $25,000 |
| Summer 2022 | $20,500 | $21,250 | $22,000 | $22,750 | $23,500 | $24,250 | $25,000 |
Holiday offers
Please note that Holiday rates are subject to change.
Christmas week: $29,000
New Year week: $33,000
PRICE INCLUDES:
Use of the yacht with our Professional Captain and Chef and additional crew
All Onboard Meals – Breakfast, Lunch, Appetizer, Dinner, and Dessert
Snacks – Fresh Fruit, Popcorn, Granola Bars, Chips, Chocolates and more
Beverages – Water, Juices, Sodas, Coffee, Beer, Wine, and a Fully Stocked Bar
Water Sport activities
Broadband Wireless Internet Access
Air Conditioning
Fuel for the yacht and dinghy
PRICE DOES NOT INCLUDE:
If the charter area includes the BVI; cruising permits, national parks fees, fishing permits, taxes, and port fees are not included.
Shore activities such as dining, shopping, or special off yacht excursions
Premium Beverages/Wines not normally stocked and excessive alcohol consumption
Airport Transfers
Crew gratuity; 15-20% of the charter cost
Availability
Highlighted dates are booked, on hold, or unavailable. We may be able to challenge the dates on hold. Please contact us for details. All other dates not highlighted are available. You can use the arrow icons to navigate through the months.
Dates Color Key
If no color is noted on calendar or in the detailed list below, the dates are available for your charter
Booked (Booked by another client group already)
Hold (Held by another client group, not yet booked, and can be challenged)
Unavailable (Blocked out by the Owner and unavailable to challenge)
Transit
CAPTAIN DEVAN & CHEF/MATE TIM
Devan was born and raised on Long Island. Having a father who was a captain and growing up with boats right in the backyard, being out on the water very quickly became her escape. She started dreaming about sailing around the world around the age of 10 before she'd ever stepped foot onto a sailboat. Little did she know where life would take her.
She went to college at UNC Charlotte in NC where she pursued a degree in Civil Engineering. After she graduated she spent 2 years in the highly competitive NYC construction industry as a project manager, utilizing her skills both in the office and out on the job sites. Then one Friday evening, after an especially exhausting 60+ hour work week, she had an epiphany. She quit her job and within two weeks, moved out to Hawaii where she was able to get a job as a deckhand on a sailing catamaran. And that was it; she was hooked. She spent a couple of years doing term charters in the Hawaiian Islands, some time sailing around Southeast Asia and the South Pacific, and then moved to NZ for a year to work on a private motor yacht. When she's not working or playing on boats, you can find her scuba diving, cliff jumping, hiking, or playing beach volleyball. Anything to get her adrenaline pumping.
And then we have First Mate/Chef, Tim Montgomery, who has finally found a way to combine his passions for cooking, traveling, and making friends from all walks of life a reality. After working nearly a decade in landlocked, stressful kitchens, he decided to pursue a more relaxed living situation in the Caribbean. Tim prides himself on preparing high-end meals dedicated to sourcing fresh quality local ingredients for his guests.
Tim began his career working under one of the United States top chefs, Carl McConnell. During this time, Tim honed his skills by working endless hours preparing James Beard-nominated dishes at the widely acclaimed restaurant Stone Soup Cottage in St. Louis Missouri. After attending culinary school and furthering his education, he decided to leave the nest to go and see the world. He landed an incredible job working for the global eco-tourism company partnered with National Geographic, Lindblad Expeditions. He spent two years taking advantage of Nat Geo's extensive itineraries sailing up and down the west coast, cooking in places he had never dreamed he'd see and traveling between stints on their boats.
For the past two years, Tim's been living and working on sailing catamarans in the Caribbean. He takes pleasure in bringing guests together with his family-style dining approach or by wowing them with exquisitely plated dishes. An avid scuba diver, adventurer, and naturalist join him by snorkeling the Caribbean reefs and helping him snare lobster for that night's appetizer. A passionate musician, you can usually find him at night on the aft deck with a dark n' stormy strumming a few tunes or playing a gig with friends at local bars when not on charter. At the end of the day, his goal is to ensure everyone is having an amazing time leading to lifelong friendships by the end of the trip.
Watch the crew interview HERE!
BREAKFAST
Breakfast served with your choice of coffee or tea, juices and fresh fruit. Bloody Mary's and Mimosa's upon request
Frittata – Choice of red pepper and spinach or the meat lovers ham and bacon
Custard French Toast – Served with bourbon maple syrup
Shakshuka – Dish of eggs poached in sauce of tomatoes, chili peppers, onions, and topped with feta cheese
Eggs Benedict – Classic Benedict of english muffin layered with ham, poached egg, and rich hollandaise sauce
Banana Pancakes – Sweet house made pancakes served with mango compote
Omelette Bar – Assortment of meats, vegetables, and cheeses made to order
Sweet or Savory Crepes – Choice of made to order fruit and cream cheese or egg and bacon filled crepes
LUNCH
Enjoy chilled water, cold beer or soft drink, your favorite cocktail or a glass of wine
Caribbean Jerk Chicken – Jamaican style chicken served with traditional pilaf and mango salsa
Shrimp Coconut Curry – Sautéed shrimp and vegetable medley served with curry coconut sauce
Marinated Flank Steak with Chimichurri Sauce – Sliced thin on a bed of stir-fried garlic green beans
Crispy Fried Fish Tacos – With cilantro lime aioli, Mexican slaw, and smoky black beans
Greek Style Chicken – Greek marinated chicken with fresh pita and crispy fried falafel
Seafood Paella – Traditional Spanish style rice and seafood dish couple with Mediterranean flavors
Japanese Style Pork Kabobs – Accompanied by Asian slaw and rice noodle salad
APPETIZERS
Lobster Avocado Crostini's
Herb Goat Cheese Stuffed Gougèrs
Potato Blinis with Smoked Salmon and Crème Fraiche
Croquettes with Pineapple Chutney
Crudo with Chiles and Sesame Flatbread
Leek and Mushroom Tartlets with Brandy Reduction
Seafood and Cheese Stuffed Mushroom with Scotch Bonnet Bechamel
DINNER
Enjoy your meal with wine, water, a cocktail or the beverage of your choice
Catch of the Day En Papillote – Fresh Caribbean fish wrapped in parchment and steamed in white wine, butter, and lemon
Braised Lamb Shanks – Poached in red wine, stock, and mirepoix served with polenta cakes and reduced poaching liquid
Maryland Crab Cakes – Crispy fried cakes on top white bean puree and tangy remoulade sauce
Jamaican Pork Chops – Tangy, sweet, and smoky chops served over traditional pineapple rice
Bouillabaisse – Classic stew is loaded with shellfish and seafood in a broth delicately flavored with fennel and herbs with fresh toasted bread and rouille
Beef Tenderloin – Broiled tenderloin medallions sauced with demi-glace and bearnaise accompanied with horseradish mashed potatoes
Seared Scallops – Pan seared diver scallops with passion fruit beurre blanc and Mediterranean style couscous
DESSERT
Orange Cardamom Crème Brule
Pineapple Upside Down Cake
Passion Fruit Sorbet Granita
Coconut Tres Leche's
Chocolate Pots de Crème
Kirsch Cherry Flan
Pecan Cake with Chocolate Ganache and Candied Orange
Enjoy an after-dinner drink, coffee or tea with dessert
AMENITIES
Air conditioning and fans
Swim platforms and showers
Watermaker and generator
Free WiFi
Salon TV
i/Device docking station
Cockpit icemaker
Barbecue
Green cleaning products
WATER FUN
13' rigid inflatable boat w/40 hp
Tube, kneeboard & wakeboard
Adult waterski's
1 Two-person kayak
Snorkel gear
Fishing gear
2 stand up paddleboards
Floating Mats
Scuba diving offered (please enquire)
SPECIFICATIONS
Model: Lagoon 52 Sailing Catamaran
Year: 2016
LOA: 52'
Beam: 28,5''
Draft: 5'
Engines: 2x80hp
Flag: USA
Epic Yacht Charters
Average rating:
9 reviews
Mar 26, 2020
Can't Wait To Sail Again
Ocelot sailing experience is truly amazing. Between our 3 couples, we have traveled the world and this week with this yacht and crew is our favorite travel experience. The moment you board the boat, they make you feel at home. The boat has an abundance of lounging areas that allowed all of us to find places to relax and enjoy sailing. The captain is a knowledgeable captain, taking us to islands, snorkeling spots, and luxurious bays each day. Last but certainly not least, the chef's cooking is delicious! She has a sweet way of catering to each guest and for us she was truly the gem of the Caribbean. This is the trip you can't miss. Can't wait to sail again.
Feb 2, 2020
Exceeded Our Expectations
We had an amazing week on the water with this yacht and crew. This trip well exceeded our expectations! The two of them went above and beyond with the smallest details to our adventure both on the water and on land. The food, cocktails and their thoughtfulness for what our family would enjoy will make this a trip to always remember.
Mar 7, 2020
Highly Recommend
This was truly a once in a lifetime experience. This was a surprise for my husband's birthday and it beat all of our expectations. The captain and his wife were so warm and accommodating. They created a very relaxing and memorable experience for us! The weather was perfect and we saw the most breathtaking sunset. Highly recommend this boat tour to anyone!!
Nov 20, 2019
Warm & Hospitable Crew
So much more personal than larger excursions - classy, yet laid back and relaxed! We were coming by ferry from St Thomas, so to simplify logistics, the crew arranged to dock their boat at the private dock just outside the bar at the ferry terminal. They are so warm and hospitable - effortlessly managing sailing while also serving homemade snacks & libations and entertaining guests with stories about their beautiful vessel and the local area! We truly enjoyed and absolutely recommend this experience! Equally delightful for those who have been sailing before, as well as those who want to see it for the first time.
Jul 13, 2019
Want Another Longer Adventure
Thank you so much for taking a hesitant group and helping them to love sailing. Everyone agreed this was the best vacation and "we should have done the whole week". Mission accomplished! I LOVED the sailing on the windy! You are a great Captain! Every single meal was fabulous. I hope to come back for a longer adventure, and see even more of the beautiful BVI's.
Apr 13, 2019
Wish We Could Have Stayed Longer
Thank you so much for an amazing vacation aboard Ocelot  At first I wasn't sure if having our entire family trapped on a boat was a good idea....but it ended up being an incredible experience and my favorite getaway yet. The food was fantastic and I still don't know how the chef was able to prepare it all in that little boat kitchen. I had so much fun snorkeling, jumping off the boat, paddle boarding, laying in the bean bag chair and going to Foxy's. We got to do a little of everything! Thank you I wish I could stay longer.
Jul 13, 2019
Amazing Experience
Thank you so much for such an amazing trip! I don't think I could have asked for anything better. You both are so kind and made this such an amazing experience. The food was amazing and I had so much fun!
Mar 22, 2020
Can't Wait Till Next Year
Definitely by far the best vacation our group has ever had! Thank you to to this boat and crew for a fantastic time. We feel as if they are family that welcomed us home! Can't wait until next year!
Oct 18, 2019
Unforgettable
An awesome experience. The crew could not have been more accommodating. We had the time of our lives, fantastic crew. Going home with lots of memories.  Special places, special crew. What a pleasure to know you and spend time together in and out of the water. Unforgettable. Thank you isn't enough. Thanks for the coral and reef experience.
SCUBA DIVING ONBOARD
Gear rental is at the guests' expense
The crew is happy to handle gear rental, pick-up, and return on the guests' behalf
$35 per dive, per diver, up to 6 certified divers at a time, max 2 dives per day, payable aboard to yacht crew
Epic Yacht Charters provides the most updated information on yachts available but cannot guarantee any details are 100% correct until we verify with the specific yacht.
Similar Yachts