starting at
$84,000/week
British Virgin Islands
80 ft sailing catamaran
Accommodates up to 8
1 King & 3 queen ensuite cabins
Well equipped for water sports
SPECIAL OFFER
Special pricing for charters taken by December 15th, 2023. $80,000 for seven nights, anywhere between 2 and 8 guests. The location is the British Virgin Islands(BVI).
Seaclusion is a 80 ft Sunreef sailing catamaran with luxury accommodations for 8 guests.
The beautiful catamaran SEACLUSION has 1 master king suite with a large walk-in shower plus 3 spacious queen cabins, all ensuite with stall showers. Two of the queen cabins can be split and made into 2 twin beds. TVs in all staterooms and Bluetooth with surround speakers in all areas. Backlit bar in the salon with pop-up TV. Aft deck lounge and alfresco dining. A large wine fridge onboard for extra luxury. Seaclusion is fully air-conditioned throughout. On the sky lounge, you can relax in the fresh air with 360° views and sun pads. She has all the must-have features.
With a completely fresh superstructure concept, the Sunreef 80 gains a saloon plan with outstanding potential for customization. A vast, central lounging space with a panoramic view and endless layout possibilities, it opens both onto the bow terrace and cockpit. The bow benefits from a cozy lounge, well shielded from sun and wind. To the aft, the saloon merges with the generous cockpit extended with a large aft platform. All the areas combined form a universal, open environment where flexibility and freedom reign.
*For Rates, see PRICING Tab below – Holiday weeks may differ, please inquire!
Your Crew
CAPTAIN RICKY & CHEF JESS
Captain Ricky (left) is a water adventurer as a young man Ricky loved surfing, and fishing, he spent plenty of time on the beach as a lifesaver and has also completed his Scuba Diving Divemaster qualification.
Ricky's passion and love for sailing on the ocean began in 2008 when took the adventure of a lifetime sailing a 48" Catamaran from South Africa to Australia via the Caribbean and Panama Canal. During this time Ricky obtained the knowledge and skillset that has molded him to be the quality yacht master ocean he is today. After completing approximately 18 000 NM he was hooked to the beauty of sailing yachts and wanted nothing more but to share this experience with all of you.
Chef Jess (Right) found her love for food and creating mouthwatering dishes during her first couple of trips hosting guests onboard charter yachts in the Caribbean. She quickly realized that this is where she wanted to put her roots down and become a professional chef on board luxury charter yachts. She completed multiple short cooking courses to further her knowledge including a Plant base course with Leiths London and a yacht chef course with Ashburton. Jess is experienced in various culinary styles and cuisines that include and are not limited to Vegan, Plant-Based, Mediterranean, and local Caribbean dishes.
This team duo has been working together since 2009 both in the corporate and yachting industry as Captain and Chef team and have run many successful charter seasons in the Caribbean and Mediterranean. Together they have completed 2 Atlantic Crossing over the past years and have extensive experience of the Caribbean waters including the British Virgin Islands, USVI, Bahamas, St Martin, Antigua, and more.
They are both incredibly passionate about their careers and take great pride in providing their guests onboard with a memorable, adventurist, and enriched experience onboard. Their professional approach to tending to your every need will ensure that your sailing vacation ticks all the boxes and expectations.
Ricky and Jess look forward to welcoming you on board and ensuring that your vacation is everything you have ever dreamed of.
FIRST MATE/DECKHAND JACOB
1st Mate Jacob was born and raised in Newport, Rhode Island, one of the sailing capitals of the world. Starting at age 10, he began competing in local regattas, both solo and as a crew aboard his family's J/120. After attending the University of Rhode Island, Jacob managed hotels, restaurants, and events, honing his skills in hospitality and entertainment. It was in 2020 that he decided to make yachting his life's career and became a 1st Mate in Newport's fleet of vintage America's Cup competitors, the International 12 Meter Class. Today, Jacob combines high-performance sailing and luxury service to provide each charter with first-class adventure and accommodation.
STEWARDESS NYLA
Born and raised on a farm in southern Indiana, Nyla decided to change the scenery and invest in her career on the ocean as a stewardess and Sous Chef. Nyla completed her culinary arts degree at Johnson & Wales University in Denver Colorado and spent two years working at some of the best restaurants in Denver as a cook.
Nyla started her yachting career on a 58ft Catamaran and has worked up towards reaching her goal on a beautiful Sunreef 80. Along with being an impeccable stew and Sous chef, Nyla continues to grow her capabilities at sea by working to become an adequate sailor.
Her eye for detail and passion for quality service ensures that your time on board Seaclusion will be well taken care of.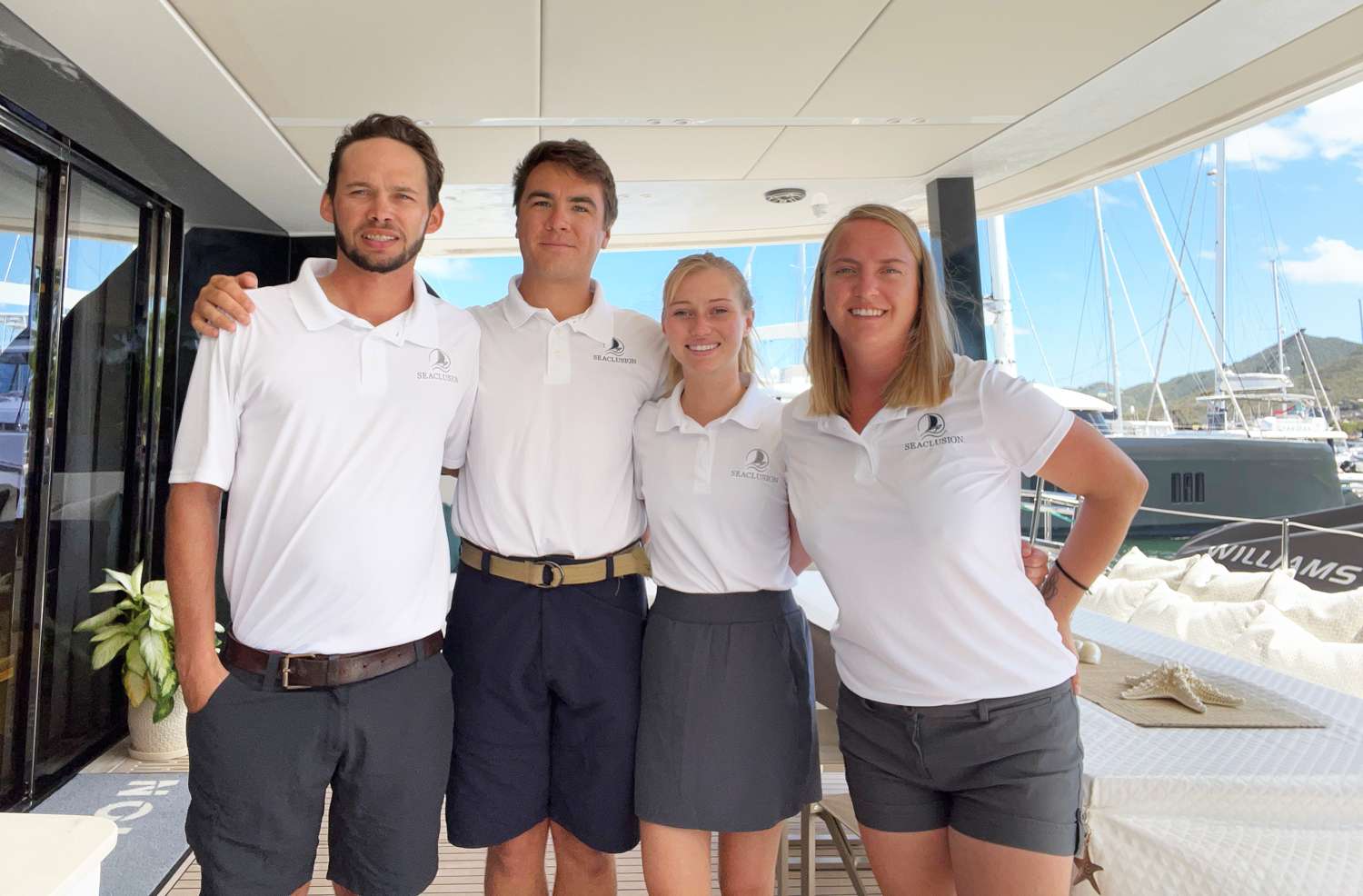 Cuisine
BREAKFAST

Poached Egg served on top of toasted Sourdough with smoked Salmon, Avocado roses, Rocket & Capers
Traditional Spanish Shakshuka served with Feta and chili tomato relish
French Apricot & Walnut Crepes, Chia Seed Pudding served with fresh berries and homemade granola
Traditional German Breakfast with sliced meats, bread rolls, fresh-baked bread rolls, a selection of cheese, boiled eggs, and various other options
Classic Eggs Benedict with Hollandaise Sauce
Traditional English Breakfast
Fresh fruit platter, Coconut Chocolate Ganache, French toast with fresh berries, and smoothies
Spinach Mushroom baked frittata

LUNCH

Sesame seared Tuna Niçoise Salad, Wasabi Cream, Seaweed Salad & freshly baked rosemary, cracked salt focaccia
Tender grilled chicken & pineapple served with fresh local greens
editerranean Grazing Table – Olives – Crudites – Italian Bread, Melon Prosciutto & Burrata Salad – Tomato,
Sourdough, Red Pepper, and Basil Salad – Lemon Butter Prawn Skewers
Individual Courgettes, Sun Blushed Tomato, Thyme & Feta Tart with fresh 3 leaf salad
BBQ Grazing Table: Slow cooked Baby Back Ribs, Grilled Butternut Squash Goats Cheese & Olive Salad, Sliced Tomatoes with Mint and Lemon Dressing, Chickpea Shawarma Dip, and Pita Pockets
Asparagus, Peas, and Basil Barley Salad with fresh French Vinaigrette
Caramelized Goat Cheese Wheels with roasted beets and fresh greens
Local Caribbean Chicken Salad served with fresh bread

APPETIZERS

Gorgonzola & Prosciutto bites
Crab salad wrapped in Cucumber cannelloni topped with caviar and micro-greens
Refreshing Watermelon, Feta, Red Onion, and Black Olive Salad
Curried Gratinated Mussels
Charcuterie Board
Brick Pastry Parcels with smoked Tofu, Lemongrass & Fennel Filling
Caramelized Onion & Brie tarts

DINNER

Moroccan spiced chicken breast, fig & pistachio boudin, squash, turnips, and chicken jus
Pan-seared local fresh catch with chorizo velouté served with an assortment of local fresh green vegetables
Fillet of Beef, Shallot Tart Tatin, Parsnip Puree, Seasonal Greens & Madeira Jus
Sweet & Spicy Grilled Mahi Mahi served with traditional Caribbean Coconut & Black Bean Rice, Mango Salsa, and crunchy Broccolini
Whole stuffed Lemon Sole/Cod, Souffle Mousseline, Grapes, Shrimps, Girolles & Pine Nut Beurre Noisette
Slow-cooked Pork Belly, Raisin puree, Cauliflower puree, Roasted cauliflower, Caramelized pan-fried Scallops, and Curry Oil
Lobster Thermidor with young vegetables and side salad options
Butter Bean Marsala with crispy Angel hair

DESSERT

Poached Apple & Pear Jelly with Crumble Topping and Fig Cream
Classic Crème Brulé
Greek Yogurt Panna Cotta with Caribbean fresh fruit and glass biscuit
White Chocolate, Cardamon, and Berries Tart
Optional ice cream