starting at
$29,000/week
United States Virgin Islands
52 ft Sailing catamaran
Accommodates up to 8
4 Ensuite cabins, (4 queen & 1 set of bunks)**
SCUBA diving onboard
SPECIAL OFFER
Special Offer: 10% OFF rates for the rest of the 2023 season; ending July 31, 2023, BVI Compliant, Diving Onboard, and BVI fees and permits included!
SOUTHERN COMFORT is a Lagoon 520, performance luxury model perfectly intersects the ideas of comfort and capability.
All accommodations are fit for the collaboration of adventure and gratification aboard SOUTHERN COMFORT. 4 Queen ensuite staterooms are available to the guests, all with their own separate bathrooms and showers.**(3 queen staterooms and 4th bunk bed stateroom. Normally the crew will take the bunks unless requested at booking contract.)
A tremendous amount of entertaining and relaxing space on board this vessel. The flybridge, where the helm and sailing functions meet the enormous convertible settee provides the best seat in the house whether under sail or under stars. The forward cockpit lounge where morning coffee meets the sunrise. The aft cockpit where the exquisite meals are served and chaise loungers are on both sides of the yacht.
We have found a "SOUTHERN COMFORT", and demand your presence in the Caribbean. It's time for an EPIC break
*For Rates, see PRICING Tab below – Holiday weeks may differ, please enquire!
Your Crew
CAPTAIN ISH AND CHEF/MATE TBA
As a child, Ish anxiously awaited the arrival of summer when he would head to his grandparents' cottage in Ontario. The waters of Lake Huron became the playground where Ish learned to sail his grandparents' 16' Wayfarer. On any given sunny summer day, he could be found out on the lake struggling to untangle himself from a rat's nest of lines or being caught by a sneaky gust that caused him to capsize. Those first few years with the Wayfarer served as a foundation for a great passion for sailing. After graduating from high school, Ish attended Prescott College in Arizona where he fed an insatiable appetite for the outdoors. College orientation, a 3-week backpacking trip through a canyon in Arizona, opened a whole new world of outdoor pursuits and possibilities. Over the next 4 years, he filled his spare time with surfing, backcountry skiing, white water rafting, rock climbing, stargazing, campfire-ing, and howling at the moon! A desire to sail in saltwater persisted, even in the desert. Ish satisfied his saltwater cravings with a job living and working aboard sailboats in the British Virgin Islands. Over 6 summers with Sail Caribbean, a summer camp for teens, Ish served as captain, fleet captain, and program director. He was able to also fulfill his aspiration to work on a commercial salmon fishing boat in Alaska before finally realizing his lifelong dream of leading unforgettable charters for guests in the Virgin Islands. His time in the VI has given him outstanding knowledge of the local culture and natural treasures to be enjoyed here. He has a deep love for these beautiful islands and the surrounding waters and is excited to share this passion with each and every guest who comes aboard.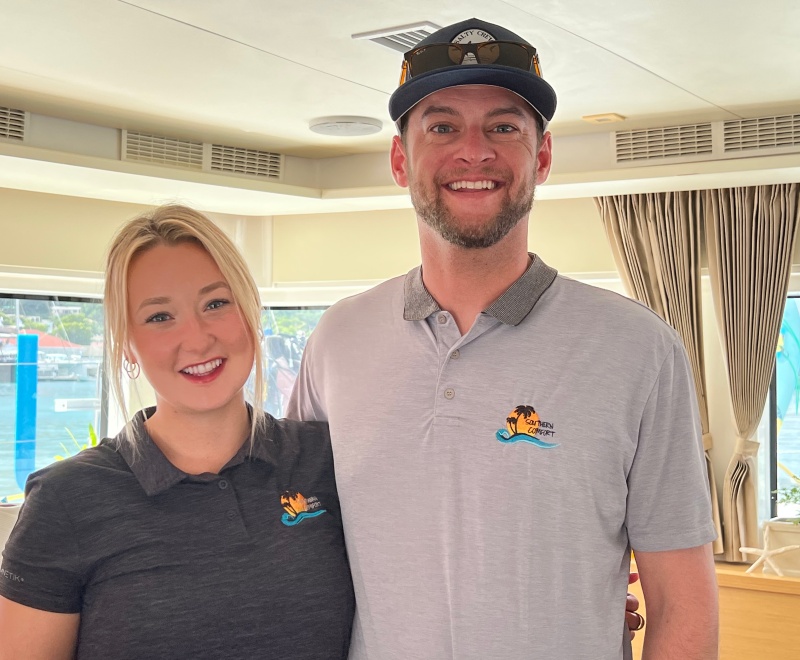 Cuisine
BREAKFAST

Buttery Croissant Strata w/ Spinach and Prosciutto

Fluffy Lemon Buttermilk Pancakes served w/ Whipped Cream, Blueberry Compote & Sausage Provençal

Shakshuka served w/ Crumbled Feta, Toasted Pita & Bacon
Baked French Toast served w/ Maple Syrup, Bacon, Fresh Berries & Whipped Cream
Toasted Bagels w/ Smoked Salmon, Cream Cheese, Red Onion, Capers & Fresh Lemon
Classic Eggs Benedict w/ Hollandaise Sauce served on Toasted English Muffins & sprinkled w/ Fresh Chives
Breakfast Tacos w/ Scrambled Egg, Bacon, Shredded Cheese, Avocado, Crispy Shallots, Sautéed Mushrooms & Bell Peppers served w/ Hot Sauce & Sour Cream

LUNCH

Watermelon Salad w/ Crumbled Feta, Fresh Mint, Toasted Walnuts, Pomegranate Seeds & Tarragon Vinaigrette

Grilled Thai Curry Chicken Skewers served over Asian Noodle Salad w/ Ginger Coconut Peanut Sauce

Caprese Paninis served w/ Caesar Salad, Toasted Kettle Chips & Sliced Pickles
New England Lobster Rolls served w/ Creamy Baked Mac n' Cheese & Mixed Green Salad w/ Fresh Herb Vinaigrette
Sesame Seared Ahi Tuna w/ Teriyaki Glaze, Spicy Mayo & Wasabi served over spiralized Cucumber & Carrot Salad
Korean Style Beef Bulgogi Burgers served w/ Sweet & Tangy Citrus Slaw and Mexican Street Corn
Grouper Tacos w/ Garlic Mango Lime Slaw, Cotija Cheese & Avocado served on Warm Tortillas or in Boston Lettuce Cups

APPETIZERS

Baked Brie w/ Caramelized Onion Chutney, Dried Cranberries & Chopped Pistachios

Conch Fritters served w/ Caribbean Remoulade Sauce

Bruschetta
Saganaki (Fried Greek Cheese) w/ Warmed Pita, Parsley & Fresh Lemon
Chicken Dumplings w/ Teriyaki Glaze, Soy Sauce & Pickled Ginger
Marsala Mushrooms stuffed w/ Mascarpone & Sausage
Coconut Shrimp w/ Mango Dipping Sauce

DINNER

Surf & Turf: Filet Mignon & Lobster Tail w/ Lemon Butter Herb Sauce Cauliflower Purée & Roasted Brussel Sprouts & Carrots

Prosciutto and Herb Wrapped Pork Tenderloin w/ Apple Chutney served w/ Potatoes au Gratin & Roasted Broccoli

Miso Ginger Marinated Grilled Salmon w/ Pickled Cucumbers & Lemon Coconut Rice
Grilled Garlic Rosemary & Lemon Lamb Lollipops served w/ Roasted Potatoes & Greek Cucumber Tomato Salad
Coconut Panko Encrusted Grouper w/ Coconut Lemongrass Cream Sauce served over Warm Orzo w/ Garlic Sautéed Green Beans & Shallots
Parmesan Crusted Chicken w/ Arugula & Lemon Olive Oil Vinaigrette served w/ Marinara Sauce & Crispy Garlic Bread
Locally Caught Blackened Mahi Mahi w/ Mango & Avocado Salsa served w/ Fluffy White Rice, Roasted Asparagus & Caribbean Curry Sauce

DESSERT

Bananas Foster over Vanilla Bean Ice Cream

Chocolate Fondue w/ Strawberries, Bananas, Salted Pretzels, Rice Krispie Treats & Marshmallows

Lemon Meringue Pie
Espresso Panna Cotta
Key Lime Pie w/ Fresh Whipped Cream
Chocolate Mousse w/ Whipped Cream & Fresh Mint
Vanilla Crème Brûlée
Click image for full size slide show.