While Everything In Belize Is Stunning There Are A Few Highlights Not To Be Missed. Take A Look At Our Favorite Anchorages, Beach Bars, Restaurants And Shore Excursions.
Ashore there are so many highlights and attractions, such as the Mayan Ruins, Crystal Cave tubing, rainforest tours and local cuisine to sample. Sip on a cold coconut drink from the shell as you explore this beautiful Central American destination. We are going to focus on what you will enjoy along your charter yacht sailing vacation in the Belize Cayes.


NORTHERN ITINERARY HIGHLIGHTS
Goff's Caye – A palm studded 'Corona Commercial' 2 acre island that sits right on the barrier reef so you can snorkel straight from the shore, or simply relax in the water on the sandbar with an icy cold Belikin beer.
Steeped in history, St George's Caye was the first capital of the British settlement in Belize. The island is principally home to private families and 1 dive resort, however it is possible to use this as a base for some great snorkeling, scuba diving and fishing at Gallow's Reef.
'No shirt, no shoes, no problem' is the motto of the laid back island of Caye Caulker and it typifies the vibe. The white sandy beaches, ocean breezes, fresh seafood, azure waters and a fantastic barrier reef on its doorstep make it a perfect place to relax and unwind. The 'Lazy Lizard' at the cut gives the Soggy Dollar bar a big run for its money!
Hol Chan Marine Reserve is a marine reserve at a cut in the reef, where guests swim amongst beautiful shoals of tropical fish, turtles, eagle rays, stingrays, moray eels and grouper. We then snorkel at Shark Ray Alley, a site where local fishermen used to clean their catch, which attracts more carnivorous species such as big southern stingrays and nurse sharks.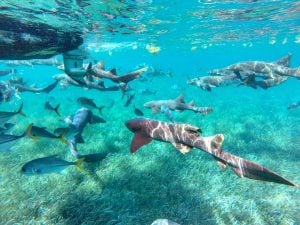 Ambergris Caye is the most northerly Caye in Belize and touches the Yucatan peninsular of Mexico. The main town San Pedro has the broadest range of tourist amenities in Belize, including art and craft shops, boutique hotels, fine dining establishments and plenty of fun local eateries and establishments.

SOUTHERN ITINERARY HIGHLIGHTS​
South Water Caye is a pristine 12 acre private island that is one of the most beautiful and exclusive islands in Belize. The ¼ mile wide cut in the reef makes for a spectacular snorkeling experience with vibrant corals and abundant tropical marine life. Sundowners are a must at the Blue Marlin Lodge, one of favorite little bars in all of Belize.
Tobacco Caye – a 5 acre palm-fringed coral island perched on the barrier reef with colorful cabanas and a handful of locals who make this paradise their home. The warm and welcoming islanders love to welcome visitors and show them around.
Pelican Cayes are a hidden away collection of mangrove islands surrounded by some of the most impressive coral heads and marine life in the country.
Furthermore, there is a tiny bar hidden away that runs on solar panels and a generator, which makes for a fun pit stop after a day on the water and is not surprisingly called 'Hideaway Caye', as if you'd blink you'd miss it.
Ranguana Caye is a remote island on the barrier reef home to a tiny resort with colorful wooden structures, plus a fun beach bar that is welcoming of sail boats and day visitors. The resident parrot 'Charlie' is a star attraction, along with the tall swaying palms and pristine white sands of the island. Whale sharks have been spotted near the cut, plus turtle hatchings on the beach, a very special place!
Placencia was once a sleepy seaside village that is slowly growing up into a small popular beach town, with a collection of local hangouts and some more international and upscale spots, making it a great stop off point for those wanting to indulge in a spa treatment, have dinner on shore, check out the local arts and crafts shops and lots more.
The Great Blue Hole is located in the center of Lighthouse Reef about 50 miles South East of Belize City. Take a full day to explore this unique marine sinkhole which lures Scuba Divers from around the world.