Highlights of the Exuma Cays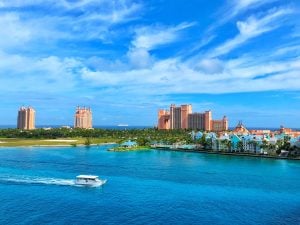 Nassau is the capital of the Bahamas and you have many options. Shop at the Nassau straw market for souvenirs and duty-free shops close to the cruise ship terminal. At the base of the bridge to the marinas, you can sample some real local food, like conch salad and seafood. Local cocktails and favorite beers are also served everywhere.
Take a Private boutique tour! Each party gets its own private Jeep driven by your pirate tour guide. Get a closer look at Bahamian culture as you explore New Providence Island on this half-day excursion. Join a small group and learn about the island's history as you visit historical sights like downtown Nassau, the Queen's Staircase, and Fort Fincastle.
Explore the Bahamas Exuma Cays Land and Sea Park, one of the largest protected marine parks in the world. Diving and snorkeling are made easy with mooring balls placed by the Park for your convenience. No fishing is allowed and do not take anything from the park. Hike through one of the many walking trails.
The world-famous "Pigs Beach" on Big Major cay is undoubtedly one of the more unique excursions you will ever experience. Pigs of all sizes swim up to the boat and guests onboard get a chance to swim with them. They are not to be fed.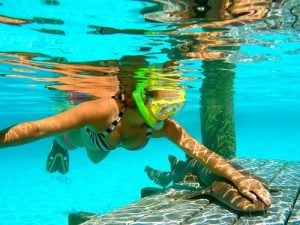 At Compass Cay you will be able to swim with the sharks. No need to be alarmed, these Nurse Sharks are tame and love attention. Every traveler who will plunge into the shark-infested waters must go through a safety briefing by locals to avoid unwanted incidents.
Spend some time exploring this beautiful island with crescent beaches to the east and a "bubbly pool" at high tide on the north side of the island. The marina has a small shack of a bar with great atmosphere. Bring an old number plate from home and pin it to the wall.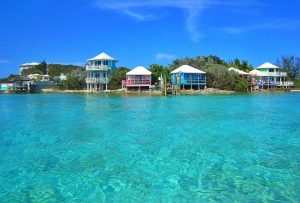 Near the world-famous Staniel Cay Yacht Club lay, Thunderball Cay. Here you can snorkel into a large cave. The cave has holes through the rock overhead, where beams of sunlight shine through, making it a spectacular sight. This was also the location of a scene from the James Bond movie "Thunderball" filmed here in 1965.
The yacht club has a fun bar and the restaurant offers great dining. Here you can watch the local fishermen clean fish and feed scraps to the large stingrays and nurse sharks. You can also take a golf cart and explore more of this popular yacht stop-over.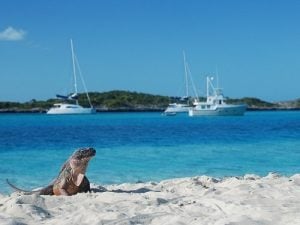 On Allen's Cay and Iguana Cay, you can walk side by side with wild iguanas. These indigenous creatures live on the small cays and welcome visitors who are willing to share some food. They are quite curious and welcome a selfie!
There are multiple species of iguanas in the Bahamas and some look different from others. They are harmless, however, it is advised not to provoke them. Norman's Cay served as the headquarters for Colombian Carlos Lehder's drug-smuggling operation from 1978 to around 1982 and is now a popular tourist destination and can be reached by small plane or boat.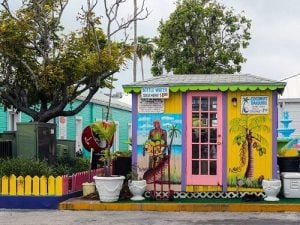 Visit historic Georgetown, the capital of the Exumas, for a cultural tour. Here enjoy some delicious local dishes like cracked conch and spicy conch salad. Stroll along 3 Sisters and Jolly Hall beaches. Walk through this pretty Bahamian town and visit some of the various art galleries. The Government building is pink and white inspired by Bahamian art.
Also on the island, you can find more luxury resorts with golf courses and many more wonderful beaches to explore. Opportunities to visit nearby islands with tour operators and bone fishing guides are both available.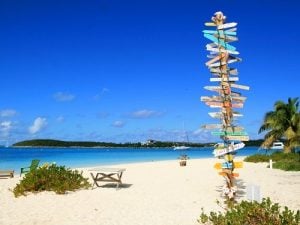 Stocking Island has some of the finest white sand beaches in The Bahamas. Snorkelers and divers love to explore the island's blue holes, coral gardens, and undersea caves. The Island is also home to Stromatolites, said to be the oldest known macro-fossils on the planet, found on the Atlantic-side beaches.
The pristine beaches of Stocking Island are great for sunbathing and swimming. The coves are fun to kayak around before visiting the beach bar for a specialty cocktail around sunset. Look for the pole with a bunch of colorful signs pointing in different directions; see how many places you have been to!