Experience That Counts!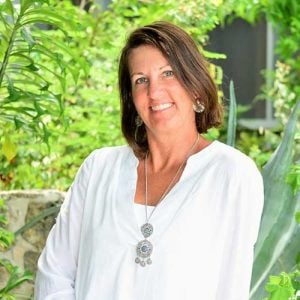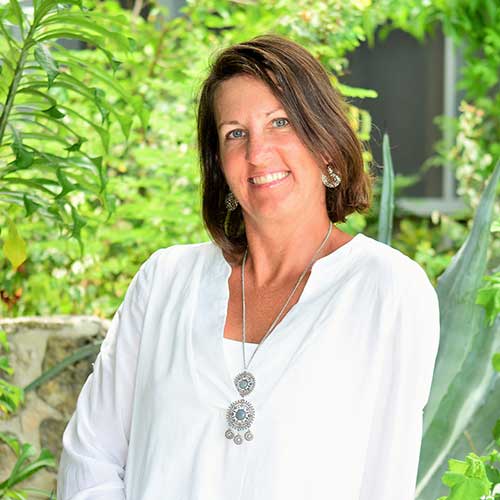 Experience That Counts
Michelle Heyns is the owner of Epic Yacht Charters and is well equipped to guide you on a journey that will lead to the trip of a lifetime aboard a luxury charter yacht in the Caribbean, the Virgin Islands, the Bahamas, or Belize. With over 300 charter weeks and 16+ years of experience as a hostess and charter chef, Michelle has a unique perspective on the industry. She spent 8 years chartering specifically in the British Virgin Islands with husband Leon and knows every anchorage, every activity spot, every secret sunset viewing beach, and every yacht/crew in the area. Together they have also chartered in other Caribbean destinations and also the Abacos and the Exuma Cays in the Bahamas. She founded Epic Yacht Charters in 2016 and is now one of the top 3 Crewed Charter Yacht Brokers in the Virgin Islands. She understands firsthand the importance of creating a perfect match between her clients and their ideal yacht & crew for an unforgettable sailing vacation. Michelle was inducted in the fall of 2020 as an active member of the prestigious Charter Yacht Broker Association (CYBA).
The Backstory
Prior to her successful yachting career Michelle obtained a Bachelor's Degree in Nursing and a Masters in Nurse Midwifery. After a destiny driven decision in 2004, Michelle came to the British Virgin Islands for her own first chartered yacht vacation. She fell in love with her captain – Leon Heyns, whom she later married and rest shall we say… is history.
For Michelle & Leon, it was love at first sight. They started chartering together as captain and chef soon after. She willingly gave up her career delivering babies in favor of the adventure lifestyle of yachting. Over the years they built a successful charter career and she has never looked back.
A Unique Advantage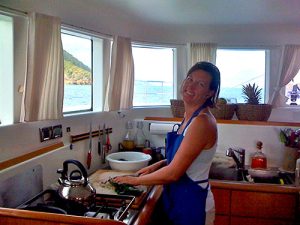 With experience in managing a yacht and a few villas in the BVI, she is very confident with asset management. Her top priority is creating well executed crewed yacht vacations.  She has experienced every angle of the industry and personally attends annual boat shows each year to meet yachts/crews new to the scene and to see what is new with her long-standing favorites. Frequent trips to the BVI keep her updated with current information.
Together with Leon, she has been all over the world and has sailed over at least 10,000 nautical miles. Michelle has worked in charter areas from the East Coast of the United States to the Leeward and Windward Islands of St Maarten, Saba, Anguilla & St. Barts and on to the Bahamas in the Exumas Cays and the Abaco Islands.
From Hull to Home
Michelle is also well versed in the stunning sailing vessels themselves. On several occasions she has been responsible for creating layouts and well appointed designs inside and out to outfit each yacht for its journey to becoming your vacation home. She has seen a yacht from the factory in France all the way to successful charter employment in the BVI – coordinating every fine detail from luxury fittings to crew with Leon sailing the yacht across the Atlantic ocean.
Michelle also happens to be an exceptional chef – she attended the famed Ashburton School for charter chefs in the United Kingdom and continues to pull out her chef's knives when asked. She has also completed many dives with her dive master husband after completing her PADI open water certification.
The Captain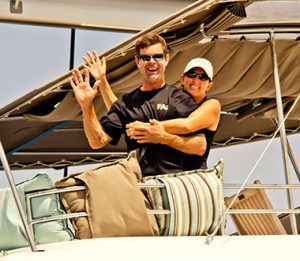 Leon started his yachting career after 15 years in the Navy. He sailed on a survey vessel to Antarctica twice. He then sailed across the Atlantic from Cape Town, South Africa to Rio De Janeiro in a 30' sailboat. In 1999, fate brought him to the BVI where he started chartering with The Moorings. Shortly after he started in the charter industry he obtained his Yacht Master license. In 2004 he was the first captain of the first Lagoon 440 in the BVI – no other catamaran had a fly-bridge before that yacht. Leon and Michelle moved onto a Lagoon 500 in the BVI right after getting married on the beach on Peter Island in 2008.  This yacht also sailed through the Bahamas on a 3 week charter and up the East coast of the USA to NYC. Leon then sailed it back to the BVI via Bermuda. In 2012 he was given the chance to sail a brand new Lagoon 560 catamaran from Bordeaux France to the BVI. This month long journey was forever life changing and just cemented his love for the sea. He is also a keen photographer and Scuba Dive-master.
Island life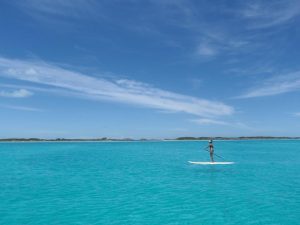 After their successful yacht charter career, Michelle and Leon decided to add more skills to their resume and moved to work on a private island in the Exuma Cays of the Bahamas. Working for lovely family and all their friends, they learned everything about chartering on land. From provisioning the entire island with food, beverages and parts needed for maintenance, they worked as a team to satisfy everyone's needs.  During the 2 years that they spent there, they explored many beautiful beaches, dived some amazing sites and learned a lot about local culture and customs of the Bahamas.  A few favorites are snorkeling at Jeep Reef, exploring the Exuma Land and Sea Park and sailing across clear blue waters.
Love to Travel
They are so good at helping their clients plan their yacht vacations because Leon & Michelle love to travel.  It is their passion and they enjoy seeing the wonderful places the world has to offer.  During the last 15 years together, they have explored many countries.  One of many favorites is a 10 day self drive tour around Iceland. They have taken a cruise ship to Alaska via the inside passage and have hiked and biked all around Europe. Seeing the Aurora Borealis for Leon was a first and snowmobiling onto a frozen lake to snap that special shot comes naturally to him as he is a very talented photographer. Michelle loves to plan their next trip and she is very good at getting it right. Dog sledding with huskies in the Lapland of Sweden is hard to beat, but they are just as content walking through soft snow falling in Central Park, New York City. They have rented cars and drove along the fjords of Norway and explored the beautiful Canadian Rocky mountains and the splendor of Whistler, Banff and Jasper. Another favorite is an African safari with 2 game drives per day at a game reserve in Sabi-Sands. They are adventurous eaters and enjoy meals from all cultures and exotic lands. Excising in the outdoors is an addiction and they are attracted to all kinds of water-sports and finding new trails in the mountains. Zip-lining through the rainforest in Costa Rica and learning about the flora and fauna on a guided hike along hanging bridges and waterfalls was an experience both are still talking about and will no doubt be re-visiting such beauty. Scuba Diving is one of Leon's favorite water sports and Michelle often joins in to see the beauty of the underwater world.
South Africa is still close to Leon's heart as he was born in Cape Town. Michelle enjoys the family reunions held often in Northern Wisconsin, where she hails from.
Michelle has been active in the Charter Yacht Communities and Organizations and is proud to belong to a group of prestigious associations. She is so excited to help you book your EPIC vacation of a lifetime! About Epic VI
Sample Itinerary
Having a hard time visualizing your crewed yacht vacation in the BVI? Take a look at a 7-day sample itinerary to get the ideas flowing and plan your trip.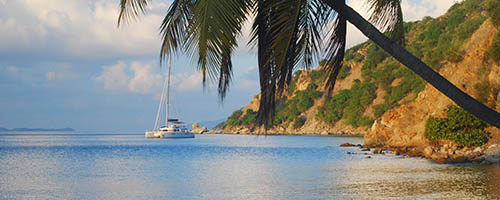 "Must Sees" In BVI
While everything in the BVI is stunning there are a few things not to be missed. Take a look at our favorite anchorages, restaurants, bars and must see day excursions.