Highlights of St. Martin & St. Barts
When Visiting The St. Martin & St. Barts Sailing Area There Are A Few "Must Sees".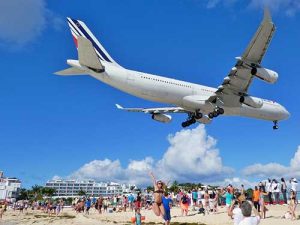 Dutch side is best known for its festive nightlife, beautiful beaches, duty-free jewelry shopping and cocktails made from the native rum-based guavaberry liqueur, luxury timeshare resorts and casinos. Be sure to have a happy hour cocktail at Maho beach and watch the afternoon international flight take off or land really close to the beach where tourists get "blown away" by the jet propulsion. The limestone cliffs of Cupecoy beach on the southwest tip of the island is a perfect place to view the sunset with the island of Saba looms in the distance.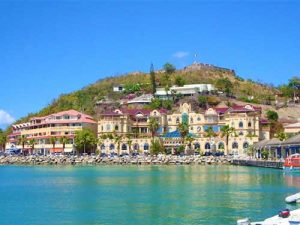 French side is best known for its nude beaches, duty-free shopping in outdoor markets and French and West Indian Caribbean cuisine. For the best view of both sides of the island, take a taxi to Pic Paradis and hike up to the top to see stunning views of Orient Bay, the ruins of Fort St. Louis and Simpson bay lagoon.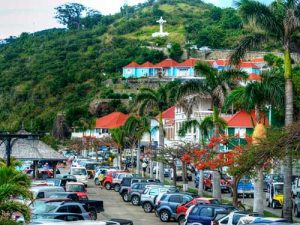 St. Barts (St. Barthelemy) is a small French island known for its European charm and exudes a seductive blend of natural beauty and a relaxed island feel. Explore quaint coastal villages and snorkel the clear waters with vibrant coral reefs. The easiest way to see the entire island in just a few hours, is to rent a small car or moped. Be sure to watch small planes land on one of the world's shortest and dangerous runways. Eat a "Cheeseburger in Paradise" at Le Select – where Jimmy Buffett introduced this popular meal.