ST. Vincent & Grenadines Sample Itinerary
Let Epic Yacht Charters Customize Your Next Unforgettable Caribbean Yacht Vacation And Leave The Planning To Us. 
St. Vincent/Grenadines Sample Itinerary
Day 1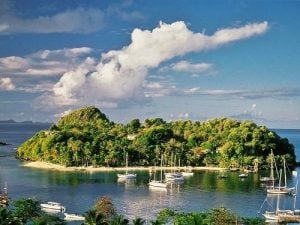 You may want to start in St. Vincent or Grenada depending on your preference so please enquire for more information about starting in Grenada. After you arrive in St. Vincent, you will join your yacht at anchor at Young Island Cut. The Captain will give a short safety briefing and then you set sail with the Tradewinds on the beam-reach to the glamorous island of Mustique. This is one of the most exclusive islands in the world and is frequented by not only the rich and famous but also royalty. The island is surrounded by sandy beaches, coral reefs, and bays. Take a private island tour or a horseback riding trip along many trails. Your private chef can prepare a picnic lunch which you can enjoy on idyllic Pasture beach or Macaroni Bay. Here you can swim and walk barefoot in the deep soft white sand. Later at happy hour, you never know who you may rub shoulders with at the famous Basil's Beach Bar in Britannia Bay.
Day 2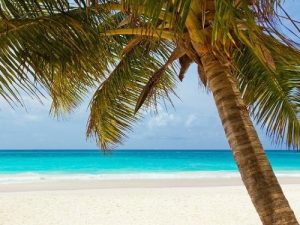 Enjoy a scrumptious breakfast onboard and take in the views as you weigh anchor and take a longer sail today to Salt Whistle Bay on the northern tip of Mayreau. This is the smallest inhabited island in the island chain with only about 300 residents. Choose between a windward beach and watch the kiteboarders rip across the waves of azure blue waters or a leeward beach which is more protected and perfect for a cooler and lunch under a coconut palm tree. Local islanders sell their jewelry, shells, handcrafted art, and T-shirts under thatched huts near the dock at the southern end. Tonight is perfect for that lobster dinner cooked on an outdoor barbecue.
Day 3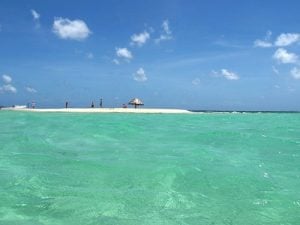 Today is a short sail to a stopover for lunch at Mopion & Pinese. These desert islands are low-lying and surrounded by pink coral sand. Mopion makes you feel like you washed up after a shipwreck and are now stranded on a tiny shallow water spit of an island. Another short sail takes you to the very quiet, privately owned exclusive resort island of Petit St. Vincent. The late Haze Richardson and his wife Lynn managed and owned this tropical private resort for 40 years. Stroll along pristine beaches, relax with a cocktail in a courtyard overlooking the bay in a charming stone restaurant and bar, or stay on board and enjoy the sunset on the flybridge of your luxury yacht while the chef prepares another stunning dinner.
Days 4 & 5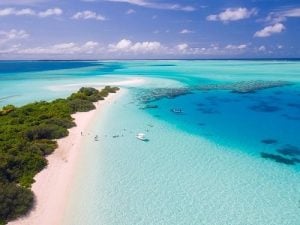 Sail over to Clifton Harbour on Union Island and while you complete check-in formalities for the Grenada territory, shop for a cold coconut with our without a splash of rum. Since the Tobago Cays offer such beauty, we will spend two nights among the five uninhabited islands protected by the circular Horseshoe Reef. This National Marine Park gives you a chance to unwind and relax. Spend your days snorkeling the nearby coral reefs, kayaking, stand-up paddleboard in calm unbelievably blue warm waters, or hiking around to explore these idyllic cays. For the more adventurous, the Captain will take you outside the coral reef to see some deeper water creatures and tons of marine life including reef sharks. All meals are enjoyed in the fresh air around the cockpit dining area and for the lazy bones, just grab that book that you promised to read on vacation or go shelling on the beach.
Day 6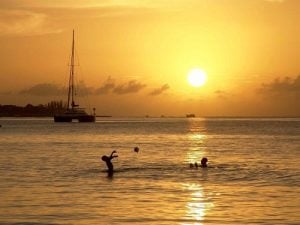 A little upwind sailing takes you back north to Tamarind Bay on the Northern side of Canouan. This small island with its hilly interior is a welcome sight for those looking for a little luxury. Treat yourself to a massage at the Raffles Amrita Spa or tee off at the golf club of Canouan Resort. The island is known for its beaches, including Grand Bay Beach near the main town of Charlestown. South Glossy Bay has calm waters and views of the southern Grenadines. The beach at Windward Bay is dotted with volcanic rocks. Sitting high up on a hill with sweeping views of large coral reefs, the Villa Monte Carlo offers a European-style casino with Mount Royal offers panoramic views to the south from its summit. Explore ashore or just relax on the upper deck of your private yacht.
Day 7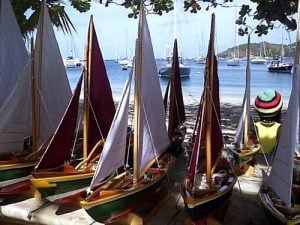 Today you will have a longer sail Northward to the lush green island of Bequia where your Captain will drop anchor in the calm waters of Admiralty Bay. Local craftsmen show off their beautifully hand-carved sailboats and quite a few vendors are selling various souvenirs along this very colorful Caribbean waterfront. Wander the streets and enjoy the local culture or explore a little further inland along winding roads. For a historical tour, visit the Hamilton fort at the northern point of Admiralty Bay. When you put a snorkel mask on and swim around the yacht, look out for a flying gurnard with its colorful "wings". These are bottom-dwelling fish but do fly. The nearby Devil's Table dive site is a must for Scuba lovers and dive boats are standing by to take you to nearby sites. Enjoy a sunset cocktail on the veranda of the Frangipani Hotel before heading back for dinner onboard.
Day 8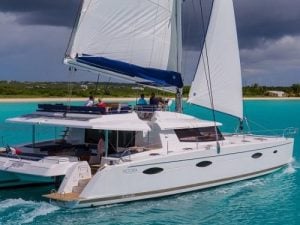 Sadly it is time to say farewell to these beautiful islands, but not before you set sail and enjoy the sun on your face and the wind in your hair as you sit on the bow and head North to Young Island cut after breakfast. Your crew helps you and your luggage ashore and arranges transportation to the airport or another night at a villa or hotel on this beautiful island. If you have time before departure, let us plan an island excursion for you where you can rent a 4×4 vehicle and drive north to the Bamboo Forest and hike the La Soufriere cross-country trail to the top of the majestic volcano. Take in the breathtaking views and remind yourself it won't be long before you will return to St. Vincent & the Grenadines and possibly sail from Grenada in the future.