Getting to St. Martin & St. Barts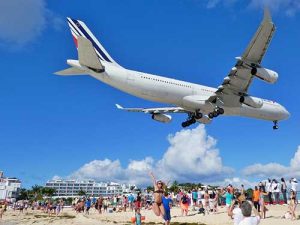 "What Is The Easiest Way To Get To My Charter Destination?"
The best way to get to this beautiful Caribbean island is St. Maarten's Princess Juliana International Airport (PJIA) the second-busiest airport in the eastern Caribbean. It is very modern and from here you can taxi it to the marina where your crew will meet you.
The much smaller L'Espérance Airport, in Grand Case on French St. Martin, caters largely to inter-island commuter airlines and small private aircraft. Your charter yacht can pick you up at the small dock nearby.
If you need to catch up or leave your yacht in St. Barts, take a small plane to land at Aeroport de St Jean (SBH). The same goes for you flying into Anguilla just north of St. Martin. Land and fly out of Anguilla Airport (AXA).