Beach Bars and Restaurants on your
BVI Sailing Route

Of course, you will be spoiled by your BVI crew onboard your luxury charter yacht with all kinds of wonderful appetizers, gourmet meals, concoctions, and specialty drinks. Not only are all the soda and other soft drinks, beer, liquor, and wine inclusive of your charter fee, there will be plenty of it too. It is important to let your crew know before you arrive at some of your favorite drinks and quantities by filling out a preference sheet that will be sent to you after you make your booking with us.
You may feel that you wish to spend some time ashore chatting and having fun with fellow sailors at some of the great beach bars scattered along your way. We have a few suggested beach bars to visit and enjoy their local specialty drinks and even some snacks and food if you feel like having a meal ashore. The suggested itinerary page will give you an idea of where these bars are located along the route of your charter.
There are many great beach bars and restaurants on this beautiful island and too many to mention, so we picked the ones that we know our guests always enquire about. They are located at different anchorages along the coastline.
WHITE BAY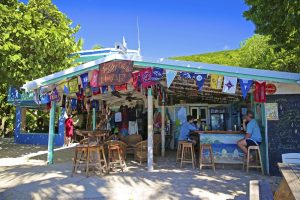 The Soggy Dollar Bar – This is most likely the most visited and talked about beach bar in the BVI. The atmosphere is vibrant, the famous "Painkiller" cocktails are cold and the service is great. Buy your T-shirt from the gift shop, play a game of ring toss, have a cheeseburger in paradise, or just hang out in a hammock under the palm trees. The slogan here is "a sunny place for shady people". There is a webcam where you can wave to your friends around the world.
Ivan's Stress-Free Bar – Hang out at a very relaxed beach bar on the other end of the bay. Swing in a tire swing under a tree, lounge on a sun-bed and sip on a cocktail from the bar. There used to be an "honor" jar where you pay for your drinks when the bartender was absent, but that has changed and now there is a smiley face ready to serve you drinks and local food.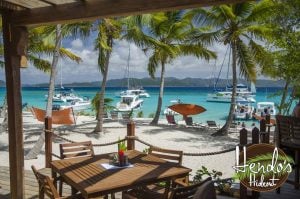 Hendo's Hideout – Right next to the Soggy Dollar Bar. Great BBQ and more. Friendly service and not as crowded with lots of shade with great views of the boats at anchor.
One Love Bar and Grill – Further along the beach. Look for all the buoys hanging outside the entrance. The owner is always quick to show a magic trick and the view is still pretty from any angle.
GREAT HARBOUR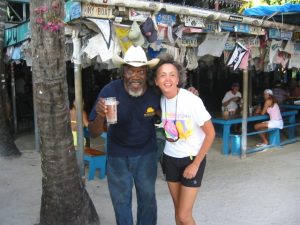 Foxy's Tamarind Bar – World famous. This bar is known by most sailors and after you meet Foxy yourself, you will find out why this place is so popular. Foxy has just turned 85 and still dancing. Watch his video here. He is quick with a joke and a song. Great BBQ buffet and fish served here and of course a full bar and local drinks. Live music keeps you dancing until late and there is a dinghy dock for an easy landing. Hang your favorite hat or shirt from the rafters to show that you've been here.
Corsairs Beach Bar and Restaurant – Great Kobe burgers and local food. Awesome staff ready to serve you a drink. Great views from the bar looking out over the bay and pose for a photo on the Corsairs Jeep.
LITTLE HARBOUR
Sydney's Peace and Love Bar, Harris' Place, and Abe's by the Sea – All of these beach restaurants serve some of the best on offer on Jost van Dyke. Please see the reviews on TripAdvisor.
DIAMOND CAY ANCHORAGE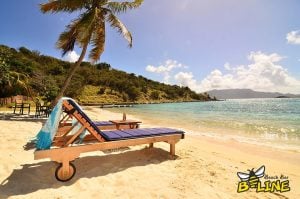 Foxy's Taboo – This bar has a large dock for easy access and has great food and drinks. There is a boutique shop sporting the latest trends in beachwear. Great for a quick drink stop after your hike to "the Bubbly Pool" nearby.
B-Line – This small low key bar is nestled in a small bay near the anchorage. Good vibe, cheap drinks, and friendly staff. Tables to play games.
Also known as Treasure Island after the book by Robert Louis Stevenson, where pirates buried their booty on the island. Nowadays it is just a fabulous place to unwind on the beach at the bar or visit a nearby floating "Pirate ship bar".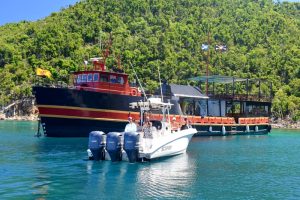 The William Thornton (Willy-T) –  This NEW bar/restaurant floats on anchor in the bay of "The Bight" and welcomes young and old. Specialty drinks are served at the bar on the quarterdeck of the ship with a galley-up at the bow and the wooden benches for lunch or dinner in the midship. People jump from the upper deck and splash in azure blue water, but this practice is not recommended for safety reasons.
Pirates Bight Bar and Restaurant – This restaurant/beach bar is well situated in the Bight, the biggest anchorage with lots of mooring balls on Norman Island. Great food, great service, and of course a happy hour sounded by a small cannon every afternoon around 4 pm. Bring the beach toys and sunscreen for an afternoon on the beautiful beach which spans the whole length of the restaurant.
Unfortunately, the Peter Island Resort and Spa has been closed since Hurricane Irma caused damage to the BVI in 2017. The resort is committed to re-building and we hope to see them open as soon as possible.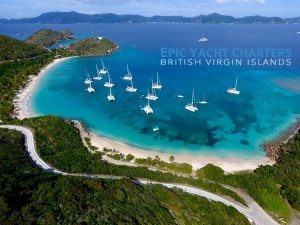 Deadman's Beach Bar & Grill – (Closed for now) Right on the beach, swim in from your boat or land with a tender on Little Deadman's Bay and walk along the beach. Pizza oven, cocktails, and lots of great local food await you here. Don't forget to stop by and listen to the Steel Pan band every Sunday around lunchtime. Very casual, so no need to dress up.
Tradewinds Restaurant – (Closed for now) A little more formal situated at the marina and hotel entrance, but casual around the bar at the stunning pool overlooking the St Francis Bay Channel.
Cooper Island Beach Club – is a laid-back luxe eco-resort sitting shoreside in the British Virgin Islands. And the New Rum Bar & Microbrewery stocked with 180 different varieties is only one of the many reasons to visit this quaint island resort with restaurants and shops. If you want to spend more time in the BVI after your charter they have newly renovated beachside bungalows. This bay is ideal for kayaking and Stand-up Paddleboarding. There is a daily ferry to Road Town. The restaurant is open daily from mid-October to mid-August.
Lunch is served from 12-3 PM daily and seating is on a first-come basis.
Dinner is served from 5:30 PM. Reservations are highly recommended year-round and essential in high season (Dec-April). The dress is informal but please cover up swimwear in the restaurant.
This is the third-largest island of the British Virgin Islands. Virgin Gorda is also known as the "Fat Virgin" and legend has it that Christopher Columbus saw the shape of the island as a reclining woman. This beautiful island has many anchorages to explore and therefore too many great restaurants and bars to mention. You can taxi around to really enjoy some of the great views from some of the bars and restaurants. Here are a few that are easy to reach from your charter yacht at anchor.
Top of the Baths – As the name suggests, there is a bar with a pool located just up the hill from the famous Baths on the South End of the island. Take a plunge to cool off and then try the Mango Daiquiris. Follow the trail to the parking area at the top of the hill.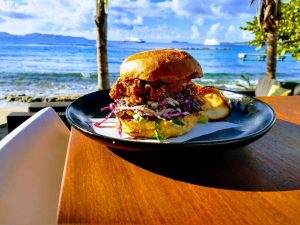 Coco Mayo – A short distance from the Virgin Gorda Yacht Harbor. Amazing cuisine, great wine selection, tropical decor, and stunning sunsets. Ride in with the tender and dock in Spanish Town. Walk toward the Baths or a 5 min taxi ride.
The Bath and Turtle – Stop in for a local beer and cuisine and then stroll the streets of Spanish Town to find cute bars and souvenirs.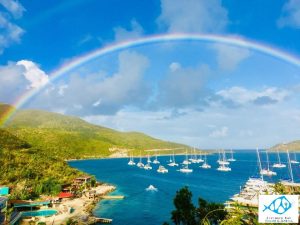 Leverick Bay Marina – Lots to see and do here including a pool, beach bar with live music, and "Pirate" entertainment for the whole family provided by Michael Beans. Have a look at the YouTube video in the link.
Hog Heaven – Awesome views from this elevated restaurant serving great local food and drinks. Adventurous hikers can walk up a road from Leverick Bay Marina or take a short taxi ride there. Check them out on their Facebook page in the link.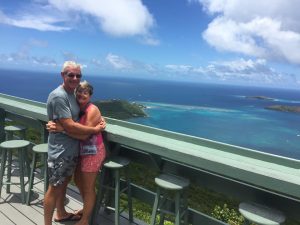 Bitter End Yacht Club – This famous yacht club has so much to offer. From hiking, shopping, great restaurants, and water sports rental to a few bars like The Crawl Pub along the pretty walkway that follows the bay around to Biras Creek.
Saba Rock – This cute island resort is only accessible by boat. Walk in the beautiful gardens to walk along with your specialty drink and rest on a comfortable deck facing the Eustatia Sound. Hammocks swing in the trade winds and there is also a small seawater tank where some eels and lobsters hide. At happy hour they feed the tarpons and this is a lot of fun for everyone.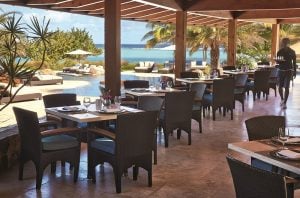 Oil Nut Bay Resort – The stunning setting, impeccable service, and exceptional dining are what make Oil Nut Bay's Beach Club Restaurant world-class. The main building, adorned with three swimming pools and a swim-up bar, is just steps away from the pristine white sands of Oil Nut Bay beach. Work up an appetite out on the azure waters with our complimentary water sports equipment or lighthearted beach games before relaxing and indulging in internationally and seasonally inspired cuisine. The Oil Nut Bay Marina is a full-service marina offering oceanfront dining, lounging, and boutique shopping. Take a dip in the suspended pool or relax in an overwater hammock with your favorite handcrafted cocktail.
Sandbox Bar & Grill – Newly renovated beach bar located on Prickly Pear island in the North Sound of Virgin Gorda. A long beach with a volleyball net and sun loungers is available after you purchase an ice-cold beverage. This beach is great to hang out after you swim up or Kayak/SUP to the bar.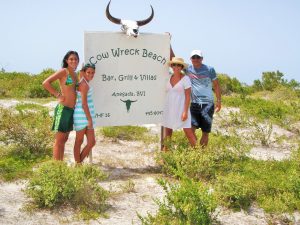 The "sunken island" is located around 13 Nautical miles north of Virgin Gorda. Known by sailors from near and far for the local lobster dinners served in quaint beach restaurants and bars. There are too many to mention here, but we are listing a few favorites here.
Loblolly Beach – Open-air taxi takes you to the other side of the island for snorkeling, beach, and fine drinks and food.
Cow Wreck Beach – To near drive and too far to walk. Take a ride with a local taxi and enjoy long unspoiled beaches and the bar right on the ocean. Great food and friendly staff.
Anegada Beach Club – Rent scooters or get a ride toward Cow Wreck Beach and find this great restaurant/beach bar with a pool. Wonderful atmosphere. Book your kiteboarding lessons or gear rental here.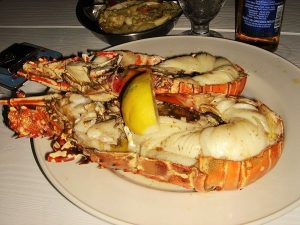 Anegada Reef Hotel – Right near the anchorage. Fires burn at sunset as the big metal drums get ready for the lobster feast later. The bar overlooks the anchorage. Book your Bone-fishing trip to the office.
Potters by the Sea – Leave a flag or a t-shirt hanging after drinks and dancing the night away under the stars with toes in the sand.
Neptune's Treasure – Local bakery and breakfast after your night ashore. Enjoy fresh treats and there is always space at the bar. Friendly and casual.
Lobster Trap – "This was our third visit in the last 3 months to the Lobster Trap in Anegada. We have also had lobster dinners at Jost van Dyke and other restaurants in the BVI. The lobster dinner At the Lobster Trap is excellent"