Cyclades Sample Sail Itinerary
Let Epic Yacht Charters customize your next unforgettable Greece vacation. Below are some sample itineraries showing a few of the islands you will visit on your crewed charter yacht vacation.
The Greek Islands are separated into different cruising areas. Where and what islands you visit during your charter will depend on yacht speed, power or sail. The final route will be discussed with your captain and will be dependent on weather.
You may also search all available yachts in Greece here.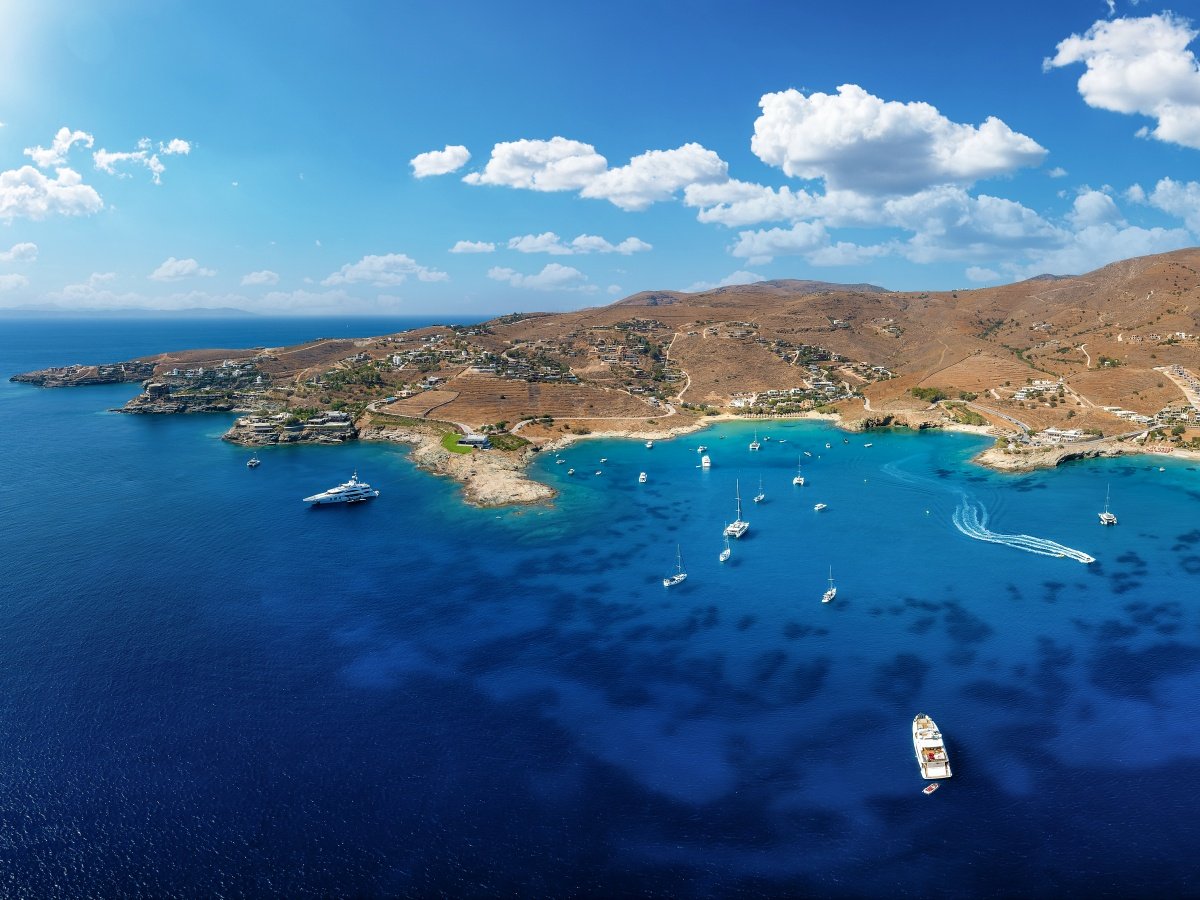 Once you leave the marina you will head to Kea, which is the closest Cycladic Island to Athens. Although not a typical Cycladic Island, Kea is exceptionally picturesque, full of history and ancient ruins. The main port town of Korissia is set along a pebbled beach cove. The buildings in the charming town are neoclassical and painted in wonderful earthy tones. You will find many good restaurants, cafes, and bars ashore if you would like to sample some local hospitality.
The stone-carved lion is one of the must-see sights in Kea. Dating back to 600BC, it is one of the oldest works of Greek sculpture.
Kea is a hiker's paradise with an amazing system of hiking and walking trails that will take you through lovely countryside, stone paths, and past small chapels.

Explore Ermoupoli, the island's capital. It is a beautiful town with its Venetian architecture and regal-looking buildings. Wander through the lanes of this bustling port, scattered with café-bars, shops, tavernas and restaurants. Housed in the Town Hall is the Archaeological Museum of Syros. It is one of the oldest museums in Greece, founded in 1834.
Take a trip to Ano Syros, the old town situated on the hill above Ermoupoli. You can stroll through the charming alleys, visit St George's Cathedral, and enjoy breathtaking panoramic views of the island.
Don't miss the opportunity to indulge in the delicious cuisine Syros has to offer. Try local specialties such as loukoumi (Turkish Delight), which is a true specialty of Syros. This soft, chewy candy is flavored with rosewater, pistachios, and almonds.
There are a variety of beautiful beaches for you to enjoy on Syros. Anchor in a calm bay and spend the afternoon playing with the water toys, snorkeling in the crystal-clear waters, or relaxing with a book.
Discover secluded coves and admire the picturesque coastline from your yacht.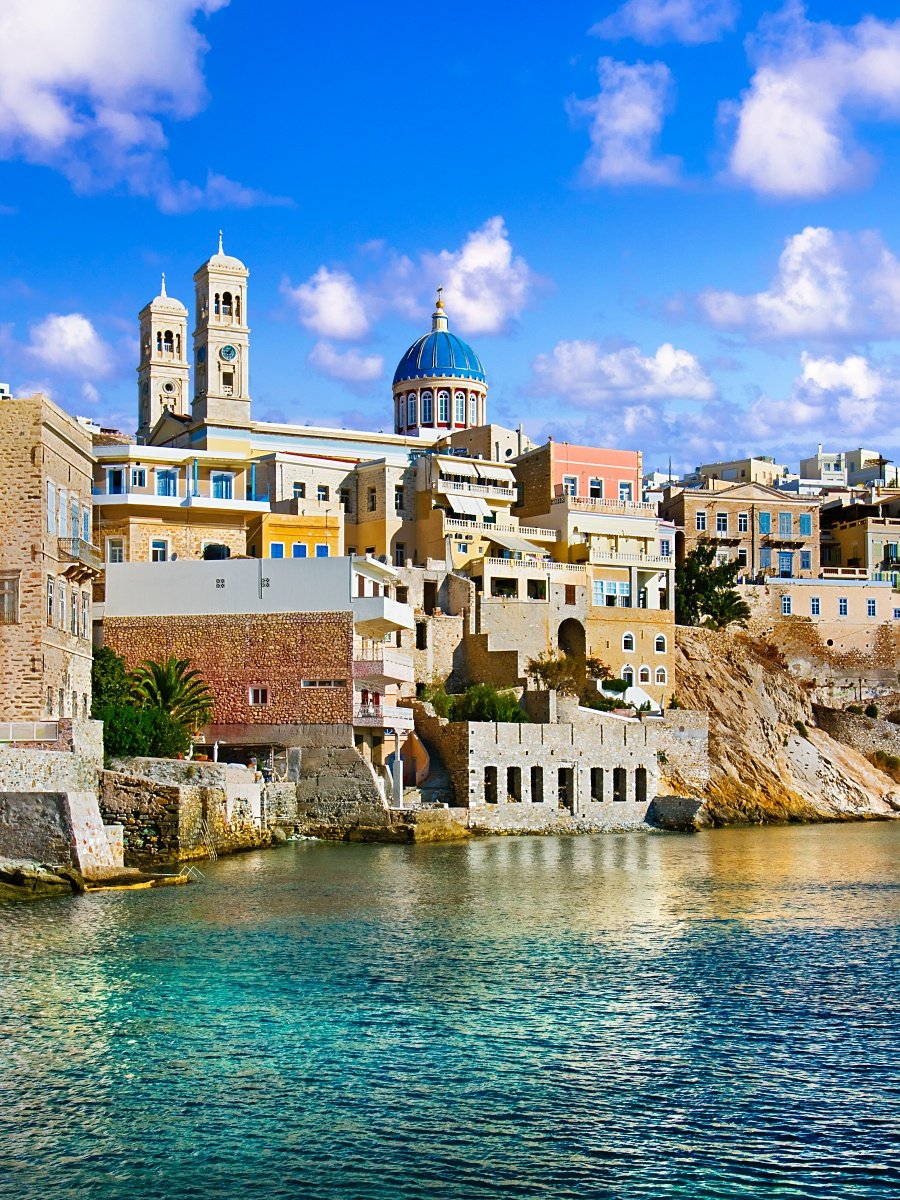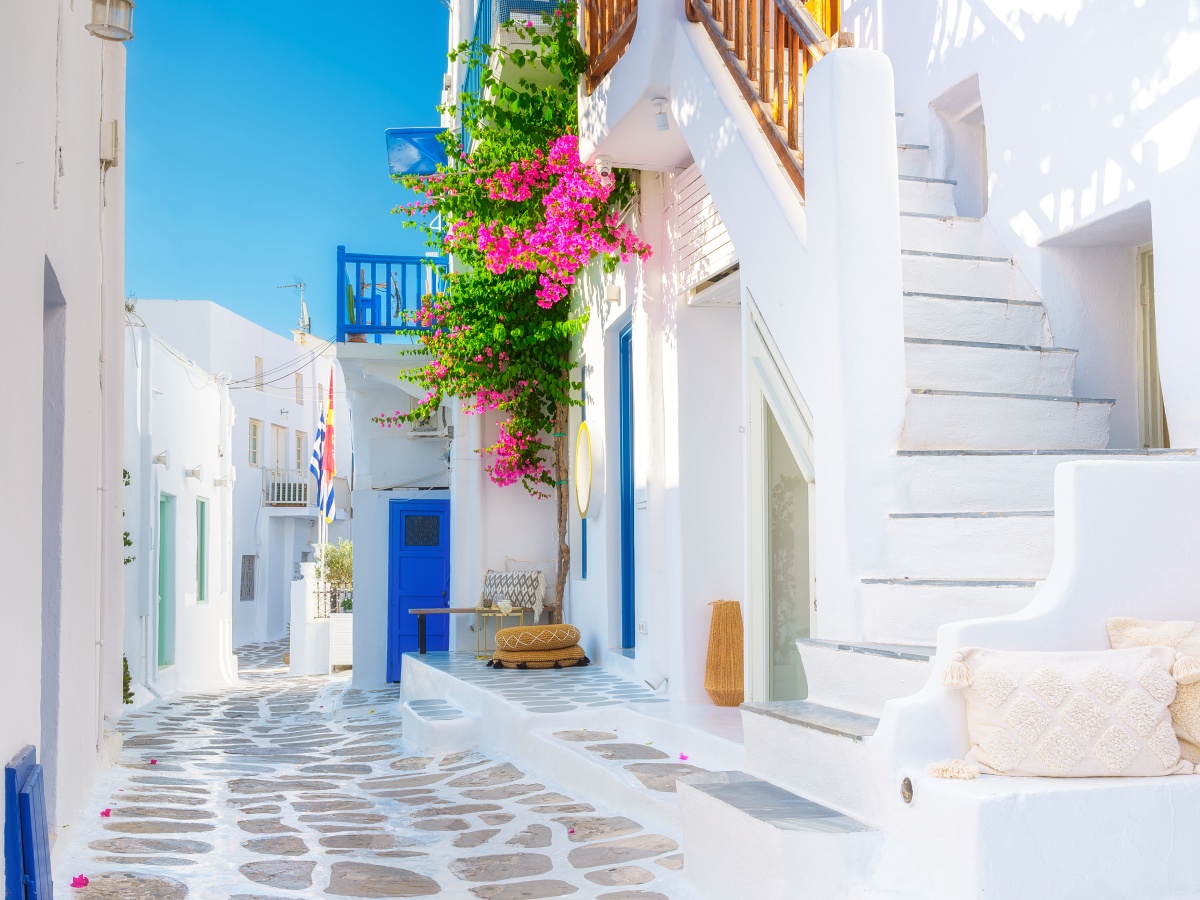 When approaching Mykonos, the iconic windmills that stand on the hill overlooking the harbor of Alefkandra (Little Venice), will be the first thing you will see.
Mykonos is one of the more popular Greek Islands and you can see why, with its many glamorous restaurants, elegant bars, cafes, designer boutiques, all alongside beautiful beaches and amazing waters. The main town of Mykonos is a classic Cyclades village, with traditional whitewashed stone houses with wooden doors and windows painted in bright colors.
Visit The Church of Panagia Paraportiani, which dates back to the 1400s. This whitewashed church is considered a perfect example of Cycladic architecture and consists of 5 separate churches. Visit the Folklore Museum and the Archaeological Museum to get a taste of ancient times on this wonderful island. Visit the Kato Mili windmills, which are located close to the town, and learn about their historical significance.
Mykonos has some gorgeous beaches; Paradise Beach and Super Paradise Beach for a lively atmosphere with beach clubs and parties or Agios Stefanos Beach and Panormos, if you prefer a quieter experience.

Paros is a small island, south of Mykanos, offering amazing beaches and a lively main port town. The quaint harbor has an exciting culinary scene, with a balance between modern and traditional. Visit one of the many seafood restaurants and try fresh octopus cooked on charcoal or the mackerel that is traditionally dried in the sun with herbs, before being grilled.
A small walk from the fishing port will take you to the heart of the main town of Parikia, with its maze of hidden narrow alleyways, whitewashed cubic houses and old mansions. Numerous restaurants, cafes and bars line the promenade.
Explore the island and visit The Valley of the Butterflies, where between June and September you will witness a magical display of thousands of Tiger Moth butterflies flying around.
The Sister Island of Antiparos is a great calm anchorage for a night stop. Visit the beautiful beaches and the impressive cave, with its stalactites and stalagmites that date back 45 million years.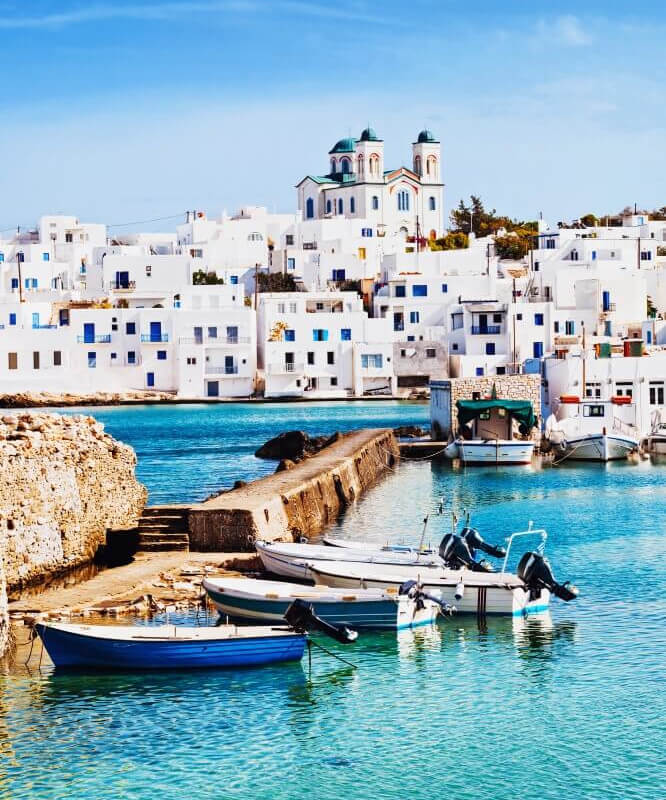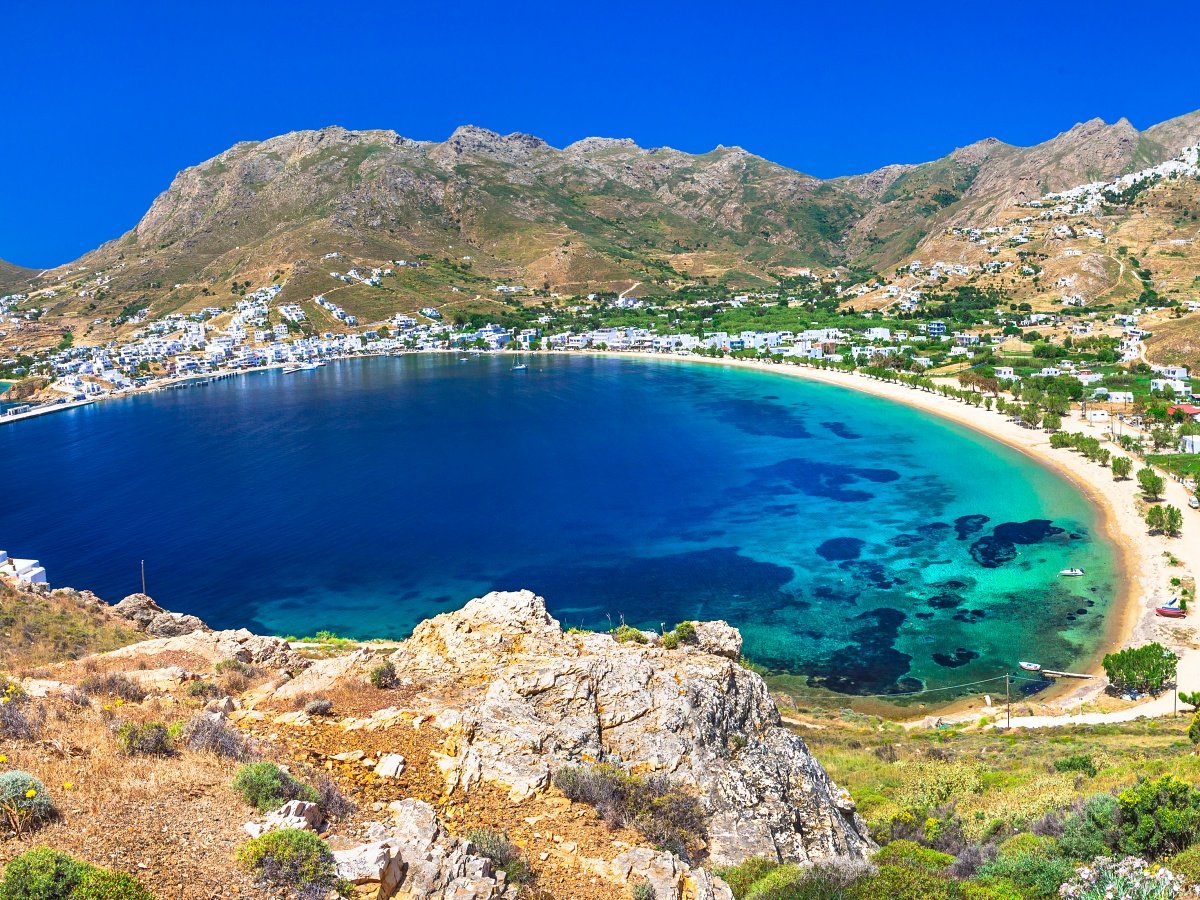 Serifos is a charming, off the beaten track destination. With its rocky landscape, lush vegetation and nature trails, this island is perfect for nature lovers. The island's main town is Chora where the buildings, of traditional Cycladic architecture, tumble down a mountainside centered behind the harbor. Go for a stroll and visit some local bars and cafes scattered along the narrow streets in this pretty town of whitewashed houses, traditional windmills, and churches.
Serifos has some amazing beaches to visit and remains un-spoilt by mass tourism, making it the place to relax. Walk the Serifo mining trail and visit the abandoned Iron mines of Megalo Livadi. Enjoy going to the church of Agios Konstantinos, located just above the town, for stunning views of the ocean and neighboring islands.

Kythnos is calm and not as developed as other close islands. You will have the advantage of visiting some quiet beaches, beautiful landscapes, and picturesque villages. There are hikes around the island that will take you to ruined castles, chapels and beaches that remain peaceful and secluded.
Kythnos is famous for its natural thermal springs, known for their healing properties. Visit the Loutra Village, where you can enjoy a relaxing soak in the hot springs. Explore the charming main town and enjoy the local atmosphere while tasting some traditional local cuisine, such as Kakavia (Traditional fish soup) or Amygdalota (almond cookies). The main port town of Merichas is a small seaside village which has kept its traditional appearance and has not changed much over the years. Local tavernas will have the catch of the day waiting for you.
Visit Panagia Kanala, which is one of the best churches of Kythnos, situated in a beautiful location with panoramic views. There are many beautiful beaches that this island has to offer. Walk along Kolona beach which is a 240 meter long sandbar which connects the Island of Kythnos with the inlet of Agios Loukas.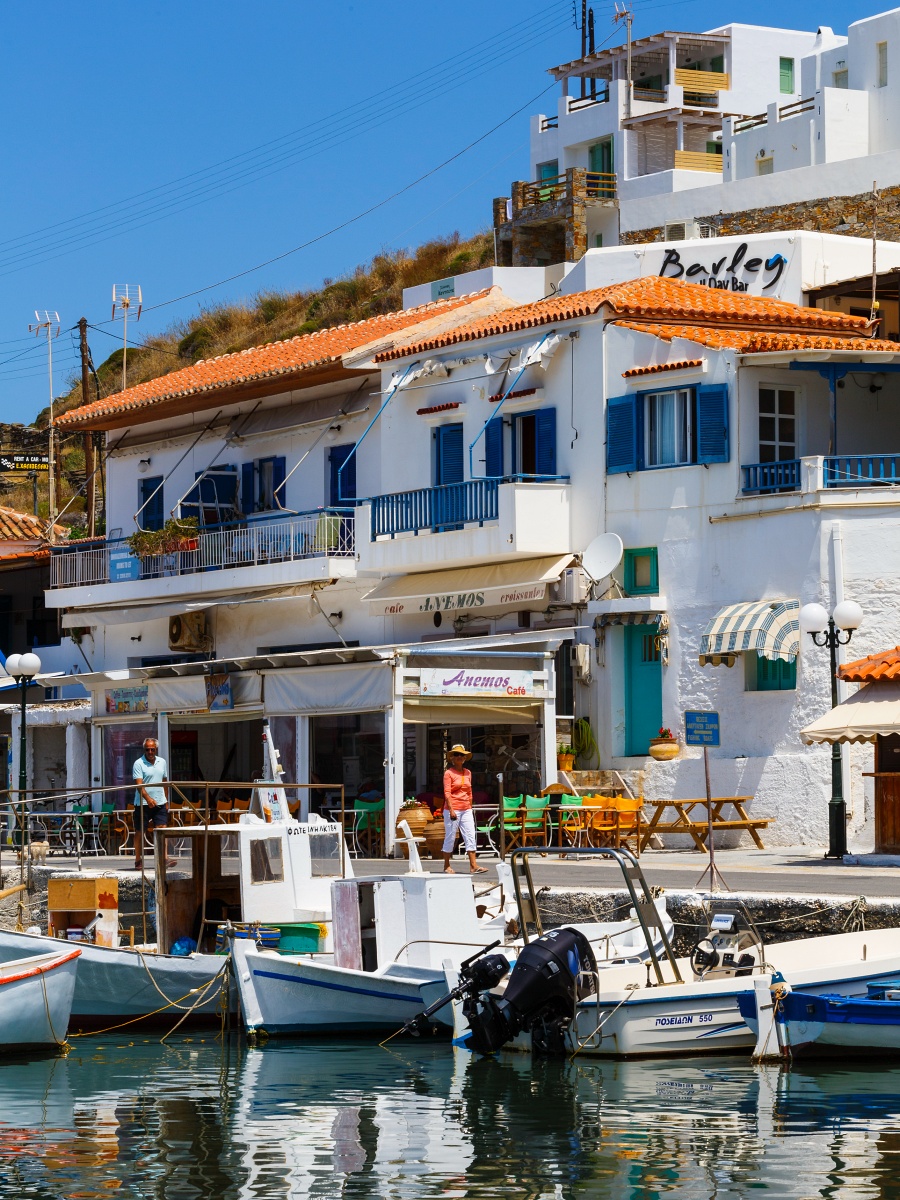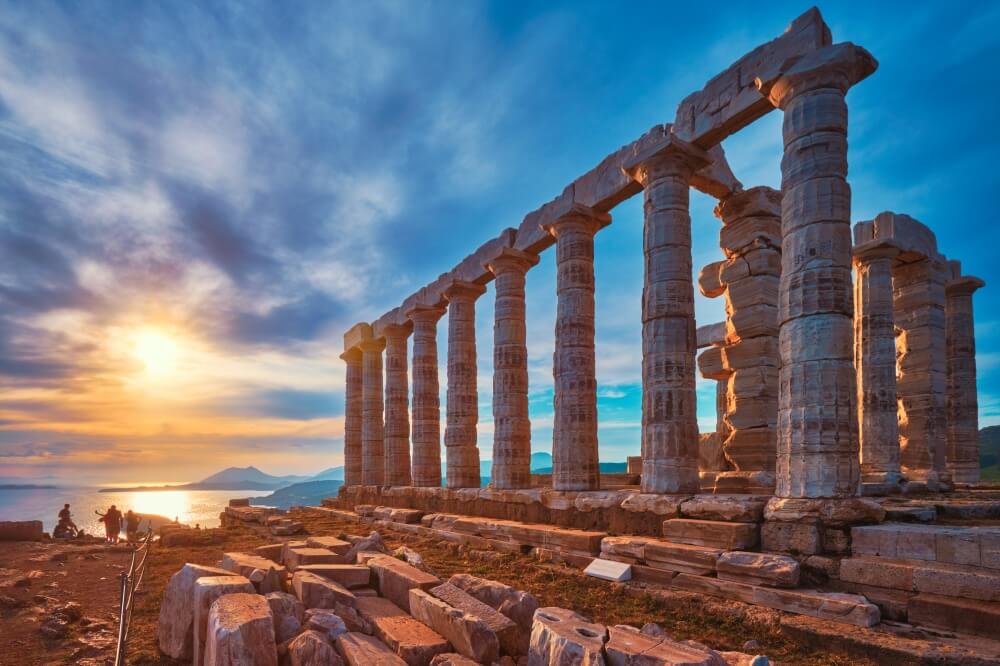 Back to the mainland and to Sounio, located on the southernmost tip of Attica. Sounio is known for the Temple of Poseidon, with its high reaching columns you will see why it is a masterpiece of classic Greece. It really is a spectacular site, built between 444-440 BC. As the God of The Sea, Poseidon was an extremely important God to ancient Greeks. It is well worth a visit here during sunset to get an amazing panoramic view over the Agean Sea.
Apart from the temple, Sounio offers beautiful beaches and crystal-clear waters for swimming and enjoying the stunning coastal scenery.

Athens needs no introduction as the capital of Greece. It is a historical and energetic city with a rich cultural heritage. Before you fly home, we would advise spending a day or so in Athens after disembarking your crewed yacht charter.
Visit many iconic landmarks and archaeological sites, such as the Acropolis, Parthenon and Ancient Agora. Athens is home to numerous world-class museums, housing extensive collections of artifacts from various periods through history.
Alongside the historical sites, the modern city life of Athens offers a cosmopolitan atmosphere and boasts vibrant street art, thriving music and nightlife scene and a wide range of cafes and restaurants.