Let Epic Yacht Charters customize your next unforgettable Caribbean vacation and leave the planning to your crew.
Here is a sample of what to expect on your all-inclusive charter yacht vacation.

After arriving at the designated marina in Tortola, you will be met by your crew and welcomed aboard your luxury charter yacht. After a safety briefing and yacht orientation, you will leave for Norman Island for lunch.
This island was made famous in R.L Stevenson's 'Treasure Island'. Looking at the caves here, one cannot help but be swept back in time to the days of pirates and privateers. Once again, this area is quiet, allowing us to indulge any of our younger guests with a real pirate treasure hunt. A handmade map is found floating through the hulls in an old bottle. We then set off on an epic adventure to follow the map and find the treasure chest hidden in the deepest cave. After lunch and a snorkel, we move 5 minutes away into a bay called The Bight. Here we choose a secluded corner where you can suntan away the rest of the afternoon, or engage in water sports. Later, your captain can take you on a sunset cruise in the tender or you can visit the famous "Willy-T" for a lively afternoon. The Pirate's Bight restaurant/bar with a beautiful beach is also worth a visit. There is also a wonderful hiking trail on Norman Island which is great to see the sunset. 

After you wake up and enjoy your morning coffee, enjoy a snorkel or SCUBA dive at the stunning Indians, just across from The Bight. 
Snorkeling at the Indians is spectacular. As you swim along the wall, you will see an abundance of tropical fish in the crystal clear waters. Next, we head around to Little Harbor on Peter Island, a pristine nook where we anchor the yacht stern to rocks ashore. This offers  a private 'swimming pool' off the back. Here is where you can truly relax in a large floaty chair with a drink in hand and music playing. There are several hikes on Peter Island for those feeling more energetic. Your captain can take you ashore in the tender if you feel like stretching your legs.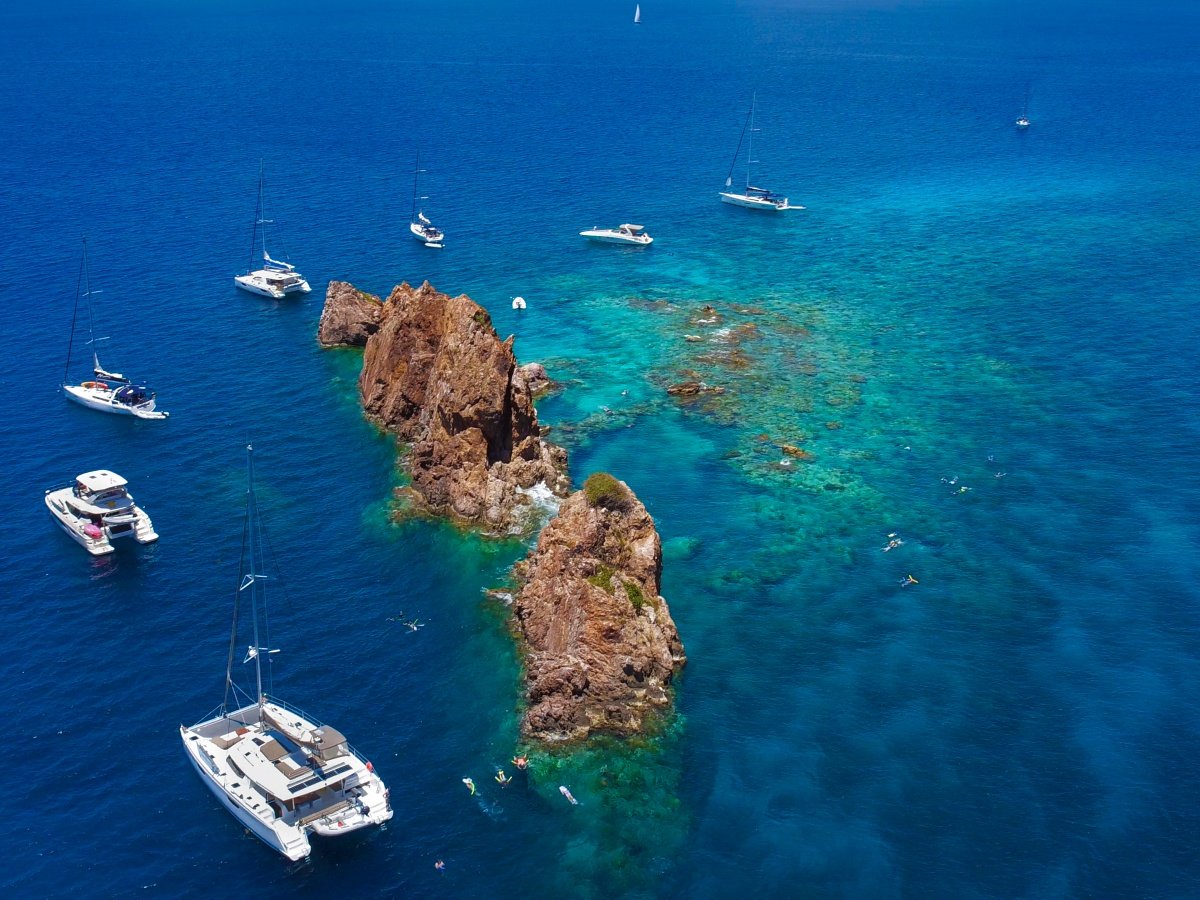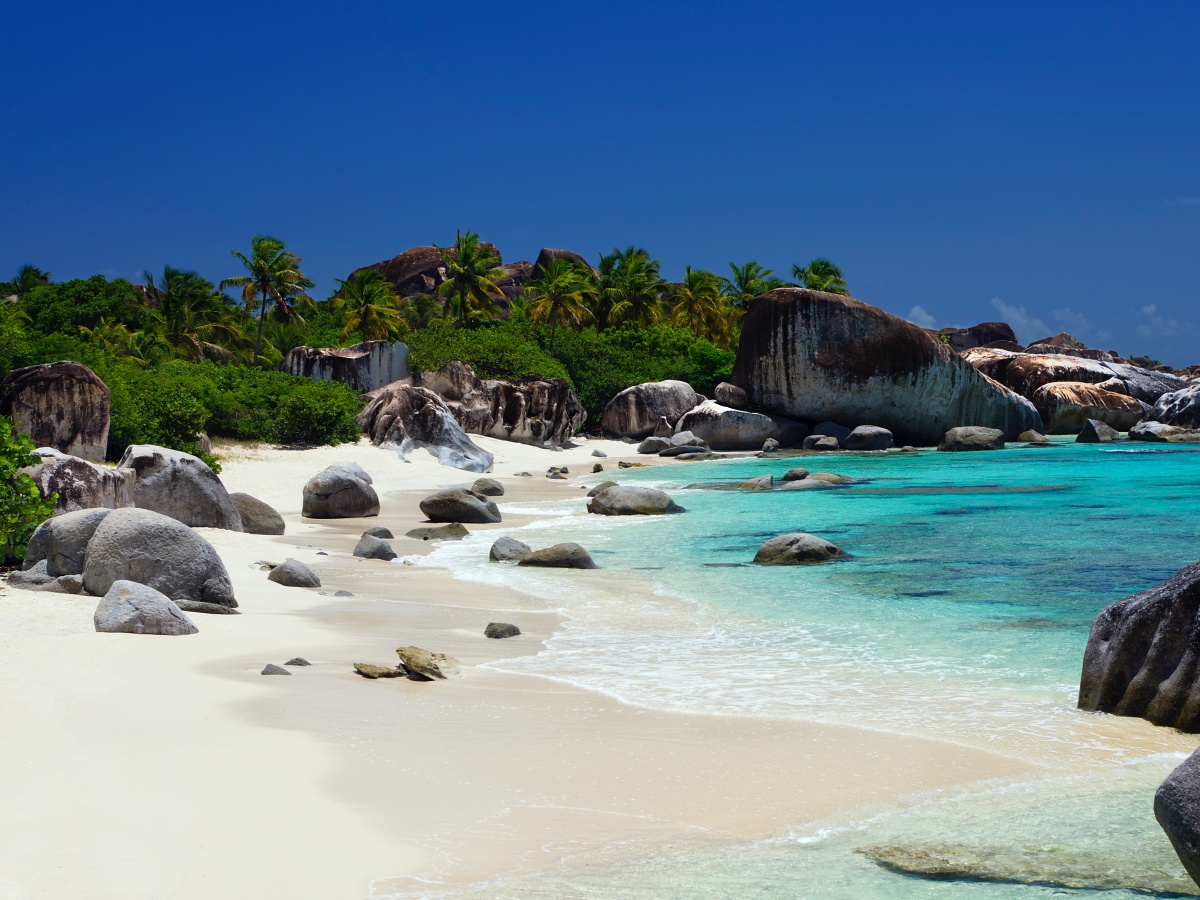 After breakfast, the sails are hoisted before we head up the Sir Francis Drake Channel towards Virgin Gorda. We stop off on route at Cooper Island Beach Club for a scrumptious lunch. Enjoy snorkeling or a drink ashore before sailing to the famous 'Baths', a series of gigantic granite boulders that form caves filled with crystal clear water and soft white sand. Swim ashore to the beach and work your way through a rocky trail which ends with a swim at Devil's Bay beach before heading back to the yacht in the tender.
Next the yacht is moved a short distance to Mountain Point, where there are some beautiful reefs. This is a place worth taking a moment to reflect on and really enjoy paradise. It's a fantastic photo opportunity, where you can look back at the whole of the BVI's. This evening is typically more relaxed and after dinner, we try to take the opportunity to turn off all the lights on board so that you can get comfortable to watch the night sky. Once your eyes adjust the ocean will also offer up her secrets, with special sightings of phosphorescent plankton and jellyfish. 

Mountain Point is a great spot for some SCUBA diving and snorkeling after breakfast. Dive companies can rendezvous with your yacht or if the yacht offers Scuba diving onboard, your divemaster will accompany you to this underwater paradise.
Next you head up to the North Sound of Virgin Gorda, where your yacht will anchor for lunch. This is a great spot for a visit to the new Bitter End Yacht Club (BEYC) and Saba Rock. The sound is great for watersport activities. Wakeboarding, kneeboarding, and SUP are great fun in the bay when moored at the pretty beach of The Sandbox. If you would like to kiteboard or sail a Hobie Cat, the yacht club will rent gear. At happy hour, you can watch the giant Tarpon fish get their snack from the staff of Saba Rock. On the yacht club side, you can go for an easy walk to Biras Creek or hike on the trail taking you to the other side of the island.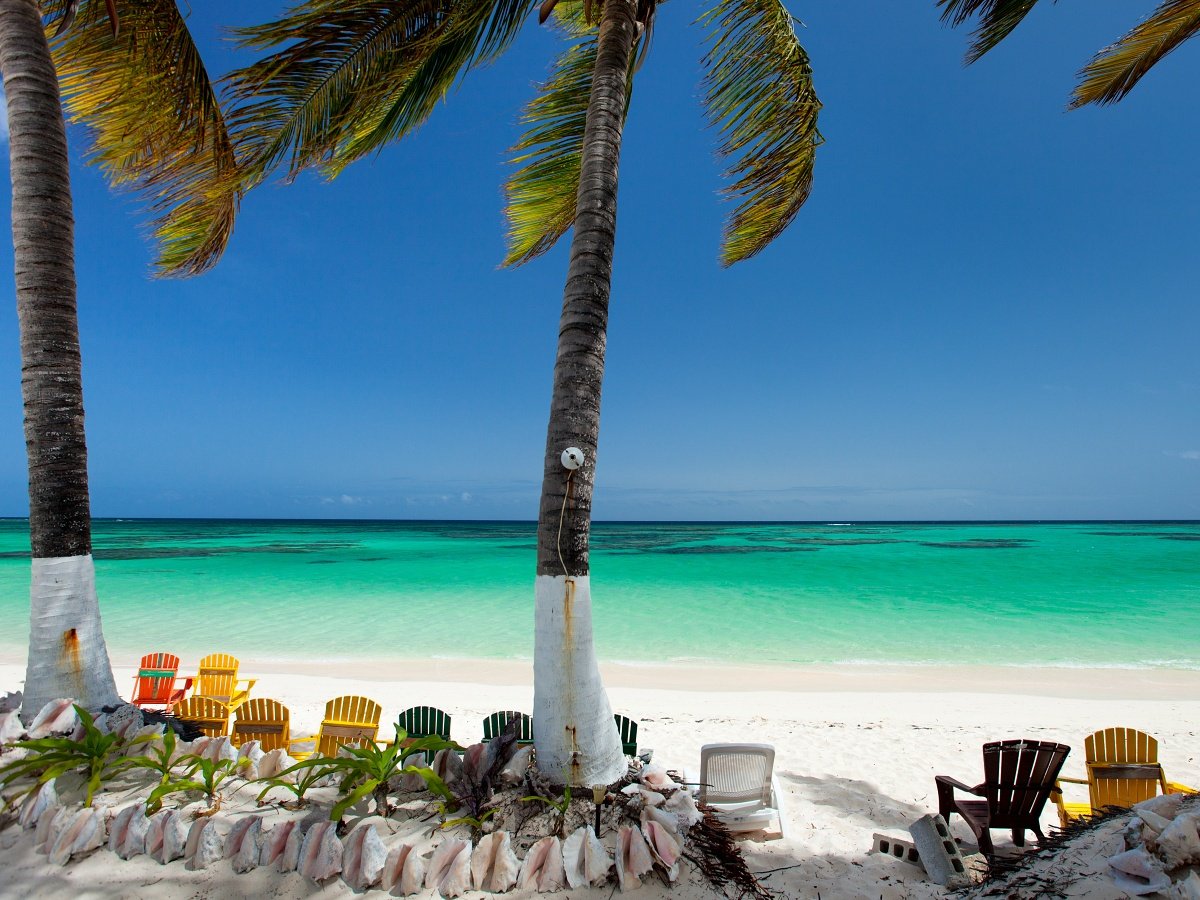 After a leisurely morning breakfast, you sail North for about 2 hrs to the coral atoll of Anegada. This island is very different to the rest of the BVI, rising only 28 feet above sea level at its highest point! 
The island is also surrounded by striking reefs, and age-old shipwrecks, making it a popular spot for snorkelers and SCUBA divers. In one spot, the fishermen who harvest conch, deposit the shells in a huge pile, and is now a big attraction by boat. Local guides can take you there.
Open truck taxis are used to transport you from the dock to the amazing beaches on the north shore, or you can rent a scooter or Moke to explore the island. Check out the quiet shores of Cow Wreck Beach, Flash of Beauty, Bones Bight, and Windlass Bight. Tipsy Beach Bar and Anegada Beach Club are great beach locations for local beverages and meals.
Lobsters are caught daily for dinners at restaurants that line the anchorage at Setting Point. Your crew will make a reservation for your group if required.

After breakfast, you sail south toward the Dog Islands while looking for dolphins along the way. Deep sea fishing is offered by some of the crewed yachts with the correct permits and gear.
Your crew will pick up a mooring at Great Dog where there is wonderful snorkeling. After lunch, you will head to a very protected mooring field at Marina Cay. From here it is a short tender ride to explore Scrub Island (photo credit) and Trellis Bay. Cam Bay is nearby and has popular bonefish flats for fly fishing. Visit Diamond Reef for a spectacular snorkel.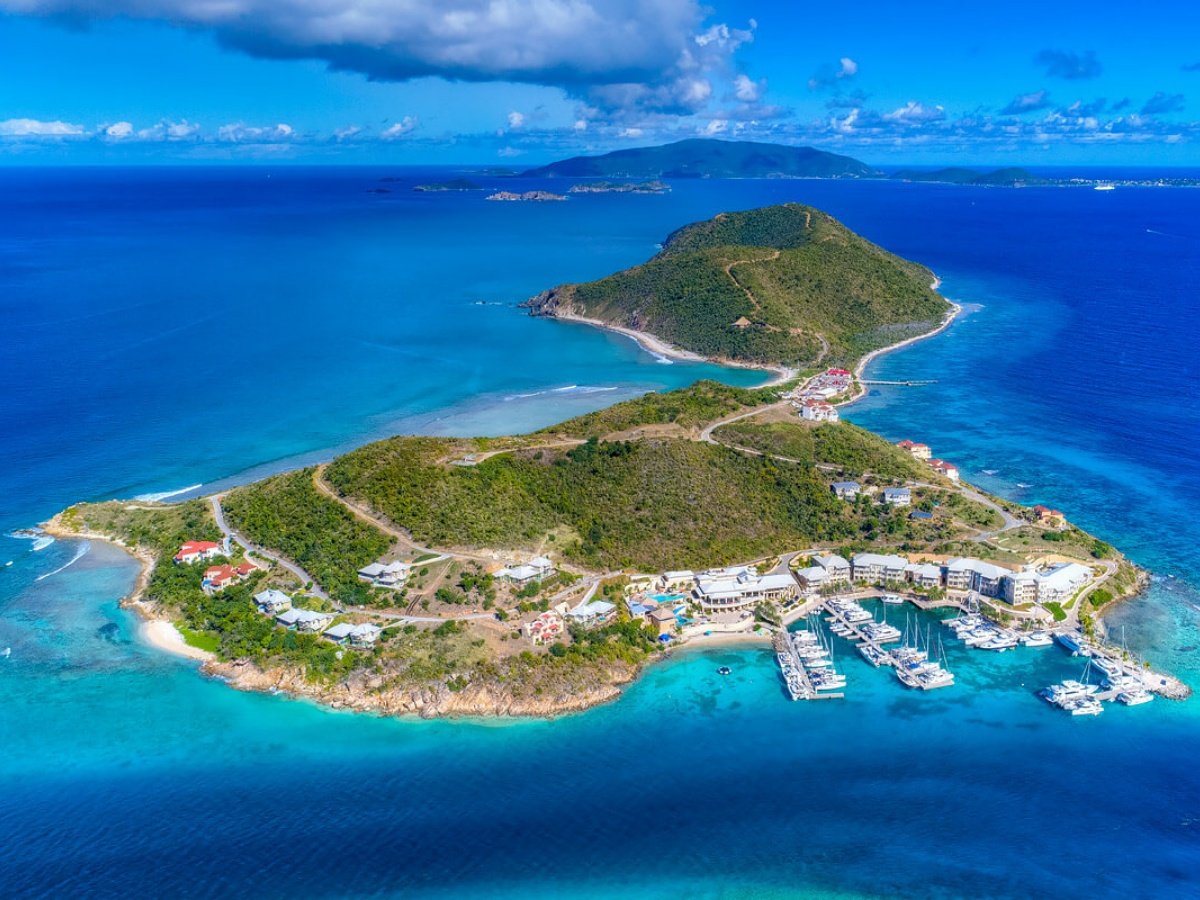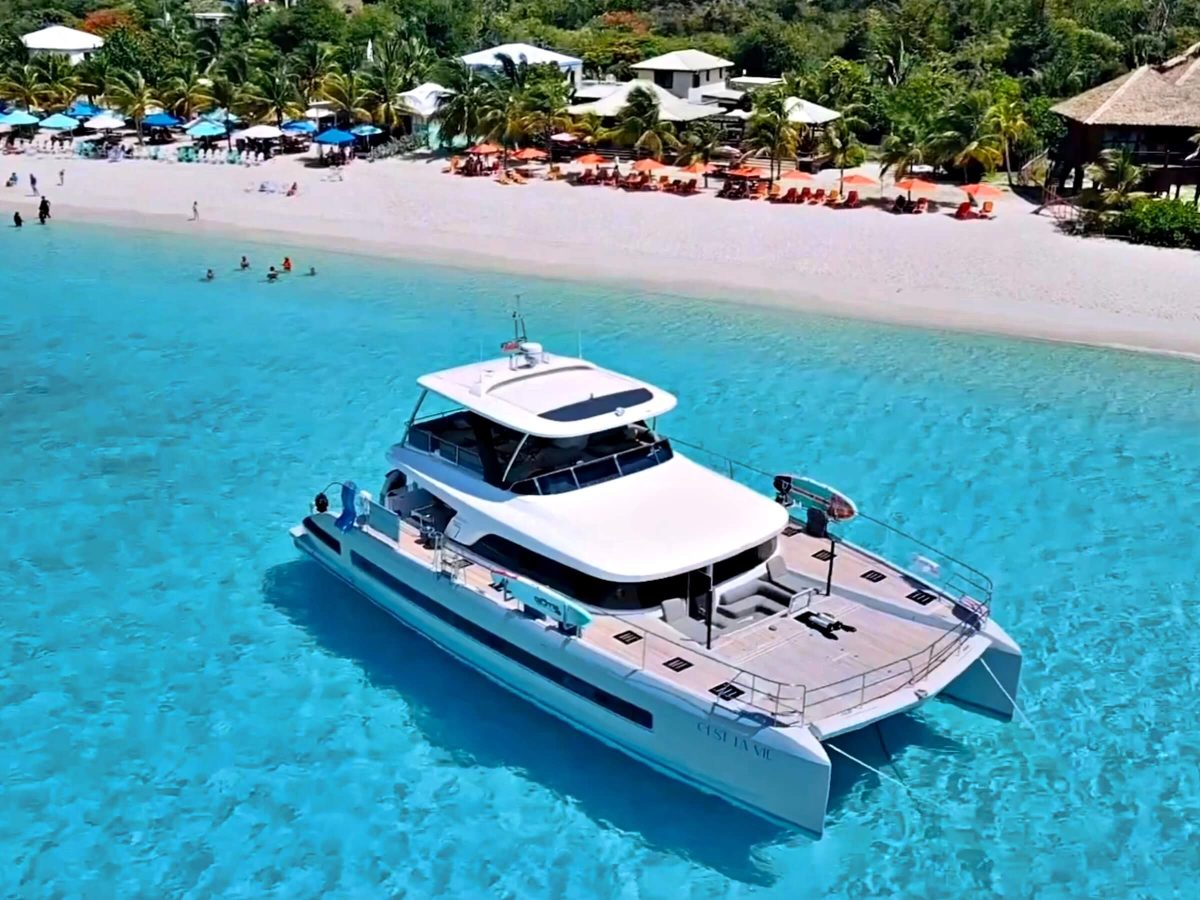 After breakfast, you set sail downwind to Sandy Spit. This tiny sandy cay off, Green Cay, makes one think about what mutineers on deserted islands must have experienced, but with a cold drink in your hand, it makes for a great place to walk with your friends and family.
This is a perfect spot to  Standup Paddleboard, kayak, or sunbathe on the trampolines before lunch. Then it is off to Great Harbor, where the famous Foxy's Bar is located. Alternatively, a stop at the Soggy Dollar Bar could lead to a festive day drinking the famous Painkiller cocktails. There are a few gift shops here where you can purchase your BVI souvenirs or T-shirts. Nearby in White Bay, there are many beach bars including Hendo's Hideout which serves great Conch Fritters. You then have the option of anchoring overnight in Great Harbor on Jost Van Dyke, Little Harbor, White Bay, or spending time at Diamond Cay, where you can visit the famous Bubbly Pool.

After an early start from Jost Van Dyke, you head back to the marina on Tortola with breakfast served underway.
Leave on a private water taxi or public ferry, or if you are flying from Tortola, your taxi will pick you up at noon to take you to the airport.
Your crew will endeavor to find the perfect balance on your charter, between becoming solid friends and still allowing you space and privacy to enjoy your group. They will do their best to snap as many photos/videos of you all as they can to share with you at the end of your truly memorable vacation. Safe travels, until next time.