While everything in Greece is stunning, there are a few highlights not to be missed. Take a look at our favorite anchorages, beach bars, restaurants, and shore excursions.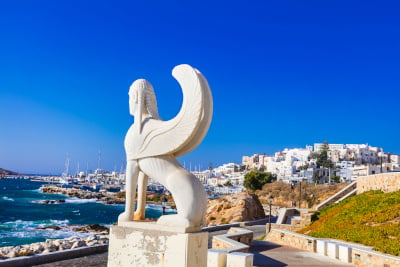 Naxos is the largest of the Cyclades Island group and one of the most beautiful of the Greek Islands. With its extended coastline, Naxos has many long white sandy beaches, which are regarded as some of the most wonderful beaches in the Aegean Sea. There are many secluded coves and hidden beaches perfect for some peaceful relaxation or snorkelling adventures. Enjoy the view of white washed towns dotting the landscape from your private yacht. 
Explore the Temple of Apollo (or Portara), which is a large marble doorway that commenced construction in the 6th century BC, but was never completed. This is an amazing place to watch the sunset. Naxos is mainly known for producing potatoes and cheeses. Visit the Kieron Distillery, founded in 1896, to sample the local liquor made from the leaves and fruit of lemon trees on the island.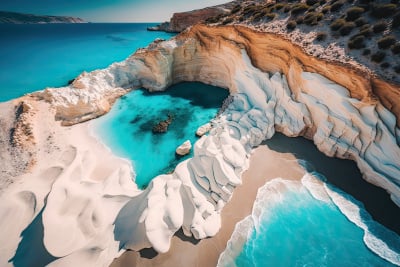 Milos is a volcanic island located in the Aegean Sea. Because of the volcanic rock the beaches are painted red, yellow, and orange which provide a dramatic landscape against the beautiful deep blues of the sea. Sarakiniko Beach, is one of the most famous, and is known for its lunar-like landscape with its white volcanic rock formations. It is a popular spot for swimming and exploring. Kleftiko is another great spot which has unique rock formations and hidden caves. 
The 'Venus de Milo', now in The Louvre Museum, and statues of the Greek God Asclepius, Poseidon, and archaic Apollo, in Athens, all came from mining marble here. Milos has one of the most ancient mines in the Mediterranean consisting of a range of minerals such as obsidian, pumice, bentonite, and alunite.
Explore the catacombs (subterranean cemeteries) that are an important archaeological find on Milos. Used as Christian cemeteries, they were discovered in 1844 and are estimated to have been built in the 1st century AD.
Enjoy a stroll through the quaint hamlet of Little Venice. Here you will find narrow streets, whitewashed houses, and colourful balconies overlooking the water. There are several restaurants and cafes for you to sit and relax while admiring the scenery.

Paros is a small island, south of Mykonos, offering beaches and a lovely main port town. The quaint harbour has an exiting culinary scene, with a balance between modern and traditional. Visit one of the many seafood restaurants and try fresh octopus cooked on charcoal or the mackerel which is traditionally dried in the sun with herbs, before being grilled.
A short walk from the fishing port will take you to the heart of the main town of Parikia, with its maze of hidden narrow alleyways, whitewashed cubic houses and old mansions. Numerous restaurants, cafes and bars line the promenade.
Explore the island and visit the Valley of the Butterflies, where between June and September you will witness a magical display of thousands of Tiger Moth butterflies flying around. 
The sister island of Antiparos is a great calm anchorage for a night stop. Visit the beautiful beaches and impressive cave, with its stalactites and stalagmites that date back 45 millions years.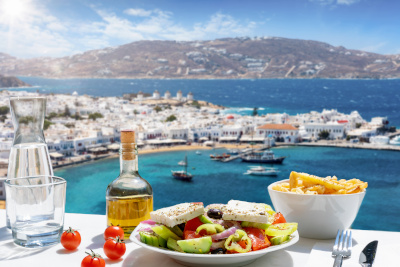 As well as having iconic 16th-century windmills and blue-shuttered houses, Mykonos has something for everyone. With its world- class exclusive restaurants, cosmopolitan vibes, elegant bars, designer boutiques and party scene. Mykonos also boasts some wonderful golden sandy beaches and beautiful clear waters. Tourism is the primary industry here, which means that July and August can be very busy. Many would have seen Mykonos from Instagram with the famous "Flying Dress" photo shoots.

With its layered whitewashed houses and blue-domed churches, Santorini is one of the most magical places you will ever see! An ancient volcanic eruption left the island with a crater and black and red sandy beaches. Stroll around the traditional village of Oia for shopping or visit a beautiful cafe or restaurant to view the volcano and the famous sunset of Santorini. A guided tour is a great way to explore the history of the island, maybe taking in a stop at a winery on route. As with Mykonos, it is best to tour the island outside of July and August if you want to stay away from large crowds.