Getting to the British Virgin Islands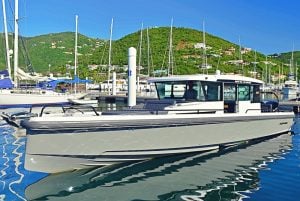 "What is the easiest way to get to my charter destination?"
This is one of our most frequently asked questions when booking a charter vacation in the BVI. There are a few options to consider. Choose the best airport to fly to when you know where your crewed yacht charter will start. Most charters will start in the BVI and some in the USVI, and then continue to the BVI.
Please contact us for guidance so that you can make the best decision for you and your group.
Fly from the USA to St Thomas (STT), USVI – Ferries are available to Tortola, BVI from Charlotte Amalie (downtown) or Red Hook (east end). Private water taxis are available from Red Hook. 
Fly from the USA to San Juan (SJU), Puerto Rico – Connecting short flights from various carriers to Beef Island (EIS), Tortola, BVI – Taxis are available to take you to your marina.
Fly from Miami (MIA), direct to Beef Island (EIS), Tortola, BVI. Taxis are available to take you to your marina.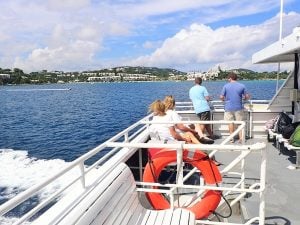 "Which ferry should we take if we fly to St Thomas?"
There are a few ferry companies that will transfer you from the USVI to the BVI and back. This scenic ride takes approximately 50 minutes each way, depending on your departure terminal. Downtown Charlotte Amalie is about 10 minutes from St Thomas airport and Red Hook, on the eastern side of the island, is about 30 minutes.
Some ferries stop running earlier than others depending on the time of year. 
We like using a Private Water Taxi as they will depart when you decide. They will also take care of your immigration clearance while you sip on a cold beverage. Please contact us to help you decide on the best option.
* Please note that some ferries do not run non-stop to your destination and may stop to pick up and drop off passengers in St John, USVI. It is advised to check on the route and time of arrival to ensure that you arrive in good time for your flight check-in. Weekends are always busier.
"Should I use a private water taxi?"
We strongly recommend using a private water taxi to get you straight to your crewed yacht charter. The water taxi will Pick up at whatever time you need and take you straight to your crewed yacht, via customs and immigration. Your water taxi captain will take care of your customs and immigration clearance, which means you wont have to stand in lengthy lines.  The companies we would recommend are: