CHARTER ON A YACHT FOR THE DIVING ADVENTURES OF YOUR DREAMS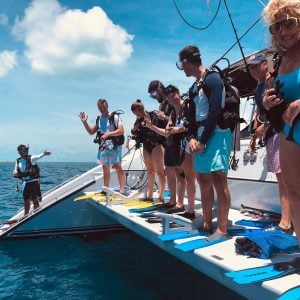 The British and US Virgin Islands and the Bahamas offer some of the Caribbean's best SCUBA diving. Famous dives such as the Wreck of the Rhone, Angelfish Reef, Danger Reef, Wreck Alley, and Jeep Reef are just a few mentions. Clients get to dive right from the stern of the boat with divemasters/instructors on board.  You have to bring proof of your SCUBA diving certification. If you need to do a refresher course to get you up to speed if you have not dived in many years, just complete this before arrival or at a resort before stepping on the charter yacht. Some captains and crew members have SCUBA Instructor licenses. The yacht offers various diving courses, including Discover Scuba, for those wishing to try before committing to a full Open Water dive course. Rendezvous diving is offered by other boats (a dive company will meet you at anchor, and you transfer to their fully equipped dive boat), and some yachts even hook you up with a dive instructor for a certification course.
There are a few things not to be missed. Take a look at our favorite anchorages, restaurants, beach bars and shore excursions.
Having a hard time visualizing your crewed yacht vacation? Take a look at a sample itinerary to get the ideas flowing and plan your trip.