St. Vincent & the Grenadines sailing destination
St. Vincent and the Grenadines make up a chain of spectacular islands stretching from St. Vincent to the 'Spice Isle" of Grenada further south. These beautiful islands offer pristine white sandy beaches, crystal clear waters and stunning bays, allowing comfortable anchorages along some of the most unspoiled coastline of the Caribbean Sea. The Grenadines can be found way south in the Windward Islands.
Few of the islands are inhabited and therefore act as nature reserves, environmental sites and bird sanctuaries. Yacht charters typically start and end in one location, however, one-way charters are possible to sail in one direction and depart from another location.
St. Vincent is located about 90 Nm North of Grenada and there are 32 islands to choose from on your unforgettable island-hopping vacation on a luxury crewed charter yacht.
Sample Itinerary
Having a hard time visualizing your crewed yacht vacation in the Grenadines? Take a look at a 7-day sample itinerary to get ideas flowing and plan your trip.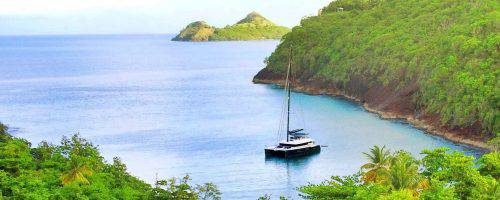 "Must Sees"
While everything in the Grenadines is stunning, there are a few things that should not be missed. Take a look at our favorite anchorages, restaurants, beach bars and day excursions.