The British Virgin Islands sailing destination
Known as a world sailing hotspot, the British Virgin Islands (BVI) are located in the Northeast Caribbean, part of an archipelago of over 60 islands. Lush green landscapes, volcanic in nature (excluding the coral atoll of Anegada), are home to four major islands – Tortola, Virgin Gorda, Anegada & Jost Van Dyke. This unique grouping of islands, most of which are uninhabited, is just 95 miles East of Puerto Rico and only a few miles East of their US counterpart – the US Virgin Islands. The BVI is part of the Leeward Islands.
Sailors delight in the ability to easily navigate from one island to the next often by sight alone. Steady trade winds, sun-soaked scenic anchorages too numerous to count, and pristine white sand beaches are the envy of marine enthusiasts worldwide. The protected Sir Francis Drake Channel offers a clear and well-marked path through the crystal clear aquamarine waters allowing island hoppers to safely take in the sights and sounds of neighboring ports. Scuba diving sites are some of the best in the world and with so many protected anchorages, all water sport activities can be enjoyed right from your crewed charter yacht.
Epic Yacht Charters can also help you book a charter yacht in the US Virgin Islands, contact us for more information.
Sample Itinerary
Having a hard time visualizing your crewed yacht vacation in the BVI?
Take a look at a 7-day sample itinerary to get the ideas flowing and plan your trip.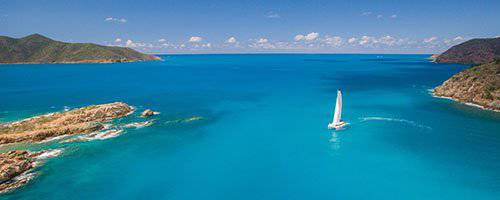 "Must Sees" In the BVI
While everything in the BVI is stunning there are a few things not to be missed. Take a look at our favorite anchorages, restaurants, bars, and must-see day excursions.