St. Maarten, is the Dutch side, and St. Martin belongs to the French and will be the start of your Leeward Islands sailing charter vacation.
Experience different types of islands each with unique cultures and history. The island of Sint Maarten/Saint Martin is the smallest landmass in the world to be shared by two different nations. Only 37 square miles are governed by France and the Kingdom of the Netherlands (where Dutch Sint Maarten is an independent country within the Kingdom). The capital, Philipsburg, has cobblestone streets and colorful, colonial-style buildings lining its Front Street shopping area. The port is a popular cruise-ship stop. Marigot is the French St. Martin's capital and is located about 90 Nm southeast of the Virgin Islands. The smaller bays like Grand Case have narrow roads lined with great eateries on the street and more traditional French cuisine served in small restaurants.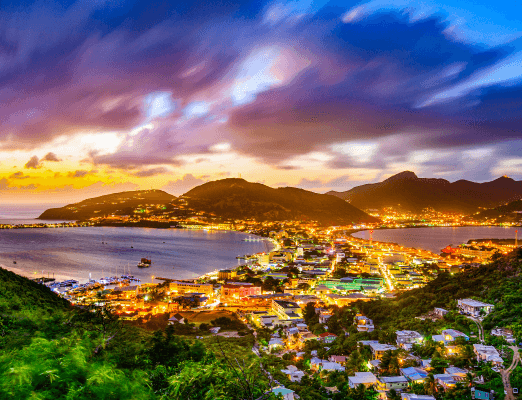 To the north lays the long island of Anguilla (British territory). Anguilla is bare and flat and is fringed by white sand beaches. It is 16 miles long and approximately 3.5 miles wide. Its long thin shape gave the island its name (French: anguille, "eel"). The territory includes several small uninhabited offshore islands, the largest of which are Dog, Scrub, and Sombrero islands and the Prickly Pear Cays, ideal for a day trip with a beach bar/restaurant. To the southeast of St. Maarten lays the French West Indies island of St. Barts, short for St. Barthelemy. Fine dining is part of the art of entertainment of St. Barts. For the rich and famous, luxurious villas line soft sandy beaches and all 14 beaches are accessible to the public for year-round sunbathing and the international shopping boutiques are found along narrow cobblestone lanes. This charter destination is popular between April and August, but not limited to these months. The sailing route takes you around all of these Caribbean islands with remote anchorages, pristine beaches, azure blue waters, and popular island activities.

"MICHELE WAS SO EASY TO WORK WITH, HOOKED US UP WITH THE PERFECT BOAT AND HELPED WITH ALL OF THE DETAILS ALONG THE WAY"
There are a few things not to be missed here. Take a look at our favorite anchorages, restaurants, beach bars and shore excursions.
Having a hard time visualizing your crewed yacht vacation? Take a look at a 7-day sample itinerary to get the ideas flowing and plan your trip.