starting at
€24,900/week
Greece
59 ft sailing catamaran
Accommodates up to 10
5 Queen ensuite cabins
Great for a large group
ALLURE is a Fountaine-Pajot Samana 59 sailing catamaran offering crewed yacht charters in the Greek Isles.
A flybridge with breathtaking dimensions… the largest in its category! Achieving the perfect blend of space and intimacy, ALLURE will enchant you and inspire sailing experiences that bring friends or family together for unforgettable moments. 5 Luxurious ensuite queen cabins accommodate up to 10 guests.
ALLURE has been carefully designed to create spaces that cater from the most lively social gathering to the most relaxing moments of solitude. Its expansive spacious cockpit, a decadent foredeck with modular sunbathing stations, a large flybridge, and generous cabins all provide opportunities to engage or reflect in dynamic or more peaceful settings.  Inspiring social unity with its generous and refined living areas, and epicurean galley that opens onto the salon, ALLURE embodies the French way of life that celebrates the philosophy of carpe diem.
Enjoy all the pleasures of sailing and have an amazing time aboard ALLURE.
Most photos of sistership by Fountaine Pajot.
*For Rates, see the PRICING Tab below – Holiday weeks may differ, please enquire!
Your Crew
CAPTAIN ADAM
Adam was born and raised in Sweden in 1972. He fell in love with open-blue sailing as a teenager. It started as a sport and soon became a profession. Holder of the Greek sailing license of the national sailing academy since 1993 and a sea man's book since 1989. He last updated his life-saving and fire-fighting appliances in 2019. Adam has been sailing professionally on Greek waters for more than fifteen years.
He likes to say that "what amazes him the most is that no matter how many times you visit a Greek island you will always experience something different"… He enjoys listening and understanding the needs of each and every one of his guests. A great admirer of the Greek culture and spectacular sea scenery himself, he and his crew will do the best they can to show you the "other side" of the Greek islands.
CHEF DIONISIS
Dionisis is amazing both in culinary skills and personality. He has worked several years abroad (France and England) and now has expanded his horizons into the deep blue sea. His meat and seafood dishes are savored by many guests. He is a master of "smoothies"! He has a calm disposition and he is always there to share his recipes. He is great with children.
STEWARD/DECKHAND STEFANOS
Stefanos is 22 years old and is from the beautiful town of Chania on the island of Crete. With a love of the sea, he started sailing and holds certification in both commercial pleasure craft and sailing yachts. His technical and electrical knowledge along with boat systems and equipment are perfect for the yachting world.
Now living in Piraeus, he enjoys working out, walking, and spending time with friends. In joining the crew of Allure, he's looking forward to welcoming guests and offering them the best possible charter experience!
Languages: Greek and English (fluent)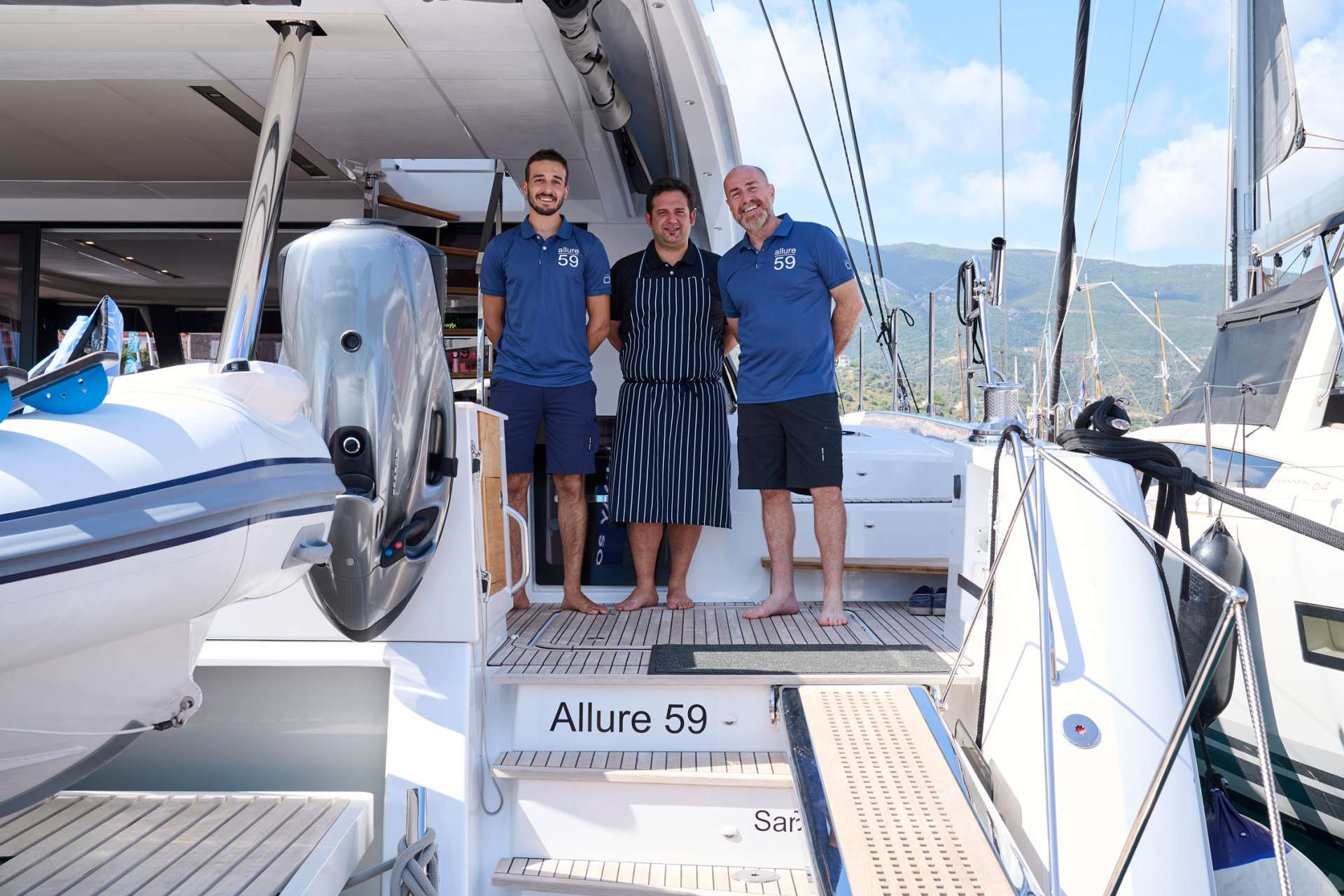 Cuisine
BREAKFAST

Tea, infusions, coffee, fresh juices, smoothies, milk different types
Bread and toast
Greek yogurt, cereals, fresh fruits, honey
Marmalades(jam), tahini, and other spreads
cheese, and cold  cuts of different types
Eggs of all types
Tomatoes, cucumbers, avocados
Pancakes, crepes, viennoiserie different types
Cakes and sweet and savory pies

LUNCH

DAY1:

Beetroot salad with capers and orange vinaigrette
Eggplants stuffed with onions and garlic
Chicken drumsticks with Jasmine rice

DAY2:

Black-eyed peas salad with peppers and lemon vinaigrette
Tzatziki
Half lamb with Greek herbs and roasted potatoes

DAY3:

Mushroom and corn salad with dry figs
Chickpeas baked in the oven with rosemary
Chicken livers glazed with balsamic vinegar

DAY4:

Lentils salad with cherry tomatoes and smoked cheese
Orzo with pumpkin
Calamari sauté with aioli sauce

DAY5:

Rocket salad with nectarine and Talagani grilled cheese
Buckwheat with fresh onions and anchovy
Cod en papillote with green beans

DAY6:

Potato salad with estragon and cashew nuts
Smoked eggplant puree
Salt-crusted sea bass with coriander seeds

DAY7:

Greek cabbage salad (Politiki)
Fried Gnocchi
Mousaka with eggplants, potatoes, and minced beef

DINNER

DAY1:

Spinach salad with radish and mustard vinaigrette
Zucchini and carrots sauté with cumin seeds
Swordfish with green olives sauce and linguini

DAY2:

Greek salad
Traditional Greek crunchy cornmeal pie with fresh greens and herbs
Shrimps with smoked paprika sauce

DAY3:

Fennel salad with red onions and ginger vinaigrette
Jacket sweet potatoes
Fresh fish from local fishermen with thyme and lime

DAY4:

Lettuce salad with celery and tahini vinaigrette
Couscous with veggies
Greek traditional meatballs with tomato sauce  (soutzoukakia)

DAY5:

Quinoa salad with avocados and gherkins
Feta cheese pie with spearmint (Tiropita)
Osso Bucco with tomato sauce and basil leaves

DAY6:

Fusilli pasta salad with cucumber, pickled  peppers, and Katiki cheese
Green peas a la Francaise
Chicken filet with pumpkin seed oil

DAY7:

Greek (Cretan) Dakos salad
Chickpeas fritters
Tuna skewers with guacamole

DESSERT

Chocolate tart
Millefeuilles
Cheesecake
Brownies
Tiramisu
Greek yogurt with sour cherries or honey
Fruit salad,
Pavlova,
Crème Brulee
Greek traditional desserts
Click image for full size slide show.