starting at
$31,000/week
United States Virgin Islands
56 ft sailing catamaran
Accommodates up to 8
4 Queen ensuite cabins
SCUBA diving onboard
SPECIAL OFFER
Special Offer: May Days (for the month of MAY) - 10% OFF rates, BVI Compliant, Diving Onboard, and BVI fees and permits included!
BLUEWINDS is a 56 ft Lagoon catamaran with accommodations up to 8 with ensuite bathrooms.
Bluewinds (ex-Playtime) is the perfect platform for experiencing the majesty of the Caribbean! An ongoing 2022/23 refit brings all new interior and exterior decor, new generators, water maker, tender, and a "boat load" of new gear, making Bluewinds will be the premiere Lagoon 560 chartering the British Virgin Islands and Greater Caribbean region.
No expense was spared in outfitting this gorgeous luxury sailing yacht which offers four guest cabins (for 8 guests), each with its own private bathroom, a salon with 360° windows, 2 dining areas, and a foredeck sitting area. Amenities and toys include TVs in each cabin, 2 trampolines, a 15-foot tender for wakeboarding, tubing, or zipping to gorgeous beaches, 2 standup paddleboards, 1 double kayak, a hydraulic swim step for easy water access, and snorkeling and diving gear. Bluewind's elegant yet minimalist design provides the handling of a performance sailing catamaran while offering the ambiance and amenities of a world-class resort on the water. The spacious design of the cockpit and flybridge areas offer guests panoramic vistas, al fresco dining, and ample space for lounging, whether in the sun or shade.
If you are looking for world-class dining, sailing, diving, and adventure, look no further than BLUEWINDS!
Note: Previously named PLAYTIME.
*For Rates, see the PRICING Tab below – Holiday weeks may differ, please enquire!
Your Crew
CAPTAIN JOSH & CHEF/MATE MEGAN (BEAN)
Josh and Bean are an experienced crew with a passion for the industry and the ocean. As a couple they have charted for 3 seasons in Florida, The Bahamas, and The British Virgin Isles where they thrived diving with sharks, scouting out pink iguanas, and finding the best spots on the islands. Josh has been sailing the seas for 7 years and is an experienced dive master. He has chartered in the Med, Seychelles, and the Caribbean. He has also worked as a dive master in Malaysia where he gained experience in effortlessly leading large dive groups and found joy in showing people what the deep ocean has to offer. He has a passion for the sea, the creatures living there, and the adventures we can have in it.
He has a love for surfing and wishes to become a kite boarding instructor in the future. Bean has always found great joy in working with people and providing experiences that will last a lifetime. She worked as a qualified teacher for 5 years before finding her passion for the culinary arts. She is a creative soul who has a keen eye for beautiful foods and luxury interior up-keeping. She has a ready smile and a warm heart and loves connecting with people from all walks of life. Together, Josh and Bean strive to provide the best sailing experience for each individual group who joins their vessel as they adapt and create a holiday perfectly suited to the unique desires of each person.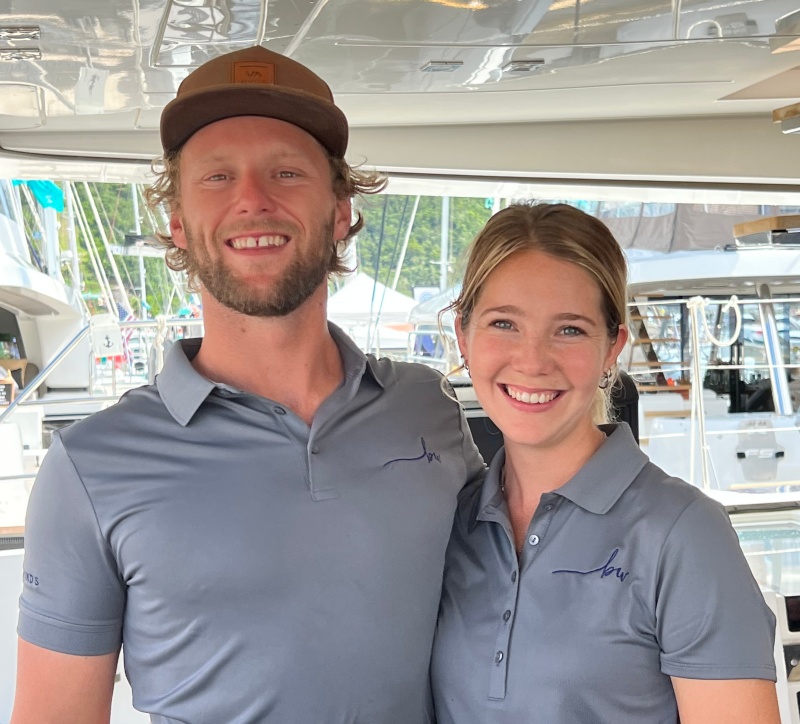 Cuisine
BREAKFAST

Classic Eggs Benedict. Poached eggs onto toasted English muffins with a smooth hollandaise sauce served with basil pesto and cherry tomatoes
Blueberry Crepe Torte served with freshly whipped cream
Adventurous Quiche. Any choice of roasted beet and caviar quiche OR Pepperdew and three cheese quiches OR Paprika spinach and feta quiche. The possibilities are endless! Served with crispy honey-glazed bacon
Toasted Bagel spread with bloody marry deviled eggs and a charcuterie board
Freshly baked cinnamon rolls
English breakfast with fried eggs, sausages, bacon, roasted red tomatoes, fried mushrooms, and hash browns
American pancakes and pineapple syrup and crispy bacon

LUNCH

Black garlic coated brie and cranberry grilled chicken salad served on a bed of grilled green beans with a freshly baked garden focaccia
Seared tuna poke bowl. A perfect bowl of sesame-seared tuna, avocado, freshly shaved carrots, cucumber, pickled ginger, butter edamame beans, spring onions, and orange teriyaki quinoa
Pulled pork toasted taco bowls with a pepper pineapple salsa
Sweet and spicy Peach pork chops served with a goats cheese salad
Creamy Mahi and mushroom phyllo pie with a zesty cucumber and parsnip salad
Garlic grilled shrimp with basil and avocado pesto pasta served with a rustic Italian ciabatta bread

APPETIZERS

Beef and horseradish crostini
Red onion tartlets glazed with a basil balsamic reduction
Arancini risotto balls with a spicy mayo
Sweet and sour roasted strawberries and whipped feta brochettes
Freshly baked mozzarella and spinach samosas
Maryland Crab cakes with a homemade tartar dip
Lavender Honey Possets

DINNER

Course 1

Creamy Vadouvan carrot puree with seared sesame scallops and wild greens
Grilled halloumi and butternut salad with a turmeric tahini dressing
Butter garlic grilled Lobster served with a lemon beurre blanc sauce and grilled eggplant
Roasted red pepper and cauliflower soup with a sweet balsamic reduction and coconut cream
Grilled calamari salad with pickled red onions and sprouted beans

Course 2

Sous vide pork tenderloin with a light truffle cauliflower puree, red caramelized balsamic onions, and pickled radish
Potato and leek truffle soup with freshly shaved Parmesan cheese
Fillet Mignon served with a creamy zucchini sauce and hassle back potatoes dressed in a port glaze and grilled asparagus
Smoked salmon, fennel, and clementine (or any citrus fruit) salad with a zesty teriyaki dressing
Salty dog Sorbet palate cleanser

Course 3

Home turned creamy pistachio ice cream
Lemon almond encrusted snapper with a tarragon brown butter sauce served with steamed broccoli and almond salad
Champagne and granadilla granita
Lobster Thermidor with chive and feta quinoa salad
Lamb rack with mint Verde, garlic potato puree, and honey-roasted butternut

Course 4

Double dark chocolate gouache tart on vanilla almond crumb with espresso cream and fresh blueberries
Stone fruit crumble and ice cream
Lemon blueberry soufflé
Toasted pistachio and raspberry chocolate fudge
Cheesecake tiramisu with a coffee syrup

DESSERT