starting at
€34,000/week
Greece
67 ft Power catamaran
Accommodates up to 8
4 Queen ensuite cabins
Great for a group
ELLY is a 67 ft Fountaine Pajot power catamaran with luxury accommodations for 8 guests.
ELLY, the Power 67 by Fountaine Pajot is the flagship of the Motor Yacht family. Space, luxury, elegance, and performance, this is how we can describe this spectacular yacht. The hull design combined with the power of Volvo Penta engines allows for incredible cruising speeds. The Long Cruise in fact offers great capacity and autonomy. Fountaine Pajot also has very high safety and performance standards, guaranteeing a safe, stable, and fast boat. Accommodations for 8 in 4 luxurious queen ensuite cabins.
As in all the other models of the Fountaine Pajot range, even in ELLY, there is no lack of luxury and elegance, without detracting from the comfort and liveability on board. The spaces are designed in a workmanlike manner to ensure homogeneity throughout the catamaran. With the large cockpit and the spacious salon, it is possible to entertain a large number of guests without any problem.
Photos: Most are factory photos by Fountaine Pajot.
*For Rates, see the PRICING Tab below – Holiday weeks may differ, please inquire!
Your Crew
CAPTAIN GEORGE
George holds MCA/RYA Yacht Master Offshore up to 200GT, and a Motor Boat operator license. He has under his belt more than 100.000 nautical miles and a 30-years- of experience in the yacht charter industry in Greece. He started his career back in 1995 and has sailed onboard charter to high-performance boats.
He grew up in a town surrounded by the sea and started sailing at the age of 6! In 1988, he completed his postgraduate studies in mechanical engineering and served his country in the Navy. In the past, he also worked several years in nautical clubs as an offshore sailing and diesel engines instructor and in 2010, along with his older brother, they founded their own Offshore Sailing Training Center in Volos and named it after their legendary sailing boat, Himera. Over the last 5 years, he works exclusively in crewed charters.
George is a proud father of 4 young boys. He speaks Greek & English.
CHEF DIMITRIS
Dimitris is a devoted chef with 22 years of professional experience in the cooking industry. He graduated from Thames Valley University of London in 2001 and holds a BSc in International Culinary arts. In addition, he has a Food Hygiene certificate and a State Diploma in Hotel, Catering & Institutional Operations.
For many years he has worked in restaurant and hotel kitchens. Among the collaborations that stand out in his career, are the London 4 Seasons Hotel, and the UK Australian Embassy. In 2016 he decided to accept a new challenge and stepped into the yacht charter industry.
Besides cooking, he enjoys diving and sailing with his kids.
Dimitris can easily adjust any meal to the requirements of his guests and is known for transforming an ordinary recipe into a delicious meal, using fresh ingredients and lots of imagination. He speaks Greek, English & Italian.
STEWARDESS NANCY
Nancy is a distinguished world-class athlete. Counting more than 15 years of success in Dinghy Sailing, she won the podium numerous times in European & World Championships. Her parents encouraged her to start sailing when she was only six years old and very soon she became passionate about this new world. From 2007 to 2021 she was a member of the Hellenic National Sailing team, and in 2019 she joined the Hellenic pro-Olympic Sailing team.
When the time came for business orientation, it was only natural for her to seek a career within the yachting industry. Today she holds a BSc in Maritime Studies, STCW, and Offshore Sailing & Power Yacht certificates. In business, she believes that the road to success is built starting from the very bottom.
Her character is humble, disciplined, highly motivated, and extremely hard-working.
She enjoys working as part of a team while traveling all over the world. This will be the second year for Nancy to work with Captain George. She speaks Greek & English.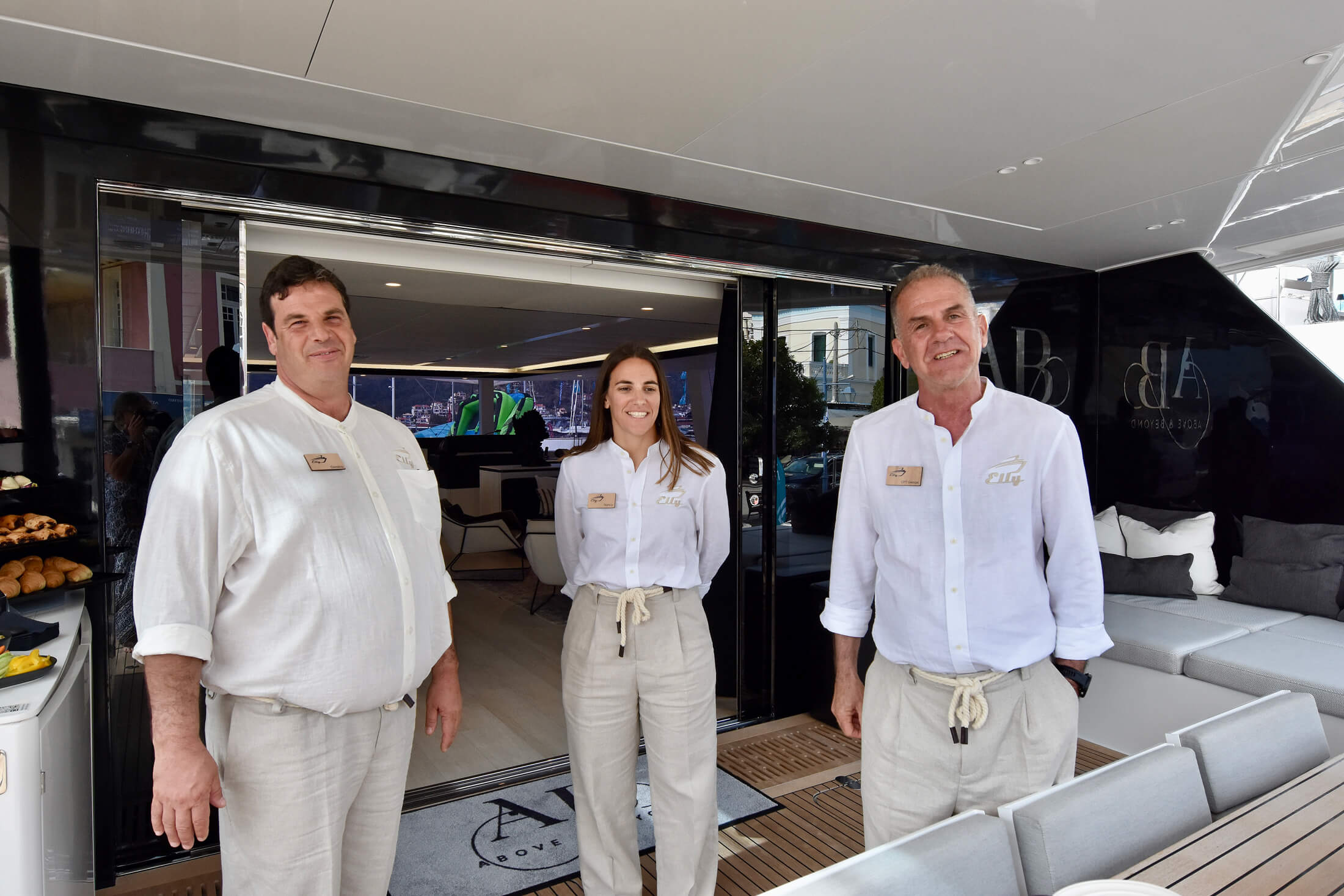 Cuisine
BREAKFAST

Choice of Assorted Bread (toast, croissants, rolls, brioche, muffins, etc)
Served with Preserves (Jam, marmalade), Honey
Choice of fresh Fruit Juice (orange, pineapple, tomato)
Cut Fruits (grapefruit, melon, papaya, pears, bananas)
Stewed Fruits (plums, apples, figs, prunes)
Choice of Cereals (Muesli, Porridge, Rice flakes, wheat flakes, etc) Sen/ed with hot/cold milk
Fish: (Boiled, Grilled, Poached, Steamed – Sole, Herring, Haddock)
Eggs: (Fried, boiled, poached, plain or savory omelet)
Meat: (Bacon, Sausages, Salami, etc – fried or grilled)
Choice of Assorted Bread (toasts, brioches, croissants, rolls, brown bread Served with butter and preserves (honey, jam, marmalade)
Beverages: (Tea, Coffee, Hot Chocolate, Milk, Horlicks, etc)
Greek yogurt with Greek honey
Handcrafted baked goods
Healthy bowls – avocado toast
Pancakes, French toast, cakes- banana bread
Healthy smoothies with seeds

SALADS

Greek Salad*: Tomatoes, Cucumber, Feta Cheese, Onions, Olives, Cappers, Extra Virgin olive oil

Salmon Salad: Iceberg, Lettuce, Rocket salad, Salmon, Orange wedges, Yogart Orange Dressing

Ntakos*: Greek Traditional whole meal dried bread, Fets cheese, Tomatoes, Cappers, Extra Virgin olive oil

Green Salad: Green and Red Lettuce, Cherry Tomatoes, Sweet Corn, Red Beans, Croutons, Vinegret

Kous Kous Salad: Kous Kous, Courgettes, Onions, Mint, Parsley, Vinegar gastric, Cherry Tomatoes, Cucumbers

Root Vegetable Salad: Fannel, Carrots, Celery, Herbs, Lemon, Extra Virgin olive oil

APPETIZERS

Fava
Tzatziki
Spicy Feta Cheese paste
Humus
Tarama Salad
Grilled Mushrooms
Grilled Cheese (Talagani, Haloumi)
Feta Cheese in filo pastry
Grilled or boiled vegetables
Octopus in Vinegar
Shrimp Saganaki in Tomato Sauce
Steamed Mussels
Apaki (cured smoked pork filet)
Siglino (cured salted meat

DINNER

MEAT:

Lamp slow-roasted in a clay pot with rosemary, herbs, baby potatoes, and a selection of vegetables
Veal cooked in tomato sauce and aromatic herbs served with wild rice and green beans
Beef fillet in mavrodaphne sauce served with wild mushroom risotto
Pork fillet stuffed with pistachios, dried fruit, and prosciutto in cream with honey and mustard sauce, served with basmati rice
Braced feather steak cooked with celery and vegetable roots, served with mashed potatoes

FISH & SEAFOOD:

Braced haddock cooked in white wine, cherry tomatoes, olives, cappers, and herbs
Sea Bream stuffed with chopped cabbage and carrots
Sea Bass grilled served with sauteed spinach baby potatoes
Mackerel fillet cooked in the oven with sliced tomatoes, onions, garlic, daphne, and Extra Virgin olive oil
Salmon grilled in herbs crust served with a selection of vegetables
Octopus cooked in red wine and tomatoes sauce served with macaroni
Cuttlefish boiled in white wine sauce and spinach
Pasta with seafood cooked in tomato sauce
Prawns with orzo and vegetables

VEGETARIAN:

Stuffed vegetables with rice and herbs
Briam: Greek version of ratatouille
Imam Baildi: Stuffed aubergines with onions, garlic, tomatoes, and herbs
Green beans in tomato sauce and potatoes
Butter beans cooked in the oven with tomato sauce and herbs

DESSERT

Banoffee
Souffle chocolate with salted caramel
Galaktoboureko
Yogurt with traditional fruity sweets
Kormos: frozen chocolate and crumbled biscuits
Apple crumble
Tarts
Crème Brûlé
Click image for full size slide show.