starting at
$36,000/week
British Virgin Islands
60 ft power catamaran
Accommodates up to 6
1 King, 1 queen & twin beds (or king) with 3 ensuite cabins
Upper Deck Dining
SPECIAL OFFER
1. Available for British Virgin Islands Winter 2023/24 Season Caribbean Terms - Inclusive rates. 2/$36,000, 4/$38,000, 6/$39,000. 2. Christmas week 2023 - $34,400
INDIGO is an elegant 60 ft Horizon power catamaran.
This sleek, but stable and spacious yacht can go up to 20 knots or a slower-paced 10 knots.  6 Guests are accommodated in luxury aboard INDIGO.  There is the master king stateroom, one queen, and one twin cabin which can be converted to a king bed.
The flybridge is perfect for enjoying the ride or sunbathing.  There is a BBQ grill, a wet bar, and seating for all guests.  The cockpit also has a seating area for all guests along with comfortable lounging.  The interior of the yacht is luxurious with an all-wood design. The cabins are spacious with plenty of natural light. With all the modern comforts, such as ensuite bathrooms, air conditioning, adjustable in each suite, and surround sound with a smart TV and media library of music and more.
In the cabins, soft towels await and toiletries include, shampoo, conditioner, body wash, body lotion, and a selection of other bathroom amenities. Note: 1 cabin share ensuite with the crew.
*For Rates, see PRICING Tab below – Holiday weeks may differ, please enquire!
Your Crew
CAPTAIN SEAN AND CHEF/MATE BIANCA
Captain Sean Knott grew up in the busy city of Johannesburg, South Africa where he spent most of his time with his family and friends " braaing" (barbecuing) and whipping up cocktails but spent holidays on the east coast of South Africa wakeboarding, Skiing, surfing which he loves to teach as well! Having found a love and passion for the ocean Sean obtained his Yachtmaster Ocean straight out of high school and has just obtained his AEC1 qualifications. Having done multiple deliveries in the Balearic Islands in the med as well as in and around Central America and Bahamas and chartered boats ranging from 52' to 70' over the last 4 years there is no doubt he can provide an outstanding charter and ensure everything runs smoothly
Chef/First Mate Bianca Cox grew up in a small quiet suburb of Noordhoek, Cape Town, South Africa where she found her love for water surfing, snorkeling, and paddle boarding on the beautiful coast. She pursued her dream and passion for water and started working on a yacht 3 and a half years ago where she found her love of cooking and learning all types of cuisine while learning about the ocean and conservation. Along with free diving for crayfish and spearing lionfish she loves to serve her guests the freshest seafood possible.
This young, positive, enthusiastic couple has sailed in the Bahamas and Belize extensively and knows how to tend to your needs and ensure a fantastic EPIC vacation.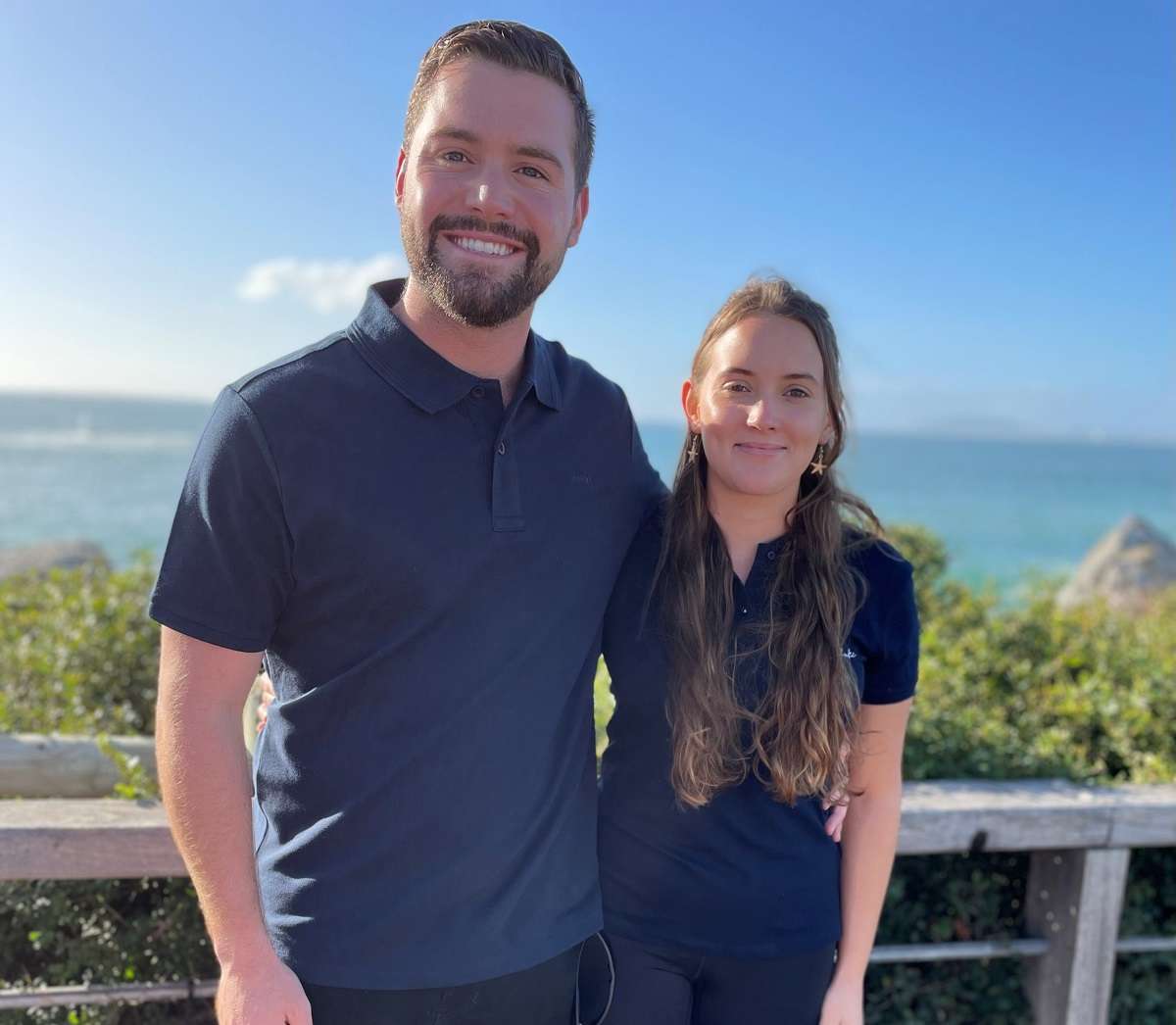 Cuisine
BREAKFAST

Breakfast is served every morning with cereals, jams, spreads, tropical fruits with coffee, and a selection of teas and fresh fruit juice (Gluten-free, dairy-free, and vegan options available)
Eggs benedict served on a homemade English muffin with crispy bacon and ham topped with a luxurious creamy hollandaise sauce and micro greens served with avocado mixed green salad
Crepes – Fresh berries and cream, banana and Nutella, homemade basil pesto tomato and cream cheese
Belizean-styled breakfast – Homemade tortillas/ fry jacks served with refried beans scrambled eggs crispy bacon and fried plantains
Delicious cinnamon French toast topped with caramelized amaretto apples and honey whipped mascarpone
American breakfast served with homemade pancakes scrambled eggs crispy bacon served with maple syrup
Chia raspberry pudding served with freshly baked scones
Berry or Banana cocoa power smoothie bowls served with hemp seeds, toasted coconut, fresh fruit toppings and drizzled with nut butter
Baguette toast served with avocado cherry tomatoes and a poached egg topped with micro greens and sunflower seeds

LUNCH

Ahi Tuna poke bowls served with sticky coconut rice, mango, edamame beans, avocado, crispy fried shallots, and toasted sesame seeds drizzled with ginger ponzu siracha mayo dressing
Greek chicken souvlaki skewers topped with pomegranate seeds served with garlic hummus, coconut tzatziki with a Greek marinated salad drizzled with a lemon tahini dressing
Fresh herbed pesto angel hair pasta tossed with fried cherry tomatoes, grilled lemon butter shrimp topped with toasted almonds
South African Babootieserved with a pickled tomato onion salad and freshly sliced bananas
Quiche with a sweet potato crust filled with butternut and caramelized onions or bacon, spinach, and feta
Coffee and Cacao rub pork ribs coated with a homemade barbeque sauce served with Caribbean pineapple coleslaw and Mexican-styled corn on the cob
Burgers in paradise served on a homemade bun stuffed with feta cheese and topped with sweet jam fried onions and avocado
Caribbean grilled chicken salad served with crispy bacon bits on a bed of mixed greens
Blackened local fish served with a tropical quinoa salad

APPETIZERS

Fresh Coconut shrimp ceviche served with tortilla chips
Marinated beet carpaccio salad with spinach and honey toasted pecans
Caprese salad drizzled with a sweet balsamic glaze
Watermelon and feta cheese stack topped with fresh blueberries and toasted pistachios with a sweet balsamic mint dressing
Thai mango salad served with coconut battered shrimp skewer
Belizean Tostones topped with pulled pork and a pineapple avocado salsa
Caramelized bacon-wrapped pear stuffed with goat cheese with a honey butter glaze
Refreshing watermelon and tomato gazpacho topped watermelon chunks
Mini Filo Pastry Stuffed with Spinach and Feta
South Africa Samosas Filled with chicken curry and a sweet chili banana sauce

DINNER

Bacon-wrapped chicken served with sweet fried plantains with a creamy Tuscan sauce
Beef tenderloin on a bed of sweet potato mash served with sauteed garlic asparagus topped with a blue cheese peppercorn sauce
Local pan-fried fish fillet served on a bed of sauteed vegetables with a lemon caper shallot sauce
Caribbean coconut curry shrimp served with coconut rice and beans and a side vegetable
Pork tenderloin stuffed with caramelized brandy plums and shallots on a bed of roasted garlic butter bean puree served with a side of roasted cumin sweet potato and butternut
Creamy white wine Lobster Risotto (seasonal) served with grilled garlic broccolini
Herb-crusted fish fillet served with a romesco sauce and a refreshing mixed green salad

DESSERT

Basque burnt cheesecake topped with a passion fruit coulis
Decadent Rum infused chocolate tart served with whipped orange cream
Key lime pie
Roasted vanilla bean pear on a bed of Greek yogurt sprinkled with toasted almonds
South Africa Malva pudding served with a warm custard sauce