Jan's FeLion - Power Catamaran
Combined Stability, Comfort & Luxury
64 ft power catamaran
Accommodates up to 8
4 Queen ensuite cabins
Fast and comfortable
From $33,000/week
Make an Inquiry
Are You Ready to Start Your Journey?
I am happy to assist you in your search. Please call or email me.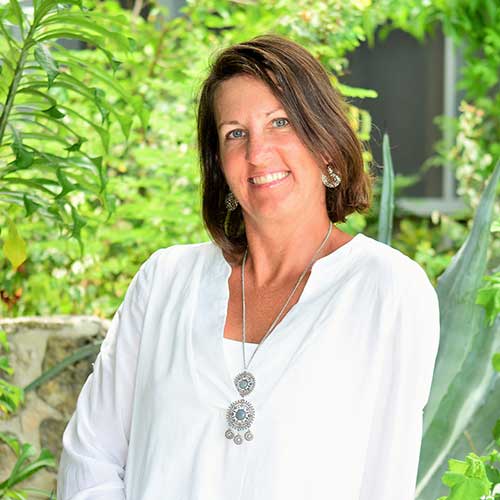 Michelle Heyns
+1 (954) 543-1270
[email protected]
Make an inquiry
Print this page
Please click to
. This might take up to 20 seconds.
Download PDF
Please click to

. This might take up to 20 seconds.
Stunning 64 ft Lagoon power catamaran JAN's FELION has combined stability, comfort, and luxury all in one yacht.
The width of this yacht gives her an amazing comfort for guests while being able to cruise around the islands at 18 knots. The inside of JAN's FELION is a glamorous mix of silvers, teals, and cream colors set against stunning wood. The large windows make this yacht feel open and allows guests a full view of the blue Caribbean water. There is a surround sound system in the main salon, cockpit, and flybridge. 8 Guests are accommodated in 4 queen ensuite cabins.
The saloon TV also has Apple TV and cabins have a TV with DVD machines. The exterior space of the yacht is as spacious as the interior space. The cockpit is teak with a table large enough to accommodate all guests for meals. The flybridge also seats all guests and allows 360° views while enjoying the journey between islands.
*For Rates, see PRICING Tab below – Holiday weeks may differ, please enquire!
The specifics
Pricing
Availability
Crew
Cuisine
Amenities
Reviews
Videos
| Season | 2 Pax | 3 Pax | 4 Pax | 5 Pax | 6 Pax | 7 Pax | 8 Pax |
| --- | --- | --- | --- | --- | --- | --- | --- |
| Summer 2021 | $33,000 | $34,000 | $34,000 | $35,000 | $36,000 | $37,000 | $38,000 |
| Winter 2021 to 2022 | $33,000 | $34,000 | $34,000 | $35,000 | $36,000 | $37,000 | $38,000 |
| Summer 2022 | $33,000 | $34,000 | $34,000 | $35,000 | $36,000 | $37,000 | $38,000 |
| Winter 2022 to 2023 | $33,000 | $34,000 | $34,000 | $35,000 | $36,000 | $37,000 | $38,000 |
Holiday offers
Please note that Holiday rates are subject to change.
Christmas week: $42,000
New Year week: $42,000
PRICE INCLUDES:
Use of the yacht with our Professional Captain and Chef and additional crew
All Onboard Meals – Breakfast, Lunch, Appetizer, Dinner, and Dessert
Snacks – Fresh Fruit, Popcorn, Granola Bars, Chips, Chocolates and more
Beverages – Water, Juices, Sodas, Coffee, Beer, Wine, and a Fully Stocked Bar
Water Sport activities
Broadband Wireless Internet Access
Air Conditioning
Cruising taxes and permits, BVI licenses, and port fees
Fuel for the yacht and dinghy
PRICE DOES NOT INCLUDE:
Shore activities such as dining, shopping, or special off yacht excursions
Premium Beverages/Wines not normally stocked and excessive alcohol consumption
Airport Transfers
BVI individual fishing permits
Crew gratuity; 15-20% of the charter cost
Availability
Highlighted dates are booked, on hold, or unavailable. We may be able to challenge the dates on hold. Please contact us for details. All other dates not highlighted are available. You can use the arrow icons to navigate through the months.
Dates Color Key
If no color is noted on calendar or in the detailed list below, the dates are available for your charter
Booked (Booked by another client group already)
Hold (Held by another client group, not yet booked, and can be challenged)
Unavailable (Blocked out by the Owner and unavailable to challenge)
Transit
CAPTAIN KIRK ROBINSON & CHEF NIA MORA
Kirk has always been a very active person. His love of the water began in his early 20's but It all started on land for Kirk as a professional soccer player where he spent his younger years representing his country Antigua in America, England, and South America. He's also a keen fisherman, so when sailing with Kirk you'll notice he'll be on the lookout for a fresh dinner from the sea!
Kirk started his sailing career as an Engineer with Sunsail working in Antigua and BVI. He is Yachtmaster Certified and has been a professional charter captain in the Caribbean for the past 12 years. He knows the intricate islands of the Caribbean with great depth and nuance. Most recently he was captain of the successful charter yacht Amazing. He's clearly a well-liked captain, with 90% being repeat guests or special requests by referral. Kirk is a very kid-friendly captain, welcoming families and friends to have a great time on Jan's FeLion.
Nia Mora is a versatile chef and photographer. Her work began in New York City, where she specialized in product photography and portraiture. After which she began a campaign of sailing across the Pacific from Hawaii to Australia, photographing the landscapes and people of many of the Pacific islands.
In 2013 Nia settled in Australia for a year where she developed work based on food, wine, and travel. After attaining a position as an assistant chef in some of Brisbane's trendiest restaurants, she acquired an eye for food styling and combined this with her photography. She now focuses her commercial work on her passions of food, wine, and travel.
2014 Certificate III in Commercial Cookery
AWARDS:
Winner of the 2015 USVI Yacht Show Culinary Competition
Winner of the 2016 BVI Yacht Show Culinary Competition – Best Entree on yachts over 60ft
Susanna was born in England, went sailing on a 90′ luxury yacht in the Med, and did a transatlantic flight to her new home in Tortola – all before she was six weeks old! Susanna considers herself privileged to be a true island girl. She enjoys sailing, archery, swimming, wakeboarding, snorkeling, diving, cooking, hiking, snowboarding, and traveling. Susanna grew up around yachts. Her parents owned and operated an Irwin 65 called Endless Summer II, and she would be down on the docks helping prep for charter and eventually moved on to work on the yacht as a stewardess and cook. She loves interacting with people from many parts of the world – yachting and hospitality flow in her blood! She has worked on many boats ranging from 40' to 100' both in the BVI and in the Mediterranean. She enjoys giving people a vacation of a lifetime, whether it is by tantalizing your taste buds with a special cocktail, giving you an island tour, or simply by telling you stories about the British Virgin Islands.
BREAKFAST
Homemade granola served with caramelized grapefruit sliced, yogurt, and honey
English Style scrambled eggs served with maple glazed bacon and home made scones
Breakfast sandwich on a  toasted multigrain bagel, lox, cream cheese, red onion, seared tomato, and fried egg
French toast served with fresh blueberries, maple blueberry compote, and whipped ricotta, with lemon zest
Mexican style huevos rancheros, sunny side up eggs on a crispy tortilla, salsa roja, sliced avocado, cilantro, and a dollop of creme fraiche
Eggs florentine, two poached eggs, over olive oil fried bread, with crispy english bacon, fresh spinach leaf, and chef's  hollandaise sauce
Pan roasted baby potatoes in sage butter sauce, sliced local sausage and poached eggs, shaved parmesan
LUNCH
Pulled Pork Shoulder with bourbon bbq sauce, grilled red onion alongside basil aioli coleslaw
Beer battered mahi-mahi fish tacos, pickled red cabbage ,sliced avocado topped with chipotle lime cream sauce and fresh cilantro
Chef's fresh Pizza, Arugula and Prosciutto with white wine sauce, shaved parmesan, and grape musk reduction drizzle
Pan fried pork dumplings with orange slice salad, sesame vinaigrette, and a soy ginger dipping sauce
BBQ jerk chicken with hand cut yucca chips, lime cilantro ajillo (garlic butter sauce)
Mexican Tortilla Salad with blackened fish, chipotle yogurt dressing, crispy tortilla strips, fresh seared corn, black beans, and cherry tomatoes
Prawn skewers with tamarind bbq sauce and belle peppers over fried pineapple coconut rice medley
DINNER
Seared Mahi Mahi in salsa Verde with seared plantain and ajillo (garlic butter sauce)
Filet Mignon served with grilled bok choy and leeks with teriyaki au jus topped with black and white sesame seeds
Seared Scallops with beet root two ways: red beetroot risotto and sautéed golden beetroot
Lamb rack with harissa sauce freshly chopped cucumber, mint, and tangy yogurt drizzle
Chicken Enchiladas de Mole, fried corn taquitos, smothered in spicy chocolate sauce, with dollop of cream and avocado picado
Korean bbq Short Ribs, chili- peanut dust, garlic roasted long beans, sweet chili fried rice
Pork and chicken meatballs with romesco sauce, served next to a warm pea, mint, basil, and broccolini salad
DESSERTS
Mascarpone crepes, fresh vanilla bean, powdered sugar, cinnamon, and lemon zest
Apple cinnamon rings, buttermilk battered fried apple slices tossed in cinnamon and sugar and vanilla ice cream
Red wine poached pears, served chilled, with dollop of fresh creme fraiche, and reduced red wine sauce
Pina colada panna cotta, rum and coconut panna cotta with caramelized pineapple chunks
Grapefruit sorbet and candied grapefruit slice
Espresso cheesecake with fresh local berries
White chocolate ganache with strawberry rosemary sauce
AMENITIES
Air conditioning and fans
Swim platforms with heated deck showers
WiFi & Internet
Apple TV in the main salon with TV's in each stateroom w/ External Hard Drive w/ library of movies + series
Surround sound indoor/outdoor with i/device hookups
Hammock
Barbecue
Cockpit icemaker
WATER FUN
16ft inflatable rib w/90 hp
Adult & children waterskis
Wakeboard & scurfer & tube
Floating sun island & giant floating mat
2 Stand up paddleboards
2 Person kayaks
Swimming noodles
Fishing gear
Beach games
Snorkeling gear
Underwater camera
SPECIFICATIONS
Model: Lagoon Power Catamaran
Year: 2018
LOA: 64′
Beam: 33′
Draft: 5′
Engines: 2 x Cat 715s
Flag: BVI
Epic Yacht Charters
Average rating:
10 reviews
Mar 23, 2020
Exceeded All Expectations
Jan's Felion and her crew …how will we survive without you? Its only been one week, but you have raised the bar in all ways. This trip has exceeded all expectations. The boat is meticulously maintained, the food has blown us away every day and night, and the drinks and hospitality has warmed our hearts. You are going to have to kick us off because we are not leaving!
Mar 18, 2020
Best Week Onboard
The McKennon Family is so appreciative for the "best ever week onboard Jan's FeLion. From the moment we boarded we were amazed at what a beautiful home we had. The captain took amazing care of us and provided the exact perfect spot and activity for each day. The chef prepared photo ready and delicious dishes at each meal. The stewardess kept our cocktails full and our hearts warmed as she cared to our every want and need. Best week full of family memories!"
Mar 1, 2020
What A Week It's Been!
What a week it has been! Our family made many memories that will last a lifetime! The crew are hard-working, caring and gracious people who made the trip more fabulous than we could have imagined. They took care of every detail- didn't miss anything! From the food and the cocktails to our daily adventures- everything was perfect. WE WILL BE BACK! Compliments too on the beautiful boat. It is kept up pristine and definitely feels like home. Thanks for caring for us this week- we were in great hands! Again thank you, thank you - God Bless you!"
Mar 9, 2020
Amazing Vacation
What an amazing vacation!!! I don't even know where to begin to thank you! We enjoyed ourselves and had so much fun with you! The tubing, beach outings, and just spending time relaxing on the boat have all been restorative to our souls and a well needed rest. Then there is the food. Every meal was incredibly delicious and we are very grateful to the care and effort put into making meals and service. We were on the boat during some anxiety- and the crew provided the respite that we needed to focus on what's important, our family and healthy and safety. We are grateful to you all for providing a vacation that we will never forget. We look forward to seeing you all again. With love and gratitude!
Mar 5, 2020
Lifelong Memories
What an amazing week…we gathered from all over…Colorado, Wilmington, NC Toronto, Grand Is/ and NY + Ohio. We had no idea what an amazing week we would experience….The BVI's are special but the crew took the trip to a whole other level .. you are so good at what you do…the chef with food better than any restaurant on the island and a positive and cheery attitude that welcomes all, the captain made us all feel so safe & you knew he always has your back, the quiet steady presence of a true professional..And the stewardess, the glue that kept us all together, enjoying the trip + taking care of our every need. We will have life long memories thanks to you three…Back to the real world but remembering our amazing week in the BVIs.
Thank you for an awesome week,
Jan 22, 2020
63 Feet Of Perfection!
Jan's FeLion, what can I say other than it was 63' feet of perfection!!!! My family and I had the privilege of being the first charter on this brand new beauty. It had all the accommodations you would imagine and more. Everyone in the group always wants to boat with this crew, this trip was no exception. Our group included my siblings, their spouses and my parents, 12 people in total, so we decided to charter two boats. Jan's Felion and A3 both exceeded our expectations. My wife and I were on Jan's Felion. The two crews worked non-stop to make sure we were all having a good time. In addition to the beautiful sites, delicious food and fun activities, the crew is what made it special. I have one perfect quote that I did not write, but noticed written at Potters by the Sea on Anegada. We were all finishing up eating, having a few drinks and dancing. I stopped to look at the wall and it said "There is no place like home, but, this is better". It truly was perfect. Thanks to Jan's Felion crew for what really was one of the best weeks of our lives!
Jan 12, 2020
Balance Of Relaxation & Adventure
What a fabulous vacation! Every detail was perfect...the boat, the food, the crew, the friends and the weather. The crew arranged perfect days that were the greatest balance of relaxation and adventure. We enjoyed riding scooters, bar hopping and indulging in local cuisine and dancing. The chef spoiled us with daily culinary treats and she arranged a beautiful table and created lovely cocktails. We just can't say enough about how much we loved this trip! It far-exceeded our expectations. Thank you for a fabulous week!
Feb 4, 2020
This Is Better Than Home
What can i say other than it was 63' of perfection!! My husband and I had the privilege of being the first charter on this brand new beauty. She has all the accommodations you would imagine and more. I saw the perfect quote in Anegada that sums up our trip. "There is no place like home, but, this is better" It was truly perfection. Thank you to the crew for what really was one of the best weeks of our lives! Please know the BVI is open for business and the people as always were friendly, welcoming, warm and strong.
Apr 2, 2019
Wonderful Week!
What a wonderful week! I can't tell you how much we enjoyed everything- the accommodations, weather, diving, food, and most of all your hospitality. You all are so gracious and generous besides being fun to be with and we so appreciate all of your efforts.
Apr 20, 2020
First Class Service
Your ability to provide first class service in a relaxing "family" atmosphere was masterful and deeply enjoyable. Thank you!
Epic Yacht Charters provides the most updated information on yachts available but cannot guarantee any details are 100% correct until we verify with the specific yacht.
Similar Yachts