starting at
$36,900/week
British Virgin Islands
59 ft sailing catamaran
Accommodates up to 8
4 Queen ensuite cabins
Great for 4 couples
KRAZY KAT is a 2021, 59 ft Fountaine-Pajot Samana sailing catamaran.
KRAZY KAT has accommodations for up to 8 guests in 4 luxury ensuite queen cabins.
Krazy Kat has been carefully designed to create spaces that cater to all guests, from the liveliest social gathering to the most relaxing moments of solitude.
Below deck there are 4 beautiful cabins all with queen beds and ensuite bathrooms. The cabins are bright and modern with lots of natural light coming through the large windows.
The aft deck has a huge dining table where your whole group can dine together while taking in the wonderful views. It has a flybridge with breathtaking dimensions… the largest in its category! The flybridge offers plenty of wrap-around seating for everyone in your group as well as two huge sunbeds toward the aft. There is also a decadent foredeck with recessed seating and modular sunbathing stations. The spacious sky lounge is perfect for your panoramic views while sailing or at sunset happy hour at anchor. Your sailing vacation will be the envy of friends aboard Epic Catamaran KRAZY KAT.
*For Rates, see PRICING Tab below – Holiday weeks may differ, please enquire!
Your Crew
CAPTAIN GORAN & CHEF/MATE ALEX
Goran and Alex met back in 2018 while chartering on the beautiful Adriatic Sea. They quickly developed a deep admiration for each other's work ethic and knew they'd make the perfect team. After years of working together all across the Mediterranean, they are now excited to take on the Caribbean together! Combined, they have run over 200 charters, in both the freelance and term charter realms, all around the BVI and across the globe so they have the experience and passion to provide world-class hospitality, menus, and experiences in all their charters.
Our Ethos: Over the time spent working together, Goran and Alex have found a balance between providing top-tier hospitality and making personal connections with guests. Human connection makes the world go-'round, and creating an environment for every kind of guest to make lasting memories with their loved ones and their crew is what brings this team joy. They can adapt to any and all kinds of guests from different cultures and walks of life, meeting needs and requests at the drop of a hat. Goran and Alex pride themselves in the lifelong friendships they have made with their guests, resulting in many return charter bookings.
Goran was born and raised in Croatia with the sea always in his sights. After his 13-year career as a professional athlete, he went back to school to obtain his master's in Marine Technology Engineering. He started sailing and quickly found that he preferred life on the water over office work, and Captain Goran was born. After more than a decade of being a professional skipper and skipper instructor in the Mediterranean, as well as leading many freelance and The Yacht Week charters in the BVI, he has decided to "cross the pond" and join his favorite chef in the Caribbean full-time in the waters that have become his favorite over the years!
Driven by a passion for culture, adventure, and community, Alex dove head-first into the culinary world. She moved from Toronto to Florence, Italy after earning her degree to immerse herself in Italian food culture. Alex took jobs while living there, in restaurants and as an au pair, and developed the flexibility and service mindset needed to apply for something completely new as an operations assistant at Quarterdeck. In this role, she grew the organization skills that she would later use in her Yacht Chef career on sailing yachts around the globe. Over the last 7 years, she has developed an exceptionally high standard of food preparation and presentation, along with an ever-growing knack for customer service. a major highlight was her time at the Ashburton Cookery School where she got a revamp on her culinary skills and new tips and techniques for emphasis on detail and presentation which she has used and continues to build upon. Alex has mastered the art of going above and beyond in her menu preparation, and in being first mate, guide, host, and even friend to guests. As a charter chef based in the BVI since 2019, Alex is excited to not only serve up amazing meals but also offer up her favorite BVI 'secret spots' to her guests!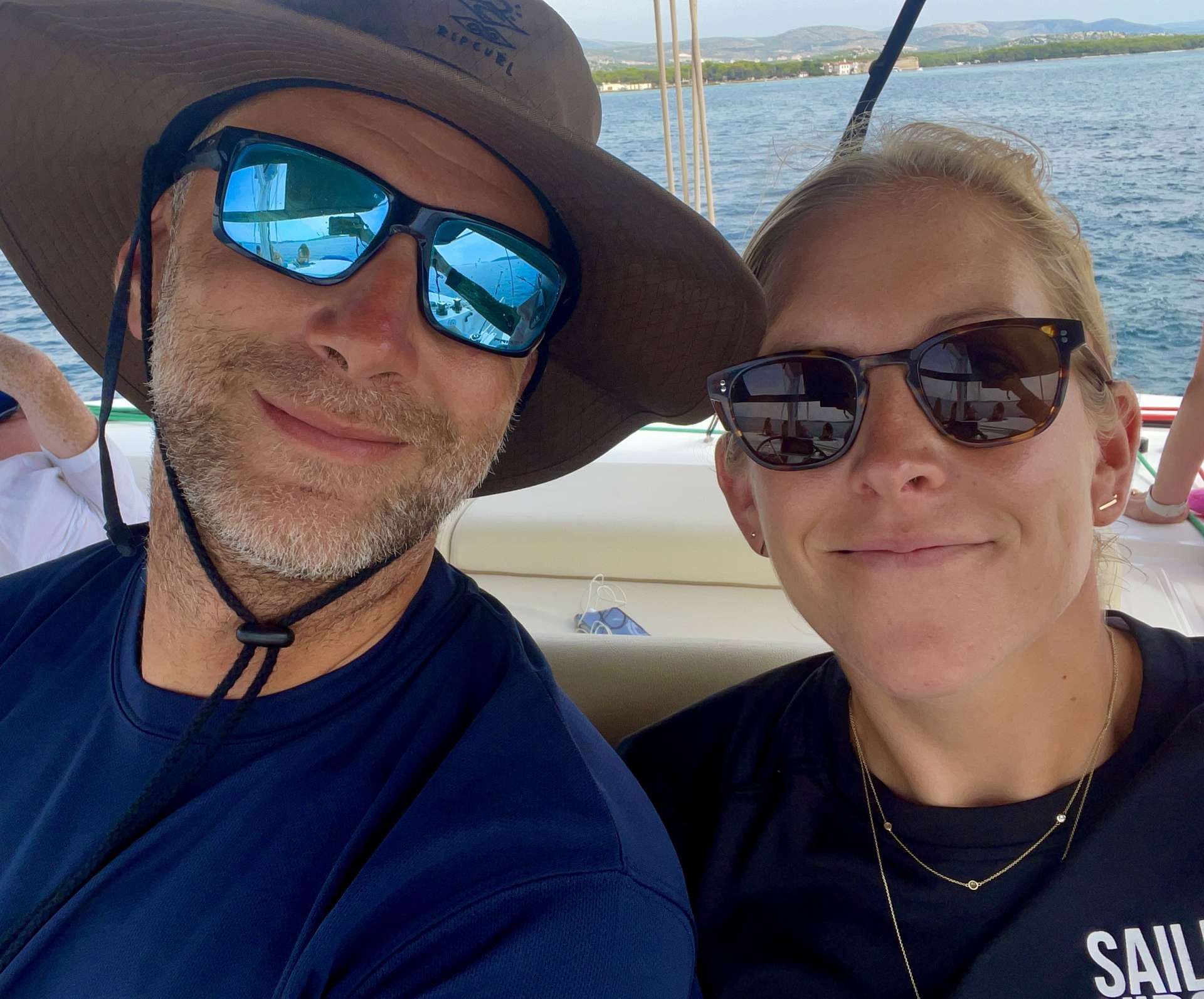 Cuisine
BREAKFAST

Breakfast-all breakfasts are served with a fresh fruit platter, tea, coffee, and juice zucchini fritter with homemade onion jam, bacon, and spicy mayo
Lemon and ricotta pancakes served with maple bacon
Bagel bar with smoked salmon, capers, cream cheese, eggs your way, bacon, sliced tomatoes, cucumber, various cheeses, and pickled onions
Avocado toast with a fried egg and bacon on top
Eggs benedict your way (crab, pork, classic) with sweet potato home fries
Brioché french toast topped with Greek yogurt and a berry coulis served with breakfast sausage

LUNCH

Grilled steak Caesar salad with parmesan crisps and baked herbed croutons
Greek spread of lamb koftas, halloumi, roasted vegetables, greek salad, tzatziki, hummus, and fresh pitas
Tuna poké bowls with salty/spicy edamame
Lemon and thyme baked halibut over turmeric couscous and kale salad
Crispy chicken sandwiches with secret sauce served with mac and cheese
Dijon and paprika crispy salmon over zesty orzo with garlicky asparagus
Zesty flank steak lettuce wraps with fresh veggies and seaweed saladBagel bar with smoked salmon, capers, cream cheese, eggs your way, bacon, sliced tomatoes, cucumber, various cheeses, and pickled onions

APPETIZERS

Hot potato poppers topped with crispy pancetta melted gouda cheese and aioli
Feta and chorizo stuffed peppers
Charcuterie spread
Dirty nachos with fresh guacamole and pico de gallo
Ceviche with homemade chips
Bacon wrapped bbq shrimp skewers
Vegetable and pork gyoza with dipping sauce

DINNER

Blackened wahoo over coconut rice with mango salsa
Low country boil with king crab legs, shrimp, andouille sausage, red potatoes, corn on the cob, and broccoli, with rosemary and garlic bread, served with melted butter for dipping
Red wine braised short rib ragu over a bed of boat-made fettuccine served with crispy balsamic Brussel sprouts
Birria tacos with Oaxaca cheese and Cuban beans
Surf and turf with butternut squash puree and chimichurri sauce
Pork tenderloin with honey garlic sauce over mashed potatoes with lemon butter broccolini
Sesame Chilean sea bass over creamy coconut curry, jasmine rice and homemade naan

DESSERT

Keylime pie with passion fruit coulis
Hot out-of-the-oven double fudge brownie with vanilla ice cream
Lemon and olive oil cake
Tres leches cake topped with fresh whipped cream, coconut, cinnamon, and strawberries
Dark chocolate almond tart with coconut whipped cream
Pavlova with cream and berries on top
Chai poached pears over a sweet mascarpone cream