Namaste - Catamaran
One of the biggest in the Caribbean
78 ft sailing catamaran
Accommodates up to 6
1 King & 2 queen ensuite cabins
Spacious & luxurious
From $56,000/week
Make an Inquiry
Are You Ready to Start Your Journey?
I am happy to assist you in your search. Please call or email me.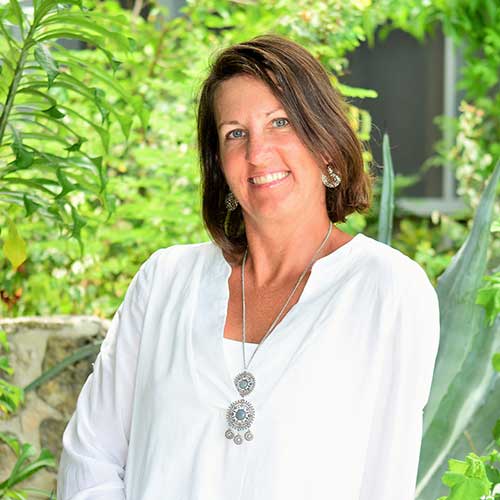 Michelle Heyns
+1 (954) 543-1270
[email protected]
Make an inquiry
Print this page
Please click to
. This might take up to 20 seconds.
Download PDF
Please click to

. This might take up to 20 seconds.
NAMASTE is the only 78 ft Privilege catamaran available for charter in the Caribbean and then on to the rest of the world.
The word NAMASTE depicts a Sanskrit phrase meaning "I bow to the divine in you."  She accommodates 6 guests in 1 king stateroom and 2 queen ensuite cabins. Namaste is new and very spacious. With luxurious cabins and satellite TV, a large variety of water toys, and her crew of 4, she offers exceptional service from the crew while guests soak in an outdoor Jacuzzi tub!

Namaste´s capabilities and extensive portfolio of equipment are exciting, but these details merely scratch the surface of why we are so proud to share her with our guests.
*For Rates, see PRICING Tab below – Holiday weeks may differ, please enquire!
The specifics
Pricing
Availability
Crew
Cuisine
Amenities
Reviews
Season
2 Pax
3 Pax
4 Pax
5 Pax
6 Pax
Winter 2020 to 2021
$56,000
$57,000
$58,000
$59,000
$60,000
Summer 2021
$56,000
$58,000
$60,000
Winter 2021 to 2022
$56,000
$57,000
$58,000
$59,000
$60,000
Holiday offers
Please note that Holiday rates are subject to change.
Christmas week: $70,000
New Year week: $75,000
PRICE INCLUDES:
Use of the yacht with our Professional Captain and Chef and additional crew
All Onboard Meals – Breakfast, Lunch, Appetizer, Dinner, and Dessert
Snacks – Fresh Fruit, Popcorn, Granola Bars, Chips, Chocolates and more
Beverages – Water, Juices, Sodas, Coffee, Beer, Wine, and a Fully Stocked Bar
Water Sport activities
Broadband Wireless Internet Access
Air Conditioning
Cruising taxes and permits, BVI licenses, and port fees
Fuel for the yacht and dinghy
PRICE DOES NOT INCLUDE:
Shore activities such as dining, shopping, or special off yacht excursions
Premium Beverages/Wines not normally stocked and excessive alcohol consumption
Airport Transfers
BVI individual fishing permits
Crew gratuity; 15-20% of the charter cost
Availability
Highlighted dates are booked, on hold, or unavailable. We may be able to challenge the dates on hold. Please contact us for details. All other dates not highlighted are available. You can use the arrow icons to navigate through the months.
Dates Color Key
If no color is noted on calendar or in the detailed list below, the dates are available for your charter
Booked (Booked by another client group already)
Hold (Held by another client group, not yet booked, and can be challenged)
Unavailable (Blocked out by the Owner and unavailable to challenge)
Transit
CAPTAIN WILLEM
Captain Willem (Willo) hails from a small canal town in Holland where his family kept their sailboat tied to the dock at their home and has lived for sailing since he was a young boy. Later as a teenager, Willem taught sailing in Greece, Mallorca, and England as well as competed in dinghy racing on an international level where he collected multiple awards. As a fully qualified RYA Yacht Master Offshore, Captain Willem has an extensive list of credentials as a skipper with his well-rounded career in both the Charter & Private yacht industry.
Willem joins us from his last position which he held with the same owner & yacht for ten years. He oversaw the build of the vessel and eventually completed a circumnavigation while maintaining the owner's request for the yacht to be kept up to 5-star standards. He has cultivated an extensive list of global networks that ensure exclusive connectivity no matter where Namaste ventures.
Willem is at his happiest when guests are perched happily in one of the many comfortable areas on the deck while the boat sails effortlessly into the sunset. His calm nature and giddy knowledge of almost all types of yachts will elicit a true sense of happiness while onboard.
An outstanding sportsman on the water Willem looks forward to taking you waterskiing and wakeboarding or exploring the treasures under the sea as he is a certified PADI Dive Master.
Captain Willem is looking forward to this new adventure and with his natural humor and easy-going nature, you are assured an unforgettable time. Willem creates specialized itineraries for each guest and will make you feel at ease afloat as he safely steers you to unique & exciting destinations on Yacht Namaste.
CHEF JOSEFINA
Jo is from the south of Chile and has always loved the ocean. Marine biologist (Ph.D.), rescue scuba diver, and freediving instructor, she started working on yachts in New Zealand searching for the next big adventure. Jo has sailed in the Pacific, all the way to the Arctic, and can't wait to set sail to the Caribbean.
From her mother, Jo inherited a big love for food and a natural talent for cooking. She has done multiple cooking courses in Palma de Mallorca at MyMuyBueno and the Galley Club cooking schools, and Ecole culinary school in Chile. Jo's food is healthy and colorful, mixing South American influence with flavors from all over the world. Other than cooking, Jo can usually be found underwater doing photography, spearfishing, or on the surface, playing the guitar
STEWARDESS GEORGIA
Georgia has 5 years of sailing experience. She has worked as Hostess or stew/cook aboard private and charter yachts in East/West Mediterranean: Ribelle 98' & Nostromo 100', Wairua 93', Felix 52'. She has worked also in the Caribbean aboard several sailing yachts such as Lady Alexandra, Bliss, Lady Giri.
She is enjoying providing high-level services and entertainment to both kids and adults to ensure them the best cruise experience. Younger Georgia was a very keen competitive swimmer. Her other passion is scuba diving. She has an A-Level in Chemistry, English Literature Environmental Studies & Biology.
FIRST MATE JOEY
Joey got his start in yachting over 10 years ago, tempted into sailing off the docks of a popular Caribbean destination, Antigua, where he was born and still calls home.
With dual-citizenship and having spent most of his adolescence in his other home, New Zealand, Joey has that Kiwi-charm that always keeps those around him in good spirits.
Since his first Atlantic crossing many years ago, he has logged over 65,000 sea miles and sailed in many of the most scenic ports of the Mediterranean, Caribbean, and East Coast USA.
Joey holds an RYA Yachtmaster Ocean ticket as well as a host of other yachting certificates.
Between perfecting sail trim, ensuring a fun and safe water sports experience, and keeping things running smoothly in the engine room, Joey always maintains a very hands-on approach. He is a true team player and takes pride in great service and seeing that guests are always happy when onboard.
BREAKFAST
Tea, coffee, freshly made juice,
Fruit platter with berries, ham/cheese platter, smoked salmon platter, bread basket, yogurts or smoothie, cereals
Porridge, eggs (fried, poached, soft boiled, scrambled? BENEDICT), and bacon
Pancakes, fruit tart/cheesecake,
LUNCH
Peruvian ceviche with kale chips, fried plantains, roasted corn, and salad
Steaks board with wholemeal rice and Greek salad
Sushi and sashimi platter
Roasted tomato lamb with quinoa and spinach
Grilled salmon on roasted vegetables with rice and mustard sauce
Stuffed chicken breast with pea puree and roasted vegetables
Confit duck on purple cabbage and goat cheese roasted squash
DINNER AND DESSERT
Grilled parmesan and garlic razor clams
Roasted duck on beetroot and courgette linguini with wild mushrooms, truffle, and parsley
Chocolate mousse
Scallops and prawn ceviche with gazpacho
Seafood platter with baby potatoes and cherry tomatoes salad
Caramelized peaches with caramel and berry sauce
Burrata and passion fruit garden salad
Crispy chicken thigh on eggplant and garlic confit with sauce Vierge
Poached pears with mascarpone
Grilled octopus
Monkfish curry Pacific Island Style with asparagus and white rice
Crema tumbada with berries
Stuffed mushrooms
Pork ribs on cauliflower puree and purple carrots
Lemon meringue and raspberries pie
Mussels mariner
Spaghetti langoustine
Tiramisu
Salmon gravlax
Pan-fried sea bass with ratatouille, pesto, and truffle balsamic
La chocolaterie
AMENITIES
Air conditioning and fans
Swim platforms and heated deck showers
Jacuzzi tub on the flybridge
Watermaker and generators
Free Broadband WiFi Internet access
Satellite TV in saloon, Apple, PS4, Xbox, DVD's
Full surround sound system with Bluetooth
i/Device hookup
Cockpit and flybridge ice maker
Large sun awning
Barbecue
WATER FUN
Semi-rigid tender: CARBON CRAFT, 16.5ft – 10 passengers
Engine: Webber 850 H.O, 150 HP jet turbo
Segway personal transporter: 2 x Segway personal transportor, model i2 SE
Mono & Bi water skis for adults & children
1 Wakeboard
2 Inflatable Starboard: Zen WindSUPs
2 Inflatable Hobie: Mirage i12s – 1 person kayak & 1 Inflatable Hobie: Mirage i14t – 2 person kayak
1 Tube
Noodles
Beach toys
Fishing equipment: 6 small rod & reel sets
Deep-sea fishing gear: 2 sets of deep-sea trolling gear
Snorkeling equipment for 8
Diving equipment for 6 people
Rendez-Vous diving on request
Underwater camera and video
SPECIFICATIONS
Model: Privilege catamaran
Year: 2016
LOA: 78.2'
Beam: 33'
Draft: 9.6′
Engines: 2 x 260 hp Turbo diesels
Flag: BVI
Epic Yacht Charters
Average rating:
4 reviews
Dec 28, 2019
Beautiful
To the crew of NAMASTE a beautiful ship and a great group. The captain for always answering my questions and for his knowledge. The crew  for always having a smile and helping hand and also answering my questions.  And the chef for her smile an each every wonderful meal!
Dec 10, 2019
Spectacular Experience
We are so grateful for the spectacular experience you gave us aboard this week. It was an honor to share the journey with you on this first voyage in her latest incarnation. Thank you for the incredible locations you found for us to explore, the thought fulness you put into disgining each of our days, and your impecable attention to all our needs.We really enjoyed getting to know each of you and seing you in your element. as masterful sailors, gracious hosts, knowledgeable guides and - Chef-one impressively talented accommodating chef!
You gave us the perfect blend of relaxation and diversion, deploying every bell and whistle from Namaste's hidden compartments to keep us entertained. We loved the sabobs, snorkeling, tubing, waterskiing, paddleboardingand many lazy hours on the trampolines, soaking up sun. Thank you for your infinite patience and for being so flexible and attentive, so every member of our group felt considered.We wish you the best in your voyages to come and hope our paths cross again.We couldn't have asked for a finer crew or vessel.
Dec 4, 2019
True Magic
What a truly magical days ! We arrived tired, hungry and in a desperate need of true break and boy did you deliver ! It was true magic being a part of Namaste for these 6 days. The sailing, sun, care you all took for us magic potions that Georgia created and divine desserts (and everything else) that the chef whipped up for us were what the doctor ordered. We can't wait to return !
Oct 11, 2019
Dream Come True
Thank you for making this a dream vacation for us ! Each of you put so much care into everything. You did to make this such a special family trip. You planned so much for us and yet every day felt so relaxed. Four days felt like two weeks away! Thank you for somehow anticipating every vacation wish what we had. From seabob adventures to snorkeling and seing tortles, tender rides to see ship wrecks, kayacking, exploring, afternoon cocktails in the jacuzzi and ever a movie right on the fly bridge complete with popcorn ! How we had room for popcorn. I don't know because the chef's insanely good food had us all but licking our plates at every meal. It was though she knows the exact fantasy meals to put in front of us. And all the super special treats from homemade pastries, bread to out of this world desserts.We honestly have never tasted such delicious food clearly prepared with love. The chief stu,  your way of taking care of our every need without us ever seing you do itw as magical. We would turn around and where would be a tray of beautiful and delicious afternoon drinks or we would go back to our room to change and poof beds were made. I don't know how youd id think so quickly. Deckhand, your expert tender driving made what anyone lese would have turned back from onto an adventure what ended with amazing snorekling in turquoise waters. What you do always pulling out all the toys and taking the girls for the tube ride of their lives. Not to mention seabobs adventures we will talk about forever.Captain, you make Namaste a family and a fantasy world wrapped into one ! Surprising us with pumpkins and a carving contest was one of the weetest memories we will have from the trip. With Halloween decoration and delicious desserts the last night was the best halloween party any of us will ever have been to.
Thank you all for making such a special trip. And thanks so much to just be able to spend time with all of you but you did everything possible to make this a trip of a life for us all.
Love you guys ! Thank you !!!
Epic Yacht Charters provides the most updated information on yachts available but cannot guarantee any details are 100% correct until we verify with the specific yacht.
Similar Yachts