starting at
$21,500/week
British Virgin Islands
49 ft Sailing catamaran
Accommodates up to 8
4 Queen ensuite cabins
Ideal for families
OCEANA is a 49ft 2021 Bali spectacular model of luxury and stylish design inside.
OCEANA Is A 49ft 2021 Bali Spectacular Model Of Luxury And Stylish Design Inside. Aboard OCEANA, there are 4 queen staterooms for guests that all include ensuite bathrooms with walk-in showers. All cabins have individually controlled air-conditioning for the comfort of each cabin. Beautiful natural lighting and great use of space make these suites extremely comfortable and elegant. This cruising catamaran is great for small groups or large families.
The upper deck fly-bridge has lounging and seating with 360° views. There is also a forward cockpit and lounge and dining area. The main deck has a bright and airy main salon (fully air-conditioned) and the galley has direct access to the forward cockpit lounge area. Your crew will take off your every need. The OCEANA calls in the BVI.
*For Rates, see the PRICING Tab below – Holiday weeks may differ, please enquire!
Your Crew
CAPTAIN UMBERTO & CHEF/MATE JUDITH
Born and raised in Sicily in the south of Italy, Umberto has spent a great deal of time around the water. Even as a young child he was passionate about watersports, fishing, and outdoor activities. After he received his bachelor's degree in business administration in Milan, he traveled to Australia to work in hospitality at the famous Sydney Opera House, he also lived in Hong Kong for 4 months while interning for a digital start-up.
In 2017 he found himself back in Italy and decided to spend more time on the water and thus started working for The Yacht Week, a popular flotilla company that operates in the Mediterranean but also in other locations like BVI, Martinique, and Tahiti. Starting as a Skipper and moving quickly to higher positions such as Lead Skipper and Route Manager. For 2 years he also held the role of Instructor for Quarterdeck, a company that trains and mentors professional skippers.
In the 6 years he worked for Quarterdeck and The Yacht Week, he completed more than 80 charters in several locations around the Mediterranean and abroad, covering more than 100,000 nautical miles. When not on the water, he also likes to drive motorbikes. One of his most memorable trips was in India driving through the highest motorable pass in the world at +5.000 meters of altitude.
Judith was born and raised in The Netherlands. As a child, she was always on the water and spent her summers windsurfing as a hobby. Apart from her sporty side, she loves to cook and make people at comfort. She has always been comfortable in the kitchen which led to her study at an international hospitality school in the south of The Netherlands. There she elevated her passion for hospitality to a professional career.
She has worked in the hospitality industry from a young age and found herself working at high-end luxury events, such as exclusive wedding venues as well as the Paddock Club of the Grand Prix. Judith has passed the Quarterdeck host academy and has worked for a large flotilla company in the Mediterranean. Her specialties are Mediterranean and Asian cuisines.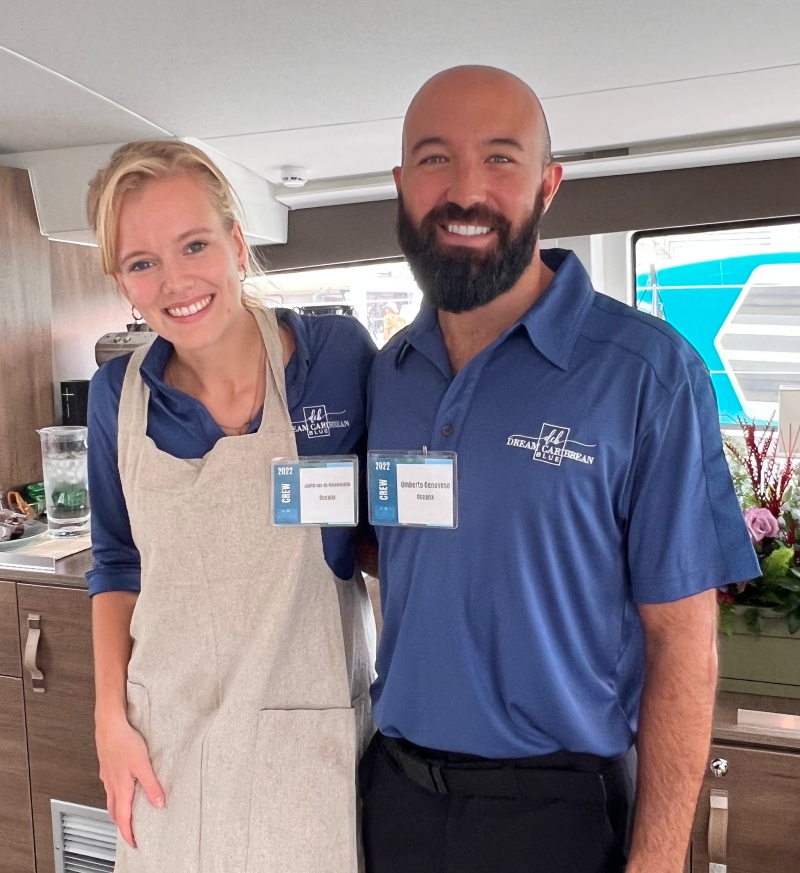 Cuisine
BREAKFAST

Sweet and savory American pancake platter. Yogurt with homemade granola
Platter of fresh, seasonal fruits
Shakshuka with crumbled feta and fresh herbs
Carrot cake with icing and walnuts
Chia pudding with fresh berries
Platter of fresh, seasonal fruits
Bagel platter with smoked salmon, eggs, cream cheese, avocado, cucumber, and more toppings.
Overnight oats
Platter of fresh, seasonal fruits
Chocolate chip cookies
Avocado toast with bacon & fried egg, pickled onion, sesame seeds, and micro greens
Greek yogurt parfaits with blueberries, nuts, and a honey drizzle
Nutella filled french crepes with cream on top
Eggs Benedict with salmon on croissants
Oatmeal, chocolate energy balls
Fresh fruit skewers
White chocolate & raspberry muffin
English breakfast with bacon, scrambled eggs with parmesan cheese, sausage, and tomatoes
Smoothie bowls loaded with granola, fresh fruit & mint
Platter of fresh seasonal fruits
Haloumi, zucchini & corn fritters with a poached egg
Banana bread
Papaya fruit loaded with greek yogurt and fruits

LUNCH

Crab cakes accompanied with taboulé, tahini sauce, and seasonal greens
Sushi platter with fresh mango & edamame salad
Hawaiian chicken skewers with avocado & green salad
Swordfish taco's with avocado cream and spicy salsa
Peach and burrata salad with basil, tomato, and lemon vinaigrette with roasted sourdough
Loaded chicken caesar salad with croutons, anchovies, bacon, and fresh vegetables – accompanied by fresh focaccia
Shrimp & crab seafood bisque

APPETIZERS

Filo dough, honey glazed feta & fig camembert from the oven
Happy hour flatbread with blue cheese, figs, and fresh herbs
Hummus & Tzatziki platter with veggies and pita bread with a watermelon canapé with whipped feta & walnuts
Summer rolls with shrimp, avocado, carrot, cucumber, and rice noodles with a peanut-soy sauce
Charcuterie platter with a selection of cheeses and meat accompanied with olives and crackers
A trio of skewers: Caprese, cantaloupe & prosciutto, salmon & cucumber & lemon cream
Loaded mahi-mahi tartare nachos with rice paper chips & nori sheets

DINNER

Cucumber mint soup
Ricotta & spinach cannelloni with bechamel sauce, a parmesan crust, and shredded truffle
Seabass ceviche with mango, tomato, and avocado
Caribbean lobster paella
Watermelon & tomato gazpacho with basil oil and croutons
Surf 'n Turf with grilled vegetables and potatoes
Steak tartare with crostini and tomato salsa
Saffron risotto, parmesan, and marinated shrimps
Mackerel, fennel & orange starter
Cauliflower pureé, lobster tail on a bed of orange zested risotto with hazelnut
Buttery scallops with apple and hazelnut
Herb-crusted lamb chops with pearl couscous, spinach & pomegranates
Caprese salad
Rib-eye steak with salsa verde, roasted tomatoes & rosemary hassle back potato

DESSERT

Merengue roll with cream and summer fruit
Chocolate covered strawberries
Scroppino
Passionfruit pavlova with white chocolate
Chocolate mouse
Key lime pie
Summer tiramisu with strawberries