starting at
$33,000/week
British Virgin Islands
56 ft sailing catamaran
Accommodates up to 6
3 Queen ensuite cabins
Scuba Diving onboard
SPECIAL OFFER
1. 10% OFF charter rates for the months of NOV & DEC 2023. 2. NO Christmas premium = $35.000.
RESPITE AT SEA is taking a break for a little time away from the rush.
The Glorious Lagoon 560 is extremely comfortable for up to 6 guests in three en-suite queen staterooms. All have exceptional natural lighting via the vast hull windows with two of the cabins having direct access to the aft deck. Indirect lighting in both the salon and cabins makes for a relaxing feel.
The aft deck offers a beautiful dining area for you to enjoy meals while looking out to sea, as well as a large sofa to relax. The flybridge offers additional seating to unwind while enjoying panoramic views. The foredeck has sun pads and a sunken seating area, which is an ideal place to be while sailing or at anchor with a cocktail.
RESPITE AT SEA is both comfortable underway and at anchor for relaxation at its best!  With lots of space to enjoy both the sunshine and the shade, this yacht is ideal for groups and families.
SCUBA diving is available from the yacht with all equipment provided onboard. Let your energetic crew spoil you on the EPIC breakaway sailing vacation!
Enjoy their new Video!
*For Rates, see the PRICING Tab below – Holiday weeks may differ, please enquire!
Your Crew
CAPTAIN SAM & CHEF/MATE ZINA
British-born physics graduate, Sam, has worked as a full-time captain for more than a decade, accumulating thousands of miles at sea, including a transatlantic passage. He is committed to ensuring the highest level of safety, service, and fun for every guest. As soon as you step on board he will help you to feel relaxed and at home. His long list of interests includes BBQing, making cocktails, stargazing & talking about how stuff works (his former life was spent teaching kids in London). For fitness he enjoys water sports, especially diving & anything with a sail. Sometimes he plays the guitar, quite badly, so better not to ask him for a song.
Chef Zina is Ukrainian and grew up in the seaside town of Yalta in Crimea. She worked in the hotel business from a young age and lived in Italy before meeting Sam and then training as a yacht chef in France, England, and Thailand. Guests love Zina's kindness and her prowess in the galley, where she consistently produces beautiful and delicious meals. Her other interests include music, dancing, swimming & diving.
Sam and Zina met on holiday where they spent long romantic days alone on the beach, dreaming of a life together in the sun. They married almost immediately on Little Bay Beach, Anguilla, and hatched a plan to work together in their dream job, which they call "running a floating 5-star hotel in paradise". They have been sailing professionally side-by-side, full-time for eight years, all over the eastern Caribbean, across the Atlantic, and around much of the Mediterranean. They consider themselves very lucky to be living in beautiful places, sharing their happiness, excellent food, and good vibes with their guests.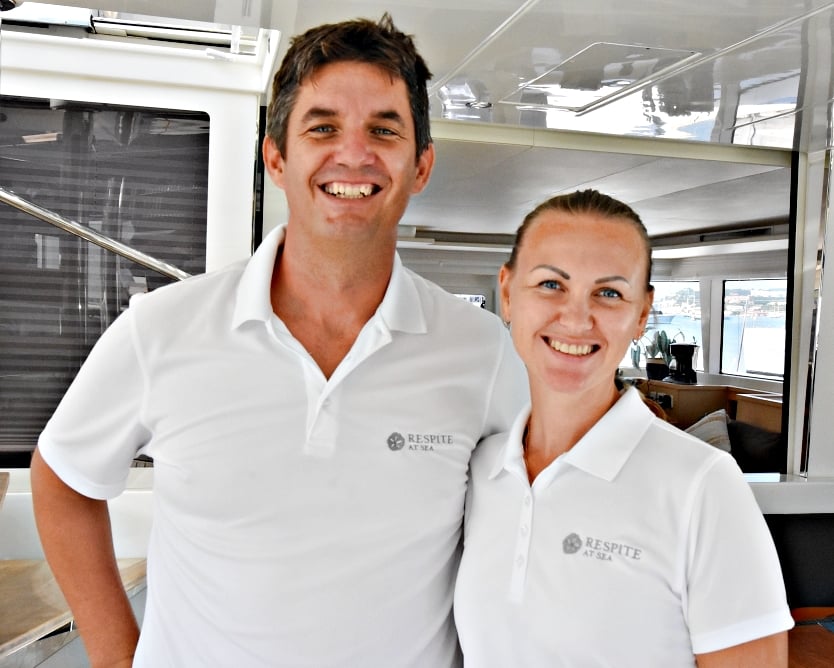 Cuisine
BREAKFAST

All breakfasts are served with Coffee, Tea, Tropical fruit juices, Yogurts, Toast & bagels, Local jams, Tropical fruit
Portholes in the pan
Omelette, sausage, and tomato salsa
Eggs Florentine
Scrambled egg sandwich with crispy bacon and grilled tomatoes
Homemade banana bread
Fruity granola cups
Crepes
Carrot muffins

LUNCH

Seared tuna Nicoise
Caribbean chicken salad
Beef taco salad
West Indian meat pie with banana salsa
Curried chicken roti
Prosciutto, melon & gouda salad
Spicy pineapple chicken salad with fresh bread

APPETIZERS

Homemade hummus with pitta and crudités
Pineapple dip with crackers
Olive tapenade with cheese and cold meats
Guacamole and black bean dips served with mini tortillas
Fig bruschetta with goats cheese, honey, and crackers
Breadsticks wrapped in prosciutto, cherry tomatoes mozzarella, and basil

STARTERS

Carrot and ginger soup
Caramelized onion & Brie tarts
Salad Caprese
West Indian fish cakes
Bruschetta
Mahi Mahi ceviche
Beetroot and goats cheese salad
Eggplant stacks

DINNER

Grilled lobster with roasted garlic potatoes and grilled vegetables
Mango chicken with cous cous, and roasted vegetables
Grilled Jerk Mahi Mahi with basmati rice and plantain salad
Lemon butter baked snapper with mashed potato and sautéed vegetables
'Rasta pasta' with homemade pesto and Greek salad
Exquisite shrimp curry with jasmine rice
Steak with green peppercorn sauce and herbed sweet potato wedges and avocado orange salad
Pork tenderloin in creamy mushroom sauce with a pumpkin mash & ratatouille

DESSERT

Rum fudge pie with raspberry coulis & mint
Apple & berry cobbler with vanilla ice cream
Local zesty lime pie
Black forest cake
Baked bananas in tropical sauce
Homemade ice cream and caramel sauce
*Espresso, Coffee, Tea, and assorted liquors