starting at
$25,000/week
British Virgin Islands
50 ft sailing catamaran
Accommodates up to 8
3 Queen cabins and a double cabin**
SCUBA Diving onboard
SCUBA DOO is a Lagoon 50 offering 3 queen guest cabins and one double cabin.
SCUBA DOO has fantastic natural lighting and ventilation throughout, plus full air-conditioning. Guest accommodation comprises of 3 queen cabins and one double cabin. (**Forward queen will share a bathroom with the double cabin).
Alfresco dining in the cockpit will comfortably accommodate 8 guests at the table. The salon will also seat up to 8 guests for dining or just relaxing in the air conditioning. There is plenty of options for sunbathing and lots of places to kick back in the shade. The foredeck offers a sunken seating area, ideal for sitting while under sail or for enjoying a cocktail in an anchorage.
Whether you are looking for a fun family adventure, a Scuba diving week, or a Caribbean getaway with friends, SCUBA DOO is ready to welcome you on an EPIC sailing trip of a lifetime!
*For Rates, see PRICING Tab below – Holiday weeks may differ, please enquire!
Walkthrough this catamaran with the crew!
Your Crew
CAPTAIN KRIS & CHEF/MATE ANETA
Kris was born and raised in Brooklyn, New York. He grew up fishing off the local piers and beaches and got his first job as a teenager, working as a mate on a fishing boat. While in college, he had a summer job at a local seafood restaurant, where he realized he had a passion for food. He decided to enroll in the French Culinary Institute. He went on to work as the head chef for restaurants around the world, from New York City, to St. John, USVI, Bangkok, and Hong Kong.
While in St. John, Kris fell in love with scuba diving. During his final open water training dive, a large dolphin swam up to him and spent almost the whole dive swimming with him. That's what really got him hooked. Kris decided he wanted to spend as much time in the water as possible and figured the best way to do so would be to become a Scuba Instructor. He worked for several years teaching and guiding dives on liveaboard boats in Thailand, Hawaii, and the Cayman Islands. He went on to get his Captain's license and now while living in Brooklyn, Kris drives a private charter boat during the week, operating tours around Manhattan and to the Statue of Liberty.
Aneta was born and grew up in Brooklyn, NY. She fell in love with travel and food early on, thanks to her mom, who dragged her to visit family and friends that were scattered around the world. Her dream has been to one day open a restaurant (already having a full menu created for her concept since college). Starting out as a home cook she has turned cooking into a career by opening her own mobile food vending and an event picnic catering business. She takes inspiration for her food from her travels and believes in using fresh local ingredients.
She has a degree in Marketing and briefly worked in an office only to realize that she wanted more. She moved to Alaska on a whim and worked for a lodge at Denali Park, organizing and arranging tours. After a couple of close exchanges with moose alone on hiking trails, and the season coming to an end, she bought a one-way ticket to New Zealand where she worked and traveled for a year. Back in Brooklyn, she began working as an event coordinator. She longed for outdoor adventure and soon became a kayak safety boater and tour guide for the Brooklyn Bridge Boathouse, which is a free kayak program organized by volunteers.
Aneta has circumnavigated Manhattan by kayak and ran the NYC marathon twice. She is an Advanced Open Water scuba diver and is looking forward to completing her divemaster training. Her most exciting diving experience so far was swimming with Tiger Sharks and schools of Hammerheads in Cocos Islands. She hopes to one day have a whale interaction while in her kayak.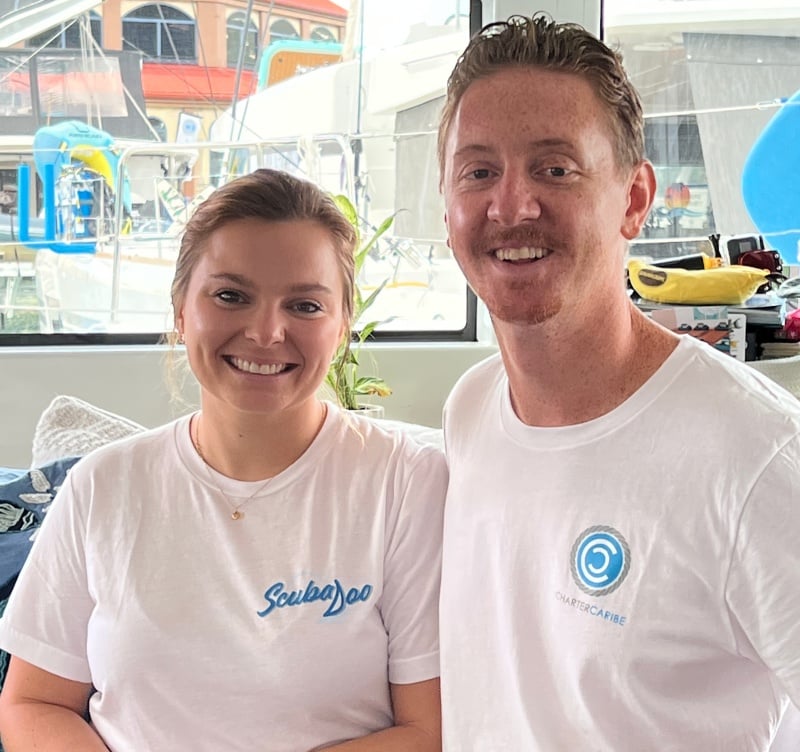 Cuisine
BREAKFAST

Blueberry Pancakes / Scrambled Eggs / Bacon

Shakshuka (Middle Eastern Specialty- Eggs Baked in Tomato Sauce & Spices) / Pita Bread / Sausage Link

Waffles with a Berry Compote / Fried Eggs / Ham

French Toast / Scrambled Eggs / Sausage link

Eggs Benedict

Mushroom, Tomato, Onion, Pepper Omelet

Avocado Toast- Poached Eggs, Everything Seasoning

LUNCH

Greek Style Grilled Chicken Gyros with tzatziki
Fish & Shrimp Tacos / Guacamole / Pico de Gallo / Sour Cream / Cheese / Salsa & Chips
Stuffed Portobello Mushrooms with Pesto Grilled Chicken
Cheeseburgers in Paradise – bacon, mushrooms, onions Roasted Potato Salad Pickles, and Fries
Mango Pulled Pork Sliders
Shrimp Rolls / Cole Slaw / Chips
Thai Style Basil Chicken Stir Fry

DINNER

Baby Spinach Salad w/ Bacon & Berries Seared / Salmon with Dill Beurre Blanc / Roasted Tomato Cous Cous / Grilled Asparagus
Baby Arugula Salad w/Goat Cheese & Walnuts / Jerk Snapper w/ Mango Salsa / Rice n Peas / Sauteed Spinach
Greek Salad / Duck Confit / Baked Sweet Potatoes / Apples & Collard Greens
Caprese Salad – fresh mozzarella, cherry tomatoes, basil / Garlic Caper Prawns / Roasted Zucchini / Pesto Rice
Roasted Cauliflower Soup with Truffle Oil / Rack of Lamb with Garlic-Mint Chimichurri / Smashed Fingerling Potatoes / Swiss Char
Caesar Salad / Grilled Blackened Tuna with a Wasabi Aioli / Roasted Brussel Sprouts / Wild Rice
Tuna Coconut Ceviche / Pan Seared NY Strip Steak- Horseradish Mustard Sauce / Garlic Mashed Potatoes Roasted Broccolini

DESSERT

Ice Cream Sundae

Apple Crisp with Salted Caramel & Vanilla Ice Cream

Tiramisu

Guava Cheesecake

Caramel & Walnut Brownies

Rum Cake drizzles with Bananas Foster

Chocolate & Coconut Mousse