Tranquility - Catamaran
A Retreat Like No Other
76 ft sailing catamaran
Accommodates up to 12
1 King, 3 queen & 2 ensuite cabins with twin beds
Scuba diving onboard
Popular! Viewed 131 times in the last 30 days
From $56,950/week
Make an Inquiry
Are You Ready to Start Your Journey?
I am happy to assist you in your search. Please call or email me.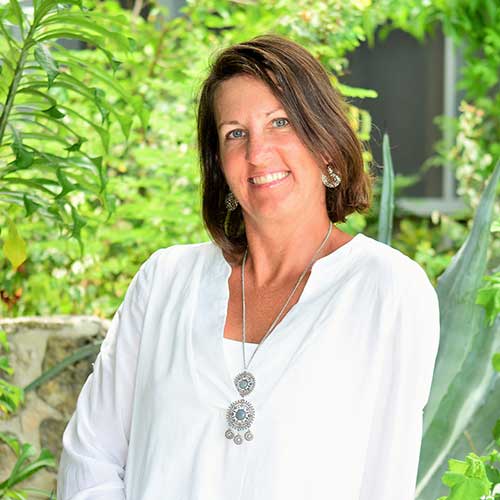 Michelle Heyns
+1 (954) 543-1270
[email protected]
Make an inquiry
Print this page
Please click to
. This might take up to 20 seconds.
Download PDF
Please click to

. This might take up to 20 seconds.
TRANQUILITY is a 76-foot Matrix Yachts catamaran. Accommodating  12 guests in 6 cabins.
The master cabin aboard TRANQUILITY is a king suite cabin and is amidship. The 3 queen cabins and 2 twin cabins are spacious and luxurious. The darker honey-toned floors and walnut-colored woods highlighted by cream tones give this yacht the look of pure perfection.
The giant flybridge gives you 360° views while sailing or at anchor and the cockpit comfortably seats all for guests to enjoy 5-star cuisine. Tranquility's crew of 4 will attend to your every need.
Tranquility is a wonderful option to make your sailing vacation EPIC!
*For Rates, see PRICING Tab below – Holiday weeks may differ, please enquire!
The specifics
Pricing
Availability
Crew
Cuisine
Amenities
Reviews
Videos
Scuba
| Season | 2 Pax | 3 Pax | 4 Pax | 5 Pax | 6 Pax | 7 Pax | 8 Pax | 9 Pax | 10 Pax | 11 Pax | 12 Pax |
| --- | --- | --- | --- | --- | --- | --- | --- | --- | --- | --- | --- |
| Winter 2020 to 2021 | $56,950 | $56,950 | $56,950 | $56,950 | $56,950 | $57,450 | $57,950 | $58,450 | $58,950 | $59,450 | $59,950 |
| Summer 2020 | $56,950 | $56,950 | $56,950 | $56,950 | $56,950 | $57,450 | $57,950 | $58,450 | $58,950 | $59,450 | $59,950 |
| Winter 2021 to 2022 | $56,950 | $56,950 | $56,950 | $56,950 | $56,950 | $57,450 | $57,950 | $58,450 | $58,950 | $59,450 | $59,950 |
| Summer 2021 | $56,950 | $56,950 | $56,950 | $56,950 | $56,950 | $57,450 | $57,950 | $58,450 | $58,950 | $59,450 | $59,950 |
Holiday offers
Please note that Holiday rates are subject to change.
Christmas week: $75,000
New Year week: $85,000
PRICE INCLUDES:
Use of the yacht with our Professional Captain and Chef and additional crew
All Onboard Meals – Breakfast, Lunch, Appetizer, Dinner, and Dessert
Snacks – Fresh Fruit, Popcorn, Granola Bars, Chips, Chocolates and more
Beverages – Water, Juices, Sodas, Coffee, Beer, Wine, and a Fully Stocked Bar
Water Sport activities
Broadband Wireless Internet Access
Air Conditioning
Cruising taxes and permits, BVI licenses, and port fees
Fuel for the yacht and dinghy
PRICE DOES NOT INCLUDE:
Shore activities such as dining, shopping, or special off yacht excursions
Premium Beverages/Wines not normally stocked and excessive alcohol consumption
Airport Transfers
BVI individual fishing permits
Crew gratuity; 15-20% of the charter cost
Availability
Highlighted dates are booked, on hold, or unavailable. We may be able to challenge the dates on hold. Please contact us for details. All other dates not highlighted are available. You can use the arrow icons to navigate through the months.
Dates Color Key
If no color is noted on calendar or in the detailed list below, the dates are available for your charter
Booked (Booked by another client group already)
Hold (Held by another client group, not yet booked, and can be challenged)
Unavailable (Blocked out by the Owner and unavailable to challenge)
Transit
CAPTAIN PATRIC & CHEF/MATE MARY
Patric and Mary have been sailing together for nearly 10 years and in that time have delighted and charmed their guests in over 150 charters over 55 000 miles with a holiday of a lifetime.  Now aboard the paradise Tranquility, they are continuing to do just that throughout the Caribbean.  Born in Switzerland Patric has traveled extensively following his love of sailing and diving.  As RYA Yacht Master he has sailed in many of our seas. In Europe, the Caribbean, and also Australia where he was able to fulfill his love of offshore racing.
As a Dive Instructor Patric has taught and dived in some of the best locations in the world, including the Great Barrier Reef, the Red Sea, Maldives, and also South Africa where he met Mary up by the Mozambique border.
In the BVI's he spent 3 years teaching Sailing and Diving to youngsters within a summer camp program before moving on to Crewed Yacht Charters with Mary 10 years ago.  A great sense of humor, coupled with a professional and open, and relaxed manner will make you feel special, safe, and at home, the moment you, your family, and friends step aboard Tranquility.  There is no request too big – except the one regarding the elephant – and no cocktail too bizarre that Patric cannot cater to.
Mary has had the opportunity to travel the world, from Europe to Australia, Africa to India, and the USA to the Caribbean she has had the chance to sample many of the world's cuisines.  She takes great delight in sharing these flavors with you. Quality of produce remains the mainstay of her cooking and she will tailor any menus to suit you and your family's requirements.  Also a qualified Dive Master she is happy to paddle about with you in the water, lunches permitting. Flexible with a lively sense of humor and a kind heart, her aim is to make your stay as seamless and comfortable as possible.  Where holidays are precious we will give you memories to last a lifetime.  Patric and Mary are joined by Joshua and Emily as mate and stewardess aboard Tranquility.
DECKHAND JOSHUA & STEWARDESS EMILY
Emily's passion for hospitality and serving industry has grown from the start of her career having worked in a small cafe to assisting highly professional chefs on luxurious charter yachts. The love of being on the sea is the best job motivator for her. Her friendly and attentive approach towards the needs of charter guests creates a warm and welcoming atmosphere on board.
Passionate about navigating, Joshua has sailed from a young age and it came as a natural progression for him to start a career in the yachting industry. Over the past four years, he has learned a great deal about yacht maintenance, handling, and life at the sea. Apart from sailing, Joshua loves climbing, mountaineering, diving, skateboarding, and cooking. Very hard-working, he is always ready to help with a big smile on his face.
BREAKFAST
Freshly baked bread, fresh fruit platter, yoghurts, cheese omelettes
Various eggs, just how you like it
American pancakes
Crispy bacon
French toast, crepes, tropical fruit smoothies, croissants, cereals, muesli
LUNCH
Homemade Caribbean crab cakes with spicy remolade
Smoke salmon and chive quiches with a green leaf & herb salad
Chicken wing feast with broccoli salad
Teriyaki steak skewers with bean sprouts, water chestnuts & chinese leaf salad
Baby back ribs & wholegrain rice salad
Seared tuna with wasabi & soy
Grilled red snapper with mango & pineapple salsa & warm quinoa salad
Homemade spiced lentil & barley burgers, orange & toasted pinenut salad
Variety of pizzas with toppings of your choice
APPETIZERS
Mozzarella & basil quesadilla wedges
Tortilla chips with melted cheese and a spicy calsa
Creamy Artichoke Dip
Spicy prawn skewers
Cheese platter with assorted meats
Mini pizzas with sweet peppers & mozzarella
Baked camembert
Chicken satay with spicy peanut sauce
DINNERS
Butternut squash soup; Mahi-Mahi with parmesan & lemon risotto and baby asparagus; Raspberry meringues with mascarpone and maple syrup
Caprese salad; Chicken parmesan, marinara sauce, pasta and mange tout; Freshly made fruit sorbet
Shrimp and avocado salad; Beef tenderloin cooked to your liking, baked potatoes, corn on the cobs, coleslaw, homemade red wine steak sauce; Fudgy wudgy chocolate brownies
Asian salad with mango & smoked tuna; Ginger and lime salmon with orzo and green beans; Crème brule
Grilled scallops, pea puree and pancetta, pork tenderloin with white wine and tarragon, roast potatoes and julian vegetables; Lemon tart
Melon, feta & parma ham salad; Chicken masala with shitaki mushrooms, cherry tomatoes & crushed newpotatoes; Mango cheesecake
Halloumni (grilled squeaky cheese) with lemon & capers; Fillet mignon with roasted mediterranean vegetables and smokey tomato sauce; Chocolate mouse
Cucumber & poppy seed salad; Roasted butternut squash with burnt aubergine & pomegranate molasses with french beans, mange tout, hazelnuts & orange; Pear & almond frangipani tart with vanilla ice cream
AMENITIES
Air conditioning and fans
Swim platforms and heated deck showers
Water-makers and generators
WiFi Internet access
Flat screen TV in salon
Outdoor speakers in cockpit and flybridge
iDevice hookup
Ice maker
Barbecue
Hammock
WATER FUN
17′ rigid inflatable rib w/90 hp engine
Adult water skis
Wakeboard, kneeboard, & tube
2 x 2 pax Kayaks
2 Stand-up Paddleboards
Snorkel gear
Beach games
Light fishing gear
Scuba diving onboard
SPECIFICATIONS
Builder: Matrix
Year Built: 2013
LOA: 76′
Beam: 35′ 1″
Draft: 5′ 11″
Flag:  BVI
Epic Yacht Charters
Average rating:
12 reviews
Jun 27, 2021
Perfect Trip!

Tranquility is amazing. Has everything you would want on it and more. The bedroom layout with 2 rooms having twin beds helped us with our teenagers having a little more of their own space. The inside was beautiful, great for doing a movie night. We loved having every meal outside on the back of the boat, it was perfect. We loved all the areas of the boat that were there to relax and for amazing views while we sailed. The chairs on the very top were a favorite. The kids loved the hammock and the bean bag chairs that could be moved down to the trampolines or anywhere we wanted. The boat was absolutely perfect for our group of 11! The itinerary could not have been more perfect. We have been to the BVI many times before, so we had a few things that we really wanted to do. The captain incorporated those requests and we got to do everything on our list and the places he picked for us were absolutely amazing. It is so nice to be on a boat with a captain and crew that has sailed the BVI so often and is confident about the best places to go! The captain was outstanding! Everyday we discussed our plans and what we wanted to do, where we wanted to go, He helped cater this trip 100% to where and what we wanted to do. He spent endless time working with our certified divers to have the best experience, as well as getting our new divers into the water. And then finding a place for our non-divers to snorkel and have an amazing experience, too! He was so great with our group of 5 teenagers and keeping them busy on the tube and wakeboard. Our chef, was AMAZING! She had her work cut out for her with our group of 11 that ranged from people who would eat anything to the teenagers that were super picky. Everyday she worked with us to make sure everyone had something amazing to eat. The food was overall incredible, every single meal. She was on top of everything, constantly doing something to make our trip fantastic, especially the cocktails! She learned one of our group drinks a specific iced latte every morning and literally had it waiting for him everyday when he got up. The captain did a great job of taking care of our teens on the tube, scuba diving with us, basically any recreation we wanted to do. This crew worked so hard to make sure our vacation was perfect, and it was! The food and drink were incredible. Every meal, the chef went out of her way to make sure we were all completely satisfied, she really paid attention to our preference list. Every meal was outstanding! We thoroughly enjoyed the selection of wine at dinner, as well as the after dinner cocktails. They kept us all happy with any happy hour drink we requested.


Trip of a lifetime! Tranquility is the best of the best when it comes to chartering a catamaran with a full crew. I've never seen a group work so hard to make sure our trip was perfect and everything we had hoped it would be!

Jan 5, 2020
Absolutely Amazing!
Our trip was absolutely amazing and exceeded our expectations in every way possible. We rank it our top family trip, and we've taken quite a few of them. First of all the crew took our experience to the next level with their knowledge, professionalism, willingness to our accommodate our requests, and their overall attitude and demeanor. This work was totally impressive and they kept everything running smoothly all week. When they had a few down moments we had a great time hanging out with them, playing games and enjoying all the water sports. It would not have been a better match for us. Tranquility is a beautiful catamaran that accommodated our group well. It's very comfortable, all systems were in top working order, the crew kept it pristine and sparkeling, and we felt like we were in a floating resort. Thank you. It was over the top, epic trip.
Dec 27, 2019
Trip Was Superb!
The trip was superb! The crew killed themselves to entertain the kids with diving and the water sports. All of their personalities/attitude/service was great. The food was excellent. We would love to book them again.
Mar 31, 2020
Thank You Will Never Be Enough
Thank you, will never be enough! You have put a song in our hearts that we will sing our whole lives.. constantly….. over and over…
Feb 23, 2020
Grateful To Our Tranquility Family
Words can not describe how appreciative our group is to you all. Chef, you are the true admiral of the boat. Galley Genius!!! The Stew was amazing. Keep up the great work. Will, Team award for good sport wish you nothing but brilliance. Captain, keep doing what your doing. You and everyone around you is nothing but perfection.. Seriously Thank you.. This was the trip of the lifetime and we always be grateful for you and our Tranquility family.
Feb 17, 2020
Phenomenal Week
Once again you provided an awesome vacation! This was an absolute phenomenal week. Thank you all so much.
Jan 29, 2020
You Guys Rock
You guys rock, seriously! Thank you each and everyone of you for your diligence and long hours, and mostly for your patience. We had such an incredible week and its not easy to coordinate such a fantastic trip with so many individuals with so a huge range of likes and dislikes. You guys are really awesome in making it all work. Hope to see you guys next January again.
Jan 30, 2019
Absolutely Incredible
Thank you so much for the trip of a lifetime. Captain the diving was a thrill. You made every moment a blast. Chef your cooking was a delight. Will, thank you for all the waterskiing. Serena you were there at every moment when something was needed. The Tranquility crew is absolutely incredible. This has been a trip of a lifetime and you made it special with your care. The meals were out of this world and the care you took to make us feel comfortable was also. We consider you part of the clan now.
Jun 11, 2019
Fantastic Time
Thank you so much. I loved everything! Most of all spending time with you guys. It was so much fun..I loved the food it was the best. What can I say it was a fantastic time we had on Tranquility and none of this would have been so special if it wasn't for you guys.. Thank you for all your hard work. Excellent Crew.
Jun 12, 2019
Best Trip!
This is one of the best trips I've ever been on. I'm glad to say I won't forget you guys.
SCUBA DIVING ONBOARD
Scuba gear included
5 Dives for certified divers included
Open Water Certification $350
Resort Course included
Epic Yacht Charters provides the most updated information on yachts available but cannot guarantee any details are 100% correct until we verify with the specific yacht.
Similar Yachts