The Baths is a must see during your luxury crewed yacht vacation in the BVI. You will have plenty of opportunities to explore some amazing sights along your week long charter and you will not be disappointed with this famous attraction.
The Baths on Virgin Gorda can be reached by short taxi ride from Spanish Town marina or a swim in from the dinghy moorings just outside the swim area near the shore. Check with your crew for the best option and they will also be able to check if it is safe to swim in. They have a flag system telling them the current conditions.
These beautiful granite rock formations were formed some 70 million years ago when molten lava erupted out of the volcanic surface and cooled to reveal giant boulders. This makes for a great discovery as you crawl, climb and walk through narrow paths, hold on to rope handles, step up wooden ladders or swim through sunlit pools. Visitors pay $3 per adult to enter the National Park and then you are free to explore these natural wonders. You can snorkel from your yacht and enjoy the underwater world surrounding these boulders.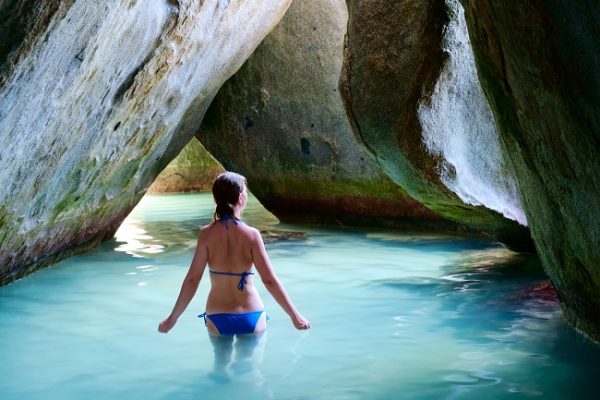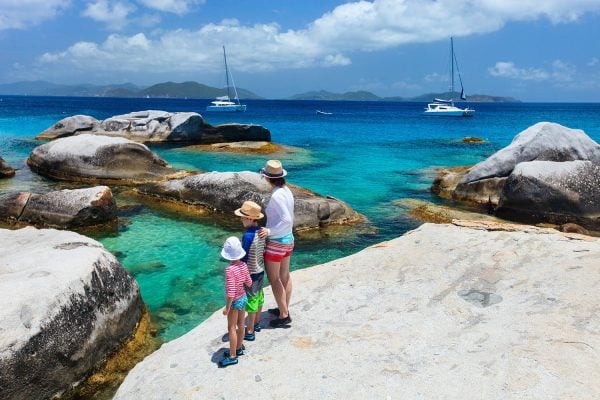 There is no need to take towels or shoes as they may get wet. We recommend wearing your swimsuit and walk/wade through the pools barefoot, unless you prefer to wear water shoes. As you enter the Devil's Bay trail, you will find a narrow entrance leading up to a beautiful sunlit triangular pool created by 3 very large boulders. The sun shines through the cracks in the top creating amazing light for that romantic or group photos which may lead to jealousy from your friends back home and may unfriend you on social media.
Follow the trail around and over rocks and steps that ends in the stunning Devil's Bay. Here you can swim and find other short walks to nearby rocky beaches. This could also be your pick up point from your crew if you choose not to return to the starting point. There is also a few stalls selling souvenirs at the Top of the Baths and they serve the best mango daiquiris by the pool overlooking the Sir Francis Drake channel.
Thanks to Christian Wheatley for the great video.
Contact us anytime for more info and we are here to help you make a dream vacation on a private charter yacht in the Caribbean a reality.