A crewed yacht charter gives you the freedom to enjoy your vacation in complete and total relaxation.
1st class service is the goal of your yacht crew, allowing you the time to enjoy all that a luxury vacation on a yacht has to offer. You don't have to take responsibility for the yacht, docking, anchoring, provisions, cooking meals or cleaning.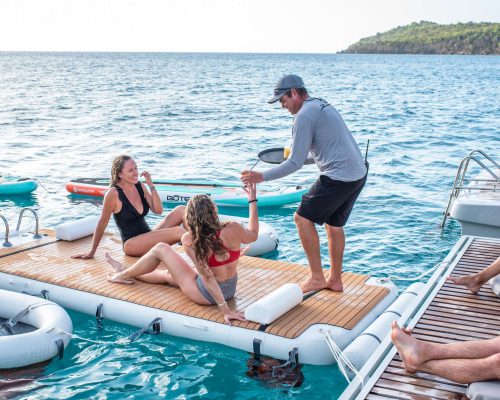 Included in your luxury yacht charter is the service of a professional experienced captain and chef. Some yachts also have deckhands and stewardesses at your service. Your crew are experts, they have full responsibility for the vessel as well as your security and safety while onboard. Your chef will prepare your gourmet meals in the yacht's galley taking into consideration any dietary needs, allergies, likes, and dislikes.
Before your charter begins, the captain will assess your needs and design the perfect itinerary for your vacation while your chef designs a menu for your unforgettable week aboard.

Your personal chef will prepare and serve all your culinary delights on your charter. She will also provision the yacht to cater the menu and drinks for your specific needs. Gourmet meals, snacks, wine, and a standard bar are included. If there are any food allergies or dislikes, adjustments are made.
Many of the chefs are culinary school trained and will create a menu specific to your requirements. All chefs have a gift for hosting and meeting all of your needs while on board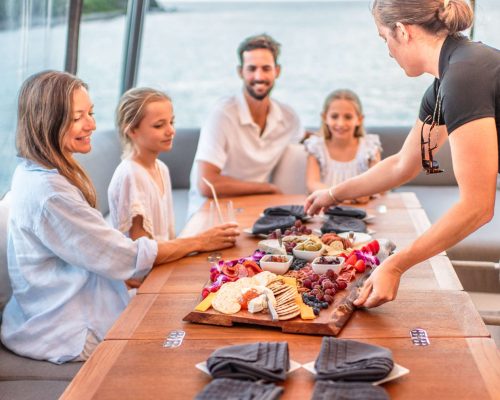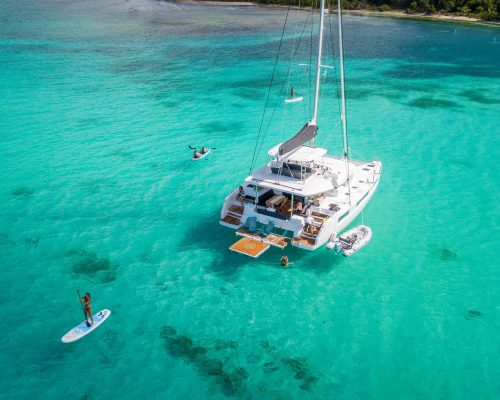 Yachts offer a wide variety of water sports equipment. Scuba diving gear, snorkel gear, stand-up paddle boards, kayaks, and floating water toys for lounging in the water are available. A variety of more fast-paced activities can be enjoyed behind the yacht's fast tender.
Water skiing, wakeboarding, knee-boarding, sub-wing, scurfing (skiing on a surfboard), and tubing are available on most yachts. Kiteboarding is offered ashore and can be arranged when you arrive. Some yachts have SeaDoos,  SeaBobs and eFoils for ultimate underwater fun.

Aside from a myriad of water sports, you'll find plenty of alternate activities in the beautiful islands of the Caribbean, the Bahamas, and the Mediterranean. If this is your first time in the area you might enjoy an island tour or a guided hike by a crew member.
Just take in a lazy day on the beach tossing a frisbee or building sand castles. Helicopter tours, deep sea and bonefishing tours, spa treatments, and yoga sessions can be arranged. The opportunities are endless.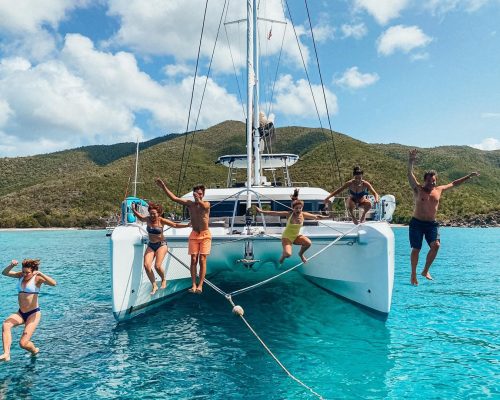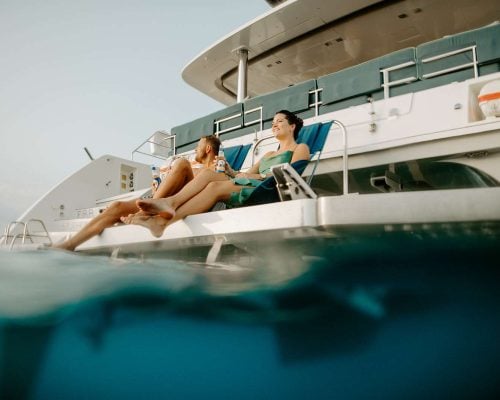 This is a perfect place to fill up your relaxation cup. Comb the beach for beautiful shells, gently sail between island stops, and hang in the catamaran's hammock as warm breezes calm your senses.
Wade in the shallow water as you follow the soft sandy beach, sit in the shade, and catch up on a chapter or two of your book. Lay in the sun on the foredeck trampolines and catch some rays. Tap into the local lifestyle, rejuvenate, and revive! You deserve a little fun in the sun.