Upon arrival from the St. Thomas airport, depart on your sailing trip either from Yacht Haven Grande in Charlotte Amalie or from American Yacht Harbor in Red Hook. Set sail or motor to St. John.
Let's find you the best of St. John to enjoy along your charter sailing route.
Cruz Bay is the main harbor on St. John and offers provisions shopping, local dining, car rentals, souvenirs, and a lovely small beach near the bars and restaurants. If you decide to do an island tour, choose from renting a Jeep or an open-air safari-style truck taxi. Your driver stops at all the most visited spots for you to get the best views from high up the hills and grabbing a cold drink in a coconut for you to drive across the whole island.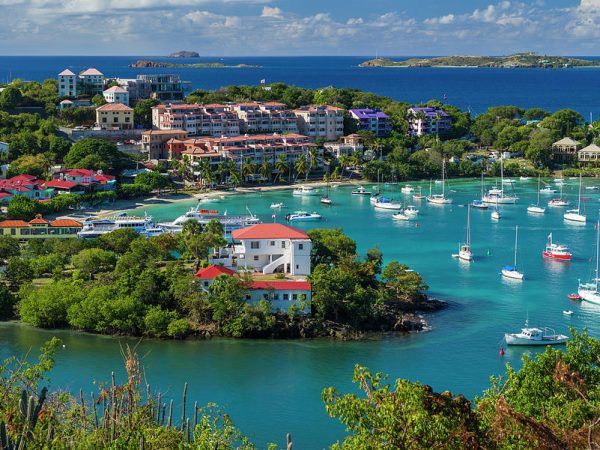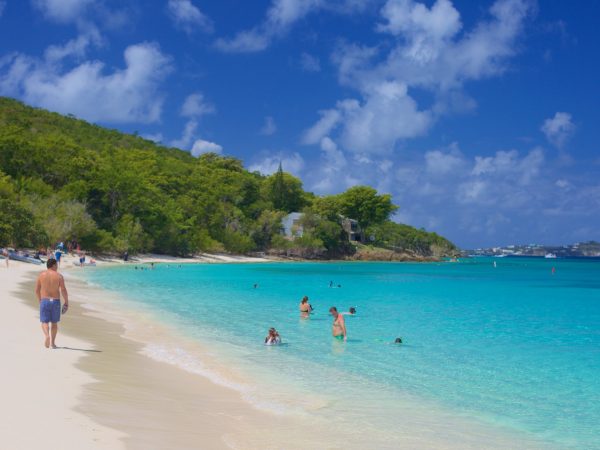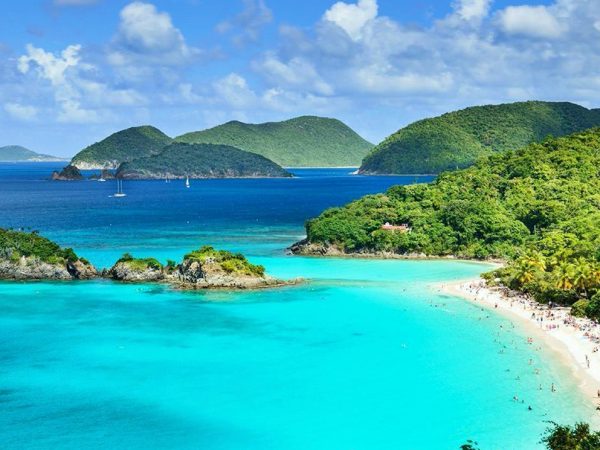 Now that we are Cruz Bay, you can decide what takes your fancy. A little souvenir shopping is great, so head up the hill a little to the Mongoose Junction. Here are shops unlike the ones back home. You may see some exotic birds in cages between shops and taste some of the famous Caribbean cuisines served in quaint bars and restaurants. Conch fritters and local beers are popular snacks to keep you going to the next exciting location. Take a little piece of history with you when you wear a St. John bracelet.
Get some ice-cream or a slice of pizza as you walk narrow roads down-town. One of the most famous bars is Woody's Seafood Saloon located right on the roadside near the harbor. Too many other eateries to mention, but check out the rest here.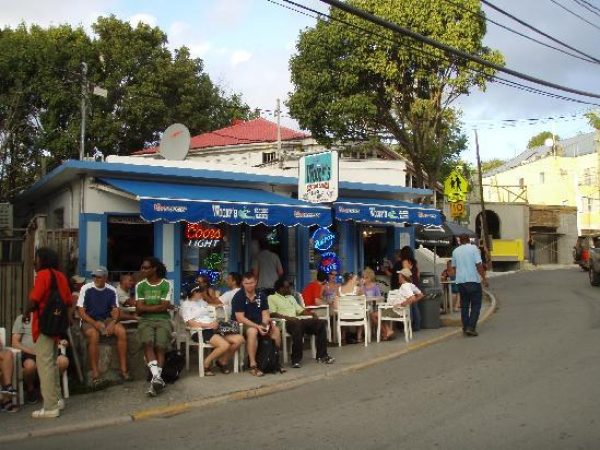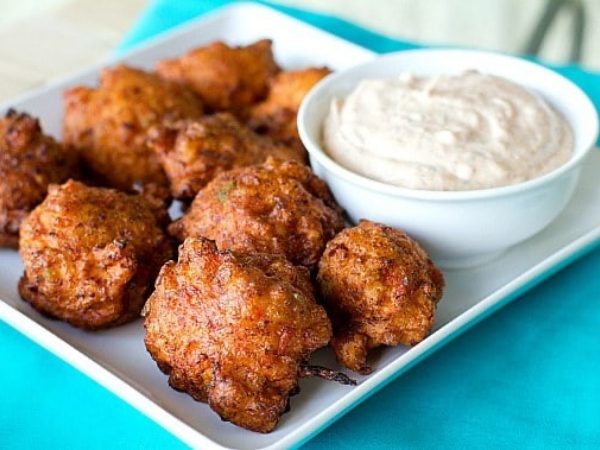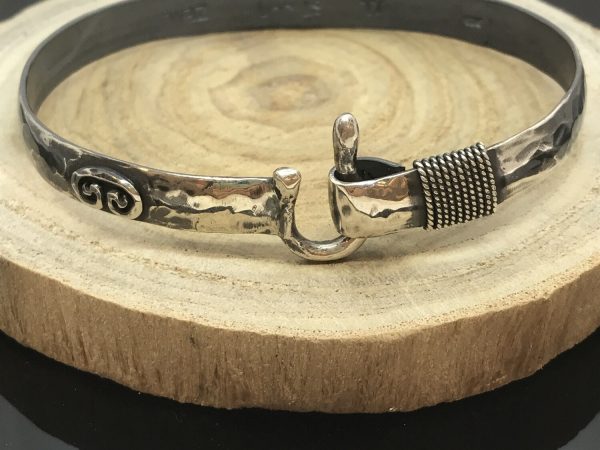 All the beaches around St. John is worth stopping by on a charter yacht route or an island tour. The first stop leaving Cruz Bay clockwise would be Caneel Bay which is where your crew can pick up a mooring ball and from here you can swim, kayak, paddleboard or take the tender to nearby Honeymoon and Solomon beaches. Very small, but gorgeous views among palm trees. A dive company ashore can take you Scuba diving to sites nearby.
Trunk bay is one of the most photographed beaches in the world. There is a wonderful viewpoint where taxis stops. You can paddle or swim in and even do an underwater snorkeling tour at the nearby rocks at the end of the beach. You'll discover a wide variety of fish species including large Permit and Jacks, Queen Angelfish, French Angelfish, Blue-headed Wrasse, Pork Fish, French Grunts, and more. Corals tend to be hard corals like maze brain corals, fire coral, mustard coral, stag-horn coral, and Pillar corals.
Songs have been written on Cinnamon bay by Kenny Chesney and stopping here is perfect for a nice stroll along the beach with views of nearby islands. In the most protected bay tucked in at Victoria bay is Maho Bay. Sunset views here are outstanding! This little bay is now also home to Maho Crossroads, where beach shacks have been erected to attract tourists. Maho Bay has landed on Tripadvisor's Top 25 beaches in the world. There is also an Eco-friendly resort on the hillside and lovely hiking trails to Francis Bay and nearby Mary Creek.
After a short motor ride or sail you can pick up mooring balls in Leinster bay and snorkeling around Waterlemon Cay, St John's #1 snorkeling destination. This site has it all …seagrass beds with turtles, rays, conch. Good spot to see huge cushion starfish. Corals and fish. Don't miss the 2 ruins that sit above this destination. The Annaberg ruins are nearby and you can walk along the shore after being dropped off by tender on the beach. These ruins have a lot of Caribbean history and great views of the Sir Francis Drake channel and an unconfirmed famous hiding place of Blackbeard pirate on Great Thatch Cay which is part of the British Virgin Islands (BVI).
If you prefer to sail along the Southside of St. John back to Cruz Bay, stopover at Little Lameshur Bay. Some good snorkeling along the eastern shoreline. Better the farther you go out. Good diversity of fish. Protected from wind and surf.
Now that you know so much about St. John, come and visit with Epic!
On the opposite side of the island is Coral Bay with just as many eateries and safe anchorages in a few secluded bays protected by the prevailing winds and swells. Your charter yacht is at anchor and your crew can take you ashore to explore this side of the island. Nearby is Ram Head which is a nice hike for those who like getting into nature. The trail is at the far end of the Salt Pond trail. Once you make it to the top of Ram's head, you'll be greeted with miles and miles of the shimmering Caribbean sea, as well an incredible view of St. John's South Shore behind you.
This is where you get the T-shirt and have a hot-dog at the famous Skinny Legs bar or pizza at Pizza Bar in Paradise. Another fun place to visit is Lime Out is a new floating taco bar that's been a huge hit and was even featured in Travel + Leisure.  The concept may seem a bit gimmicky, but I have to say, the tacos were great and we had lots of fun consuming them on a raft outside the restaurant. Lime Out is located in Coral Harbor and can be accessed via their shuttle or any boat. Just paddle-board from your charter yacht and have a blast.
To learn more please contact the friendly & knowledgeable team at Epic Yacht Charters to get onboard a luxury Sailing or Power charter catamaran. Your Private Water Taxi or Tours can be arranged.
Contact Us NOW for availability and a personalized quote!  While our service is priceless, it is always complimentary.
Email us: [email protected] Call us: (954) 543 1270 or LiveChat with us on our website and ask as many questions as you want. Thank you and wishing you Epic Adventures from Team Epic!