Water sport activities aboard your sailing or motor yacht vacation are unlimited.
Find a quiet bay with flat calm water and get going on a kayak or SUP paddle to explore the area. From higher on a Stand-up Paddleboard, you can even see the coral heads and schools of blue tangs or a sea turtle popping his head out of the water for a breath of air. Did you know that given enough time without being in danger, a sea turtle takes 3 deep breaths before descending below to the seagrass bottom?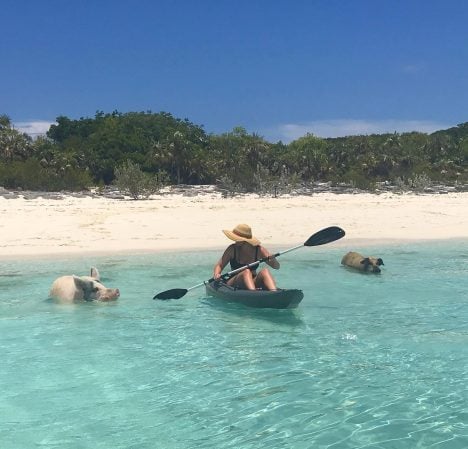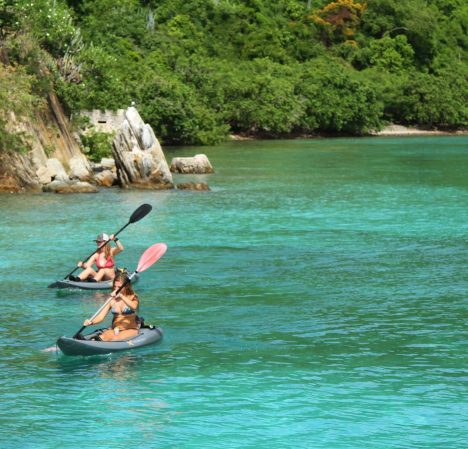 If you have never tried the fun and fit (body core strengthen) activities on a Stand-up Paddleboard (SUP) your crew will show you how to use the water sports equipment onboard.
Some of the kayaks are inflatable for easy storage. Others are single or double seated kayaks. Some are built with complete see-through bottom for fish watching. Some are sleek for speed and others are just for fun. A backrest can be hooked to clips and makes it easier to lean back while you paddle.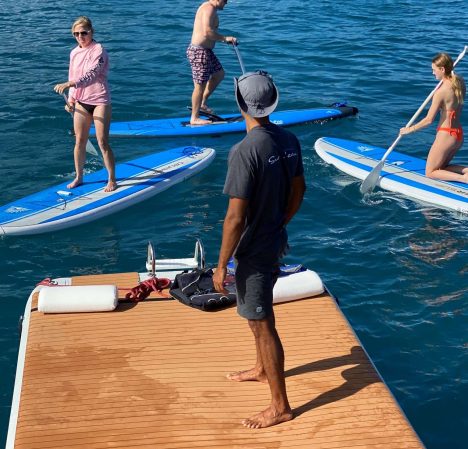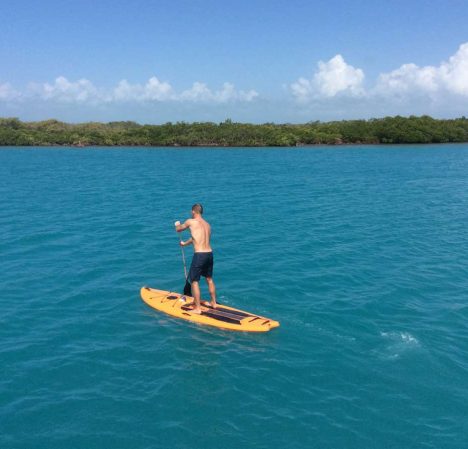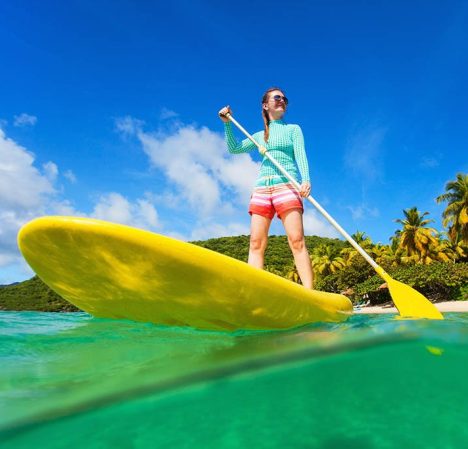 We have seen more than the recommended amount of people on Stand-up boards and kayaks and that can only lead to fun. See who can last the longest when you are being bashed by the wake from the tender as it speeds by in circles.
The kayaks are perfect for a little fishing expedition. You can get real close to the rocks or shore with a light fishing pole. The SUPs are easy to beach and dragged up the shore to avoid being washed away. They also have a leash that can be secured around the ankle to avoid losing the board if you decide to surf on small waves near the reefs.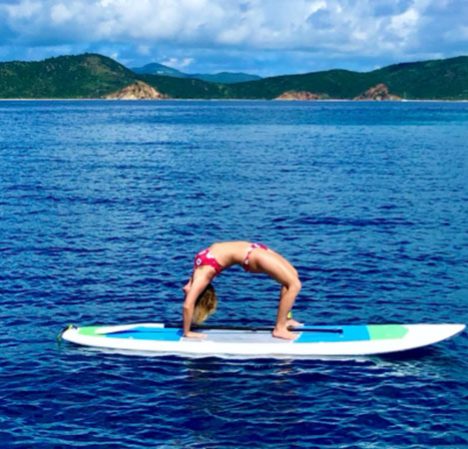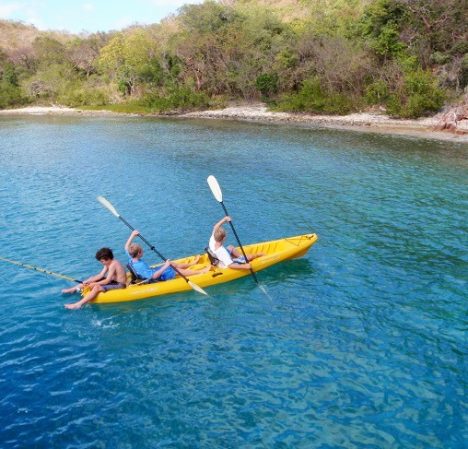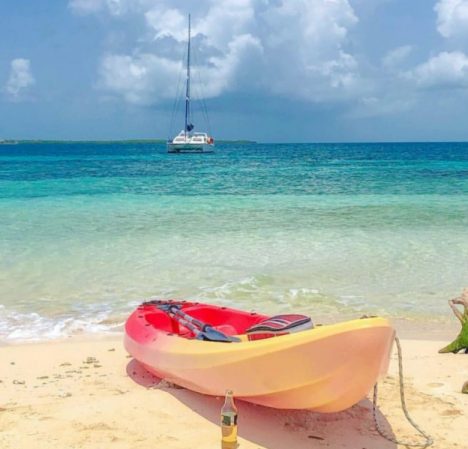 Kayaks are stable when seated. Be sure to grip the paddle in a comfortable with and ensure that on the blade is in a horizontal position and the other in a vertical position. This way it will be easy to paddle without twisting your wrists to scoop the water with the blades.
Stand-up Paddleboarding is the fastest growing boardsports in the world. You do not always have to stand, kneeling, and laying is all accepted. Make sure you adjust the height of the paddle before you embark on your trip to the Virgin Islands.
SUPing also opened new and unexpected opportunities outside of surfing. Stand-up paddleboards are also used by yoga, pilates, fishing, and swimming enthusiasts to perform specific training.
To learn more please contact the friendly & knowledgeable team at Epic Yacht Charters to get onboard a luxury Sailing or Power charter catamaran. Your Private Water Taxi or Tours can be arranged.
Contact Us NOW for availability and a personalized quote!  While our service is priceless, it is always complimentary.
Email us: [email protected] Call us: (954) 543 1270 or LiveChat with us on our website and ask as many questions as you want. Thank you and wishing you Epic Adventures from Team Epic!