If you want to explore and re-discover the TOP 10 SCUBA dive sites in the British Virgin Islands (BVI), all you need is proof of your PADI/NAUI certification.
Scuba diving is offered on most of our fully staffed charter yachts in the British Virgin Islands and is equipped to cater to your diving needs. With extensive experience in all the dive locations, your divemaster or instructor will take you diving in the best dive destinations in the beautiful BVI waters to experience a diverse variety of fish, coral, and other sea creatures.  Dive on a wreck or glide over the most amazing underwater coral formations.
We have personally dived all of the sites below and recommend them from beginner to advanced.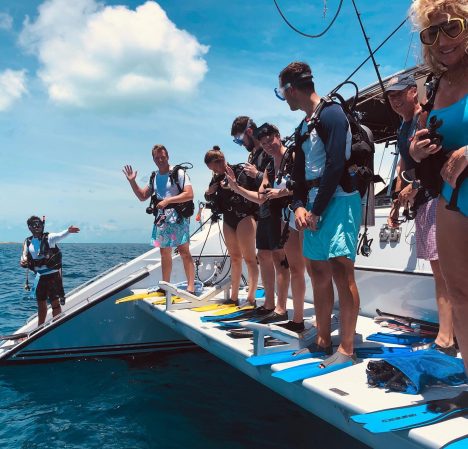 Let's look at some of the best diving sites.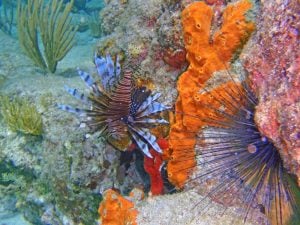 Depth: 20 – 40 ft
Level: Novice
Accessible by small boat/tender
There is a buoy on the Southside of Dead Chest Island. This visually stunning site is both popular for all and perfect for beginners. Painted Walls is fun to explore because there is a kaleidoscope of colors created by encrusting corals and sponges on the walls of four canyons.
These colorful canyons create unique passageways for divers. In one of these gullies, there is a natural arch where you pass into a shallow pool with schools of fish. You may even spot a nurse shark sleeping under huge boulders. They are harmless and wonderful to find. The dive is about 45 minutes long where you first head to the furthest gully and then return via the rest.
2. Vanishing Rocks/Dry Rocks West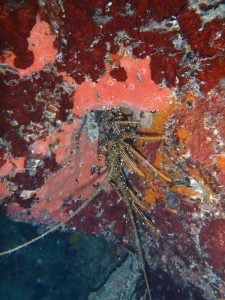 Depth: 25 -45 ft
Level: Novice/Intermediate
Accessible by small boat/tender
This rocky pinnacle which barely breaks the surface lays on the West side of Cistern Point on Cooper Island, (a snorkeling and beginner-level diving site). This is a very colorful dive site with pillar coral with an abundance of reef fish to observe. You may be lucky to see a green moray eel hiding in crevices. This is a circular dive around the pinnacle and can be completed in 30 minutes or you can take more time to have a look around.
Depth: 35 -50 ft
Level: Novice/Intermediate
Accessible by charter yacht
Regarded as one of the best shallow dives in the BVI, these four rocky pinnacles rise and descend roughly the same fifty feet above and below the water surface, which form abundant coral gardens, a 15-foot tunnel, lots of fish, and an underwater cavern.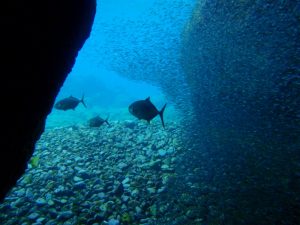 Depth: 25 -45 ft
Level: Intermediate
Accessible by small boat/tender
Find a buoy on the Southside of Green Cay, next to Sandy Spit. and nearby tranquil Sandy Spit. Look for a large formation of pillar coral and a series of huge boulders on the exposed north side. They are covered with marine growth. From large fans, soft corals, and brightly colored sponges. Overhangs are filled with schools of smaller reef fish while larger fish swim freely around the rocks. Schools of barracudas patrol the outskirts. Turtles and sharks may be seen between the pinnacles.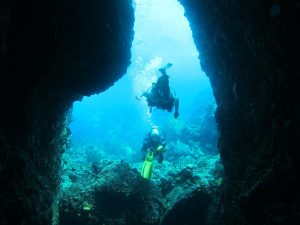 Depth: 25 -50 ft
Level: Intermediate
Accessible by charter yacht and swim to the site
The site got its name from the two rock formations that come together forming a gap that resembles a chimney.
Canyons, ledges, walls, and overhangs make the dive much more exciting. Look up under the overhangs. If you bring a dive light you will see the incredible boom of cup corals and brightly hued sponges that weave a colorful underwater tapestry. Don't forget your underwater camera!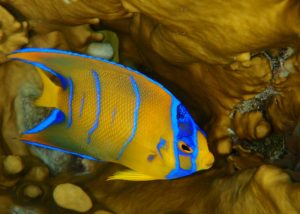 Depth: 20 -45 ft
Level: All levels
Accessible by charter yacht and swim to the site
Angelfish Reef is a popular dive site known for its canyons and sloping ridges. Large barrel sponges are seen along the edge of the dropdown and you will see angelfish and triggerfish amongst lobsters and eels.
You stay at the deepest level first and then return via the small canyons. Visibility is typically very good.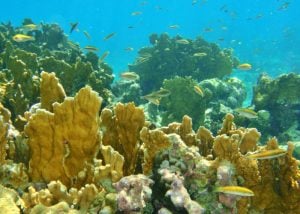 Depth: 20 -50 ft
Level: Novice/Intermediate
Accessible by charter yacht
The remains of Atlantic Air BVI's Shorts 360 airplane can be found in the coral gardens on the Southside of Great Dog Island. In 1993, after making an abortive takeoff, their one and only aircraft landed in the water about 200 feet off the end of the runway and where it was sunk as part of the BVI's continual artificial reef program. The plane, without wings or tail, sits in the sand patch in about 40 feet of water.
8.  The Wreck of the Rhone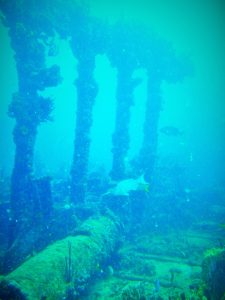 Depth: 30 -80 ft
Level: Intermediate/Advanced
Accessible by charter yacht
At least two dives are required to experience all the RMS Rhone has to offer. Your first dive is 25 – 30 minutes at 75 feet on the bow section. After your mandatory 3-minute safety stop, you'll enjoy a nice surface interval and be treated to the story of the Rhone.
The wreck is covered with coral and fish and even has a local barracuda named Fang as a regular visitor.  There are eels, octopus, lobster and even sea turtles to see on occasion. The movie "The Deep" shot in 1977 featured the wreck of the Rhone. Many wrenches were still visible over the years but were stolen over time by collectors. There is still a "lucky porthole", a brass porthole with the glass intact, which is kept shiny by divers rubbing it for good luck. Look for the silver teaspoon embedded in the gearbox.
The deepest section is around 80 ft and the propeller can be free dived at 28 ft. This is a dive well worth getting ticked off your bucket list.
Depth: 60 ft
Level: Intermediate
Accessible by charter yacht
Thanks to DiveBVI, we can share this information.
The Kodiak Queen, a former Navy fuel barge, survived the attack on Pearl Harbor. In March 2017, it has become an underwater art installation and the newest dive site in the British Virgin Islands.
The Kodiak Queen was launched in 1940 as U.S. Navy fuel barge YO-44 and is one of only five ships that survived the Pearl Harbor attack. As the Kodiak Queen, the ship began a new life as a fishing boat. Historian Mike Cochran found the ship rusting in a Road Town junkyard in 2012. He set up a website in an effort to rescue the ship and got some famous attention. Owen Buggy, a friend of and photographer for Sir Richard Branson, saw the site and suggested the ship as an artificial reef.
Only a few months later The Kodiak Queen was brought over from Tortola to be sunk just off the shore of Long Bay in Virgin Gorda.
Level: Advanced
Accessible by charter yacht
Local knowledge is shared here by DiveBVI.
Due to its remote location, 12 miles NW of Virgin Gorda, this site should only be attempted with experienced instructors and good weather conditions. One of its challenges is the regular swells, in the 3-5ft range. Also, due to the unstable piping inside, divers should not attempt to enter the vessel.
The Chikuzen, a 246 ft refrigeration vessel belonging to the fishing fleet in St Maarten, had been impaired 2 years prior to being moored at the fishing fleet dock, where it was causing damage. As the owners wanted to stop further destruction, she was intentionally set ablaze off the docks, but she didn't sink and eventually reached the BVI, threatening to the beach on Marina Cay. She was taken under tow and eventually sank without issue.
Surrounded now by miles of sand, this is the only place for marine life to congregate. Regular visitors include schooling barracuda, horse-eye jacks and snapper, stingrays, eagle rays, African pompano, Atlantic spadefish, nurse sharks, and reef sharks along with a resident 600lb Goliath Grouper.
We look forward to helping you from the minute you decide to go on a charter yacht vacation with Epic Yacht Charters until you arrive onboard the yacht which you chose for an unforgettable vacation.
Call us: (954) 543-1270
Email: [email protected]