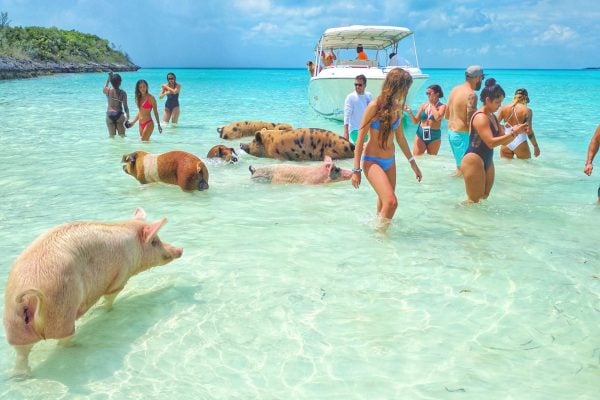 Big Major Cay is an uninhabited island (or cay) located in Exuma chain of roughly 365 tiny islands in the beautiful Bahamas, and known for being populated by many swimming feral pigs. How did the pigs get to Pig Beach? Some say they were left by a group of sailors, who planned to come back and cook them. Or that the pigs swam over from a shipwreck nearby.
Wherever they came from, there are now about 20 pigs and piglets on Pig Beach. With daily visits from Bahamians and tourists, the pigs are living the easy life on Big Major Cay. The pigs are now fed by locals and tourists and the island is unofficially known as Pig Beach by the locals. They are being cared for by concerned locals.
The best way to see them is by boat or seaplane. From your charter yacht anchored nearby it is easy to swim in or go in by tender. They are extremely friendly and of course more interested in your snack than your attention. They swim out to your boat as you approach and beg as they tread water with their snouts out of the water. These pigs range from tiny piglets to very large parents nesting among the low palm trees near the beach.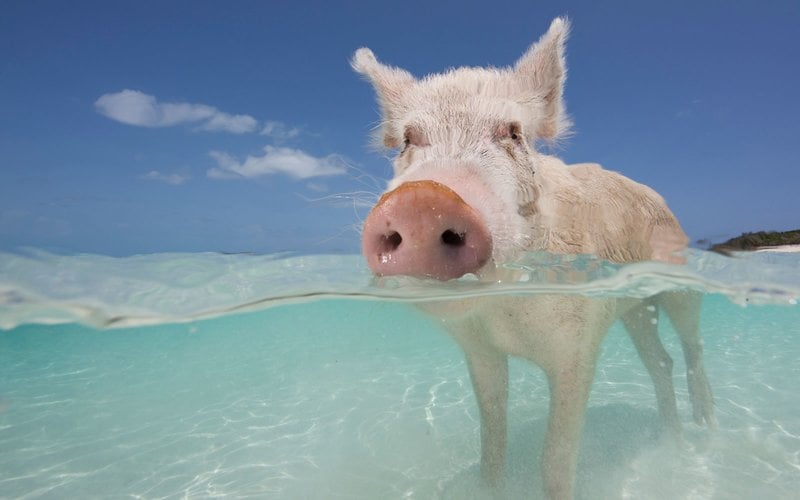 Your captain will manoeuvre the yacht's tender close so that you can step out of the boat and swim around with the pigs. There are also a few chickens who have now joined in at this famous beach. The best time to see them is mostly morning time when they are still hungry. By late afternoon, you'll usually find them tuckered out with full bellies, and they're more likely to lounge in the sand than to paddle through the water with you. See a great VIDEO made by Claudia Opdenkelder.