Let Epic Yacht Charters customize your next unforgettable Greece vacation. Below are some sample itineraries showing a few of the islands you will visit on your crewed charter yacht vacation.
The Greek Islands are separated into different cruising areas. Where and what islands you visit during your charter will depend on yacht speed, power or sail. The final route will be discussed with your captain and will be dependent on weather.
You may also search all available yachts in Greece here.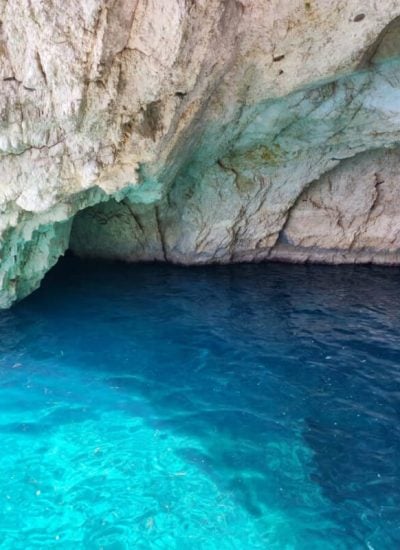 Fly to Corfu to meet your crew and board your yacht. The first island you will go to is Paxos.
Paxos offers a peaceful and relaxing atmosphere with its beautiful beaches and charming villages. It's the perfect place to unwind and immerse yourself in the natural beauty. Enjoy a leisurely stroll through the picturesque town of Gaios, which is the main port, which features traditional architecture, cafes, and waterfront tavernas.
Jump into the clear waters from your yacht and swim in the Blue Caves. The caves are renowned for their striking blue waters and are a stunning backdrop while anchored in the bay.

Lefkada is connected to the mainland by a small bridge. The island has some amazing beaches, with the most famous being Porto Katsiki, which is often ranked among one of the best beaches in Greece. It features dramatic cliffs, white sands, and azure waters. Your crew will anchor the yacht in the bay so that you can and swim and snorkel in the crystal-clear waters.
Lefkada has some wonderful traditional villages where you can experience the authentic Greek Island lifestyle. There are a variety of shops, restaurants, and bars as well as historical sites, such as the Agia Mavra Castle, built on the 14th century.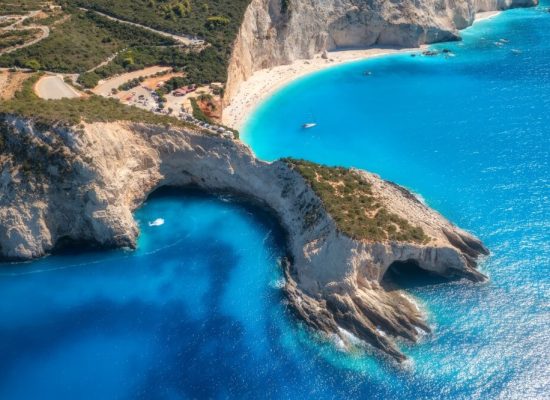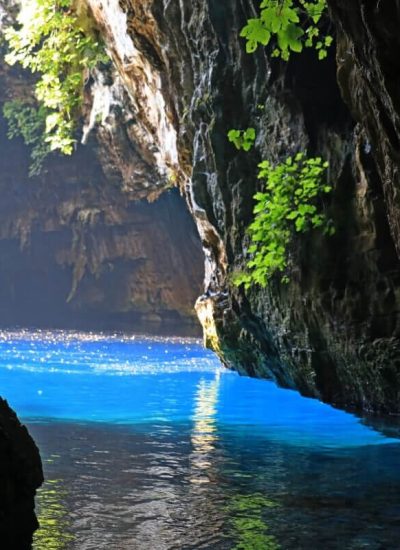 Kefalonia is the largest of the Ionion Islands and offers a diverse range of attractions and activities. Argostoli, the capital, is a bustling town with a charming waterfront promenade, lively markets, and a variety of shops and restaurants. Indulge in some traditional cuisine, including moussaka and fresh seafood specialties.
The most well-known site on the island is the Melissani Cave. This underground lake is surrounded by stunning rock formations with the sunlight filtering through the collapsed roof creating an amazing play of colors on the water.
Beautiful beaches include Myrtos Beach which is stunning. The contrast between the dramatic cliffs, vibrant blue sea, and white pebbles on the beach, make for a breathtaking sight.
Nature lovers can explore Mount Ainos National Park. Mount Ainos stands at 5,341ft and is the highest mountain on the island. The park has many hiking trails with stunning views and is home to a variety of flora and fauna, including the rare Kefalonia fir tree which can only be found on this mountain.

Kalamos is a hidden gem in the Ionion Sea known for its natural appeal and tranquil atmosphere. With its pristine beauty, secluded beaches and traditional charm it makes it a great island for exploration. The main village, is a traditional fishing village with whitewashed houses and narrow streets with a laid-back, authentic atmosphere. Perfect if you want to experience a genuine Greek Island lifestyle.
The Island boasts many beautiful beaches that are often uncrowded and provide a peaceful retreat for sunbathing, swimming, and snorkeling. For nature lovers there are many scenic trails that lead to panoramic views points. The island is also home to rare bird species, making it a popular destination for birdwatchers.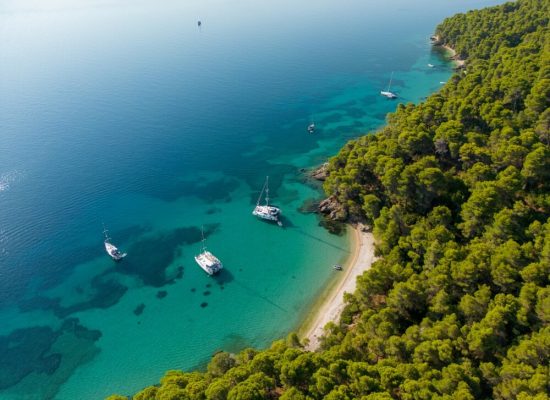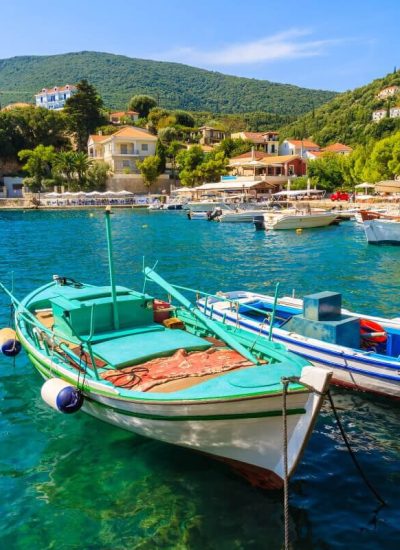 Ithaca is a captivating island, rich in archaeological sites and historical landmarks. It is famous for its association with the ancient Greek epic poet Homer and his poem, The Odyssey.
Hike the trail, which follows the footsteps of Odysseus which takes you through olive groves, vineyards, and ancient ruins.
One of the must-see sights is the Cave of the Nymphs, a mystical cave mentioned in the Odyssey. Located near to the village of Stavros, it offers a unique experience for those interested in Greek Mythology.
The main town and port of Vathy and is a charming waterfront village with colorful houses and a scenic harbor. Traditional tavernas serve fresh seafood, local cheeses, and wine.

Preveza is a modern city located in the region of Epirus in western Greece. The city has various archaeological sites and museums. It is characterised by narrow streets and traditional houses and buildings of Venetian architecture. Enjoy a walk through the city and explore the quaint shops and cafes and admire historical landmarks, such as the Venetian Castle of Preveza and the Clock Tower.
One notable site is the ancient city of Nikopolis, which is 5 miles away, founded by the Roman Emperor, Octavian Augustus. Explore the ruins of this ancient city, including the theatre and Roman baths. There are some beautiful beaches to explore, with shallow waters that are great for swimming, snorkeling and water sports.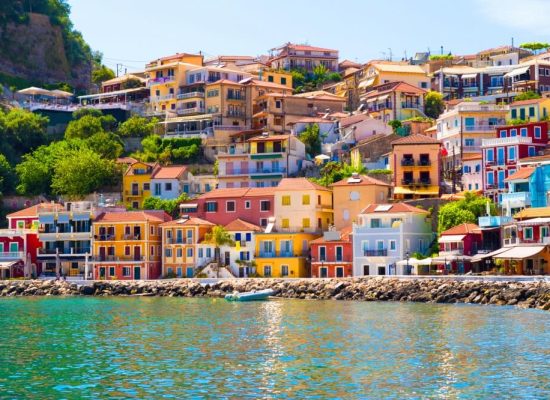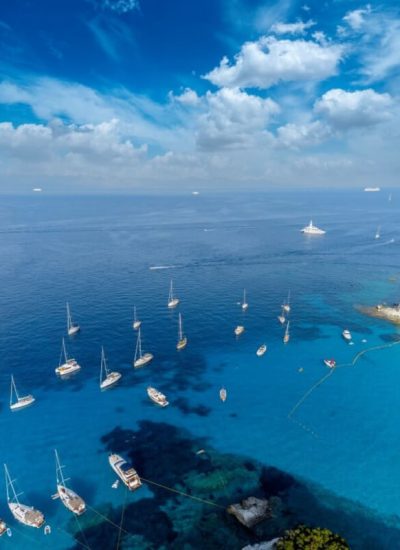 Antipaxos is just south of its larger neighbour Paxos. The island is mostly uninhabited and is relatively undeveloped compared to its surrounding islands. The island has a long tradition of wine production, with its fertile soil and favourable climate, creating the ideal conditions for growing grapes. Explore the vineyards and sample some of the local wine. The beaches are pristine and are the main attraction to this small island. The most popular being Vrika and Voutoumi, which have white sandy shores and vibrant blue waters.

Your yacht charter finishes where you started in Corfu. We would always recommend spending a few days here after you disembark, before you fly home.
Corfu has a fascinating history which has been influenced by various civilizations including Greeks, Romans, Venetians and British. Examples of architecture from these influences can be seen in the island's architecture, especially in the Old Town which is a UNESCO World Heritage Site. Exploring the Old Town is like stepping back in time. Wander through the charming alleyways, visit historical landmarks such as the Old Fortress and the Palace of St. Michael and St George. Browse the markets and local shops selling handmade crafts and traditional products. The island offers plenty of outdoor activities, with its diverse landscape, which includes sandy beaches, rocky coves, lush green hills, and hiking trails.
For food lovers, indulge in the wonderful cuisine Corfu has to offer. Traditional Greek dishes with a local twist are not to be missed. For those that enjoy a party, Corfu offers a vibrant night life with numerous beach bars, clubs, and beach parties. Overall Corfu has something for everyone.