Let Epic Yacht Charters customize your next unforgettable Greece vacation. Below are some sample itineraries showing a few of the islands you will visit on your crewed charter yacht vacation.
The Greek Islands are separated into different cruising areas. Where and what islands you visit during your charter will depend on yacht speed, power or sail. The final route will be discussed with your captain and will be dependent on weather.
You may also search all available yachts in Greece here.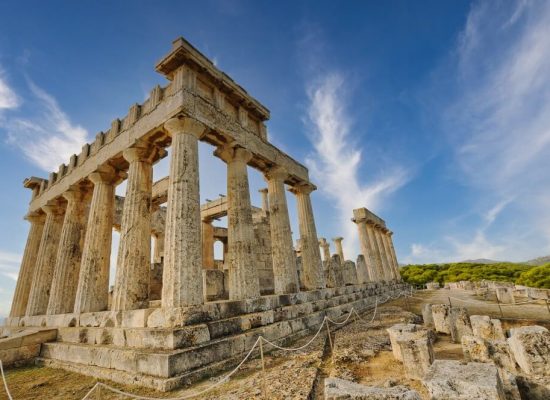 Once you have left Athens on your crewed yacht you will head towards Aegina, the largest and most popular island in the Saronic.
Be sure to visit the Temple of Athena Aphaia which sits in the center of the island and is one of the best-preserved temples in Greece.
Beyond its bustling port, the island's capital, Aegina Town, has the character of a typical Greek Island, with its beautiful traditional houses, quaint shops and local tavernas. Be sure to purchase some pistachios from here! The town is well known for the variety, called Koilararti, which are very rare and extremely delicious.
Aegina has some wonderful beaches. Souvala is the best one and well known for its therapeutic hot and cold springs.

Ermioni is a small coastal town located on the eastern coast of Peloponnese, in the region of Argolis. The town's picturesque harbor is a focal point, lined with fishing and sailing boats. Soak in the relaxed atmosphere by taking a stroll through the town and enjoy a coffee or a meal at one of the many waterfront cafes and tavernas.
Bisti forest is just a short distance from Ermioni and is well worth a visit. This is a unique pine forest that stretches along the coastline. It's a great place for nature lovers to explore the trails and enjoy the serene environment. Here you will find the small chapel of Agia Ermioni, dating back to 1754, and built on the foundations of an ancient temple.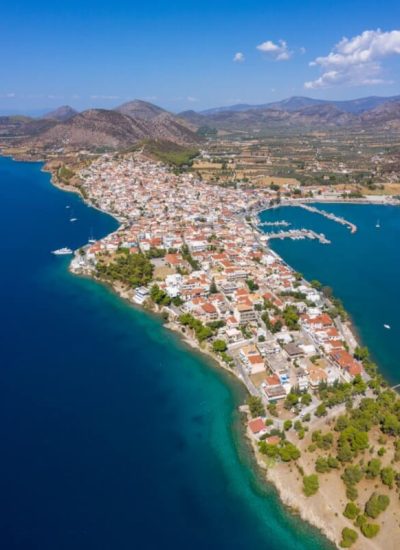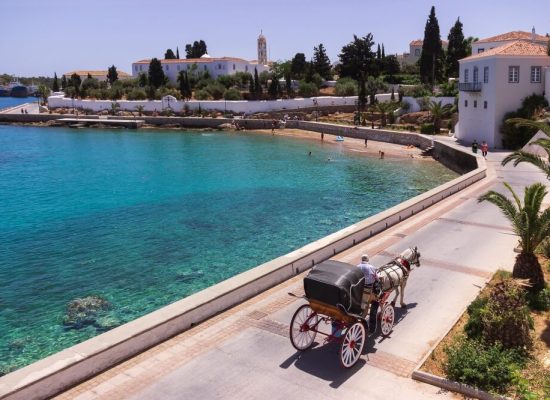 The main attraction of Spetses is its picturesque and well-preserved old town. The town features narrow cobblestone streets, traditional whitewashed houses adorned with colorful bougainvillea, and neoclassical mansions that showcase the island's wealth during the 18th and 19th century. The architecture is reminiscent of the island's maritime past, as it was once a major trading and shipping hub.
Motorized vehicles are restricted on the streets of Spetses, instead you can explore the island on foot, by bicycle, or by horse-drawn carriage. Another highlight of Spetses is its stunning beaches. Relax on sandy shores, swim in crystal clear waters and enjoy some water sports from your yacht.
Spetses is also known for its annual Armata Festival, which takes place in September. The festival commemorates a historic naval battle and features a series of events, including reenactment of the battle, fireworks, traditional music, and dancing.

Hydra is known for its untouched beauty, traditional architecture, and car-free environment. The town is a picturesque maze of alleyways, with shops, restaurants, churches, and colorful flowers, all with stunning views of the sea and surrounding hills. The absence of cars and the use of donkeys as a means of transportation add to the island's unique charm. In addition to its natural beauty, Hydra has a rich cultural and artistic scene. The island has been a hub for artists, writers, and musicians for many years.
Exploring the island is easy and can be done on foot. Take leisurely walks through the town and hike up hills for panoramic views.
Scuba diving is popular here with the underwater landscape featuring rocky formations, caves and reefs that provide habitats for various marine species, all in crystal-clear waters.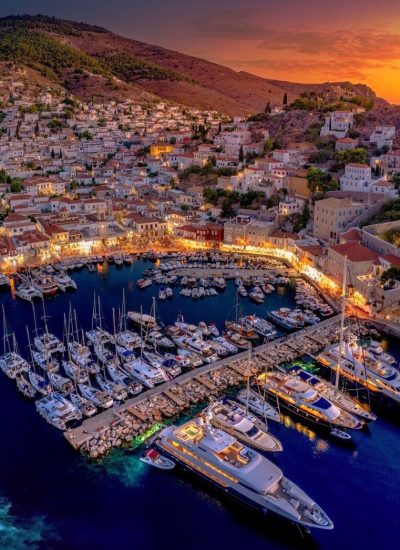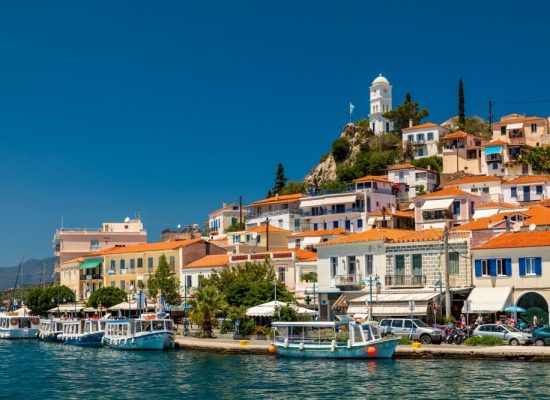 Poros has retained its authentic Greek charm and traditional character. You can wander through the narrow streets of Poros Town, visit local tavernas and cafes for some Greek Meze, and interact with friendly locals. The island offers stunning views, especially from the clock tower, built in 1927; It's a bit of a climb from the waterfront but the views are worth it.
The island has a rich history and there are several historical sites to explore. The Temple and Sanctuary of Poseidon and the Archaeological Museum of Poros are some notable places to visit.
Poros has several beautiful beaches where you can relax and enjoy your beautiful surroundings. Love Bay is a charming bay, surrounded by pine trees, with fine white pebbles and sand with amazing clear emerald waters.
Askeli Beach is a long golden fine sand beach with sun loungers and umbrellas. The beach has a few beach bars and restaurants where you can get a bite to eat and a refreshing drink.

Mathana is a small peninsula and is known for its unique volcanic landscape. The peninsula is home to several volcanic cones and craters, some of which are still active. The most prominent volcano is Methana Volcano, which erupted last in 230BC. Its activity has shaped the terrain, creating hot springs and geothermal areas.
The peninsula is covered with lush vegetation, olive groves and pine forest. There are several hiking trails that lead to volcanic peaks that offer breathtaking views.
Visit the ancient city of Methana, which dates back to the 8th century BC. Here you can discover remains of ancient walls, temples, and other structures.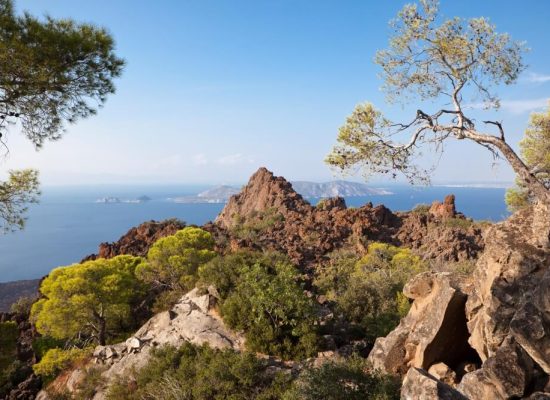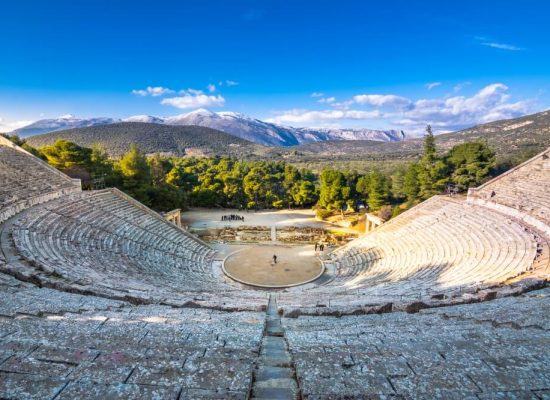 Epidaurus has been a UNESCO World Heritage Site since 1988 and is a must-visit for history enthusiasts. It is situated in the region of Argolis, approximately 75 miles from Athens.
Here there is an opportunity for you to visit the Ancient Theatre of Epidaurus. The ancient theatre is regarded as the best preserved in Greece, in terms of its perfect acoustics; if you drop a coin in the center, it can be heard from the highest seat. The entrance is constructed of large Corinthian pillars and the ruins of the ancient stage are visible beyond the circle, which would hold up to 14,000 people.
Epidaurus was also an important healing sanctuary in ancient Greece. The site was dedicated to the god of healing, Asclepius, and attracted pilgrims seeking cures for their ailments. Visit the Archaeological Museum, which houses a collection of artifacts discovered in the area.

Athens needs no introduction as the capital of Greece. It is a historical and energetic city with a rich cultural heritage. Before you fly home, we would advise spending a day or so in Athens after disembarking your crewed yacht charter.
Visit many iconic landmarks and archaeological sites, such as the Acropolis, Parthenon, and Ancient Agora. Athens is home to numerous world-class museums, housing extensive collections of artifacts from various periods through history.