starting at
€30,500/week
Greece
67 ft sailing catamaran
Accommodates up to 8
4 Queen ensuite cabins
Great for a group
ALEXANDRA II is a Fountaine-Pajot 67 sailing catamaran offering crewed yacht charters in the Greek Isles.
ALEXANDRA II is a newly built Alegria 67 built by Fountaine Pajot and offers all the comfort plus performance. Her massive flybridge with two large sunbathing beds aft. The flybridge offers a 360° view and makes and perfect atmosphere for cocktail time. The main deck offers two different seating areas. The fore deck is with a nice seating area next to the Jacuzzi. In the aft deck is where all the action happens, A large dining table for 8 persons with ample space. She sports a hydraulic bathing platform which is ideal for watersports, sunbathing, and even a great place for yoga.
Alexandra II accommodates 8 guests in one master cabin with a desk area, full-size bathroom (double sink), and two access points (one from inside the yacht and one from the foredeck jacuzzi area). One queen guest cabin with a private bathroom and TV. Two queen-bed guest cabins with private bathrooms accessed from the aft deck area with TV.
Moving indoors a full-size saloon area to relax place cards or watch a movie. The kitchen is located on the lower deck. Enjoy this EPIC new crewed charter catamaran.
*For Rates, see the PRICING Tab below – Holiday weeks may differ, please enquire!
Your Crew
CAPTAIN EVAN
Evan was born in England in 1971, however, he spent most of his childhood in Athens, Greece. Due to his considerable experience in offshore sailing events beginning in 2001, he has developed over the years into an Offshore Sailing Instructor and has captained a variety of sailing ships throughout Greece. He has competed in the World Championship, as well as events in the Middle Sea and the Aegean Rallies.
His over 40.000 nautical miles of expertise working in yachts ranging in length from 38 feet to 147 feet, together with his sociable and talkative personality, will surely guarantee guests an amazing time while sailing on board. Evan is a genuine ocean enthusiast who lives by the credo "Safety first!" and has a deep love for the water and sailing. Cooking and being in the water are two of his favorite things to do in his spare time. Evan speaks Greek and English.
CHEF ALEXANDROS
Alexandros is 32 years old. He is a self-motivated, results-oriented professional with ten years of experience working in hotels, restaurants, and catering. He has accomplished two degrees in his short life showing that he is success driven and highly motivated. He is the holder of the chef's diploma from the Le Monde Institute of Culinary Arts and has a bachelor's in Applied Science. Over the years he has gained extensive experience in contemporary cuisine and hospitality service. He enjoys establishing new business prospects and enhancing his cognitive and interpersonal abilities through new initiatives and ongoing training. One of the reasons he accepted the challenge to work on a yacht! Alexandros aspires to expand his expertise in food service and catering to different tastes and diets in order to provide the best guest experience possible. He specializes in Mediterranean cuisine and has a fresh, modern, European approach to his creations. He's fluent in Greek and English.
STEWARD MICHAEL
Michael was born in Athens in 1997. He studied at the Department of Physical Education and Sports Science at Democritus University of Thrakis and graduated in 2019. After his graduation, he started his career in the yachting industry. Michael was on board Above & Beyond (Sunreef 80) as a deckhand and his work experience made him ideal to assist the crew in operating the yacht in his new position on Alexandra II. Michael is always kind, discreet, and attentive to his guests' needs.
Languages: English (native), Greek
DECKHAND HENRY
Henry was born in Bulgaria in 2000 and has been living in Greece since 2014. He is half Belgian and half Bulgarian. Aside from Bulgarian, Greek, and English he also speaks Spanish, Russian, and some French, and he understands basic words/phrases in a variety of other languages such as Arabic, Hebrew, German, Italian, Portuguese, Dutch/Flemish, and so on. His goal is to be fluent in more than ten languages by the age of 30. Henry completed his ICC and SRC training at Kalamaki Sailing School in November 2019 and began his career as a deckhand on board boats. He is a very pleasant, dependable, and hardworking individual who always creates a pleasant and positive environment in which everyone feels at ease!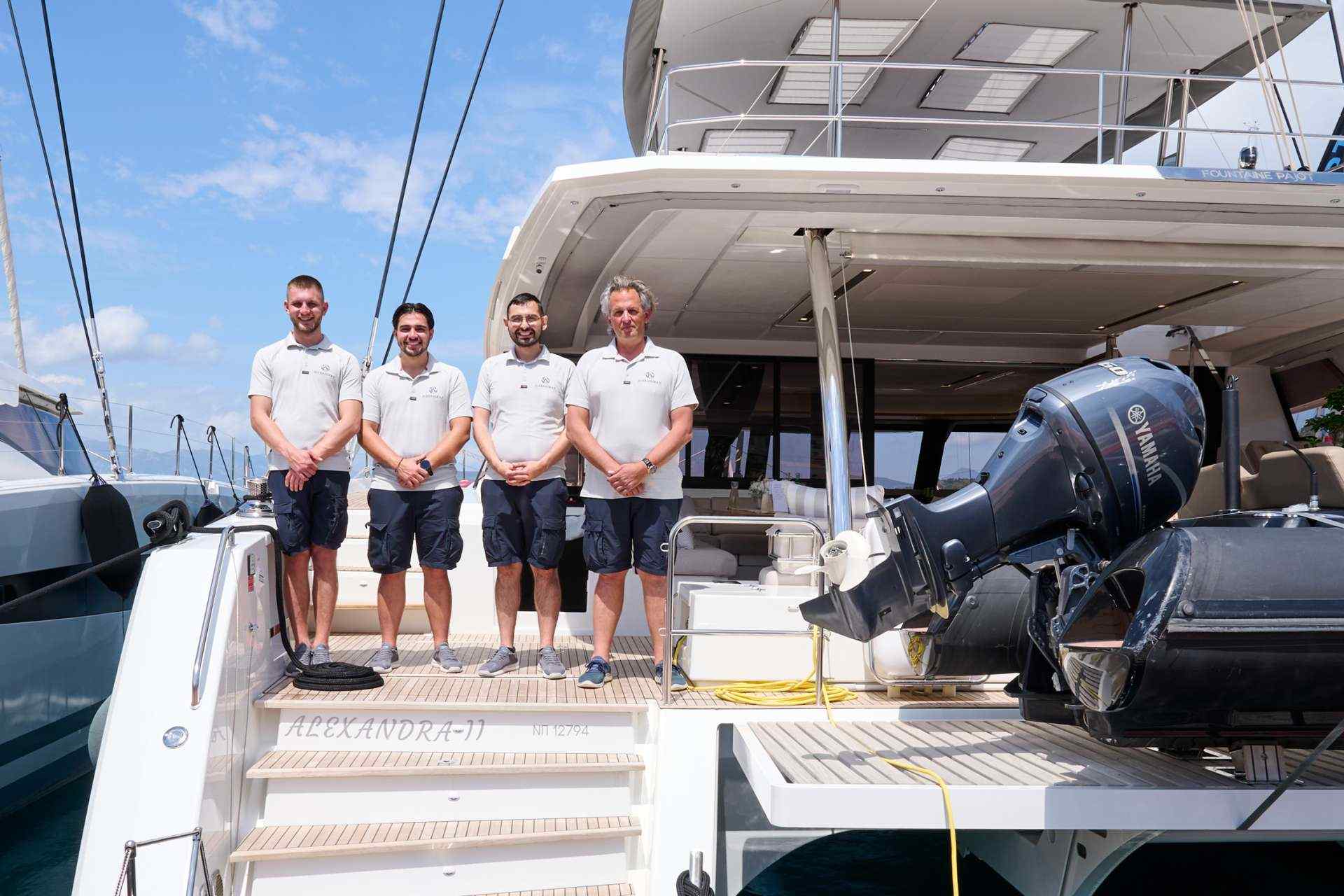 Cuisine
BREAKFAST

Variety of juices: orange juice, Apple juice, Pomegranate juice
Variety of milk: Milk, Soy Milk, Almond Milk, Oat milk, coconut milk
Spreads and jams: Strawberry, Apricot, Peach, Fig, Chocolate and hazelnut praline, Peanut butter, Tahini, Maple Syrup
Variety of bread: Sourdough, Black, Brioche, Gluten Free
Variety of mini croissants: Butter, Chocolate, Raisins
Variety of muffins: Chocolate, Red Velvet, Apple-Cinnamon, Pistachio
Handmade cake: Vanilla, Orange, Chocolate, Carrot, and Banana Bread
Greek Corner: Greek yogurt, feta cheese, Greek honey, rice pudding, milk pie, orange pie
Variety of Cereals: All-Bran, Chocolate, Oats
Fresh fruits: Watermelon,  melon, apricot, berries, cherries, mango, pineapple, orange
Dried fruits: goji berries, banana chips, dried blueberry, apricot, dried plums,
Dried nuts: almond, walnuts, peanuts, hazelnut, sunflower seeds, cashews
Variety of Cereals: All-Bran, Chocolate, Oats,
Variety of cheese: smoke cheese, gouda, edam, Emmental, parmesan
Variety of eggs: boiled eggs, poached eggs, fried eggs, sunny side up, omelets, scrambled eggs, Greek 'kagiana'
Hot section: bacon, sausages, mushrooms, grilled tomatoes, fried potatoes
Pancakes/crepes / French toast

LUNCH

DAY1:

Gazpacho soup
Mussels 'saganaki'
Sea bream with fresh wild greens, boiled baby potatoes, and lemon oil dressing

DAY2:

Couscous with a mix of vegetables and orange vinegarette
Octopus with split peas pure and fresh onion
Slow-cook squid with Lefkadas salami

DAY3:

Baby rocket salad with marinated prawns
Greek 'Kakavia'
Linguini alle vongole

DAY4:

Pumpkin soup with yogurt
Baby potato salad with sour cream and pickled oniοn
Tiger prawns with spice butter

DAY5:

Greek salad
Octopus hot dog
Roasted baby chicken with groats salad

DAY6:

White gazpacho soup with grated bottarga
Beetroot salad with green apple and tarama
Cuttlefish with spinach

DAY7:

Trachana soup with feta cheese
Caesar salad with prawns and sauce cocktail
Fried squid with aubergine salad

DINNER

DAY1:

Chickpeas soup with tahini and chorizo oil
Cherry tomatoes with basil pesto and burrata
Scallops with cauliflower pure and mint dressing
Handmade ravioli with cheese filling and bisque
Rib-eye with roasted baby potatoes, caramelized onion, and bearnaise sauce

DAY2:

Parsnip soup, walnut, pickled mushrooms
Semi-salted bonito fish, marinated cherry tomatoes, 'bourdeto' sauce
Sweet corn and pomegranate salad
Pumpkin risotto
Dover sole with grape beans salad,  sauce from the fish juices

DAY3:

Carrot soup with lemongrass and ginger
Beef tartare with pickles
Caesar salad
Mushroom 'magiritsa'
Fish of the day with crushed potatoes and garlic parsley butter, beurre Blanc

DAY4:

Potato and leek soup
Scallops with chutney bacon
Green leaves salad with beans and grilled apricot
Beetroot carpaccio , gorgonzola cheese ,walnut
Pork presa, apple pure, pickled kohlrabi

DAY5:

Asparagus soup
Tuna tartar, tarama, shimeji mushrooms, mustard dressing
Colorful tomato salad with goat cheese
Trachanoto with vegetables
Roasted lamb rack with garlic crust, brussels sprouts, and red wine sauce

DAY6:

Pumpkin soup with sour cream
White asparagus with Holandez sauce and prosciutto
Baby lettuce salad with herbs and mustard dressing
Tomato balls with split peas pure and basil oil
Risotto with spinach emulsion and fried grouper

DAY7:

Onion soup
Bruschetta with Marinated anchovies and tarama
Lentil salad with quinoa and cherry tomato
Octopus with Romesco sauce
Beef fillet with chimichurri sauce and potato pure

DESSERT

Pana cotta with handmade marmalade
Lemon curd
White chocolate namelaka with fresh strawberries and handmade strawberry jam
Orange pie
Milk pie with handmade marmalade
Chocolate souffle
Mille Feuille